Back to Archive
8th April 2009 - Weather For The Weekend
The weather is all looking rather unsettled for the weekend
We are heading over on Good Friday with Tom & Stewart for a long weekend - coming back on Easter Monday and the plan is to head off to Goes. This will be the first trip out this season and will see us return the last of the gear to the boat. Kim's anxiously awaiting the delivery of some new digital charts for his chart plotter, which were ordered last weekend and hopefully will arrive tomorrow.
10th April 2009 - Busy Ferry
Got away from home on time - 7.00am for an 8.00am ferry. When we got to Dover the whole place was heaving. NorfolkLine had messed up our booking again and by the time we got on the ferry we were about the last car to be squeezed onto the car deck. There were loads of cars behind us and one has to wonder if they all got on.
Fortunately, we had not planned to have breakfast on board - it all gets a bit expensive when there are four of you, so the fact that the restaurant was packed didn't matter. We struggled to find somewhere to sit and ended up by the "children's club" with an excessively loud american play leader.
All in all, the crossing is one of the most unpleasant - it is now 9.10am and we still have an hour or more before we dissembark.
The weather forecast still looks pretty unsettled, but at least it's not likely to snow!
13th April 2009 - Easter Weekend
With a wide variety of forecasts for this weekend, we weren't quite sure what to expect but as it turned out, we were really lucky. On arriving on Friday, Wendy and the boys went up to the supermarket to get some victuals while Kim started to sort things out on board. We decided it was all a bit too late to head off to Goes on Friday, so settled for an early-ish start on Saturday. After waiting nearly an hour on the fuelling pontoon (never interrupt a Dutchman's lunch!), we set off through the lock and out into the "big water" of the Oosterschelde. It was Stew's first experience of a lock and having primed him about bollards and how to get the rope on, he was presented with a ring and landed up in a semi-boat hook fight with Kim but it all went well in the end. The weather was gorgeous and we were unbelievably sailing in T-shirts. Managed a brief spell under genoa only before turning up into the canal towards Goes.
The journey up the canal was lovely, with Stewart clicking away on his camera. The plan had been to stock up on food for the Easter weekend from the C1000 supermarket, but when we got there it had become an Aldi and some other shop and, like every other shop we could see, was already shut. So we decided to make the best of what we had on board for the rest of the weekend.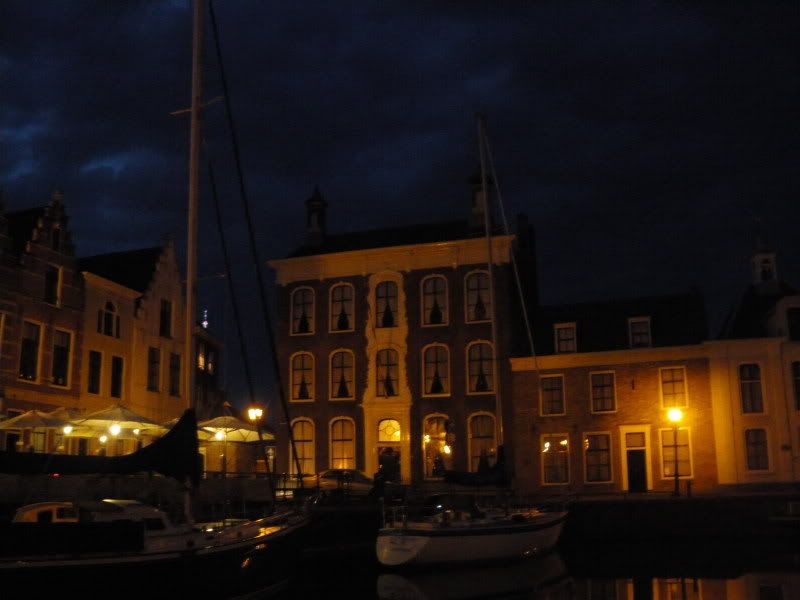 Goes was as lovely as ever but a mental note was made not to go there again on a Saturday night as it was very noisy into the early hours and well beyond!
We made a surprisingly early start on the Sunday and left at 10 to 9, with a number of other boats, ready for the 9 am bridge opening. However, we tied up on the pontoon just the other side for a breakfast break and then tagged onto the end of the next batch at 10am. The weather was not as warm but was still ok and the extra wind was welcome, resulting in an excellent sail out in the Oosterschelde with both main and genoa and a good angle of heel. Tom spent most of the time down below writing and reading, so has presumably inherited his mother's lack of seasickness! The main excitement was Wendy's mis-reading of the chartplotter and Kim's instruction to go "between the red and green buoys" (which the Oosterschelde is full of!), but any real incident was quikcly averted.
Once back in the Veerse Meer, we carried on up to Zandkreekplaat and again had an excellent sail, with lots of short tacking. Our arrival on the deserted pontoon was interesting as there was a strong wind blowing us off and Kim's excellent idea of using a centre spring was somewhat thwarted by having to have too many turns on the pontoon ring which then locked, keeping us too far off. However, we eventually got tied up at a good distance in and had a lovely peaceful stay, watching the geese and other birds.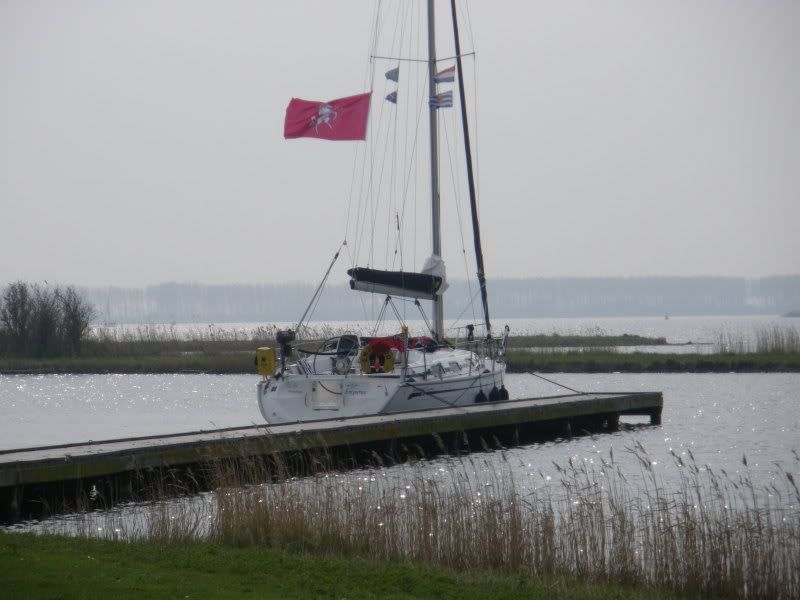 We watched one of Stew's films in the evening and Tom inadvertently summed up the effects of all the fresh air by saying, at 9.25, that he was "glad he'd stayed up late to watch the film"!.
Monday morning was a bit of a shock with a real pea souper outside. It cleared a bit by the time we left, though, and we motor-sailed back to the marina, by which time the sun was shining again. Two hours later we were packed up and in the car. All in all another successful weekend and hopefully the first of many this season.
Back to the Top
Back to Archive