Back to Archive
Thursday, 1st April 2010 - Sorting Out the Water & Other Things
Having spoken to the marina on Monday and then not hearing anymore, Kim called them again yesterday afternoon to be told that the "problem with the water had been fixed". A bit of questioning soon established that the "problem" was that when the marina winterised the boat last December, they opened a drain valve on the water heater and had forgotten to close it off again. So when we filled the tank and then switched on the pump, it just shot water into the bilges (yes, Kim had checked the bilges and found little evidence of water). Anyway that's their story and we will find out when we go over on Saturday.
Whist Kim was chatting to Clipper Marine on Monday the subject of the cracked transom shower head came up. This was cracked back in the winter of 2007 because the water system was not winterised and the water in the shower head froze and cracked the plastic. This meant that if the valve was not shut off properly, then the head leaked into the bilges and caused a problem with the pump. Clipper advised that this was a particularly common scenario with Bavarias and so at the end of each winter they ordered in a stock of replacement shower heads. To cut a long story short, the replacement shower head arrived today.
So, what of other things? Well Stewie (Kim's youngest – but most able crew member) who was due to come down to us on Good Friday and then spend Easter on the boat with us, announced that he was going to Finland to see a friend (female!) instead. So now it is only Kim, Wendy & Tom going and Tom may well decide that, without Stewie's company, he'd rather stay in Hawkinge than freeze his butt off in the Veerse Meer!
So the plan for Easter – boat wise, was to go to Zierikzee, but if the weather is grot (as forecast) then we may well decide to stay in the Veerse Meer. So probably, Veere and maybe Middelberg.
With the advent of Wi-Fi in Delta Marina, we will probably be able to post up a blog entry at some point over the Easter. We will also have a go at posting up some form of log (Trail Guru) to show where we have been. But then maybe that it is getting a bit ambitious. Always remember that Kim loves a challenge and will beat himself up trying to make something work against the odds!
Saturday, 3rd April 2010 - Back On Board
Well, here we are again. Feels like much more than a week since we were last here. All much less stressful this time, having had yesterday to get ready. Boat looks lovely and didn't take us long to get everything on board. In between the squally showers the sun is actually quite warm – a tantalising taste of what's to come later in the season. We hope!
Are taking it easy with a nice meal on board tonight, with a view to heading off tomorrow if the weather looks ok. Latest Wallie's suggests 16 degrees on Tuesday but we won't get too excited yet!
Sunday, 4th April 2010 - Too Cold To Sail
Very chilly night, in fact much colder than last weekend. Just about warm enough in bed, but sitting up in bed for the early morning cup of tea necessitated the wearing of fleeces (only 7 degrees in our cabin). After a leisurely start and hearty breakfast, Kim got on with jobs up top in between the squally showers, whilst Wendy pottered about down below and tried to keep warm. As a result of Kim's hard work, the new anchor is now securely in place, the spray hood clamps together again properly and more of the halyards have been cleaned (in case anyone notices!!).
As of now (3 pm), the wind is still howling and it's still cold, but the rain has stopped and the sun is breaking through. However, we have decided that if we are going to spend the evening with the hatches battened down, we might as well stay on our home berth with free mains power and free WiFi and go off somewhere tomorrow.
After an appropriate lunch of hot soup and a roll, the weather suddenly improved so we went off for a ride in the car up to Vrouwenpolder and had a walk on the beach. Lots of people out and about with kites, dogs etc. Came back via the new Kamperland marina which we visited in the summer. Looked much the same and very desolate. Also stumbled upon the little Geersdijk harbour which we have seen from the water many times but never gone into. Appears to have quite a history and a surprising depth of water for such a little harbour (3 metres according to the nice Belgian we spoke to). The entrance is still very narrow though.
Are now back on board with the fan heater going, having aperitifs (i.e. beer and crisps!). Really hope for some better weather tomorrow so we can actually sail!
Afraid there are no photos as Wendy took the card out of the camera and forgot to put it back. The photos we took this afternoon are stored on the camera's built in memory, but we don't have the required lead to transfer them onto the computer and thus onto the Blog.
Wednesday, 7th April 2010 – The Sun Shines at Last
After staying put on Sunday, we decided on Monday, that we must at least get out for a "day sail". The weather was looking a bit brighter than Sunday, but still threatening showers and still cold and windy. Anyway, suitably togged up we set off with two reefs in the main, motor sailing up towards Zandkreekplaat. We were then able to turn the engine off and get a good sail in 15 plus knots of wind.
We got to the Goudplaat and tied up for lunch. After lunch, we went for a walk and upon our return to the boat decided that as the weather forecast for Tuesday was bright and sunny and as the western sky was looking quite bright, we would stay put for the night. As the sky cleared, we were able to sit in the cockpit with a beer and enjoy the sunny (but still chilly) evening…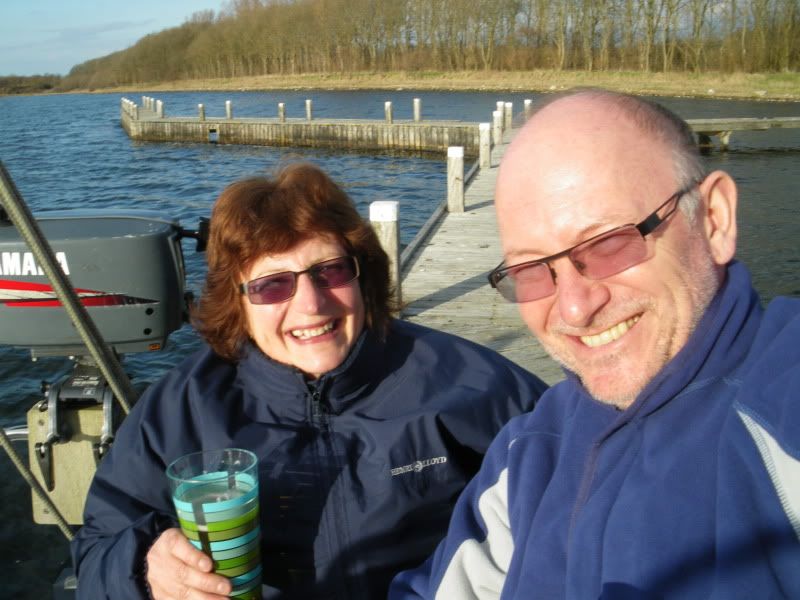 …eventually being treated to an amazing sunset and wonderfully starry, starry night (well, we are in Holland!).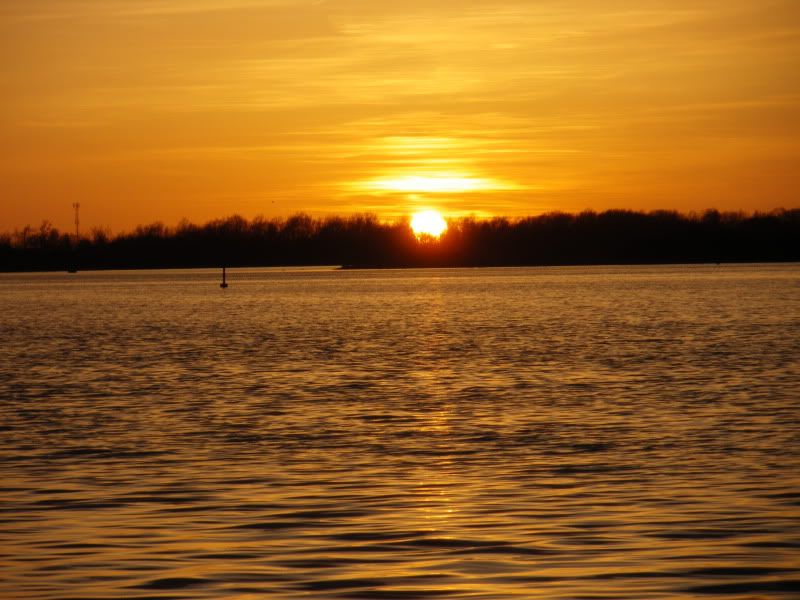 Tuesday morning was cold but there was not a cloud in the sky. In fact it had been a very clear night. After breakfast we set off for a sail up to the Veersedam and then back down past Veere eventually anchoring on the western side of Bastiaan de Langeplaat. We chose this as a good spot to try out the new anchor – lots of gently shoaling water in the lee of the island. Dropped the hook in 3.5m to 4.0m and it bit straight away (Wendy says that the 40m of chain Kim put out was what held us!). Anyway we sat and had lunch in about 20 knots of wind with the boat shearing about all over the place, but the anchor held firm.
We then headed up to Veere and went on the Kaai. It was quiet so we got a spot without having to raft. By the time we got on the Kaai, the wind had dropped away to nothing and the sun was blazing down – it was definitely "T-shirt" weather in the cockpit.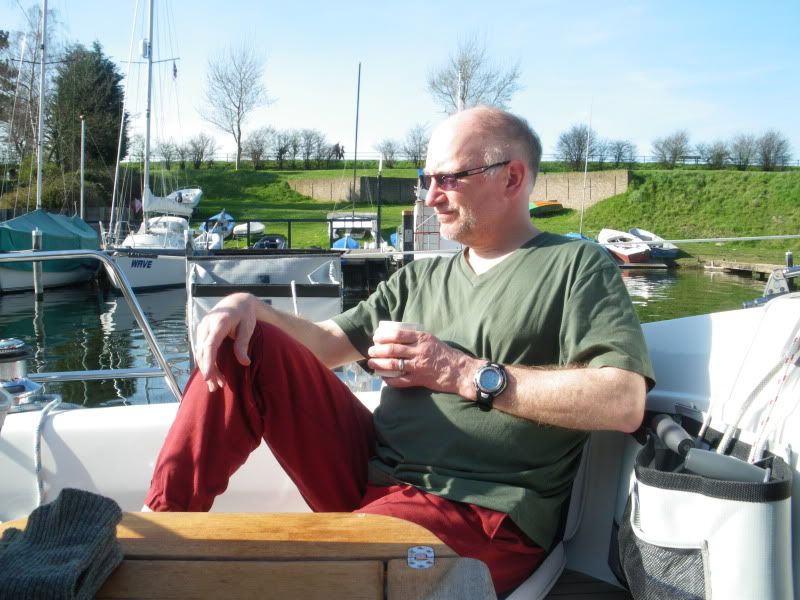 The only fly in the ointment was that when we went up to the Yacht Club for dinner it was shut! So we ended up getting a take away from the local chippy! At least it was cheap – but we had finished eating by 20 past 7 so watched one of the Westerns Jimbo had given Kim for Christmas. All rather surreal, sat on the Kaai watching John Wayne in the Nevada desert with the Comanche!
And so to this morning. Another cloudless sky, but this time little or no wind. We slowly ghosted our way back to Kortgene on a run – genoa poled out one side, main out the other, finishing the last bit under engine. Without the wind it was scorching and we had to get the sun cream out. Wendy put Emjaytoo back in her berth without a hitch, which was good as the mooring up in Veere had not gone quite so well, due to Wendy taking account of Kim's advice which was duff!!
Cleared the boat away after lunch, which caused us to be a bit late leaving and we arrived at Dunkerque with half an hour to spare – a bit tight!
Sunday, 18th April 2010 – Getting Trail Guru to Work
Over the winter, as a result of getting an iPhone, Kim discovered the website Trail Guru and discovered that he could (in theory at least) upload tracks from our hand held Garmin Chart Plotter, to a website and then post the track on the Blog. However, Trail Guru has been down since we got back from our Easter Trip and only now has it been possible to get it to work. So here is where we went at Easter. Click on "Replay Track", it's really neat!
Thursday, 29th April 2010 – Weather For The Weekend
According to Wallie's Weerburo the weather for the weekend is mixed - sunny, cloudy, some wind (up to F5) and some rain. Kim has a half day's holiday tomorrow and we are booked on the 4.00pm ferry. Monday is a Bank Holiday, so a long weekend.
Zierikzee is on the cards - weather permitting! But then equally we may just end up spending the weekend on Bastiaan de Langeplaat, who knows!