Back to Archive
Sunday, 1st April 2012 - A New Heads Pump
This weekend Kim went over to the boat on his own to fit the new heads pump, which we bought last year but had not got round to fitting. Like any work that needs doing on the boat it is always best for Kim to go over on his own. If Wendy goes over with him then there is a tendency to go out and the work doesn't get done. Or else Kim gets on with the work and Wendy gets cold and bored (and grumpy!).
The plans for this weekend nearly didn't happen as Kim had left it late to book the shuttle and found that he couldn't get a crossing on Saturday morning. After discounting ferries he finally decided to take the earliest Saturday crossing which was 16.50 hrs on the basis that he would come back late on Sunday evening and at least get a full days work in on Sunday. Other jobs included cleaning the topsides which were in quite a state after the winter lay up.
Sunday started bright and cold and the heads pump was a suitable inside job to start with. Swapping the units over was straightforward enough and it probably took longer clearing the mess up afterwards. So far it seems to be working fine. One thing Kim did notice was the build up of lime/crud in the large diameter out pipe. It is about 2mm thick so not a problem yet, but in time the bore of the pipe will get smaller and smaller untill the toilet fails to empty.
By 10.00 hrs it had warmed up enough to get on with cleaning the outside. Kim had taken our pressure washer over and this made easy work of the mould and mud that had built up over the winter. The boat then got the best clean it has ever had. Kim removed the binacle cover which around the bottom is an amazing green colour! Those in the know will appreciate that it's supposed to be blue! He also removed some ropes which along with the binacle cover will all go in the washing machine ready to go back on the boat when we go over on Good Friday.
Kim left Delta around 16.00hrs and got the next available shuttle at 19.20 which was an hour and a half earlier than the one he was booked on, so that was a result. He was back home, unpacked and with a beer in his hand by 8.30.
All in all a very sucessful weekend, especially considering Kim was not able to get over in time on Saturday to do anything other than have a meal and go to bed.
The weather was brilliant, not quite as warm as it has been, but still very pleasant. In fact had Wendy gone too, there really would have been a big temptation to go off for a sail. As it is the boat is now spick & span and ready for our guests Romana & José to stay over Easter. Unfortunately the glorious unseasonal weather we and the Dutch have been enjoying for the last couple of weeks is not expected to last and we shall be back to seasonal April weather - showers and cold no doubt!
Monday, 9th April 2012 - Easter With Our Friends Romana & José
This weekend has been a four day one as it was Easter and traditionally the begining of the new season. We had arranged to meet our friends Romana & José who were driving over from Stuttgart. The forecast was always for it to be cold, 9 - 10 degrees centigrade and maybe some sunshine, but mostly cloud, a bit windy and some rain.
We arrived in Kortgene around 13.00 hrs on Good Friday and Romana & José arrived and hour or so later. The plan was to perhaps go to Veere on Saturday, stay overnight, returning to Delta on the Sunday and then having a meal in Iets Anders Sunday night. Whilst Friday afternoon was dry with some quite nice sunny spells, it was pretty cold and in the evening we were glad we had taken a convector heater with us. Friday night we were also glad we had taken some extra duvets to put on the beds - and even a hot water bottle for our guests!
Saturday morning the decision was taken not to go sailing but to use the boat as a base to entertain our guests. We concluded that way they would get to see more of what Zeeland had to offer and we would all have just as good a time without anyone getting too cold.
So Saturday we went by car to Veere and did all the usual Veere things - climb to the top of the Grote Kerk - always a great view,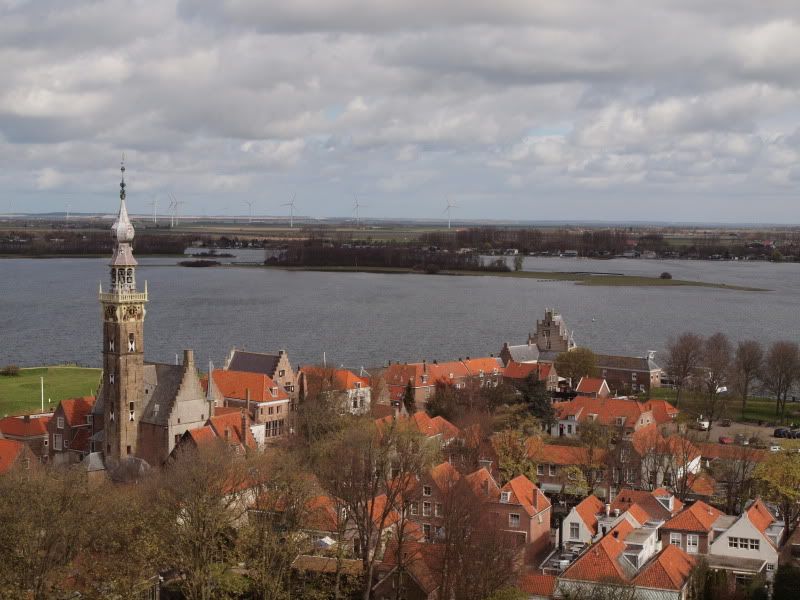 walk along the Kaai, walk around the Napoleonic fortifications, etc. With our tickets to the Groté Kerk we got a free coffee each in a restaurant - De Pepperboom. This was in one of the back streets away from the Kaai and looked really nice, so a mental note to try that at some point as an alternative to the Yacht Club.
In spite of the cold we then decided to head up to the Lekkerbek for some chicken sate and chips (a local delicacy!) and a breezy walk along the beach.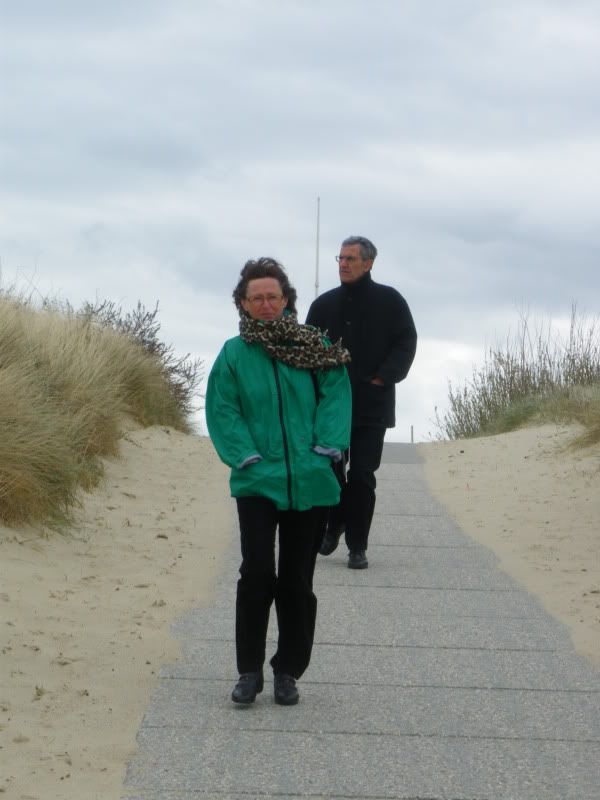 The beach was surprisingly full of people kite surfing, walking dogs and generally 'enjoying' the conditions and of course was a rare treat for our guests, who normally live a good 500 miles from the nearest sea. After that, though, we were ready to head back to the boat for a cup of tea and a bolus.
On Sunday we went to Zierikzee in the morning, had excellent Appelgebak & Slagroom! Then we took them to the Neelte Jans Expo, which although we have been many times, is always very interesting. Sunday evening finished up in Iets Anders as planned and of course, as expected it was superb.
Monday morning the wind was howling and it was raining. We said goodbye to Romana & José at about 10.00 hrs and were away ourselves by 13.00 hrs, having cleared away. The decision not to try sailing had clearly been the right one and we all had a great time in spite of not actually sailing anywhere.
Thursday, 12th April 2012 – Boaty Things
When we went over at Easter we were glad to see that the new battery had been installed, although we were not able to appreciate the benefit as we spent the whole time on shore power. Now the mention of shore power leads to an interesting discovery! Just before Easter we had a bill from the marina for electricity consumed over the winter. We knew from the T & Cs that electricity consumed during the winter is chargeable. In the summer it is included in the annual fee. We'd never been charged before and had assumed this was an oversight on their part. Our consumption would have been minimal anyway, only the battery charger would have been running. Anyway however it occurred, Kim discovered that every time we left the boat and switched the saloon 210v circuit off, we were unwittingly switching off the battery charger. We had always believed it was fed direct from the incoming 210v power and not via the 210v switch panel. A bit unlikely when you think about it! So the reason we had never been charged for electricity was that we had never used any over the winter. This last winter we have had the Ultra-Sound running off a separate breaker which has always been left on, so we used electricity for which we have been charged – only €30 or so. This of course raises the question as to whether the battery expired after five years because it had never been kept properly charged, especially over the winter when the boat is left for five months or more. Needless to say we are now making sure the battery charger is operating when we leave the boat.
When we were over for our re-commissioning, we had noticed that the fridge compressor appeared to keep running all the time. Kim noticed it again when he went over on his own to do the heads pump. It was not apparent then that the fridge was not working, as the ambient temperature was quite low and we were only on board for one night. This Easter, being on the boat for four days and having a heater running in the boat all the time it soon became apparent that the fridge was not working at all, despite the compressor running all the time. In fact we ended up throwing stuff away before the weekend was out. When we got back Kim spoke to a UK service agent and described the problem and they advised that we would have to get the system re-gassed. Kim then phoned Pieter at Delta, described the problem and asked him to sort it out. He said straight away "oh that sounds like you need the system re-gassing. We will get a man from Goes to come over and fix it". More expense, but at least his diagnosis matched that of the UK service agent.
Our next trip is in two weeks time so hopefully it will have been sorted out by then.
The cleaned ropes all went back on the boat okay and look a lot better. The binacle cover had been washed and whilst not all the green came out, it did look alot better. However, Kim had bought some Fabsil to re-proof the cover and due to all the rain, this did not get done. So a job for next time
Friday, 20th April 2012 – A Change of Plan
We had planned to go over to the boat this weekend. This was a ferry crossing that Kim had originally booked for last weekend, but moved to this weekend because the weather was considered too cold last weekend. Well, it has been declared too cold this weekend as well - 10 degrees! Given that the forecast for next weekend looks a whole lot better - 14 degrees, we thought that it was pretty pointless going over this weekend and spending the weekend hunkered down trying to avoid the cold and the rain. So it will be a weekend at home. We must go next weekend, because we need to bring a certain amount of gear home due to a holiday plan for the following weekend.
There does seem to be an excessive use of the word 'weekend' here, doesn't there?
What is the holiday plan, you ask?
Well, on Saturday 5th May, we fly out to Croatia for a week's sailing off the Kornati Islands in the Adriatic. We have chartered an Elan 33 for the week. The long range weather forecast is for 25 degrees and 'wall to wall' sunshine. We can't wait!
Coming back to earth, it will be nice to get a weekend in (there's that word again), sailing in our own boat, before we rush off chartering someone else's. We may even find by next weekend that the fridge has been fixed.
Saturday, 28th April 2012 - In Spite Of The Weather
Having postponed last weekends trip because we thought the weather would be better this weekend, the forecast got progressively worse as the week went on - as of this morning, this was Weatheronline's best bet.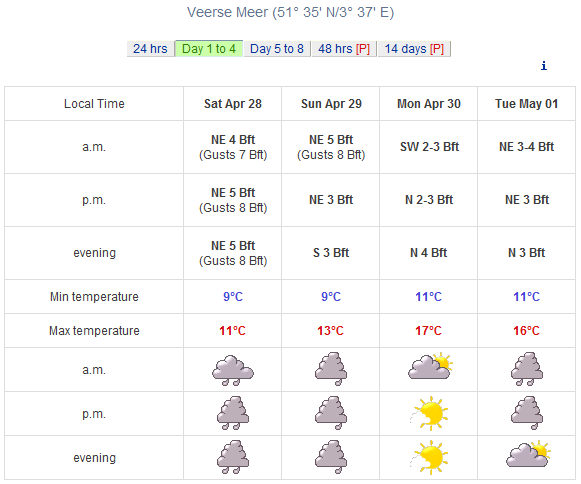 The journey up from Calais was wet and marred by the motorway being shut, the diversion adding about an hour. We got to the marina about 13:00hrs, but at least it wasn't raining when we arrived.
The outside temperature is only about 10 degrees so we are glad of having the convector heater still on board from Easter. Having warmed up with a cup of coffee it is off to the Spar Shop to get some dinner for tonight. With the wind howling through the rigging we are not going anywhere. We don't have to! This time next week we will be soaking up the sun in Croatia!
Sunday, 29th April 2012 - Final Verdict On The Ultrasonic Antifouling System
This morning as Wendy was coming back from the showers, her attention was caught by the jungle that was starting to grow on the hull below the water line. Further investigation revealed about a foot of weed stretching down about 6 inches below the water line. It was difficult to see any further under the hull, but the rudder was clearly coated in a veritable forest.
This has come as a big disappointment, as at the end of last season it looked as if the ultrasonic antifouling system was working. Clearly over the winter and more likely during the last month or so it has not stopped the weed. Last year, of course, there was still the left overs of the previous antifouling, so it's difficult to say whether the system has really worked at all.
Unfortunately, the boat is going to have to be lifted out and the weed jetwashed off. We were always intending to lift her at the end of this season as the anodes will probably need changing as they were last renewed in October 2009, which is when she was last antifouled. It would then seem prudent to have the hull antifouled again. Obviously this is a cost that we hadn't budgetted on, especially coming on top of the new battery and the fridge.
Talking of the fridge - the marina had obviously got that fixed as it is now working normally, which is some consolation.
Back to the Top
Back to Archive