Back to Archive
Sunday, 1st April 2013 – Catch Up On Sunday
Sunday morning was glorious, clear blue sky, but a howling wind, so bitterly cold.
It had been a clear night, so very cold but with the heating on we were really snug. We had a leisurely morning and finally bade Emjaytoo goodbye about lunch time. She looked all ready for the coming season; we just need some good weather now.
Actually, she is not all ready. What you can't see in the photo is that her decks and cockpit are filthy with mud and green algae from having sat out all winter. In the next week or so Kim is hoping to get over by himself armed with the jet wash and polishing machine to get her back looking presentable.
Sunday, 14th April 2013 - Spring Cleaning
Of course, Easter wasn't actually the start of the sailing as such, just putting Emjaytoo back into commission really. This weekend Kim went over on his own doing the boring stuff like cleaning, repairs and fitting a new battery monitor. Wendy already had other plans for the weekend, so it worked out okay.
The jet wash proved brilliant again at shifting all the caked on green gunk and the boat is now looking as good as can be expected.
Unfortunately, after six years, the white gelcoat does not gleam quite like it did when the boat was new. Some hard work with gelcoat restorer would help, but there is a limit to how much can be done in a weekend, or more to the point, how much work Kim is prepared to do in a weekend!
The new memory foam mattresses finally got installed and Kim says they are very comfortable. Wendy will pass judgement next weekend.
Sunday saw the battery monitor installed. As usual a job that might be expected to not take long, turned into a long hard slog. As soon as you start lifting sole boards, emptying out cupboards and even disassembling things, the inside of the boat turns into an obstacle course where there is not even room for Kim to actually do the job properly. In the end, though, it all looked very smart and will give a useful insight into our battery usage. Already Kim has discovered that one LED light fitting uses 0.2 amps, whereas the standard halogen fitting uses almost ten times that amount!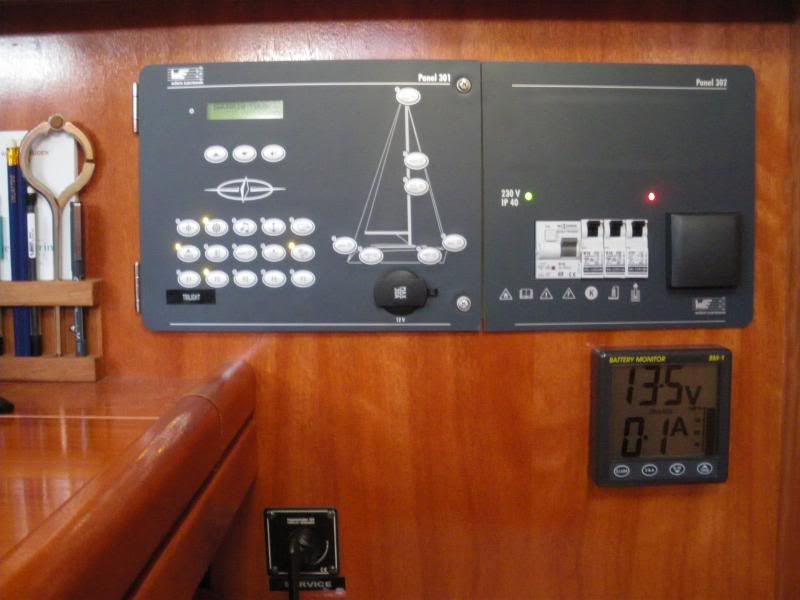 Next weekend we are both on the boat, hopeful that we might be able to start sailing. It seems like an age since we were last out on the water. The forecast is looking quite good, too, but that is unlikely to be accurate as we know from bitter experience and it will probably all change by then.
Thursday, 18th April 2013 - Keeping An Eye On The Weather
As previously commented, we are off to the boat this weekend, to hopefully get the sailing under way. We are keeping a watchful eye on the weather. So far, Wallie has been consistently forcasting a good weekend - maybe a bit cool, only 10 - 12 degrees, but plenty of sunshine and a good breeze to start the season.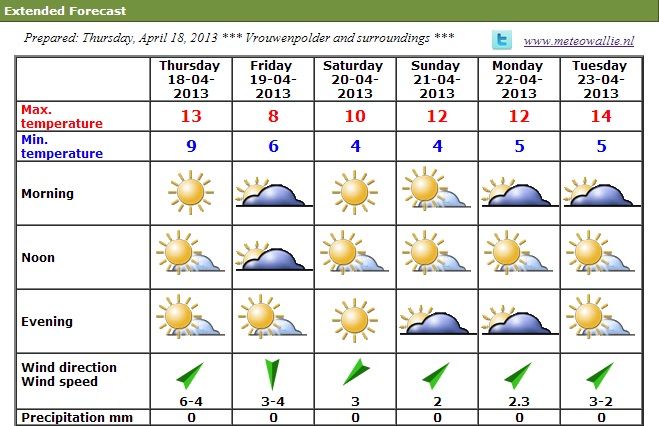 Last weekend, Kim brought the binacle/cockpit table cover home to wash it and hopefully get some holes that were starting to appear, patched up. Five days to get it washed, dried, re-proofed, over to Wilkinson Sails for the repairs and back home, was always going to be tight! So far it has been washed, dried, half of it has been re-proofed and this evening, Kim dropped it off at Wilkinsons. They will repair it tomorrow and Wendy will pick it up in the afternoon. Kim will then finish the re-proofing tomorrow night and by Saturday morning it will have dried out enough to be taken back to the boat.
There are still a few bits & pieces left to take back this weekend, but then it will all be "sorted" (as they say on Eastenders).
Saturday, 20 April 2013 - Managing Expectations
Looking back over the blog archives, we were perhaps a little optimistic in thinking that we would get a sail this early in the year. The sunshine and cloudless sky on Saturday were stunning but the the temperatures and wind sadly did not match. The forecast 10 degrees was accurate enough but the winds of NW force 3 proved to be well into F 4 and from the East, so bitterly cold and not the easiest direction for departing out berth.
We were on the boat by soon after 10.30 so unloaded everything and Kim then set about the various tasks he had planned, like replacing the newly cleaned and repaired binnacle cover and using the "handy Billy" pulley arrangement to get the tender back on board.
We ummed and aaahed about whether to go out but eventually decided that we really did not want to be parted from shore power and the consequent warmth of the fan heater, so decided to stay put and make the best of it.
After some hot soup for lunch, we set off on a 5 mile walk to Geersdijk and back
lovely in the sunshine but very cold and blustery in the wind.
Dinner was a beef goulash Wendy had prepared Friday night, with rice and a glass or two of cheap Dutch Spar Market wine, actually, this particular brand of wine sold by the local Spar shop, in litre bottles, is parrticularly good. We have had their house red, white and rosé on previous occasions, this time we had their Chilean red and it was absolutely superb!
We settled down to a cosy, evening with the fan heater pushing the temperature to just short of 20 degrees. The Goudplaat, with no mains hook-up, really would have been cold by 10.00pm!
Kim then started thinking about blown air heating - Webasto or Eberspacher. When we originally bought Emjaytoo, heating was an option that we dismissed on the basis that it was expensive for what would probably be a couple of weeks' use at the begining and end of each season. That assessment of its potential use is still valid, except that on a weekend like this, the appeal is that much greater.
The problem is, that we can go out and sail on a day like today, but after a coupleof hours, we will end up chilled to the bone. We then tie up to a jetty on an island where there is no shore power and we have no way of warming up. Of course, a heating system purchased and installed by Kim, will be cheaper than a dealer supplied option, but it is still a substantial outlay and Kim has to install it. Something to ponder over next winter.
Our night's sleep on the new mattress was really comfortable and despite the low temperatures, we were warm as toast. So the memory foam mattress plus furry "teddy bear" topper got the thumbs up from Wendy!
Sunday morning was cold and we were again glad to have the fan heater. It warmed up a bit more than yesterday due to considerably less wind and turned into a nice morning, albeit still a bit fresh. After a leisurely breakfast and clearing up we drove up to Vrouwenpolder and had a good long walk on the beach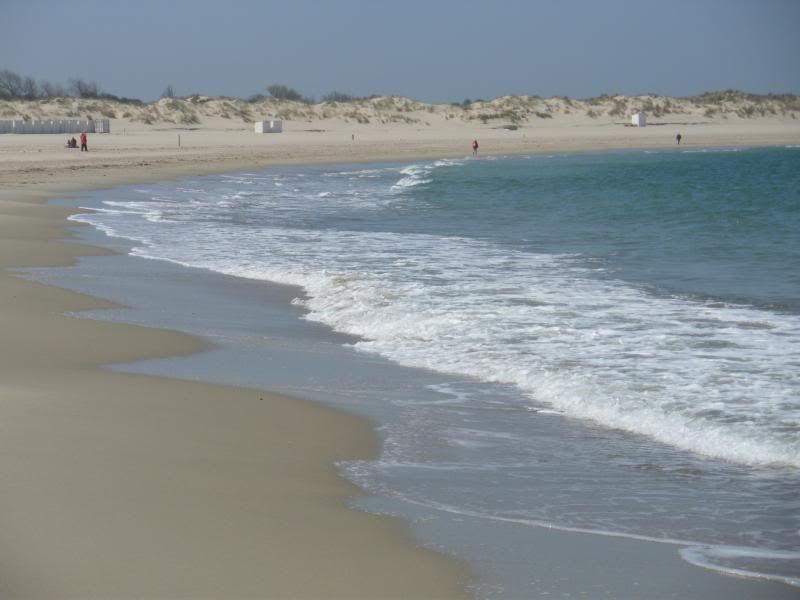 followed by lunch in the Lekkerbek. Out of the wind it was posititively balmy and we sat eating our lunch outside.
The fact that we didn't get to sail this weekend in no way detracted from the enjoyment. We got to do a lot more, two nice long walks and a relaxing weekend. Our next trip is the Bank Holiday in two weeks' time and after that it is our two weeks' holiday!
Back to the Top
Back to Archive