Back to Archive
Tuesday 1st April 2014 – Problems with our Dutch Digital TV
When we went over to the boat three weeks ago, we found the digi-box for the TV didn't work. We got the three free channels, but the pay channels were not working. This is not necessarily a problem at first, as when we have not used the TV for a few months (in the case of the winter lay-up – five months) it takes a while for the digi-box to "catch up". On this occasion, it didn't. Last weekend, we still didn't have any TV. So after a few unsuccessful attempts to 'phone them – Dutch 0800 numbers are a bit difficult to call from an English mobile, Wendy finally sent them an e-mail. By the time we had got back home Sunday evening, we had an e-mail saying our account had been re-activated and everything would be fine the next time we go over (which is next weekend).
Whilst we were penning our e-mail to KPN, we thought it would be a good idea to check the Dutch bank account to make sure that the monthly subscriptions were going out okay. We found they were going out okay and some! It seems that for quite a few months we have been charged six or seven times as much each month as we should have. Kim joked that we must be paying the subscriptions for everyone else in Delta Marina!
Today Wendy had an exchange of e-mails with KPN and it would appear that we are indeed paying other people's subscriptions! This has arisen because there are lots of subscribers all with the same address – the marina! Wendy will now have to put her Dutch language skills to the ultimate test and sort the mess out. She does of course have a back up plan – Rens, her Dutch/English "skype-pal", who if necessary, can negotiate in Dutch on our behalf! Kim has full confidence in Wendy's ability to sort it!
Please don't ask how we can have let this situation go on for so long without noticing that our Dutch bank account was haemorrhaging money every month!
Sunday, 6th April 2014 – Getting It Right!
This was a very successful weekend! We were booked on a P & O ferry as we had been unable to get a shuttle due to it being half term. We were one of the last cars to be loaded at Dover and the car decks were packed – this didn't look very encouraging! We were expecting the ferry to be packed, but in fact we got a table in a quiet corner and had a very pleasant crossing.
As the ferry takes nearly an hour longer than the shuttle, it was midday before we arrived at the boat and given the jobs that needed to be done before we could venture out, we quickly realised it was a bit ambitious expecting to get our first sail in this weekend. Whilst the weather on Saturday was quite pleasant – brilliant sunshine, but still a bit cool, the forecast for Sunday was not so good. So we contented ourselves with other things.
Kim had to put the battens back in on the mainsail and re-fit the backstay adjuster. He then started making up some fixed mooring aids – lazy lines, to assist us in getting in and out of the berth. He had also taken the jet wash and so used it to clean the binnacle cover which was pretty green.
We had taken Wendy's bicycle over on the roof rack and Wendy went off to see the harbour master about getting a space in the bike store. This cost €50 for the year which Wendy decided was worth it so the bike will stay at the marina. Having got her space allocated, she then went off to explore the minor back lanes around the marina leaving Kim "messing about in boats"!
The change of berth has meant a lot of new jobs even before we start sailing. Kim is never happier than when he has something to ponder and fret over, so he has been in his element planning the new mooring lines and procedures. Unfortunately, these jobs do not include adding a few inches to Wendy's legs! Whilst on paper berthing stern-to makes it much easier to get on and off the boat, this presupposes that your legs are long enough to step between the boat and the pontoon. The step for Wendy is quite considerable, especially with the difference in heights and she is convinced that one day she is going to miss the tiny step on the boat and land up in the water!
It was surprising how quickly the afternoon passed and soon we were tucking into dinner and settling down with a video for the evening. Jim had bought us some DVD sets for Christmas and our first encounter with Karl Pilkington proved most entertaining! Although we watched a DVD, we did establish that the Dutch TV was back up and running. We were also able to see from our account details that whilst the account was suspended we did not make any payments. That is – no payments for our account! As we have discovered we have been paying for everyone else's! That still needs to be resolved – but Wendy is on the case!
Sunday morning was cold, grey, raining and no wind! All of which vindicated our decision to stay put. After breakfast Kim finished off the lazy lines and removed the main halyard so it could be taken home and washed, it is absolutely filthy and after the dramatic affect the washing machine had on the back stay adjuster, we have high hopes! Kim went over the chandler's and bought some "thimbles" and shackles to make up some fixed mooring lines to be attached to the mooring posts at the front of our "box". More of this later. When making up the lazy lines on Saturday Kim had found a YouTube video showing a neat way to finish off a splice by tapering it. So the two lazy lines which have spliced loops at each end have been done using this method. The fixed lines will have the same splices and a photo will no doubt follow!
We cleared away and left at 2.15pm with a view to getting our 5.50pm ferry from Calais. This timing meant we would arrive at Calais an hour and five minutes before our departure. The journey down was remarkably smooth and we got to Calais just after half past four to be asked if we wanted to go on the earlier 5.00pm ferry! As they say - "a result"!
Sunday, 13th April 2014 – Kate's Mast Goes Up
This weekend was one to be spent at home and not on Emjaytoo, so yesterday was a good opportunity to pop up to the marina for "a couple of hours" (!) and have a go at getting Kate's mast up using the mast lifting A-frame.
We got up to Conyer Creek at about 11 o'clock Saturday morning and first set about getting the bowsprit on. That had already had a couple of dry runs some weeks ago, so was straightforward enough. We then got the A-frame assembled and set up on the boat. We found that with the two of us the mast went up quite easily. So having established that we then lowered it and started to fix all the various bits of standing and running rigging.
There are four shrouds, two fore-stays and two running back-stays. Then there are two foresail halyards, a main halyard, a gaff halyard and a topsail halyard! Finally add a topping lift, a burgee halyard and doubtless some other bits of rope we've forgotten. All of this had to fixed to the end of the mast that was about 8ft up in the air, so involved working off a step ladder.
Before long there was absolute rake of rope hanging off the top of the mast.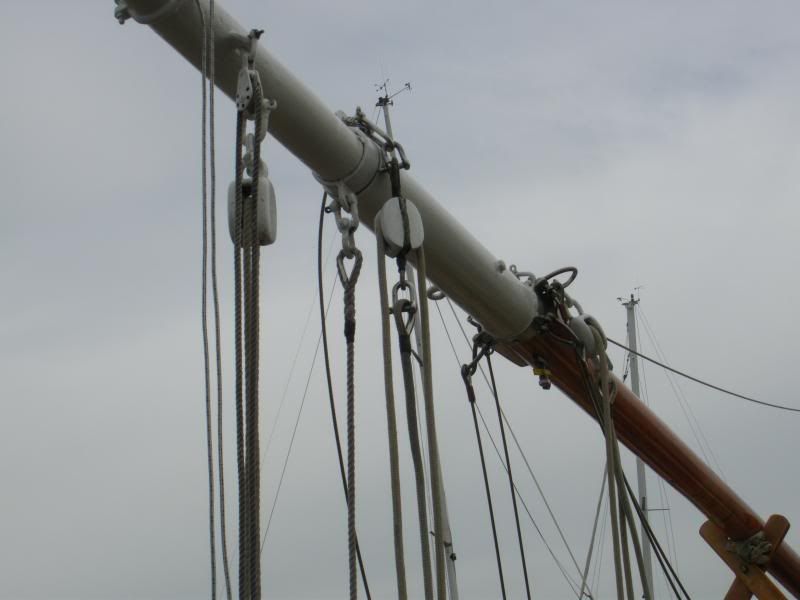 Up the mast went and then Kim started to fix the standing rigging to the boat in order that the mast became self supporting.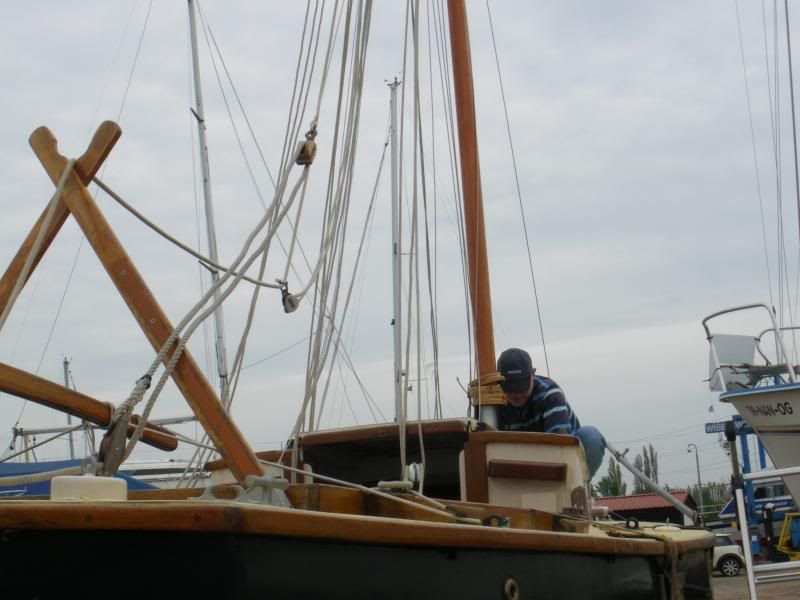 Half way through, he looked up at the top of the mast and saw that a couple of the stays were tangled and no amount of flicking and jiggling would untangle them. So, nothing for it but to lower the mast and start again.
Second time around and he spotted some other rope tangled up! Fortunately, this time he was able to untangle it by flicking the rope. Eventually everything was fixed where it was supposed to be and we were feeling pretty pleased with ourselves when along came the yard manager and said, "You can't leave her with the bowsprit sticking out like that". Apparently they will be moving Kate to a different part of the yard next week and they can't get their tow vehicle in close enough with 6 foot of bowsprit sticking out. So we had to take the bowsprit off!
By the time we got the cover back on and were ready to leave it was 5 o'clock! We had been at the marina for 6 hours!
We will need at least one more full day to get the gaff and boom set up and bend on the sails. Then we can start thinking about launching her. Not sure when that will be as we are going away to Germany at Easter and then we will be into May and the Bank Holidays which are traditionally weekends we spend in Holland, but we will get there in the end.
Sunday, 20th April 2014 - Update On The KPN Digital TV Problem
So far we have got the TV back working and we think we have got KPN to acknowledge that there is a problem. However, they are still charging us for everyone else's TV subscription! The latest e-mail from them has requested contact details at Delta Marina, so that is a good sign. Meanwhile, we have to keep filling the Dutch account up so there is enough money to cover what they keep taking out. Hopefully, we will get it all back. Should be several hundred Euros!
Back to the Top
Back to Archive