Back to Archive
Saturday - 10am, 1st August 2009 - Off To The Boat With Stewart
As of yesterday, Lucy had recovered from the flue and neither Kim nor Wendy had shown any signs of going down with it. Kim went off to work - a meeting in Hoddesdon, thereafter heading over to Kineton to pick Stewart up and got back home at 7.45pm after an horrendous four and a half hour journey.
This morning was all very hectic with heavy traffic in Dover plus a broken down lorry to add to the stress. We checked in at 9.45am -0 just 15 mins before departure and drove straight on to the ferry without having to wait at all. Better still was the fact that the dedicated car deck was full, so we are on the lorry deck, which has no lorries on it (Saturday?), so hopefully we will drive straight off in Dunkerque. Then, despite being so busy, the ferry left bang on 10.00am. So, things are looking good. (Always a good way to put the dampers on everything!)
Stewie settled down with his laptop:
....whilst Kim got on with this Blog entry.
Saturday - 10pm, 1st August 2009 - Staying Put
The traffic coming up to Kortgene was very heavy and when we crossed the lock at the Zandkreeksluis it was absolutley stuffed full with boats - never seen so many boats in there. Looking either side into the Veerse Meer and the Oosterschelde, it was clearly very busy, but then it is the middle of the holiday season. Kortgene proved to be just as busy.
Given it was gone 3.30pm by the time we had stopped in the village to do some shopping and the weather was starting to close in, we decided to stay put. We went for a walk over to the chandlery, where Kim nearly bought some new "foulies"! No, not really! Nearly bought a nice Musto floppy hat though. Might go back tomorrow!
After having a drink in the marina's Watersport Cafe, we came back to the boat and cooked dinner. Then watched a remake of Planet of the Apes on the TV.
Monday, 3rd August 2009 - Got There In The End
Sunday morning we awoke to a really grey miserable looking day with drizzly rain. Kim was going to get a weather forecast on his 'phone but they wanted £3-00 for the down load, so he didn't bother. In fact he was of half a mind as to whether it was worth going out at all. Then Wendy texted to say that "Wallies" was forecasting a sunny afternoon, so off we set.
We put the main up straight away and were getting 10 to 15 knots. It was all very close beating and we furled up the genoa and even did some motor sailing - it made the short tacking a lot easier if you haven't got to worry about the genoa.
When we got to Middelplaten the tack put us on a beat all the way to the Bad Hotel. Full main & genoa and up to 17 knots, great fun although lots of things did go flying down below. Another tack and we were heading up past the Goudplaat towards the Haringvreter. Found space and tied up for the night on the detached jetty.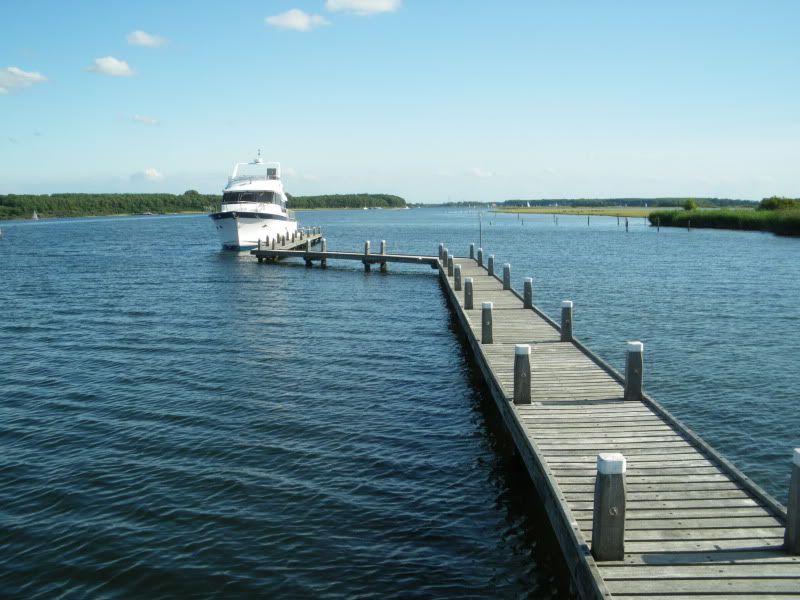 We got the tender out and went ashore for a walk. By this time the weather had cleared and we had a glorious evening. After dinner we watched a film on Stewart's laptop, but just before the end the battery died - how anoying!
Monday morning was up, breakfast and head back to the marina. There wasn't much wind so after about half an hour broad reaching with the genoa only at about 2.5 knots we put the engine on and motored back at 6.5 knots.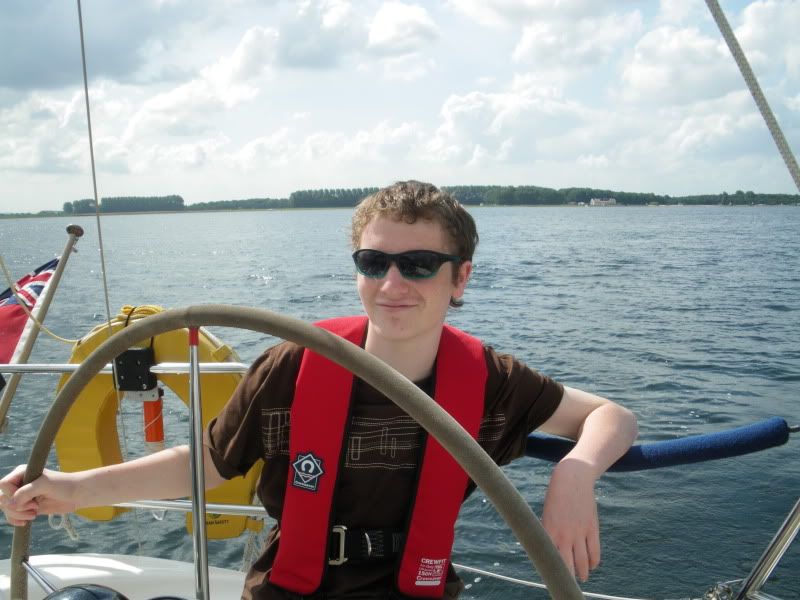 It's often the same when we have to get back and pack up to catch the ferry.
Back at the marina, we have new neighbours on the port side and Kim impressed them with his skills by reversing the boat in for the first time.... and thumping the pontoon! It was abit of a shame really because the basic manouvre went really well - all slow, calm and controlled untill he hit the pontoon. It was only a small thump, but unfortunately our new neighbour was standing by to help take our ropes so saw it clearly. Kim tried to explain it was the first time of mooring stern to!
Anyway Emjaytoo is now parked stern to so as to make it easier to get on and off.
The next trip will be after Wendy has had her op and we figure even if she isn't up to going out, we can at least have a weekend on the boat without her having to clamber over the guard wires.
All in all it turned in to a great weekend and Stewart continues to develope as a competant crew. A very useful person to have on board.
Sunday, 23rd August 2009 - It's Been a Long Time!
It's three weeks since Kim's last trip and five weeks since Wendy's and we are both getting itchy feet. In fact, whilst Wendy went over to Emjaytoo five weeks ago, the weather was foul and we didn't leave the marina. Therefore the last time Wendy sailed was our weeks holiday in late June/early July. We did have a whole week planned from next weekend, but Wendy's op and the prospect of further investigative surgery has put that on hold. However the ferry crossing is still in place, so we are thinking of a long weekend instead - it's the August Bank Holiday on Monday.
Hopefully we will get a week later on in late September/early October
Back to the Top
Back to Archive