Back to Archive
Sunday, 1st August 2010 - Day 9, Back Home
An early start to clean the inside of the boat and pack away. We left Delta at 11.30am and headed off to catch the 3.00pm ferry.
So, was it a good holiday? To some extent, it depends who you ask! Kim would happily spend all day, every day on the boat. Wendy thoroughly enjoys it but finds it physically quite tiring, especially when, as on this occasion, she was already exhausted from too much work, family commitments etc. Her definition of a "holiday" includes rather more swimming, sitting in the sun and reading, but no doubt we'll be doing it all again next year!
Hellevoetsluis was rather disappointing, possibly not helped by the manky weather. On the other hand, if you consider its history, then as a fortified naval base developed during the 17th, 18th & 19th centuries, it is not suprising that it lacked the charm of places like Middelharnis and Willemstad. Our visits to both these towns were made on, generally, sunny days, so inevitably they looked their best.
If we go back to the Haringvliet, we wouldn't bother with Hellevoetsluis, but Numansdorp, Middelharnis and Willemstad would definitely be "musts"!
Monday, 2nd August 2010 – See Our Route To The Haringvliet & Back
Use the arrows and +/- in the top left corner to move around the map. Select "Satelite" for a Google Earth view.
Tuesday, 17th August 2010 – Looking Forward To The Weekend With Zachy
This coming weekend has been 'earmarked' as a weekend on the boat with our grandson Zachy. Given that we have to get him down from Warwickshire, and he's only five years old, it has proven to be a challenging logistical exercise! But it's all sorted (as they say on Eastenders!).
We are booked out on the ferry for Friday, with return on Sunday, so we will have the whole of Saturday on the boat. The weather forecast looks a bit unsettled, maybe a bit too blowy (F4) for such a young crew member, especially as there will only be Grandad and Wendy to look after both Zachy & Emjaytoo! We will play it by 'ear' and see how it goes.
Update to follow!
Thursday, 19th August 2010 – Zachy Arrives
James arrived at about 6.15pm with Zachy, just as Kim got home from work. After a quick bite to eat and a drink James headed off back to Warwickshire leaving Wendy & Kim in charge of their "pirate".
Tomorrow, we are catching the 10.00am ferry and will see what the weekend holds for us. The forecast wind had dropped away to about a F2, but is now back at about F4.
We will see.
Saturday, 21st August 2010 – Zachy Has A Great Weekend!
Well actually, so did we!
We caught the 10.00 am ferry Friday morning and the trip up to Kortgene was only marred by our failure to keep Zachy's sugar levels up. We had identified what we thought was a suitable lunch stop, but it was slightly beyond Zachy's stomach's range! A hastily improvised lunch stop with a few cheese sandwiches and cake immediately rectified the situation and the rest of the trip passed without incident.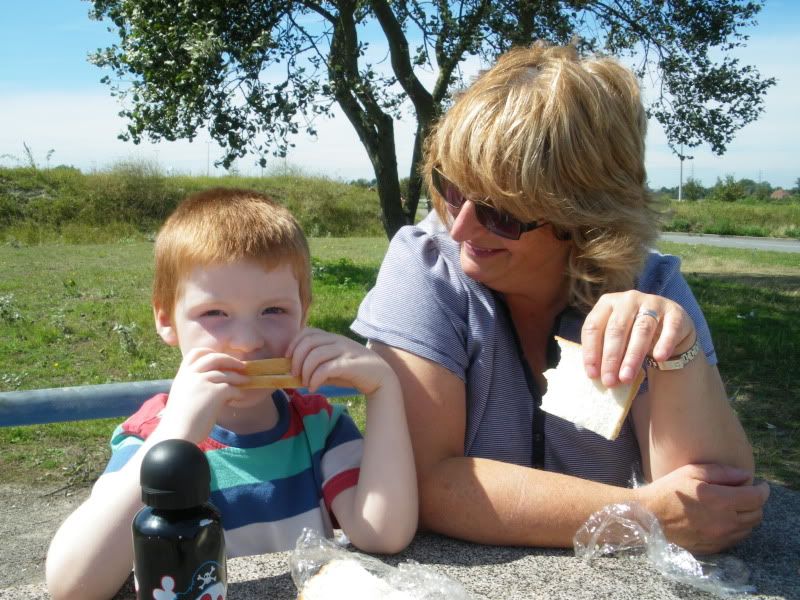 We arrived at about 3.30 pm and set off for an island straight away. The wind was entirely on the nose, so we motored. Zachy didn't mind at all!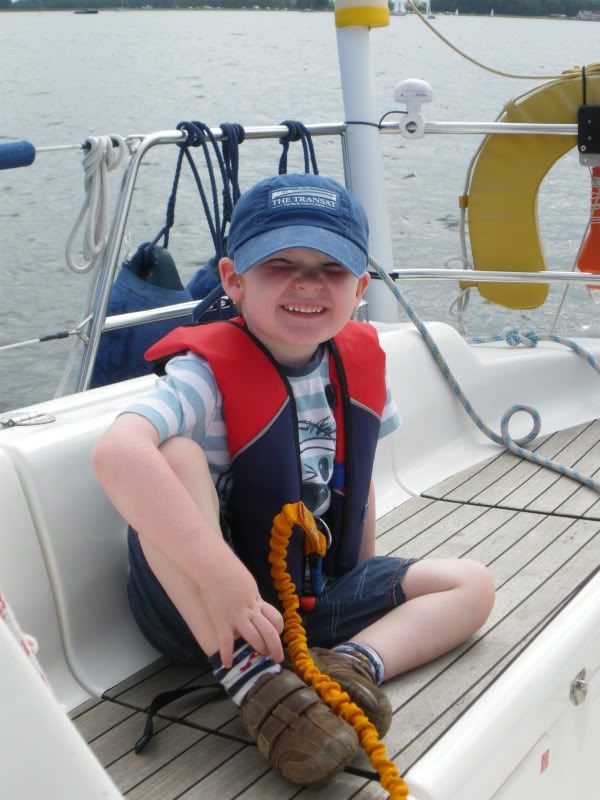 Unfortunately, the Veerse Meer was packed out and our plans of going on Bastiaan de Langeplaat were thwarted. We finally had to settle for the unattached jetty at the Haringvreter. The weather was glorious and we all sat up in the cockpit to eat dinner.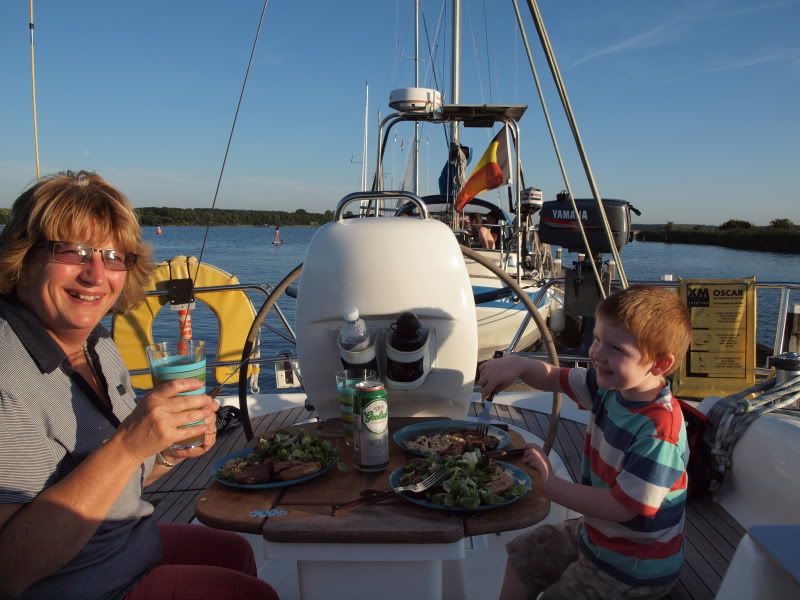 Saturday morning arrived with lots of sunshine and we had to make sure that Zachy had plenty of sun protection on. This was no easy task as he is very ticklish and the whole episode ended up in fits of giggles.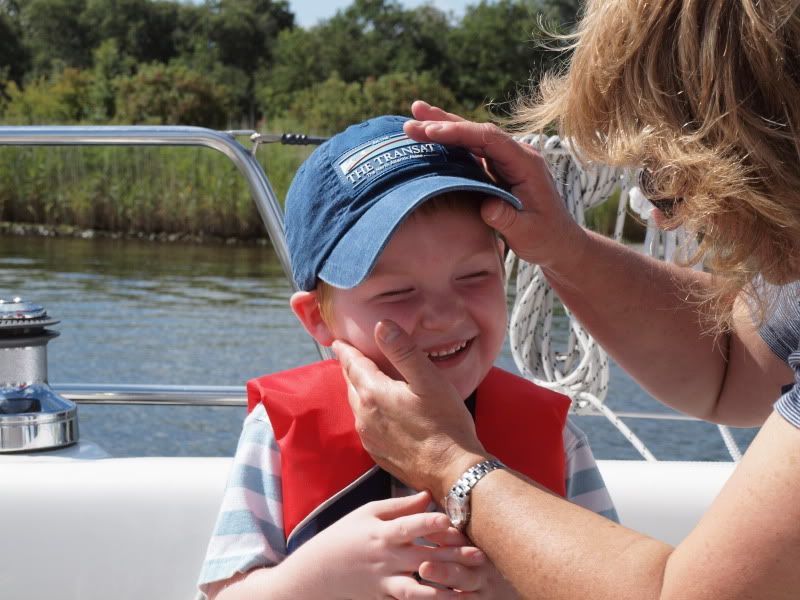 After breakfast, we noticed all the boats leaving the main Haringvreter jetty and made a quick dash over and secured a berth so that we could get ashore and have a good walk round the island. All the time Zachy was looking out for the "pirate flag"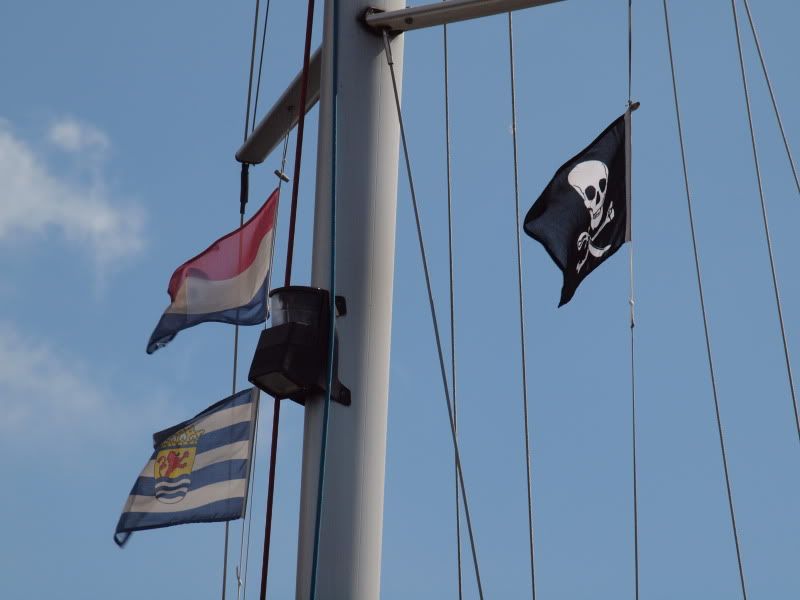 After lunch we headed back to Kortgene. In the afternoon we had several walks around the town and over to the playground in the main marina. We had hoped to eat in the marina's Watersportcafé BooT and whilst the menu looked ideal – chicken nuggets & chips for €6 and mosselen for €15 - it was fully booked, so we ended up at the village chip shop. Zachy still got his chicken nuggets & chips and we found plenty to keep us interested and it all came to less than €15, so not a bad outcome.
After we got back to the boat Zachy had a shower and we then settled a very worn out little pirate into his bunk for the night.
Did Zachy enjoy himself? Well. What do you think?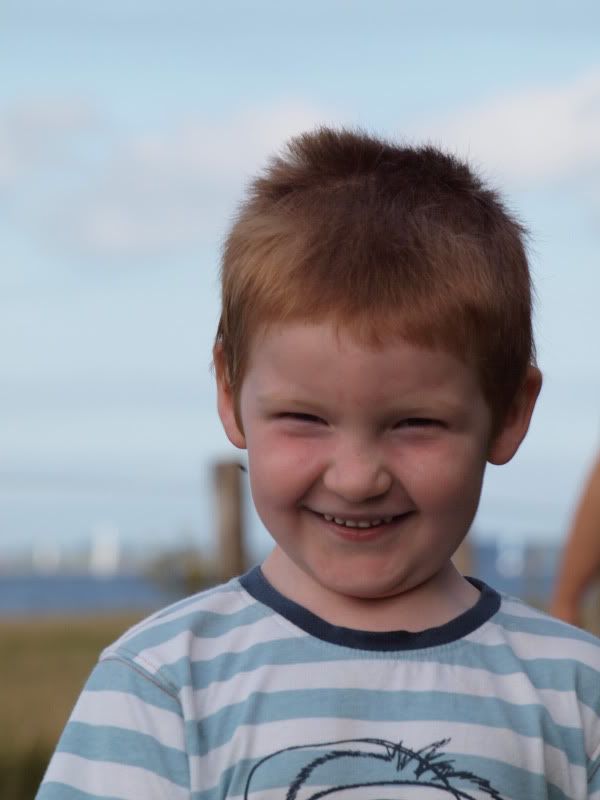 Monday, 30th August 2010 – A Stormy Bank Holiday
Whilst we had plans for where we were going to go this Bank Holiday Weekend, the weather was always likely to scupper them. The forecast was for a wet and windy weekend and that is certainly what we got.
We caught the ferry over Friday afternoon and were on board by 9.00pm. Saturday was windy, but no rain and we quickly decided that this would be a weekend spent doing something other than sailing. Kim took the opportunity to fix the LED lights to the other side of the saloon (having done the starboard side some weeks ago). The effect is excellent, giving a warm light and the whole system uses a lot less power – 5 watts for the whole lot, compared to the existing halogen lights at 5 watts each!
We then went over to Middelburg to the big MediaMarkt (electrical super store) to have a look at getting a new kettle. The old kettle was very slow to boil, didn't pour well and was too tall to fit on the shelf under the LED lights. We got a stainless steel one that looks like a tea pot – short and stout, boils in a fraction of the time the old one took and pours without slopping water all over the worktop.
Saturday evening, once we were securely tucked up down below, was no different to being on an island, except of course we had a good TV signal and the Marina's Wi-Fi.
On Sunday we decided to go to Neelte Jans. This is a permanent expo about the 1953 Flood, the Delta Plan project and the Oosterschelde. We had previously visited it about five years ago, but this time, with a better knowledge of the area, we found it much more interesting. We also learned things we had always wanted to know about mussels – and a few we didn't – as well as experiencing a hurricane in a special wind tunnel. As Kim pointed out later, however, it didn't feel much different out on the dam! Just as we were leaving the Centre, the heavens opened and several hours of absolutely torrential rain followed.
On Sunday evening, we went over to Iets Anders to eat (luckily between breaks in the rain!). Last time we ate there we thought it was expensive, but this time the bill was a much more respectable €67 and the quality was, as always, excellent, in fact – lekker!
What with the wind howling, the water slapping up against the stern (the slappers) and the mooring lines creaking and groaning the whole time, we did not get a very good night's sleep. We left the wind instrument on all night so in the morning we could check the maximum. It showed 39 knots! Not quite a Force 9 but not far short! And that was in the marina! Out on the roads there was certainly plenty of debris, in the form of twigs and even whole branches broken off trees.
On Monday, we were booked on the 6.00pm ferry, but left early and managed to get the 2.00pm one, so home reasonably early, though Norfolk Line are totally unable to handle Bank Holiday traffic and we left ½ hour late.
All in all we had a relaxing weekend, and the decision to stay in the marina was the right one.
Back to the Top
Back to Archive