Back to Archive
Sunday, 5th August 2012 - Wendy's !*!*ing Rant!
Arrived at Kortgene at about 1.00pm due to a slightly later crossing and headed off staight away to the pump-out/fuelling pontoon as the holding tank was pretty full. The wind was blowing about 18 knots straight onto the pontoon which made the arrival simple enough but the departure much more difficult. The arrival was nearly spoilt by an overly "helpful " fellow yachtie who tried to grab our genoa sheet mistaking it for a mooring line!
For the departure, Kim quickly assessed that trying to spring the bow out was unlikely to work given the strength of the wind, so rigged a long bow line and Wendy then motored forwards against it to get the stern out. This was not immediately successful, but eventually it worked. Another "helpful" yachtie then appeared and had to be told in no uncertain terms not to interfere - he was trying to let the spring go before it had done its work.
As Wendy was reversing away from the pontoon the wind was trying to push the stern back and Kim wrongly assumed that Wendy had not straightened the wheel. There then followed a heated exchange, which due to the wind, was carried out at shouting/screaming level! Whilst Kim and Wendy may have had trouble hearing each other over the wind, most of Delta Marina probably heard Wendy very clearly - the wind carried the "blue air" across the marina! Kim can be rather dictatorial and as Wendy pointed out, having encouraged her to do all the relant courses and become a capable sailor, he shouldn't be surprised when she objects to being "bossed around by Captain Hitler"!
We then continued up the Veerse Meer under power as the wind was bang on the nose and also raining intermittently. We eventually tied up on the Haringvreter unattached jetty, by which time the wind had died away to nothing.
The evening wasn't that great by Veerse Meer standards but still impressive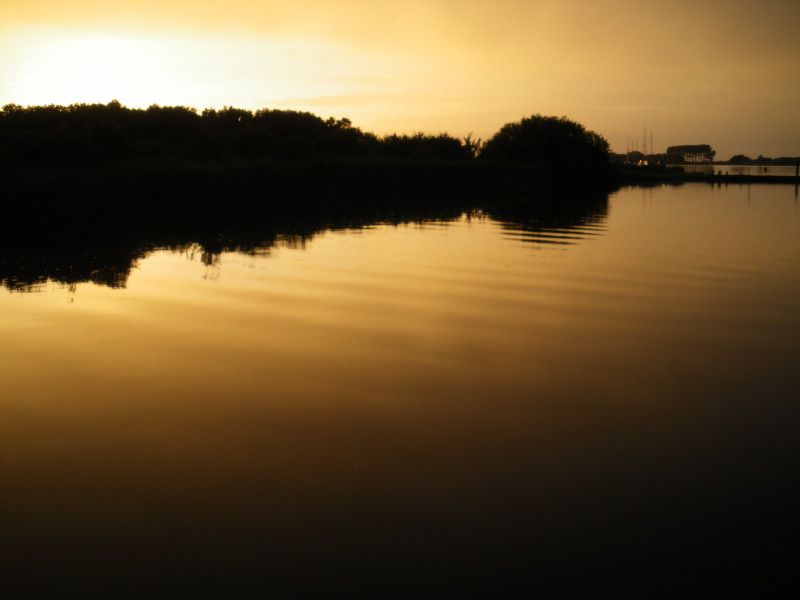 and very tranquil.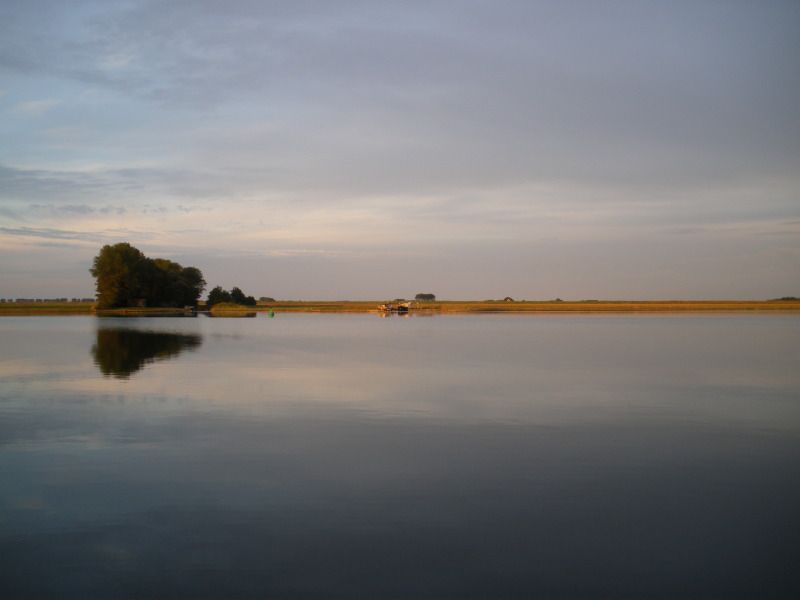 Overnight there was a bit more rain and early in the morning we were visited by the "slappers". By the time we had had a cup of tea in bed the wind had died away and it was a very bright sunny day. When we were ready to depart there was a bit of wind slightly pinning us on, so we reversed against the stern line to spring the bow out. Another "helpful yachtie" appeared and despite being of a certain age which implied some degree of experience, seemed to have no idea what we were doing. Another case of Wendy having to be forceful otherwise he would have cast us adrift before we were ready. As the bow sprung out he actually seemed amazed at what we were doing and you could see the penny drop as he mumbled "aaah" to himself and mimed the action of the bow springing out from the pontoon!
We sailed back for a couple of hours but with the wind down to only 4 or 5 knots and some pretty torrential down pours we decided to motor the rest of the way back. We got back to Delta by about 1.30pm and managed to pack away the sails and other outside stuff before we were treated to another torrential downpour, this time accompanied by thunder and lightning. The rain gods were trying to out do Wendy's outburst from Saturday!
Fortunately it was short lived and we finally cleared away to the car in glorious sunshine and the trip back home was uneventful. This was only Wendy's 4th trip out on the boat this year, the last one being some 5 weeks ago, so it was good to be back on the Veerse Meer and despite some mixed weather, "helpful yachties" and Wendy's rant, we actually had a relaxing weekend!
Sunday, 12th August 2012 - Not Such A Great Weekend
This weekend, was always going to be a bit 'iffy'. We had left booking the crossing too late and all that was available were ferry crossings at £140 return, or a Shuttle at 2.50pm on the Saturday. Well, £140 for a weekend on the boat was just too much, so we ended up on the Shuttle. This wasn't such a bad thing, as it meant that Kim was able to get some jobs done at home before we left.
Maggie had planned to bring Zach down on the Friday afternoon, but they did not have a good journey round the M25, so didn't get to us until 8.00pm! Our late departure on Saturday did at least mean that we didn't have to get Zach up at the crack of dawn on the Saturday.
Wendy had the foresight to book a table at the marina's Watersports Café BooT before leaving home, so as soon as we arrived, we dumped our stuff on the boat and headed off to eat. Zach had chicken nuggets and chips with the Dutch children's typical accompaniment of 'appelmoos', Wendy & Kim went for the 'mosselen en frites', which was excellent.
Zach seemed okay, albeit, obviously very tired. Just as we were arriving back at the boat, we had to make a quick dash to the toilets for Zach which was not as timely as it might have been! By the time we (Wendy, to be precise) had got Zach sorted out and into bed, it must have been about 9.00pm.
After a coffee, we retired to bed, only to be woken up an hour or so later as Zach was out of bed and crying. Kim got up to find Zach half asleep, heading up the companionway. Wendy had anticipated such an event when we'd gone to bed and put the washboards in, so he couldn't have got out. This time Zach made it to the loo in time, but then threw up all down himself!
Once cleaned up and back into bed he slept through to the morning.
Kids being kids, he awoke on Sunday morning as bright as a button! We had thought that we might get a day-sail in on Sunday morning but decided that it would all be too much, if not for Zach, certainly for us! The fact that we had quite a strong Easterly wind also put us off going out. So we decided that after breakfast, we would drive round the lake shore to a nearby beach.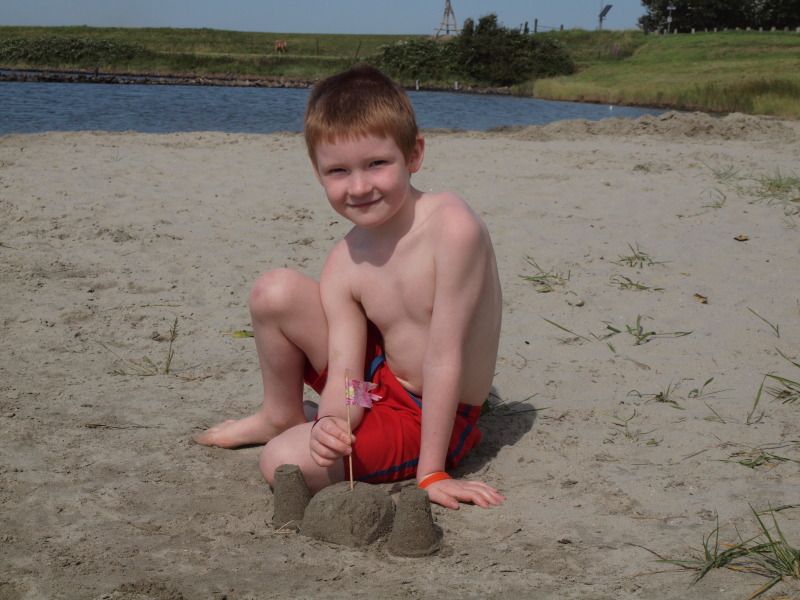 This was a great success, except that we rather under estimated how strong the sun was - Zach was only a little bit red!
We got back to the boat at lunch time and Wendy did chicken breast in gravy with new potatoes, cauliflower, brocolli and carrots, which went down a treat.
Then it was time for the trip back to Calais and the return Shuttle. We finally got home at about 7.00pm. Maggie & James had driven down with Elijah and Opheliah to collect Zach and by 8.00pm Zach was back in the car again for the journey back to Warwickshire.




Thursday, 23rd August 2012 – Another Weekend Going Down The Pan!

It's the August Bank Holiday coming up and we have our crossing booked, but just look at the weather forecast!
Okay, WeatherOnLine do tend to be a bit sensationalist and the Monday looks good, but nevertheless, it looks like we are in for a pretty grotty Bank Holiday. We certainly won't be taking the boat out unless the forecast dramatically improves.




Monday, 27th August 2012 - A Wet & Windy Bank Holiday!

The weather forecast for the Bank Holiday was always crap and that is exactly what we got! The shuttle was booked well in advance, so we thought we might as well have a weekend away and use Emjaytoo as a floating caravan.

We were booked out on the 07.20am crossing, but as it was the height of summer it was all a bit delayed and we finally arrived at the boat at 11.00am. The place was very quiet, lots of room to park the car and few people on their boats. Obviously the Dutch can read a weather forecast too! We say Dutch, but really it should be Belgians, Wendy saw an article on Dutch TV which was looking at Belgian tourism in the Netherlands and Delta Marina was mentioned where they said 80% of the boats in the marina were Belgian!

So we just chilled out on the boat. At 6.30pm we wandered over to the Watersports Café BooT, where we had previously booked a table and had a very enjoyable meal.

Sunday dawned grey/black, very windy and quite wet. As Sunday progressed, the wind abated and the rain got worse! (In fact, we read on Monday that there had been 3.2 cm, almost 1½ inches, of rain in the Veerse Meer area on Sunday!). We went out in the car for a ride and to have a walk somewhere in the evening, but it rained so much we just drove around for 20 minutes and then headed back to the boat.

Wendy had taken plenty of "sewing things" to do, so was happy to just spend time on the boat. Kim, on the other hand who is easily bored, did not find it so relaxing. However, he did manage to amuse himself making a rope ladder.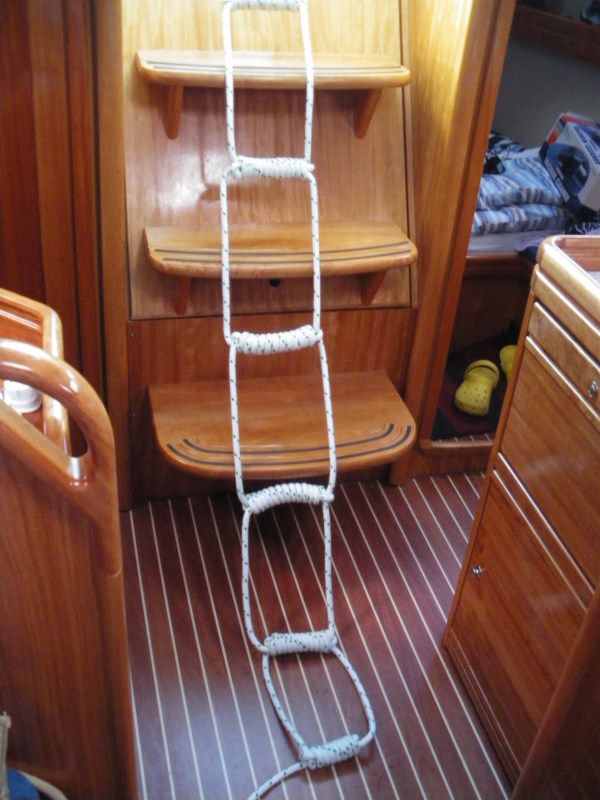 Monday morning, as forecast, the weather was much improved with considerably less wind, mostly blue skies and very sunny, at least to start with. In the morning we drove round to the Wolphaartsdijk side of the Meer and did some exploring, finally finding our way to the Omloop.
This is a little harbour complex opposite Baastiaan de Langeplaat, which Kim motored the tender round a few years ago. It has a very narrow entrance surrounded by shallows and the whole place raises a big question mark for us concerning depth. There were one or two yachts in there which certainly looked as if they drew as much if not more than us. A possibility for our holiday in a week's time.

We returned to the boat for lunch, then packed up and headed back to Calais. Despite checking in nearly a quarter of an hour before the last check in time, we still managed to miss our shuttle thanks to the UK Border Agency! Half an hour queuing up for passport control when we all reside in the EU, where there are not supposed to be any border controls on the movement of EU Citizens, is a joke. It's okay for your average holiday maker who does it once a year as part of their fortnight's holiday, but when you have to go through this ridiculous palaver every fortnight or so, it gets a bit wearing!

Next weekend we are back on the boat for a week's holiday. We will be keeping an eagle-eye on all the weather forecasts over the next four days! So far, this year just seems to have been a wash out. We are really due some luck with the weather. At the moment, the weather, the journey and the general pressure of charging over to the boat every five minutes (or so it seems), are beginning to spoil the enjoyment. Of course it may also be that the novelty is wearing off! But as Wendy points out, sat in a traffic jam on the M25 doesn't hold much appeal either!

Kim is even beginning to think about life without Emjaytoo!