Back to Archive
Monday, 12th August 2013 – A Long Weekend.
This was planned as a four day weekend and whilst we had toyed with the idea of a trip to Oostende, we decided on a trip into the Oosterschelde – Goes, Tholen and Zierikzee.
We were again on P & O Ferries, the last time this year (thank goodness), as all our remaining trips are booked on the Shuttle. After getting our gear on board the boat, we headed off at about half past one on Friday afternoon and as the wind was not that strong, had a sedate passage to Goes, arriving just after five. Even though it was not the weekend, the place was packed out.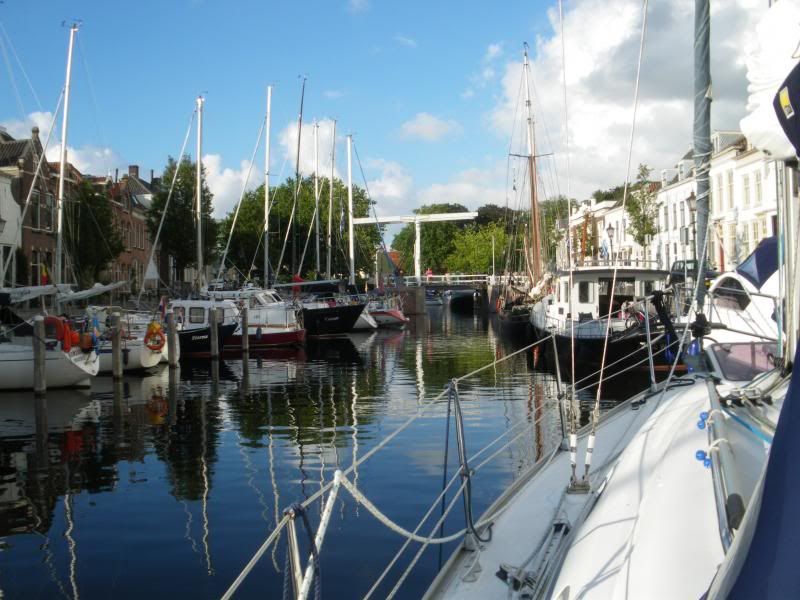 We found a space rafted up to a Dutch Bavaria 36 in the inner harbour. We didn't go ashore, but spent the evening sitting in the cockpit chatting to the very nice Dutch couple on the Bav. Needless to say, they were a bit older than us, retired and able to spend weeks on end on their boat!
Saturday morning, the seemingly nice Dutch couple had had a personality transformation! The evening before they told us that they wanted to leave at 9.00am, we had said we were planning to leave an hour beforehand, so no problem! When we appeared on deck, prepping for our 8.00am departure, the chap appears in the cockpit and starts telling Kim he should reverse out of the raft and try to block the four big mobos that were coming up from behind us, heading towards the bridge (that we were all waiting for the opening of). He became increasingly agitated as Kim refused to pull out into their path and eventually put his bow thruster on to force his way out, only to find that Kim had not yet removed the centre spring, causing his boat to fall back towards the anchor of the boat behind. Boy, was he unhappy. Talk about Jeckyl and Hyde!
After the fracas of the bridges, we tied up calmly at the waiting pontoon on the outside of the Ringbrug and set off to Albert Heijn to do some shopping. As we got back to our boat, the 10 o'clock bridge opening was taking place, so we quickly tagged onto the end of a very large procession of boats, to make our way down to Goessche Sas for the lock. As we approached the Wilhelminabrug, Kim unfortunately, let the gap between us and the boat in front get too large (some people just won't listen!) so the bridge shut before we were able to go through, leaving us and a couple of boats behind us, shut out. As we were wondering how long we were going to have to wait and more to the point, where we were going to wait (there are no waiting pontoons and it is a very narrow canal), the lights went red over green and the bridge reopened to let us through. The bridge controller had obviously decided he needed to let the cars go through and then let us through after he had cleared the tailback of traffic on the road.
Once down at the lock, pandemonium had well and truly broken loose! There were boats tied up and boats twirling for a good half hour as it was almost low water outside and it was taking ages to operate the lock cycle. When it eventually opened up on our side, manners went out of the window and an amazing number of boats forced their way in. Meanwhile we sat moored up to the waiting pontoon watching it all with some amusement, having long since decided to go through on the next locking when it would be much quieter. However, when our turn came, Wendy was not slow in making her way right to the front and we were the first into the lock, with our choice of preferred spot. It is a fact that the Dutch are a very forthright people, often appearing to be rather pushy, if not down right rude. Wendy's push to the front would not have been seen by the numerous Dutch boats as anything other than normal, although maybe not normal for a British flagged boat!
Our trip down the Ooosterschelde was uneventful but enjoyable, with some good sailing and a very favourable tide. Upon arrival at Tholen, we were rather surprised at how quiet it was, but the harbour master wouldn't let us moor up on the town quay, where there was loads of space, instead we were directed to a finger berth which was a piece of cake to get into (especially compared to our own berth).
The boat next to us was a Dutch registered Southerly 115 and Wendy quickly discovered that the couple on board comprised a Dutchman married to an English woman who was a translator – small world. They had quite a chat and discovered they had a lot in common.
Sunday morning, we had planned to go to Zierikzee, but then decided that having been to Zierikzee umpteen times in the past, it might be nicer to stay and spend the day exploring Tholen, otherwise we were at risk of visiting Tholen without actually seeing the place. We have, of course been here once before, but the place is still new enough to warrant more time.
We went for a walk in the morning and returned to the boat for lunch at just the moment the heavens opened and so narrowly avoided a total soaking. Later on in the afternoon, the weather brightened up, so we went for another walk. This may not sound very exciting but we found it really restful to just wander about and relax. Upon returning to the boat, we had a cup of tea whilst watching the various birdlife. From this we moved on to beer and crisps/nuts, followed by chicken stir fry and couscous. An idyllic evening.
Monday morning we managed to get away from Tholen shortly after 8.00am, after Wendy had taken the swipe card back to the harbour master so we could get our €20 deposit back. We motored to The Bergsediepsluis where we had to wait for a couple of other boats to catch up for the lock opening. Bergsediepsluis is probably the smallest lock we have been in. There was a similar sized yacht and a medium sized mobo and that was a squeeze! In fact it was such a tight squeeze, that the other yacht managed to break our ensign staff (flag pole!). In fairness, the staff does stick out at a rather vunerable angle and it was a breakage waiting to happen. Or to be precise, a breakage waiting to happen for a second time, since our neighbour at Delta broke it a few years ago. It's a minor inconvenience and of no real matter.
Once clear of the lock, we motor sailed for a bit as the channel was narrow and we didn't fancy a load of short tacking. Once the channel widened, we switched off the engine, unfurled the genoa and had a couple of hours brilliant sailing. The tide was ebbing which really helped and at one point we had over 7 knots over the ground. The wind was blowing 10 to 12 knots with occasional gusts over 17 knots. Unfortunately, whilst we were storming along, we weren't going in quite the right direction as we had to keep tacking, so our progress towards our destination was not that fast, probably only being 3 to 4 knots and time was not on our side. Is it ever, when we're heading home? We then furled the genoa away and motor sailed with the main up. This enabled us to steer a much more direct line and still continue at 6 plus knots. Even so, we realised that our enjoyment of the sailing was likely to cost us the ferry crossing!
We weren't assisted by the chaotic scenes at Zandkreeksluis. We joined about twenty boats all waiting for the lock to open, when first one commercial barge turns up and then another. Commercial barges in the Veerse Meer are fairly rare so to have two entering at the same time as us was very unusual. Once secured inside the lock – rafted to one boat and with another rafted to us,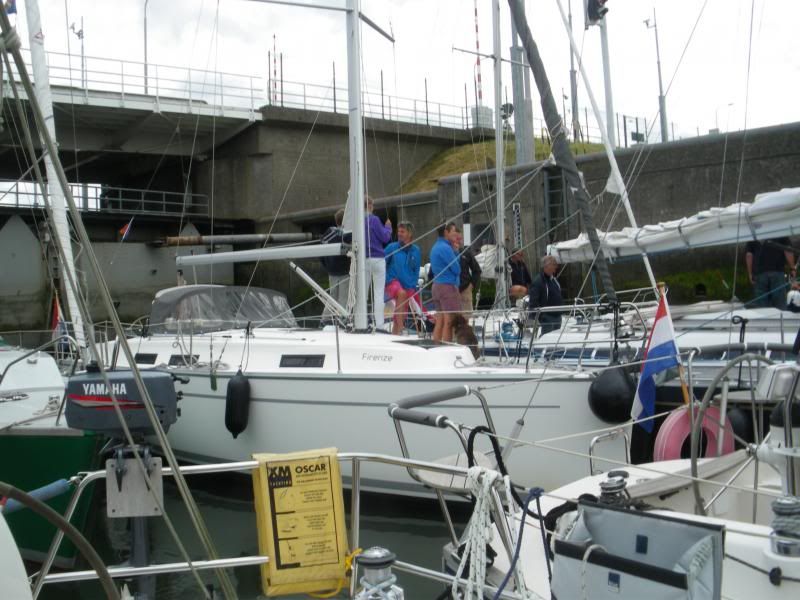 Wendy got talking to the "Dutch" woman next to us who spoke very good English with an Australian accent – turned out she had lived as a child in Australia. She told us that the reason there were barges using the Veerse Meer, was that the canal from the Oosterschelde to the Westerschelde at Wemeldinge had been closed after a pleasure boat had been hit by a barge and sunk in the canal. We had noticed several helicopters buzzing around the top end of the canal and also noticed there were no barges at that end of the Oosterschelde. We later learnt that a Dutch couple, in their sixties, had been killed when their motor boat was run down by a large German registered barge.
As we exited the Zandkreeksluis, it was apparent that we weren't going to make our 6.50pm ferry, Wendy knocked up some bacon rolls for lunch and we tried to pack up as much as we could as we headed back to Delta. The wind was still blowing 10 to 12 knots as Wendy brought the boat in and despite it being a weekday, she still had a good sized audience to watch her! Unfazed, she put the boat back in its berth perfectly!
We managed to pack up and clear the boat in an amazing 30 - 40 minutes (what sort of mess we left remains to be seen!) and then had a very good run back to Calais. Unfortunately, we still managed to miss our booked ferry, albeit by only about 10 minutes. Nevertheless, we were home by just after 9.00pm and we had had a brilliant weekend.
Our next trip is not until well into September as we are having a week's "non-boaty" holiday at the end of August, camping in France.
Back to the Top
Back to Archive