Back to Archive
Tuesday, 5th August 2014 – Kate In The Water!
And here is one of Kate in the water!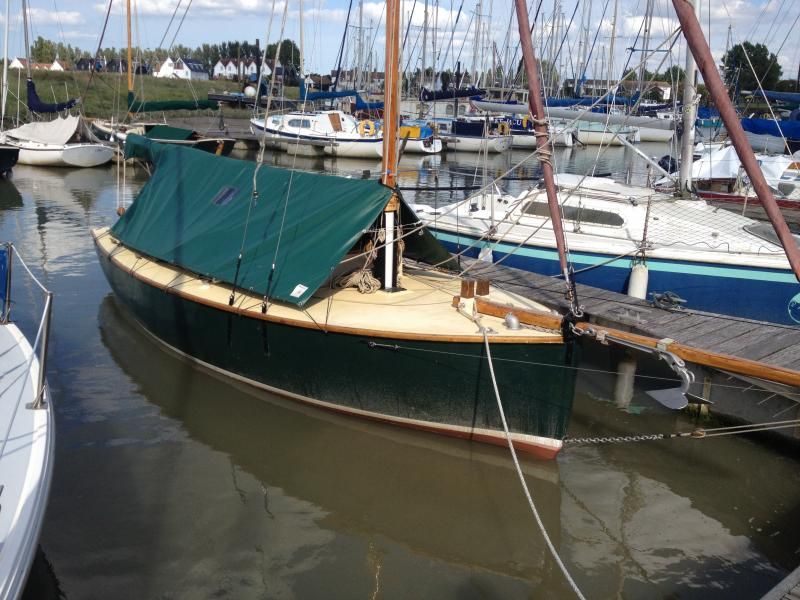 Wednesday, 13th August 2014 – Scuppered By The Weather!
This coming Saturday we were supposed to be heading off to Kortgene to commence our two week summer cruise on Emjaytoo. We had avoided drawing up elaborate plans as to where we were going, deciding instead to play it by ear and see how the weather panned out.
Unfortunately, the weather was not showing signs of being very conducive to a "glorious summer cruise".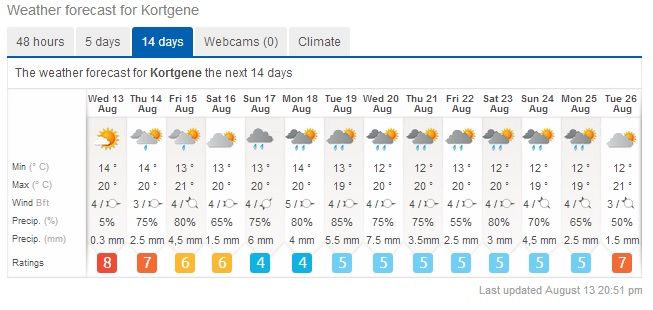 You will note the maximum temperatures of around 20 degrees! The abundance of grey cloud! The 75% to 85% chance of rain! And, what this forecast doesn't particularly identify, but plenty of others do, the rather blustery wind that can be expected! This is not what you want in August for your "summer cruise".
Now you might argue, that if you keep a boat in Northern Europe, what do you expect? Well, we don't necessarily expect better, but we certainly hope for better and we are determined to have better! So bye-bye Holland, hello Southern France!
Yes, we have cancelled out our cruise and are going to have a fortnight in Provence, where the temperatures will be in the high 20's/low 30's. And the sun will shine.
It's a bit of a shame really, because it is already 6 weeks since we were last on board and our next booked crossing is not until 13th September. In addition to that, we have Kate vying for attention. But this is our main summer holiday and we think we are entitled to a bit of R&R, rather than stressing about dealing with the boat in high winds in locks, so it is Provence here we come!
Well, maybe better luck next year!
Sunday, 31st August 2014 – Feeling Smug?
Well, not really. This Blog entry should be all about our "summer cruise". But of course it is not!
Did we make the right decision? Yes we did! We had glorious weather and the temperature hit a high of 33 degrees C. We got to swim in the Med (that's the Mediterranean, not the Medway!), we saw some fantastic scenery, we even had a boat trip, we went to Nice and we pigged out on superb food and wine.
We were so impressed with Provence that we have already booked a Gite for next year. We have also decided that next year we will have our summer cruise earlier in the year (May/June) so that if the weather is disappointing, we will still have Provence to look forward to.
Now we are back, we are looking to the next trip to Emjaytoo, in two weeks' time – that will be about 10 weeks since we were last on board! More imminently, we are hoping to get Kate out of her berth next weekend!
The outboard engine has been serviced and Kim will pick it up on Saturday, hopefully it will be fixed back on Kate and we might get our first trip out in her this weekend! Exciting stuff!
Back to the Top
Back to Archive