Back to Archive
Sunday, 6th December 2009 - Last Trip of 2009
We had planned to go over last weekend to clear the boat generally and take down the sails in particular. But as the forecast was for gale force winds and torrential rain, we postponed our trip for a week. The forecast for this weekend was not a lot better, but it turned out okay in the end.
At one point it had looked as though Kim would be going over on his own, as Wendy started to go down with the "lurgy" on Thursday – high temperature and feeling nauseous, but she some how rallied on Friday and made it. Perhaps it was the promise of a meal in Iets Anders on Saturday night, which did the trick!
When packing on Friday for the trip over, Kim came up with the brilliant idea of bringing Wendy's newly acquired convector heater in case our ancient 1960's fan heater should pack up. It proved to be way better than the fan heater – mainly because it is silent and has a thermostat on it. This meant that we could leave it on all the time and maintain a balmy 20 degrees the whole weekend. As Wendy pointed out, this is warmer than we have our house!
We got the sails down and into the car on Saturday in between the showers, the mainsail was still pretty wet even though it had been in its cover – perhaps not surprising given all the rain we have had recently (fortunately Kim's repairs to the stanchion on the last visit were 100% successful, by the way!).
We also decided to take the spray hood off and bring it home. It was pretty dirty with lots of green algae and somehow had got a hole appearing in it, so the idea is to take it up to Wilkinson's Sails at Conyer and have it valeted and repaired. On the other hand we might send it back to the manufacturer C J Marine down in Southampton – a few 'phone calls need to be made!
By Saturday night, we had pretty well packed most of the gear and headed off into the village to treat ourselves to a meal in our favourite restaurant – Iets Anders. As usual, it didn't disappoint and we had a lovely evening, albeit eating and drinking too much as usual (Kim just can't resist an Irish coffee!).
The weather turned rather wild and windy overnight but fortunately the rain had stopped by the time we came to pack away the last of the stuff on Sunday morning. As always, it was a bit of a squeeze to get everything into the car, even with the roof box, but we made it. We're just hoping that this isn't the time we get stopped by the customs people at Dover as it would take ages to re-pack it all!
All in all, it's a bit sad that we're leaving the boat now until next year, but it's been a lovely weekend, in spite of the weather and Wendy not being 100%, and there's lots to plan for next season. For one thing, Kim wants to learn a few things in Dutch so that should keep us busy over the winter.
Thursday, 24th December 2009 - Review of the Year 2009
Well, another season is over. Our third year in the Veerse Meer with Emjaytoo. Kim still can't speak any Dutch, but he is now starting to think, that just maybe, he should make an effort.
The big difference between this year and last, was that we didn't have any snow! We came over in January to check the boat over and it was very cold, so cold in fact that we ended up spending the night in an hotel in Wissenkerke.
The season then got off to a start with a trip at Easter to Goes with Tom & Stewart as guests. It was not 100% successful as we went in the Binnenhaven and it was very noisy, all night! So next time around we will stay on the outer quay. The Binnenhaven in Middelburg, on the other hand was quiet and pleasant for our next trip.
Amongst the usual trips around the Veerse Meer we also entertained Jimbo to a quiet "chill out" weekend on the Haringvreter, complete with Sunday afternoon watching a Grand Prix on the TV. Stewie managed to make a few more trips as well, but that was the extent of our entertaining for the year. Although our friends Phil & Denise entertained us one evening in Iets Anders (our favourite restaurant in Kortgene).
The high point of the year was undoubtedly our trip to Oostende. Yes, we got there this year! However, it was not without its problems as we had to endure thick fog most of the way there and most of the way back, although we did finish the week with some fantastic weather back in the Veerse Meer. So, next year we are planning to go again – but without the fog, so we can see and hopefully enjoy the passage!
Then in August Wendy had to have a minor operation which somewhat curtailed her sailing, although Stewie came down in the summer and provided a useful crewing resource for Kim.
Towards the end of September we had planned a trip up to the Haringvliet, with visits to Willemstad and Hellovoetsluis. This planned week's holiday ended up being converted into a long weekend with a somewhat unsuccessful and brief excursion into the Oosterschelde, after Kim lost his job and a week's holiday all seemed a bit too extravagant.
The last trip might have been at the end of October when Kim and Stewie went up to Veere and stayed on the Kaai, then returning to Delta and handing Emjaytoo over to the marina staff for her to be lifted out, anti-fouled, have her anodes changed, engine serviced and lifted back in. Kim then went over a few weeks later expecting her to be back in her berth, only to find he had to take her round himself. This constituted Kim's first single handed passage – all half mile of it!
We had thought we might get a further trip out at the end of November/beginning of December, but the weather was not very good and we just spent our last weekend of the year packing away for the winter.
In some ways it has been a less adventurous year, apart from Oostende of course. Now we start planning for next year. In addition to Oostende, we want to do the Haringvliet trip and we didn't get to Zierikzee this year, apart from by car in January!
A photo to sum up the year?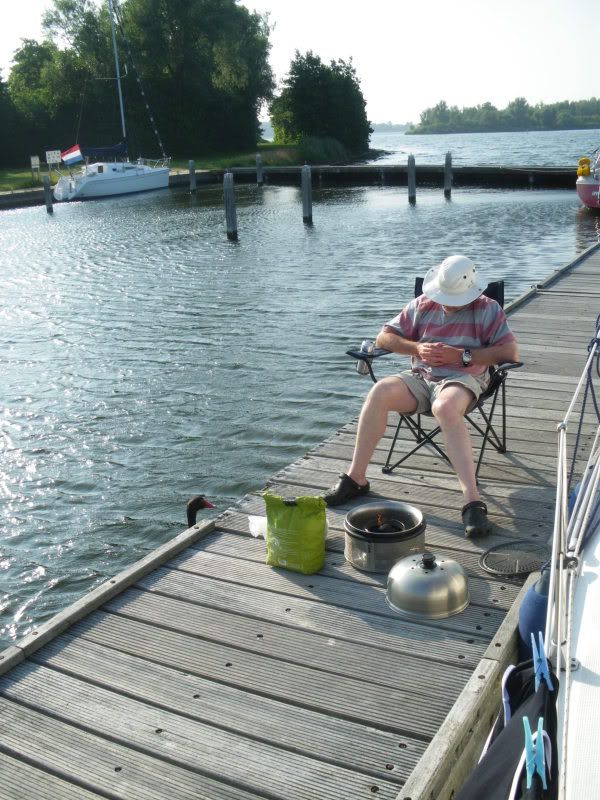 Back to the Top
Back to Archive