Back to Archive
Sunday, 28th December 2014 – Review Of The Year
This has been quite a pivotal year for us in many respects and has made us realise what our priorities are. During the off season, a combination of physical (and financial!) exhaustion convinced us that we would be better off without the burden of a large boat over in the Netherlands and could manage with a much smaller day boat nearer to home. This thought process had started at the end of the previous year and so we were already looking around to see what was available. Thus it was no coincidence that, early in the year, we found and subsequently bought Kate, a beautiful and rarely available gaffe rigged (aka complicated) cutter.
However, by mid-February our hearts were ruling our heads and we just could not bring ourselves to put Emjaytoo on the market, opting instead to start a whole new phase with her in the main marina at Delta. As the year has worn on, it has become increasingly obvious that far from being the idyllic replacement we romantically expected Kate to be, she has in fact become something of a millstone around our necks. The reality is that even if we could face an overnight stay on board (no running water, no loo, no headroom), the chances of the tides and weather all coming good at the same time are remote to say the least, as the "window" either side of high water at Conyer Creek (her home berth) is so short.
The really early spring weather (20 degrees in early March!) meant that we were able to enjoy stays in Holland from much earlier than usual, even if our first actual trip out wasn't until early May. All of this reinforced how much we love: a) Emjaytoo; b) sailing in the Netherlands; and c) just being in the Netherlands.
Mid-summer was a bit frustrating as various family commitments meant that we were not able to spend as much time in the Netherlands as we would otherwise have done. This was then compounded by the dire forecast for what was to have been our summer cruise and resulted in us turning right in Calais and heading down to Provence, a decision which appears from talking to our Dutch neighbours to have been entirely the right one.
Once we got back into the swing of things in September, we had some glorious weekends with the temperatures still well over 20 degrees in late October. Clearing away was not fully completed until the very end of November but we still enjoyed our last weekend, in spite of it being a bit chilly.
So to sum up, this year has made us both realise that we are nowhere near ready yet to give up Emjaytoo and sailing in the Netherlands. Some things are worth the effort and if some years we don't sail her as much as would like, well so be it, there's always next year. As for Kate, we will just have to wait and see.
A photo to sum up the season?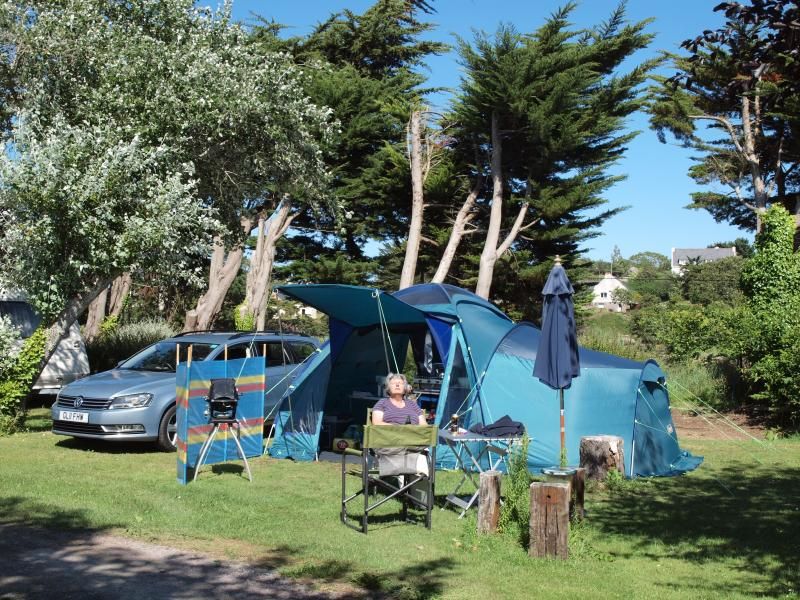 Well, we actually spent more days on French campsites this year than we did on Emjaytoo!
Back to the Top
Back to Archive