Back to Archive
Sunday, 4th December 2016 – The Joys of A Heated Caravan!
After a very cold week, on Tuesday night it dropped to minus 3.5 degrees, Kim was fretting about the water system in the caravan because it had not been drained down (when isn't he fretting about something?). To be fair, the cold snap did catch us out! We hadn't drained the system down because we were always planning another trip away this weekend and didn't think it would get that cold at the end of November.
Friday was one of Kim's "retirement days", so we had booked Friday and Saturday night at a Caravan Club site in Brighton. Sites open all year round are a bit few and far between, and those that do open get pretty booked up, though fortunately it did still have some non-serviced pitches available. Brighton, of course was quite a trek towing the van – two hours from the storage place on Romney Marsh and all "cross country" roads.
We had arranged to pick the van up at 10:30 and this is where our weekend very nearly fell apart! We have to give 24 hours notice to pick the van up which Kim had given by e-mail and duly had a confirmation back. Despite some road works and a diversion, we arrived at the storage site bang on 10:30 to be met by the owner's mother who proclaimed from the other side of the securely locked gate that her daughter had rushed off that morning with the keys to the secure compound, so we couldn't get the van out! The mother was desperately trying to get hold of the daughter on the phone but it was not looking good!
After about 15 minutes a man in a pick up miraculously arrived with some grass cutters and said he was dropping the machines off and so had keys to the gate. The mother had no idea he was coming and so we were very lucky that he just happened to turn up,
Soon the van was hitched up, the cold stuff was loaded into the fridge and we were off. Kim is still getting used to towing the van (and Wendy is getting used to being a passenger!) and two hours of non-motorway driving was testing but positive. We arrived on the site just after 13:00 which was okay. After checking in, we drove on to find a suitable pitch. Kim's idea of a picturesque location was a lovely spot facing the rubbish bins and chemical disposal point. It was a quiet spot with no neighbours (I wonder why?). Half way through setting up he finally conceded it was a crap pitch and so we hitched the van back on the car and moved! We then got a nice pitch backing on to the woods.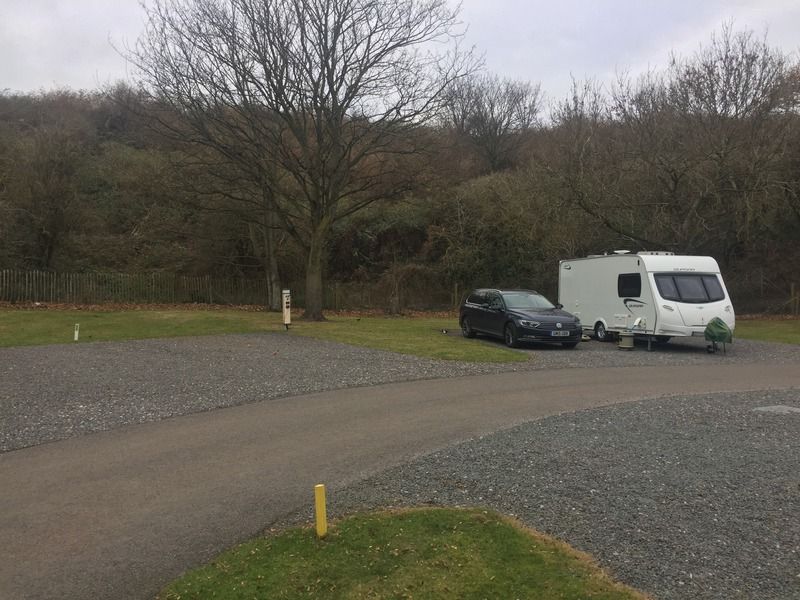 We got everything set up and despite Kim's concern about the water it all appeared to work without a problem.
After lunch we found that we had the wrong type of aerial lead for our television, so a trip out to Asda for a few bits and pieces also solved the TV issue and we soon had our telly working a treat. We have also been most impressed by the heating. It was very cold when we first arrived but it warmed up very quickly and we were soon very snug and cosy. Wendy is still struggling mentally with this not being the boat but we will soon get used to it.
Later in the evening the water pump started to run for no apparent reason. We couldn't find anything wrong, but it was dark so we switched the power to the pump off and settled into an evening watching the TV – oddly not something we do much of at home, but an enjoyable treat when we are away.
In the morning we switched the power to the pump back on and it worked properly, only coming on when a tap was turned on. Very strange!
After breakfast, we walked into Brighton and spent the whole day sightseeing. The weather was glorious and we did the sea front,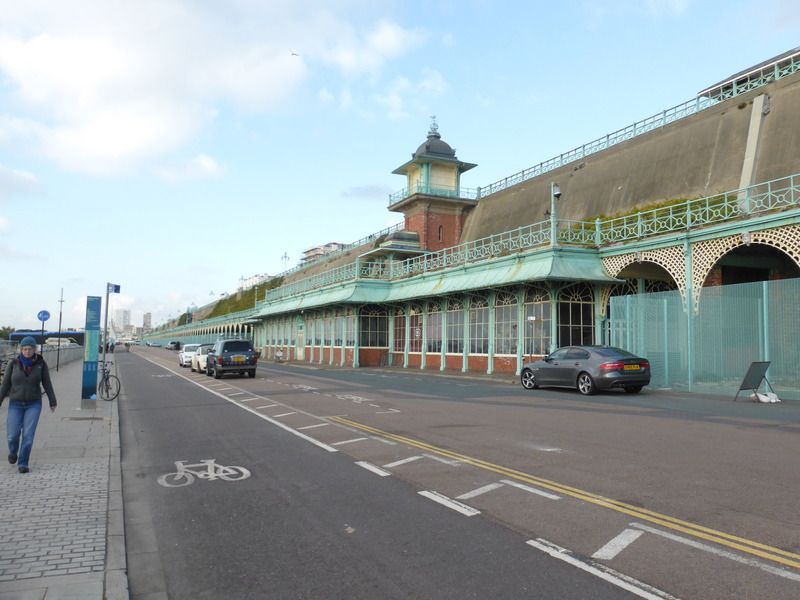 the pier,
The Lanes,
and the British Airways i360.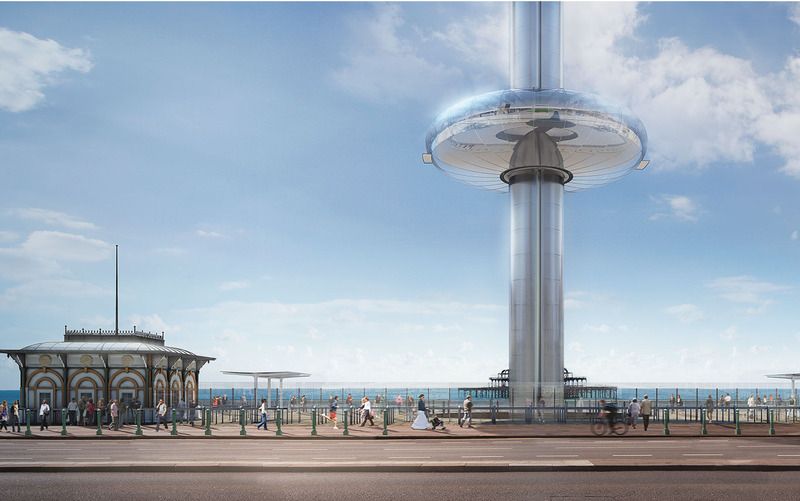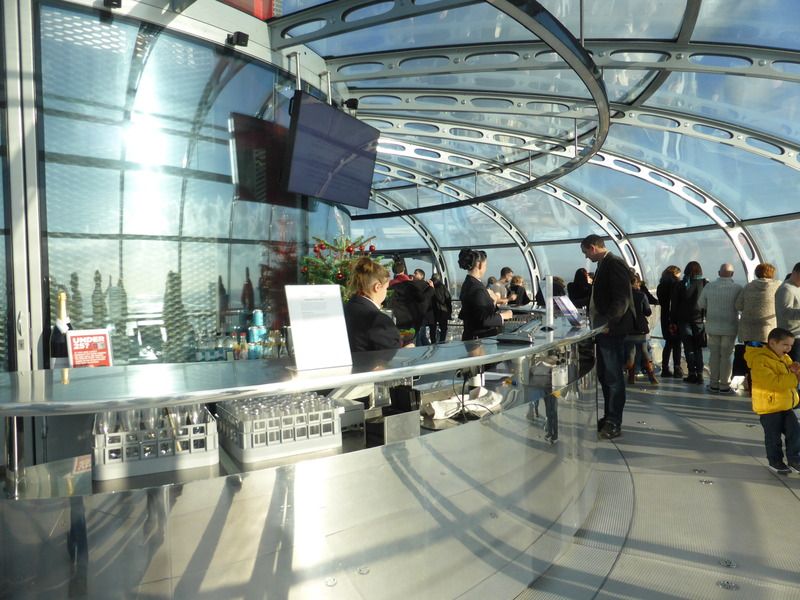 We couldn't have picked a better day to go 450 feet up in the air for views across the whole of Brighton and over the South Downs.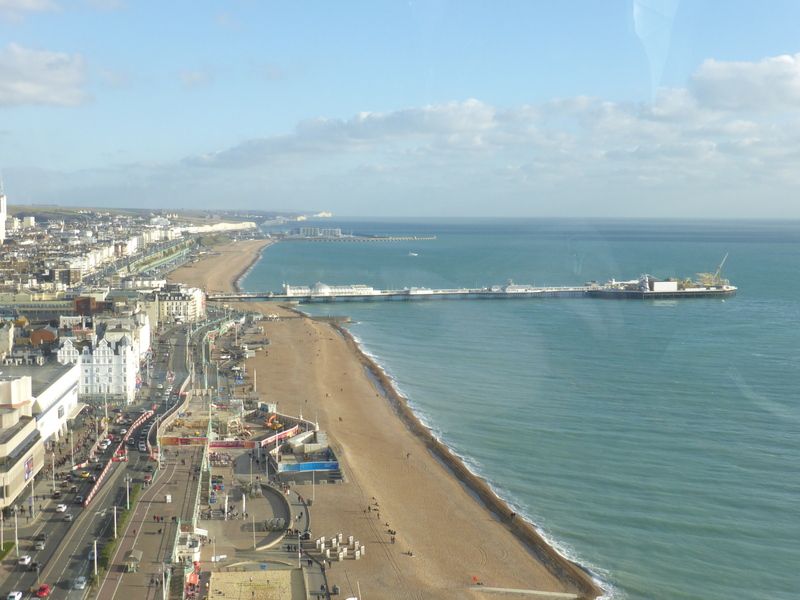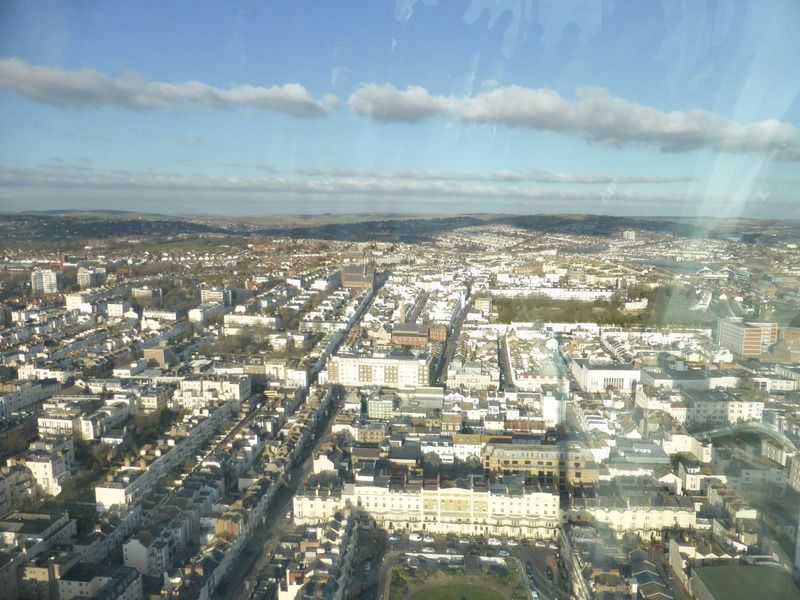 We finished the afternoon with a meal in a Harvester on the sea front. Nothing extravagant, but a very pleasant meal. We then walked back to the site. According to two different devices (a step counter and a GPS) we had walked about 11 miles, which seemed a bit improbable, but it certainly felt like a long way.
In the evening the pump started playing up again so Kim had another fiddle and adjusted the pressure switch which appears to have fixed the problem.
We woke up on Sunday to another bitterly cold but brilliantly sunny day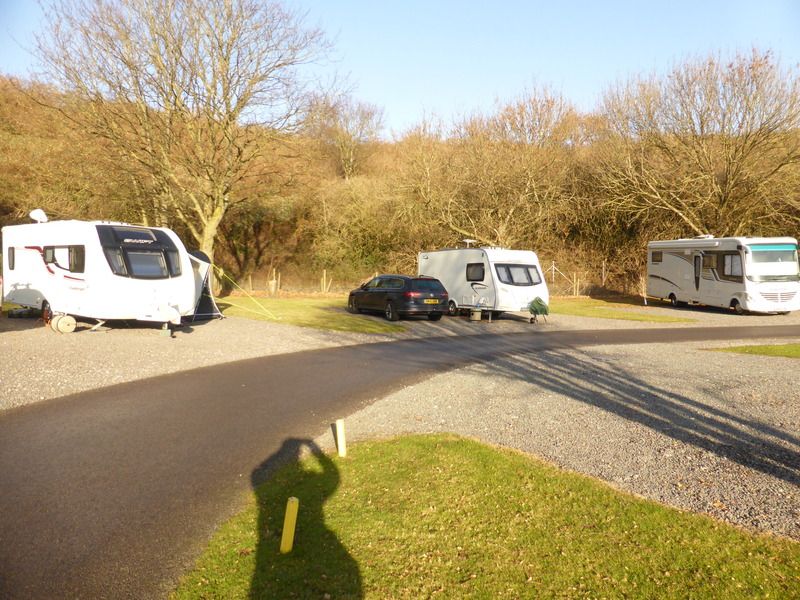 but we were beautifully snug and warm in the van. We took our time and got everything out ready to bring home and leave the caravan in a winter-ready state and were all ready to leave soon after 11:00, that was, until Kim tried to hitch the van to the car. The plug with the electrical connection for the lights etc. had somehow twisted itself round and no longer fitted. However, after much head scratching and some help from a friendly neighbour the problem was soon sorted and we were on our way.
The journey back was uneventful, though we were a bit disappointed by the storage site's attitude over Friday's hiccup – they didn't even apologise, just saying when prompted that "these things happen". Not very professional in our opinion!
Thursday, 29th December 2016 – Review Of The Year.
Well, this year has been a turning point in our lives and not just because Wendy has reached 60!
The year started with the usual visit to the London Boat Show, followed by a trip over to Holland in February. We stayed at the Terminus Hotel in Goes again and had a great weekend.
We hadn't booked any bulk crossings and the idea was to have at least three one-week mini-cruises and not bother with so many weekends. Well, it didn't get off to a good start when the first week's cruise was cancelled in favour of a week's chartering in Croatia. The second week's cruise became a long weekend due to unforeseen circumstances and before we knew it, we had cancelled the third week in favour of camping in Yorkshire and Emjaytoo was up for sale!
In September we took the trailer tent to Italy for a fortnight and came home with ideas of getting a campervan (or at least Kim did!). That was pretty short lived and so by the end of October, we were proud owners of our first caravan, although not quite as proud as the day we took delivery of Emjaytoo, it has to be said.
So, at the end of the year all that remains is to sell Emjaytoo. Whether "Quasimodo" will prove an adequate replacement for Emjaytoo remains to be seen. Whether the name "Quasimodo" sticks, also remains to be seen. Of course we still have Kate to sell (or maybe sail??) as well!
One benefit of the caravan is that we are not restricted by the time of the year since we have very good heating and so we have managed two trips away when we would otherwise have given up on the sailing season.
The decision to sell Emjaytoo had been something bubbling in the background for some time and whilst we will miss the Netherlands and the Delta region in particular, we know that it is the right thing to do – even if our hearts keep telling us otherwise!
And so, a picture to sum up the year.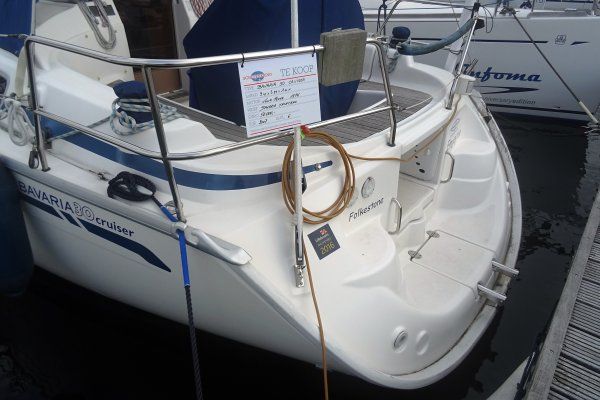 Back to the Top
Back to Archive