Back to Archive
Friday, 12th February 2010 - 5th Wedding Anniversary!
To day is our Wedding Anniversary - 5 Years. This weekend is also St Valentines Day (Sunday) and we have planned a romantic night away in an hotel with a candle lit dinner for two - in The Netherlands!
Actually, it is a case of coincidence. We are due our mid-winter trip to the boat to check her over and it just happens to be this weekend. However that does not stop us turning the trip into a combined Wedding Anniversary/Valentines Day event. We will stay in the Korenboers Hotel in the village - provided they are open! If not, we can always go over to Wissenkerke, where we stayed last year.
We are going on Sunday and coming back on Monday, so we can pop into the bank on Monday morning to sort out a few issues we have with our Dutch bank account. The weather forecast is for it to be very cold with, maybe, a flurry or two of snow!
Anyway, it's an early start on Sunday morning.
Monday, 15th February 2010 - First trip of the Year
We set off at 7.15am Sunday morning to catch the 8.00am ferry. There were wisps of snow around and Hawkinge was very white due to the heavy snow in the week. We arrived in Kortgene around 1.00pm and immediately checked into the Korenbeurs . in the village, thus establishing somewhere to spend the night. Last year the Korenbeurs was shut and we had to drive over to Wissenkerke.
Then we went over to the marina to check Emjaytoo over. Everything looked absolutely fine. The cushions did not show any sign of dampness, even the toilet paper in the heads felt dry – even if very cold! The dehumidifier boxes that we use had a small amount of water in the bottom, but not enough to worry about emptying. What we didn't check, was whether the doors shut. I guess not, as they always swell up over winter and contract back again in the spring.
It was noticeable how dirty the deck, coach roof and cockpit were – they will need a good scrub down when we recommission her in the spring. The marina had clearly carried out all the winterizing jobs, blue anti freeze liquid was evident everywhere! Kim gave all the mooring lines a good inspection and then we locked her up ready for Easter.
We then decided to have a ride over to Goes to see what it looked like in the middle of winter. It was very quiet and very white!
We then headed back to Kortgene and the Korenbeurs. As it was St Valentine's Day, the Korenbeurs had a special set meal with five courses and wine. So we had a few drinks in the bar and then had our "candle lit dinner for two"! The food was exquisite and beautifully presented ( carpaccio of cod, smoked duck and duck paté, shrimp soup, melt-in-the-mouth lamb, chocolate mouse, raspberry sorbet and cream, with a different wine for each course). Since the Dutch are an hour ahead of us, we subsequently went to bed fairly early by our standards.
Monday morning, after an excellent breakfast, we headed over to the RaboBank to sort out a few problems we have been having with our Dutch bank account. Unfortunately, we found that the bank is now only open on a Wednesday! The whole point of going to Kortgene over Sunday/Monday was so that we could go into the bank!
Given that we were booked on the 4.00pm ferry, this all meant we had a bit of time to kill, so we headed off back to Goes to try the RaboBank there.
En route we stopped off to have a look at the beach on the Oosterschelde side of the Zandkreeksluis. This is typical of the places we see all the time from the water, but never get to see on land. Well, it was very deserted – being winter – and the beach was covered in snow.
We had a short walk around whilst Kim took some photo's and the then got back in the car as Wendy thought it was very cold.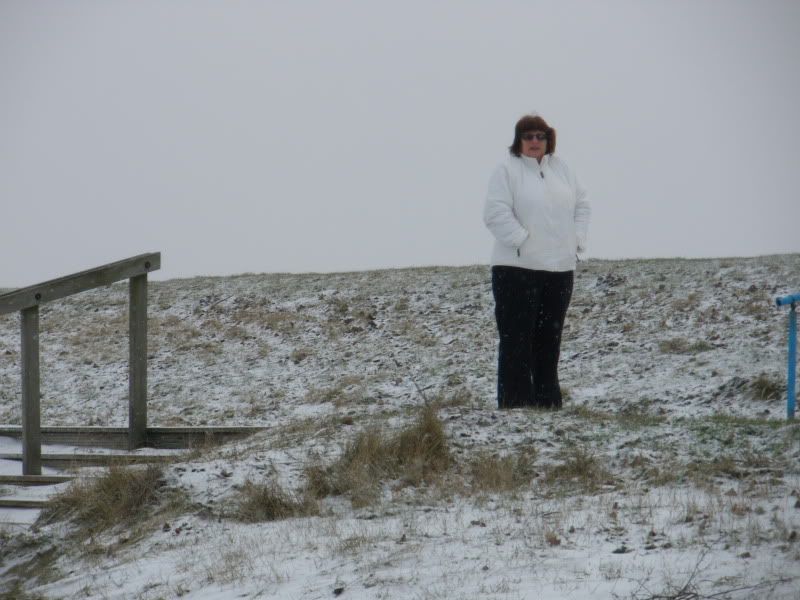 We then drove into Goes to the RaboBank to find it doesn't open until 1.00pm (Dutch time) on Mondays! A quick check on the time indicated that if we headed off to Dunkerque straight away we could get the 2.00pm ferry, whereas if we waited for the bank to open, we would probably miss the 4.00pm ferry that we were booked on. Given that Norfolk Line only run a ferry every two hours, we decided to head home and sort the banking problems out by 'phone/letter from home.
And that was the end of our "St Valentine's Day Weekend". It was a fabulous weekend with a really great meal and now we can't wait for Easter to get back into our "Dutch routine".
Back to the Top
Back to Archive