Back to Archive
Sunday, 13th February 2011 – The Korenbeurs Blows It!
Well, this weekend we certainly achieved what we set out to achieve and a few other things besides! It was a bit grey and murky when we set off at just before 7am on Saturday, but at least it wasn't cold. The Sea France ferry was very quiet and their breakfast excellent. Even better, they had Wendy's all-time favourite perfume which is now pretty hard to find, so she arrived in France a very happy bunny!
The trip up went well with ever-improving weather and we took a detour to Kim's favourite shop, the MediaMarkt in Middelburg. The damage to the wallet this time was relatively slight – just a small camera bag and a 'pay-as-you-go' USB mobile broadband device so that we can access the Internet at domestic Dutch prices.
By the time we arrived at the marina we were both really excited to be back. In spite of the continuing pain and limp, Wendy was determined to get onto Emjaytoo and actually managed to do so quite easily, though moving around on deck proved a bit trickier. Apart from one of the dehumidifiers having tipped over, everything was fine and not the least bit damp- the dehumidifiers had hardly any water in the bottom, of course the one that tipped over had none! In fact, Kim was bemoaning the fact that we had booked into the hotel because it would have been warm enough to sleep on board (though the winterised sink and heads, together with the lack of water, would have made it a bit uncomfortable). Anyway we were booked into the Korenbeurs for our Valentine's dinner.
Wrong! When we arrived at the Korenbeurs with all our stuff, the woman had no record of our booking and even had the cheek to ask whether we had got the right Korenbeurs as there are lots of them in the Netherlands! In fairness, she offered us a room in the AppartHotel at the other end of the village, but that was not quite what we had been looking forward to. Furthermore, being dependent on someone to give us a lift after the meal (Wendy's leg might not have been up to the walk in the dark after a few glasses of wine!) would not have been very pleasant.
After some discussion, we were of half a mind to simply drive home but eventually decided to go to the hotel in Wissenkerke where we have stayed before, but which Kim had said he hadn't been particularly keen on. Luckily they had space and for the sake of our special weekend (wedding anniversary), Kim agreed to make the best of it. Fortunately the hotel was less busy than last time (with no billiards tournament this time) and – surprise, surprise – by the time we left, Kim was actually pleased that the Korenbeurs had messed up. This was or 3rd stay at the Hotel de Kroon in Wissenkerke and there has never been an issue with the room – large, clean, very comfy beds and lovely shower. Kim's objection had been that he felt it was too parochial, where everyone else knew each other and he felt out of place. However, by the time we had claimed our free coffee and "appelgebak" (a wonderful apple and cinnamon creation peculiar to the Netherlands), he had cheered up no end.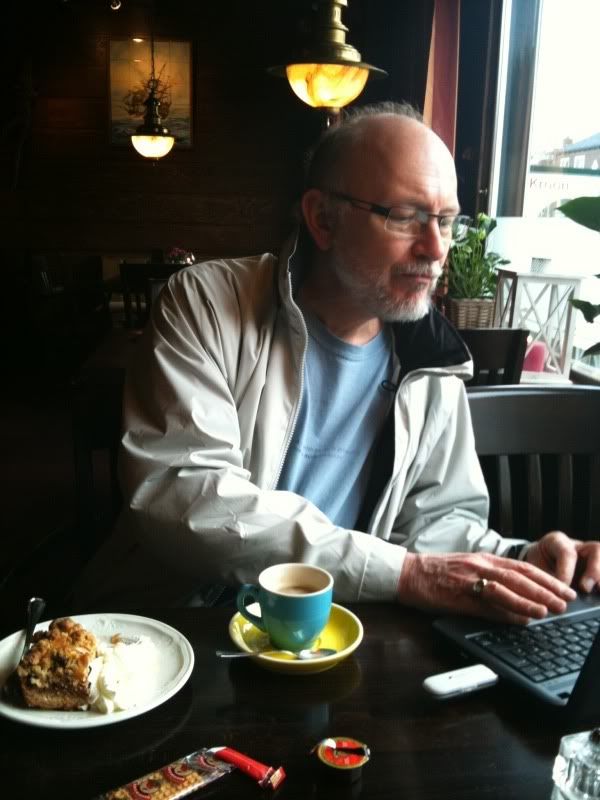 Inevitably, getting the USB device to connect up properly proved a bit more tricky than we had been led to believe, but we were rewarded with an apparent 400 MB of free downloads, which should keep us going for a while!
The De Kroon is somewhat less formal that the Korenbeurs, so Wendy's dinner outfit stayed in the bag but apart from that our evening was excellent. We started at the bar with a few beers (on bar stools in the middle of all those locals Kim had felt uncomfortable about!), then ordered our meal and went to the table for a spot of (gross) overindulgence. Kim started with carpaccio (very think slices) of beef with peccorino cheese, pine nuts and salad. Wendy had warm goat cheese with apple and walnut salad and a honey dressing.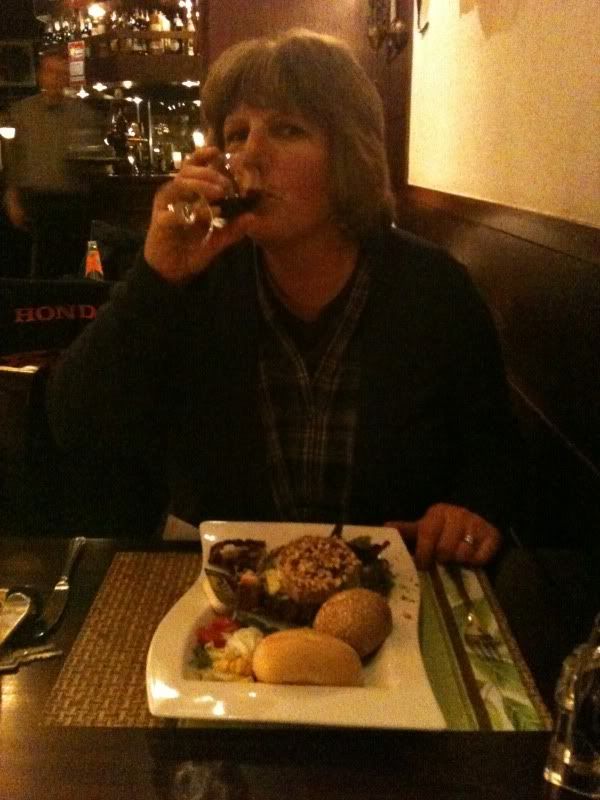 Both servings were enormous! For main course, Kim had a 350g steak in pepper sauce,
whilst Wendy had spareribs in a wonderful spicy sauce. We won't mention the ice-creams as they were totally unnecessary and far too large.
In short, we retired to bed well and truly stuffed!
In spite of the previous evenings overindulgence, we were still ready for breakfast (hardboiled eggs, ham, cheese, rolls, breads, croissants etc.). We then drove to Zierikzee and reminded ourselves yet again what a lovely place it is. In spite of Wendy's leg, we were able to walk quite a long way, all along the quay and into the town.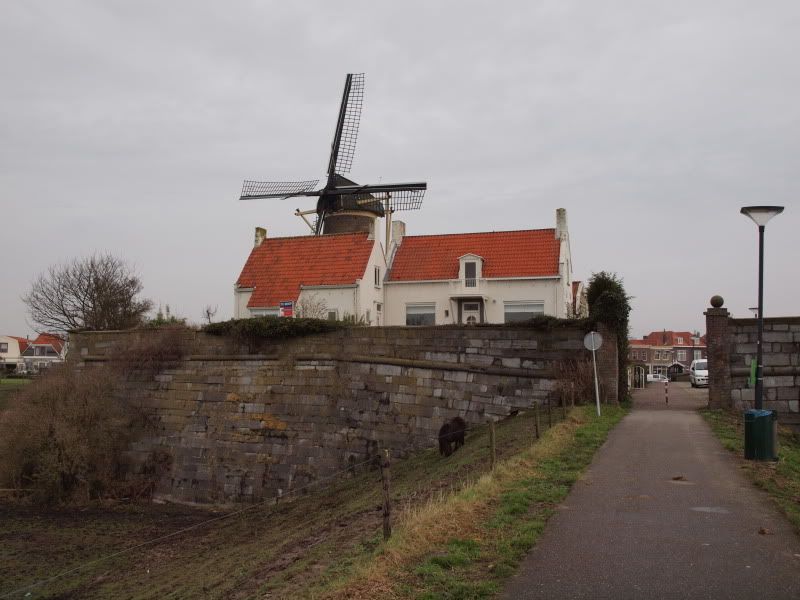 It was quite bright but pretty cold, with a strong wind, so we didn't hang around too long and decided to head back to Calais and see if we could get on an earlier ferry. That was when Norfolk Line suddenly didn't seem so bad after all! Only 2 passport control booths were open and it took 25 minutes to get through the queue. By the time we checked in, we had to drive past the Sea France ferry getting ready to leave and get in the queue for the next one, 1½ hours later. The only facility for getting a drink within ½ mile of where we were parked was a machine with cans of drink at £2 each. The crossing was also busy with several coach loads of excited German children on a school trip.
To sum up, neither of us can wait for the season to start again. We still love the place, we still love the boat. And just maybe, we are learning to love Norfolk Line as well – or DFDS Seaways as it is now known!
Back to the Top
Back to Archive