Back to Archive
Saturday, 1st February 2014 – Bringing Kate To Conyer Creek
After a couple of weeks sorting out insurance and the marina berth at Swale Marina, Kim was able to borrow a 4 X 4 (Land Rover Defender 110 Station Wagon) from his boss at work and Saturday was agreed with Keith - Kate's previous owner, as collection day. We set off early and arrived at Maylandsea about 10 o'clock. After the gales and torrential rain (for a change!) overnight, the morning dawned bright and sunny, albeit quite cold and still rather breezy. Getting Kate ready to tow was fairly straight forward to start with. Keith had got the new tyres fitted and everything looked good.
Then we started to hit a few snags. Kim had checked the lighting board at home this morning before we set off, but could he get it to work once hung on the back of Kate? Half an hour was spent with WD40, connecting the plug, disconnecting it, yelling out to Wendy - "is the left hand indicator working?", - "are the brake lights on?". Eventually we got the lights to work – well, some of the lights some of the time - only to find that the trailer was snagging the Landy's spare wheel, which is carried on the back door. We then had to set about trying to find the wheel brace and the locking wheel nut key so we could get the wheel off and put it inside the vehicle.
Eventually, we were ready to leave.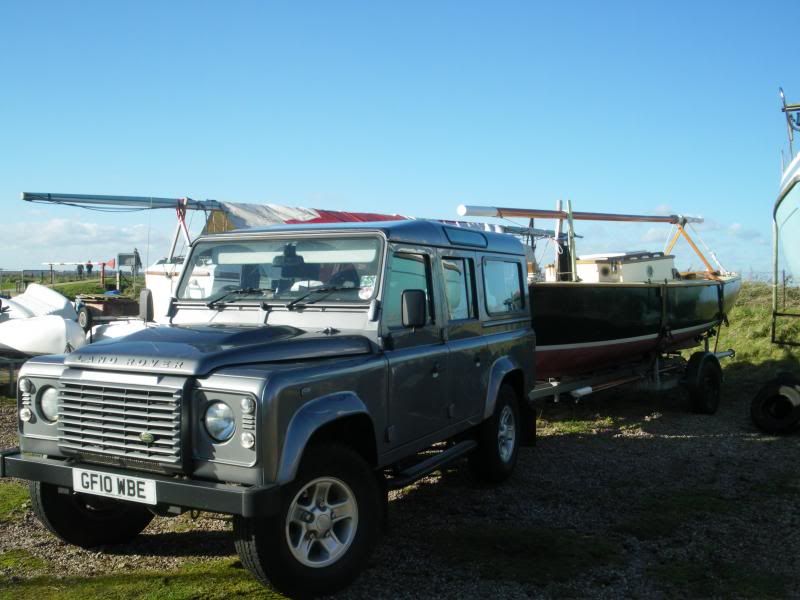 Whilst the Landy is rated to tow 3.5 tonnes and Kate on her trailer, all up, is only about 1.5 tonnes, it was very apparent that we were towing! Also Kim had his doubts about the trailer's brakes. We knew Keith had had the wheel bearings done last year and we had put two new tyres on the trailer, the brakes were a bit of an unknown. Anyway the journey passed off without incident, including a lunch stop on the way back to Kent.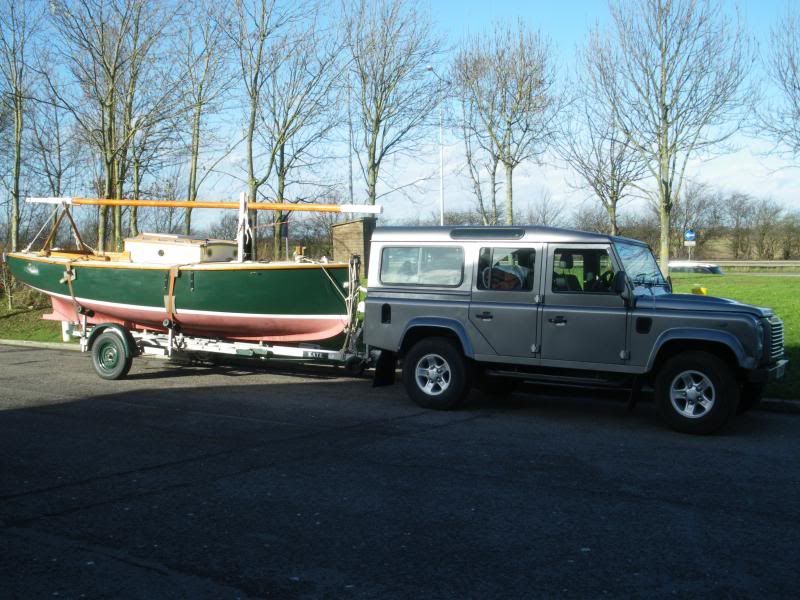 We arrived at Swale Marina on Conyer Creek at about half past 2 and Trevor was there to show us where to park Kate up. All the morning and during the drive back to Kent, the weather had been really good, but as we arrived and were unhitching the trailer, the wind was howling and the sky suddenly looked ominously black. After a bit of trial and error, Kim managed to work out which way round to put the cover on and we just about managed to get it on before the heavens opened.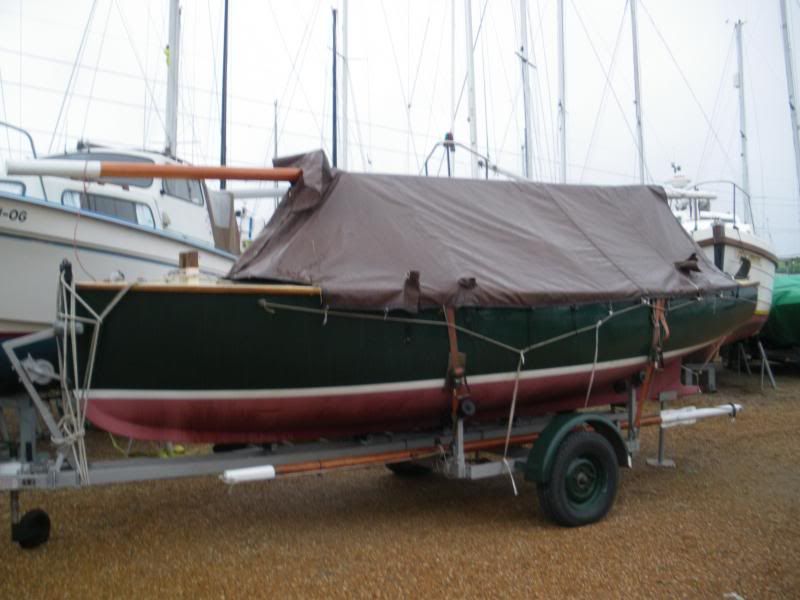 The Landy is now parked on the drive full of gear from the boat, tomorrow we try and work out where to put it all. The house is already full of gear from Emjaytoo! Kim may want to go up to Swale Marina to sort out some of the gear that is stowed inside Kate. At least it's only 40 minutes in the car!
The longer term plan is to get Kate's mast up and the rigging sorted out in preparation for an Easter launch, so no great rush just at the moment.
Sunday, 2nd February 2014 – And Now The Conservatory Is Full Of Boat Gear
After all the excitement of yesterday, Kim spent today unloading the car and piling all the gear in the conservatory. Another room full of sailing gear.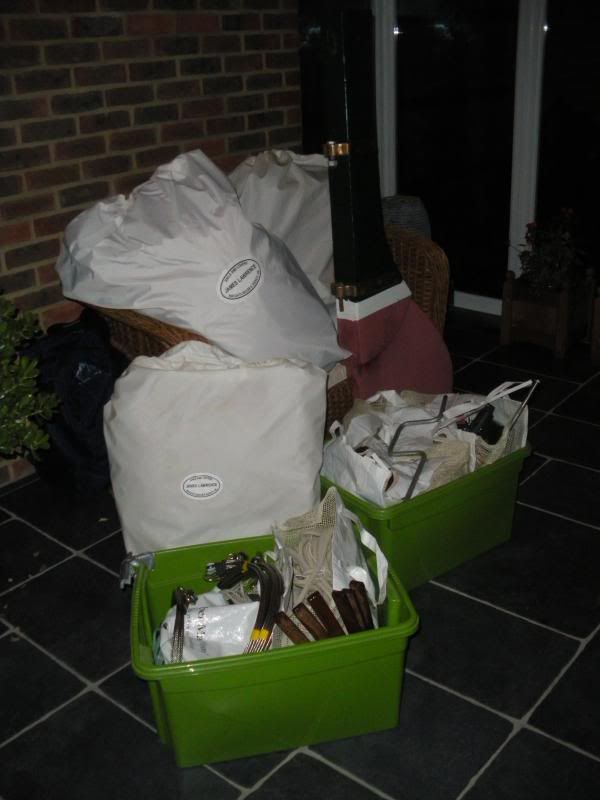 Kim would have liked to have gone rushing up to Conyer today to "fiddle" with Kate, but there were too many other things to do!
Next weekend we are off to Delta to check up on Emjaytoo and then we are going to Gent Saturday afternoon. We have booked an hotel for Saturday night and are looking forward to a nice meal out.
Sunday 9th February 2014 - Certainly Not A Boring Weekend!
We were booked on the 7.20am Shuttle, but it was cancelled due to "technical difficulties", so we finally arrived at Delta at 12 noon Dutch time. We both needed the loo on arrival, so went straight to the main marina and then decided to see the Havenmeester to discuss a new berth for Emjaytoo!
Now you might be forgiven for thinking that we should be more interested in putting Emjaytoo on the market than getting a new berth for her! But over the last few days, as we have geared up for our weekend in Holland, it has become apparent to both of us, that our weekends on Emjaytoo, or more particularly, our weekends in Holland have, over the last eight years, become a major part of our lives. Such a major part of our lives, that we are both uncertain that we can actually give it up. "But you've just bought Kate!" We hear you say! And you are right, so what to do?
Well, we think there is nothing to be lost or gained by rushing into any hasty decisions! So we thought that we might as well run both boats on for a while in the hopes that the right decision might become apparent as the year unfolds. So, if we are to continue with Emjaytoo for a while, then one of Kim's niggles of late - our berth, should be addressed. The more we thought about the idea of moving to a new berth, the more appealing it became as we could see it as a change of scenery and a new challenge.
The Havenmeester sent us off with a list of vacant berths, all in the older original part of the marina, where moorings are mostly between piles without finger pontoons. This would be like moving to a new marina. Anyway the outcome was that we selected berth F25 and will move Emjaytoo at the beginning of April. The idea is she will berth stern to, so we can just walk straight on board. Of course, this change of berth doesn't actually commit us to anything; the new berth will be much the same price as our current one.
What this all really means is that the sale of Emjaytoo is not a foregone conclusion. In fact we won't actually be putting her on the market just yet. As for Kate, well she looks so gorgeous, we will have to sail her for a season to find out whether we want to keep her. So it looks like we now have two boats! That's not how it was meant to turn out!
After that we went over to our bit of the marina to check Emjaytoo. Needless to say she was fine; we went on board and had a cup of coffee & hot cross bun. Kim then emptied the water out of the dehumidifiers and topped the crystals up. It was interesting to see how green Emjaytoo's topsides were, especially compared to our neighbours. They didn't look any different to last autumn, whereas we were really very green!
Having done all the boat bits, we then set off to Gent. This year we decided to overnight there instead of locally in Zeeland. Wendy had booked a B & B right in the city centre and a table at a well renowned restaurant. Finding the B & B was fun as on leaving Calais the sat-nav packed up. We had had some trouble with it last weekend when it couldn't find any maps, but now it just refused to switch on. It had been fine all week and indeed seemed fine driving from home to the shuttle on Saturday morning. But thereafter - nothing.
The B & B was rather quirky to say the least. In fact it was very quirky! The owners live in an old 1960s office building…
… with huge rooms and high ceilings, parts of which are then let out on a B&B basis. We had the basement, which had a low ceiling but was still a huge room. It had three double beds in it and a funny 1960s style three piece suite. Kim said on Sunday morning, that it was like waking up in a furniture showroom!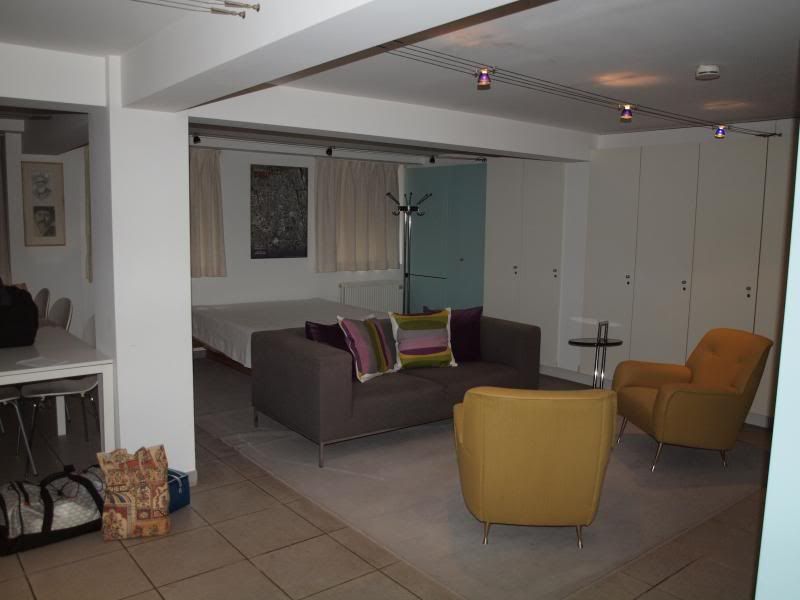 Saturday afternoon, what was left of it, we spent walking round Gent. The old city centre is stacked full of medieval buildings.
We went to the top of a belfry which gave fantastic views over the city and as it was a clear day it was well worth the climb (we actually went up in the lift).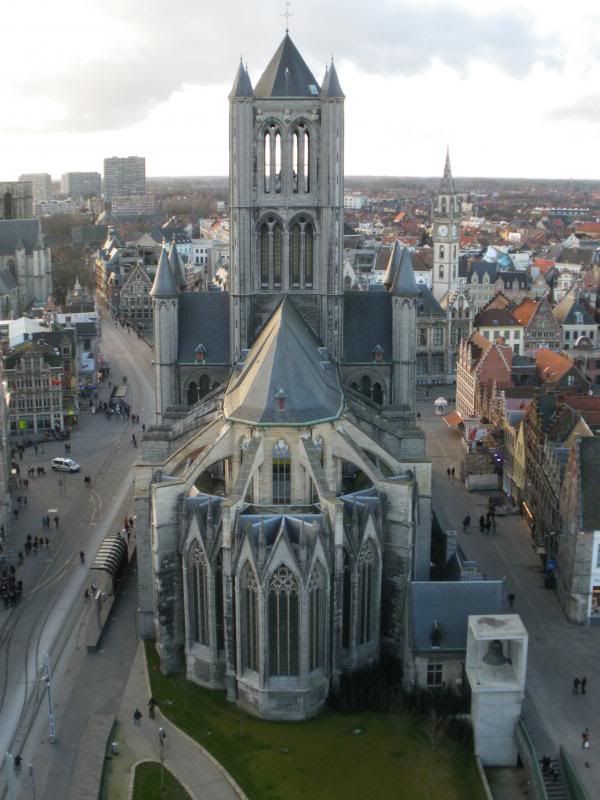 The afternoon was cold, windy but bright. In the evening we had a fantastic meal at a restaurant called Du Progres. Apparently this is rated on TripAdvisor as No 2 in Gent and rightly so. The steaks were superb.
After a superb breakfast on Sunday, we went round the Castle of the Counts (Gravensteen).
This is a very impressive castle right in the middle of the old city. As it was freezing cold and very windy on Sunday morning, the castle was a good choice as a lot of what there was to see was indoors.
We left the castle about midday and then tried to navigate our way to the Flanders Expo using an iPhone. On Saturday Jackie at the marina shop had given us two free tickets to the Belgium Boat Show. We thought this would be a good way to occupy the afternoon. The journey there was pretty fraught. First of all the iPhone sat-nav function thought that Flanders Expo was some residential address in the outskirts of Gent. After we had "educated it" and Kim had learnt the difference between left and right (!) and we'd found out how to get off the motorway when you are going in the wrong direction, we finally arrived at the boat show.
The Belgium Boat Show should not be confused with an international boat show such as Dusseldorf, it was very parochial. There were one or two sailing yachts there, but it was mostly power boats of various types. But then Belgium has a lot of inland waterways and not very much sea, so it's hardly surprising. The show also appears to be an excuse for people to meet up with their friends and spend the afternoon drinking; virtually every stand was packed with people drinking wine and beer.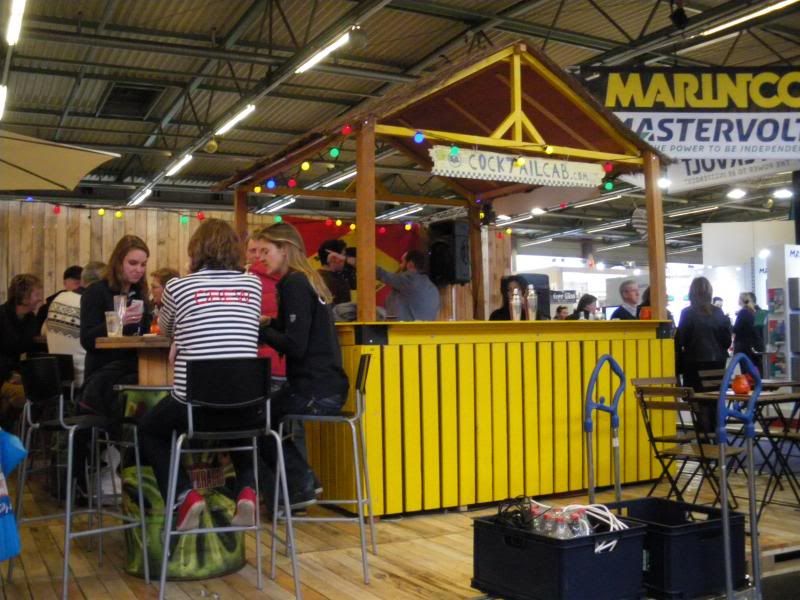 In fact some stands actually had beer taps even though they were promoting something other than drink! We did, however, have a very nice lunch so it was okay.
We were all done by 2.30pm so thought we would try our luck at an earlier Shuttle. We were booked on the 6.20 (our time) and arrived with a good two hours in hand only to be told that due to technical problems there would be at least a one hour delay to our scheduled crossing – a wait of three hours!. Great! Oh and just to add to the frustration, when we left the boat show, Kim tried the sat-nav and it worked fine! We could probably have used it to get to the Expo after all!
We finally got home at about half past eight, but it didn't spoil an excellent weekend and we can't wait until April when we move Emjaytoo to her new berth and put her back in commission.
Sunday 16th February 2014 – Checking Up On Kate.
Ever since Christmas and in fact, well before, the weather has been awful, so much wind and rain it's not true. Anyway it was a delight to get a rare day today when the sun was shining and the wind was almost non-existent! So we thought we would take a trip up to Conyer Creek and check up on Kate.
We were quite surprised to find that the cover had kept all the rain out – the cockpit was bone dry. We then proceeded to transfer all the paraphernalia that was inside the boat to the car. More junk to clutter up the house! We even found a container full of flares that mostly expired in about 2001! How do we get rid of those?
Well, lots of interesting challenges for the coming months!
Sunday 23rd February 2014 – A Frustrating Weekend!
On Saturday Kim went up to Conyer Creek to fit Kate's rudder and bowsprit. The rudder got fitted and the bowsprit got put on and taken off several times before Kim decided he needed to buy some more shackles. He then drove over to Rochester to Pirates Cave chandlery. He didn't really need to go to Rochester to get a few shackles. The main motivation was that they were selling a Garmin 451 Chart Plotter at a heavily discounted price. The 451 is a smaller version of the chart plotter we have on Emjaytoo and it comes with a full set of UK charts. The model has been discontinued and as a small chart plotter for Kate it was an exceptionally good buy.
That really was the high point of the weekend! Work on Kate was rather frustrating and the rest of the weekend was even more frustrating trying to do computer things that just refused to work! Before you know it the weekend is over and you have to wait another week before you can have another go!
We are hoping that next weekend we can pick up the rest of the bits for Kate – most importantly the mast raising frame, so we can actually start to get Kate ready for an Easter launch.
Back to the Top
Back to Archive