Back to Archive
Saturday, 16th January 2010 - London International Boat Show 2010
Thanks to Kim's Mum giving us two tickets plus spending money as a Christmas present for the Boat Show at London's Excel, we spent a very enjoyable day out yesterday looking at all the boats and other exhibits. We always go on a weekday as it tends to be a lot quieter and thus a lot more pleasant than a Saturday or Sunday.
The effects of the recession were clear to be seen – fewer boats, fewer stands and fewer people. The latter making for a more enjoyable day.
Kim was able to get a Danbuoy repair kit from Jimmy Green's stand, so that saved the cost of new one. Kim also bought a "bit of string" – 20m of mooring line (well you can never have too much string!), for a very reasonable price and Wendy got three large bags of very fine cord off cuts for her embroidery work. In fact she has enough to open a shop!
We also took the spray hood along and handed it over to C J Marine on their stand for them to clean, repair and re-proof it. After three seasons on the boat, it was in a bit of a state plus it had a couple of holes appearing where it chafes when folded down. C J Marine will put some patches over the holes.
The big bargain of the day was a new anchor! The boat was originally supplied with a CQR type anchor which Kim could hardly ever get to set. The result was that he had no confidence in the anchor and would not spend a night hanging off it – not even in the non-tidal mill pond environment of the Veerse Meer!
This has been a niggle for several years and we had been looking at the so called "new generation" anchors for some time. We have been particularly impressed with the Spade Anchor which gets very good reviews and we saw a very convincing demonstration of one a couple of years ago. The problem with the Spade is that it is very expensive and for the type of sailing we do, the price just could not be justified.
Another new generation anchor that gets good review is the Rocna Anchor. This is a much more sensibly priced anchor. So whilst looking at one and discussing its qualities on one of the stands, we were able to negotiate a good discount and then save a fair amount of postage by taking one home there and then – the anchor weighs 10kgs.
We are now looking forward to our first night at anchor to see if it's as good as it's claimed to be.
Saturday, 30th January 2010 - A New Logbook
Or is this just an excuse for a blog entry? Well they are a bit thin on the ground at this time of the year.
Anyway, a new logbook. After two seasons, Emjaytoo's logbook is full and a new one was ordered from Amazon. We've previously used the "Logbook for Cruising under Sail" published by Fernhurst. This has proved to be ideal for our purposes with plenty of room for attaching photos and other bits of "interesting paper". We tend to use the logbook as a bit of a scrapbook.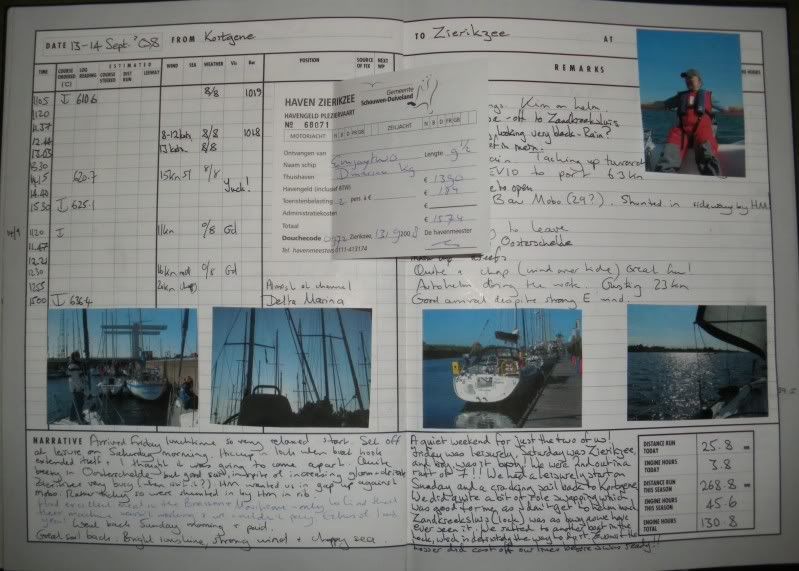 When it came to getting a new logbook we found that the Fernhurst publication was no longer available, but Wiley Nautical had brought out a "Logbook for Cruising under Sail". This happens to be the same book, but just by a different publisher.
We had meant to get the logbook when down at the Boat Show, but completely forgot. However, instead of ordering through Kelvin Hughes and paying £14.99 plus their exhorbitant delivery cost, we got it from Amazon, for about a tenner including free postage. So, forgetting to get it at the Boat Show saved us a few quid.
Back to the Top
Back to Archive