Back to Archive
Sunday, 2nd January 2011 – Off On The Wrong Foot!
This year is starting with a big question mark hanging over it! A week before Christmas, Wendy fell over in the snow and broke her leg. Christmas was a "hoot", with Wendy in a wheelchair and unable to put any weight on her broken leg.
Kim's Mum, once again, got us a couple of tickets for the London Boat Show, but Wendy will not be going. She should be out of the plaster by the end of January, but the Consultant has said that the real hard work starts thereafter, learning to walk again! We are due to go over to Kortgene for Valentine's/our anniversary in mid-February and hopefully Wendy will be up to it.
As for the Boat Show, Kim will probably be going with Stewie.
Friday, 7th January 2011 – Off To The Boat Show
Off to the Boat Show tomorrow with Stewie, Wendy will have to stay at home in her wheelchair!
Sunday, 9th January 2011 – The London International Boat Show
Got an early start on Saturday morning and were at Excel, having a bacon roll and coffee by 10.15am. After clambering over numerous boats for several hours Kim again came to the conclusion that the 2007 vintage Bavaria 30 really is an excellent looking boat. The modern styling is very "New York Loft", a style we just don't like. It would also appear that we made our purchase at a time when the exchange rate was very favourable. The current price for a 30 footer is way beyond what we paid for Emjaytoo.
After lunch Kim & Stewart headed into the hall containing the gear and chandlery. This is always a risky business for Kim and this year was no exception. By the time they left, some serious damage had been inflicted on his wallet!
One of the cheaper purchases was an "Emjaytoo" hat.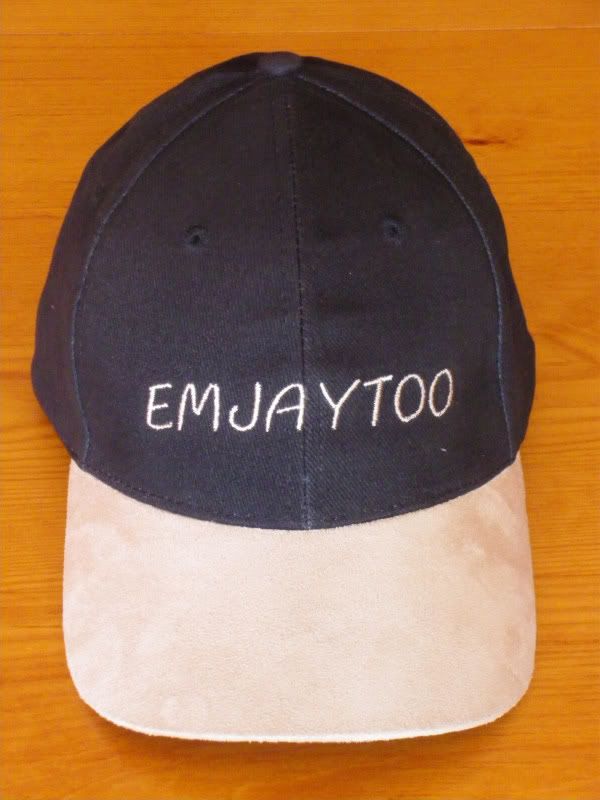 Stewart got himself a Musto Snug jacket and Kim also picked up a few more practical things like a new Dutch courtesy flag and a bottle of "Muc-Off". This is an excellent cleaning product that we first used last spring.
He also got a very nice book of watercolours and accompanying anecdotes by Shirley Faure, documenting her travels on the Dutch inland waterways. This was intended to go some way towards compensating Wendy for being unable to attend this year because of her broken leg!
Now we come to the serious bit of kit! Whilst walking round the various stands Kim stopped to talk with the people on the NRG Marine stand where they were promoting & selling the Sonihull Ultrasonic Antifouling System.
In order to prevent the hull being fouled by marine growth (weed, barnacles etc.) it is necessary to apply antifouling paint on a regular basis. This is expensive, messy to apply (we get the marina to do it) and environmentally rather nasty stuff. We usually have it re-applied every 18 months or so and the next application is due this spring.
The Sonihull Ultrasonic Antifouling System relies on ultrasonic sound to prevent the build up of marine growth. Anyway, the guys did a good sales job on Kim and substantially discounted the price on the basis that they wanted a client to try it out in the Netherlands having not sold any to that area. Result? – Kim came home with a box of electronic/ultrasonic "things".
The idea is that we will not have the antifouling re-applied this spring, but instead, install the Sonihull system and see how it works. In fact, the cost saving this year alone, for the antifouling, virtually covers the cost of the Sonihull system. It is recommended that you still keep antifouling paint on the hull, but it should last a lot longer. This in turn should save money and also do less damage to the environment.
An early indication of how effective it is should be the rate at which the log wheel furs up and needs cleaning. We shall report back throughout the season.
Sunday, 30th January 2011 – Winter Marches On
The big news story is that Wendy has had her plaster cast taken off and is back walking, albeit with a degree of discomfort. There are now only two months 'til we recommission Emjaytoo and hopefully, she will be back to normal. In two weeks time we will be heading over for our now customary Wedding Anniversary/Valentine's weekend, when we check Emjaytoo out (takes all of 2 minutes!) then head to the Korenbeurs for a warm and comfortable weekend.
It's now three months ago that we cleared Emjaytoo for the winter, so over halfway!
Back to the Top
Back to Archive