Back to Archive
Thursday, 5th January 2012 – Any Excuse For A Trip Over To Holland
A couple of weeks before Christmas we got a text from the marina to warn us about expected strong winds – "Friday Force 10 forecast, is everything on your boat secure?" This was the first time the marina had used text to contact us and we assumed that it was a general text broadcast to all berth holders. There wasn't a lot we could do and in any event we were sure the boat was safe enough, so we didn't give it much thought. However two days ago we got another text saying Force 9 winds were forecast and suggesting that we might like to ask them to check the boat over for "peace of mind". More like lining their pockets retorted Wendy!
Anyway it got us thinking. It has been particularly windy over the last few days and if any damage did occur to the boat and we were to suggest that the marina had a duty to check our boat, they might try to hide behind the text. Anyway the upshot is that we are booked on the 08.20 Shuttle, Saturday morning. We are only going for the day, just to check everything is okay. We will probably do a bit of shopping whilst passing through Belgium, have some lunch and generally make a day out of it.
On Monday Kim has a day's holiday and we will be going to the London Boat Show – tickets, courtesy of Jean (Christmas Present), so a bit of a boaty few days.
Saturday, 7th January 2012 – More Ikea Than Kortgene
We'd booked the 08.20 Shuttle, but got away early and so caught the 07.50, arriving at Delta Marina at 11.00. We spent about an hour on the boat checking things over, but mostly having a mug of coffee and a hot-cross bun! Having satisfied ourselves that the boat had suffered no ill-effects from the recent high winds and was entirely secure as far as any further adverse weather was concerned, we headed off to Ghent, where we had planned a lunchtime stop over at Ikea.
We were a bit disappointed that: a) we had only planned a day trip; and b) that the boat had been winterised, as the weather was glorious and we both wanted to stay longer. Both the neighbouring boats had disappeared so Emjaytoo was looking a bit lonely.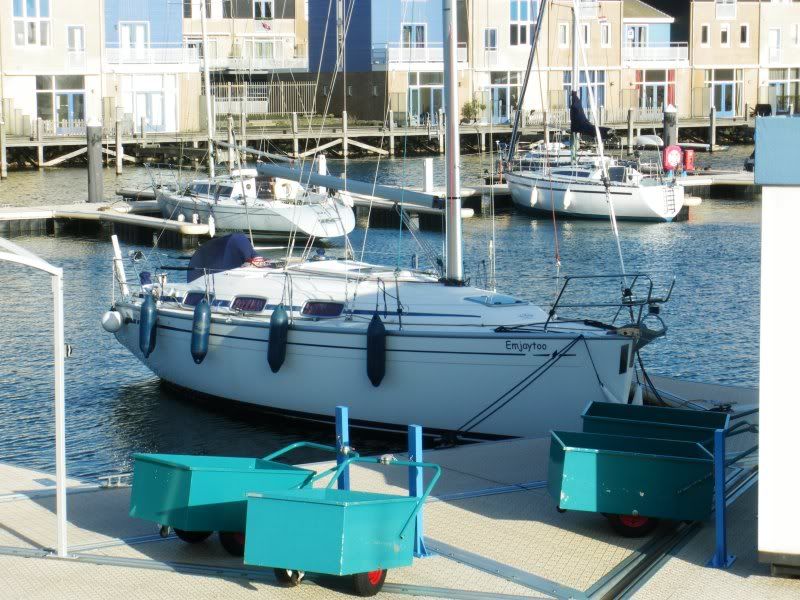 Ikea was just like any other Ikea, except they all spoke Dutch! We had a pleasant and well-priced lunch and then wandered around for an hour or so before heading off to Calais. We finally arrived home just after 18.00.
It was a pleasant trip and it satisfied Kim's mind that the boat was okay. Of course it also served to remind us that the winter layup is a long time. It will be twelve weeks now before we return at Easter to recommission Emjaytoo, as this early trip to check things makes our usual wedding anniversary trip in mid-February a bit superfluous. However, we already have a very acceptable alternative in mind!
On Monday we are off to the boat show for some more "therapy"!
Monday, 9th January 2012 – The London Boat Show
We had considered going to Excel on the train this year. We thought it might be fun to go by train and to go on the DLR, however when we saw how much it was going to cost and how long it would take, decided on the car after all. In fact the journey there was a doddle, it took about an hour and a half and there was plenty of car parking.
We spent the morning looking at various boats and finally settled on the Grand Soleil 39, a very nice Italian Cruiser/Racer.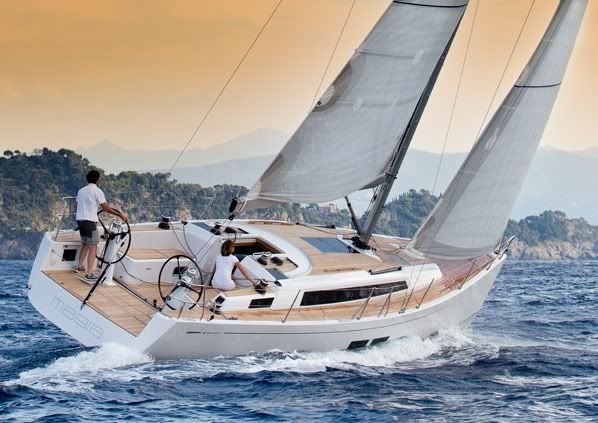 We then went off and had a Cornish Pastie each for lunch whilst pondering our chances of winning the lottery!
After lunch we wandered around the rest of the show. Kim bought a pair of trousers and that was about it. Before we new it, it was 17.00 and time to head home. We thought the traffic might be bad at that time of night, but in fact we had a good trip home and stopped off at the Fish & Chip shop in Folkestone to pick up a take-away, getting indoors at about 19.00
Back to the Top
Back to Archive