Back to Archive
Sunday, 5th January 2014 – London Boat Show
As sure as day follows night, the boat show at Excel follows Christmas and off we dutifully went for our annual pilgrimage. It was a week earlier this year and as we planned to go to Dusseldorf later in January, we opted for the first weekend – we'd only just got the Christmas tree down the day before!
They seemed to have made a bit more of an effort this year, gone were a lot of the exhibitors who had nothing to do with boats and there did appear to be a few more boats than last time.
One thing we were able to do, was look at some of the small boats Kim had looked at when down at the Southampton Boat Show last year. Kim had come away from Southampton somewhat deflated when he had seen just how small a Cornish Shrimper actually was. When Wendy got to see it and more to the point, actually climbed on board it, she too had to admit it was very small! We got some details on a very nice 23 footer, but these days a British boat that size would cost as much as Emjaytoo cost back in 2007! The idea of down sizing and keeping a boat in England still appeals, but there is a long way to go if we are to find the right solution.
The list of bits to get was smaller than last year, a hot knife for cutting and sealing synthetic ropes, some sailmaker's sewing needles, sewing twine and a sailmaker's palm (a thing that fits the palm of your hand to push a needle through the canvas). Of course there was the inevitable Beken Calendar, but that was it. Wendy was on the lookout for a new pair of Dubarry deck shoes, but didn't see anything that fitted and of course Kim was looking at new foulies – but then isn't he always!
All in all we had a good day out and a nice lunch. In two weeks time we are off to Dusseldorf for the weekend with a two day pass to the boat show and a hotel booked for the Saturday night.
Wednesday, 15th January 2014 – Dusseldorf Is Off!
We have cancelled our trip to Dusseldorf!
Last weekend Kim went up to Birmingham with his boys to a motor show at the NEC and at the end of a very tiring day he was violently ill! Sunday disappeared in a vomiting stupor and he eventually went to work on Monday morning in a somewhat wrecked state. Wendy suggested that the prospect of the next weekend being spent driving across to Dusseldorf and back would all be a bit much and so we have reluctantly cancelled the hotel and rescheduled the Shuttle booking for another day. We had not bought the tickets, so no money lost. It is all very disappointing as last year was such a brilliant weekend and we were really looking forward to doing it again. Oh well, hopefully next year. At least we got to go to the London Boat Show!
Sunday, 19th January 2014 – Say Hello To Kate!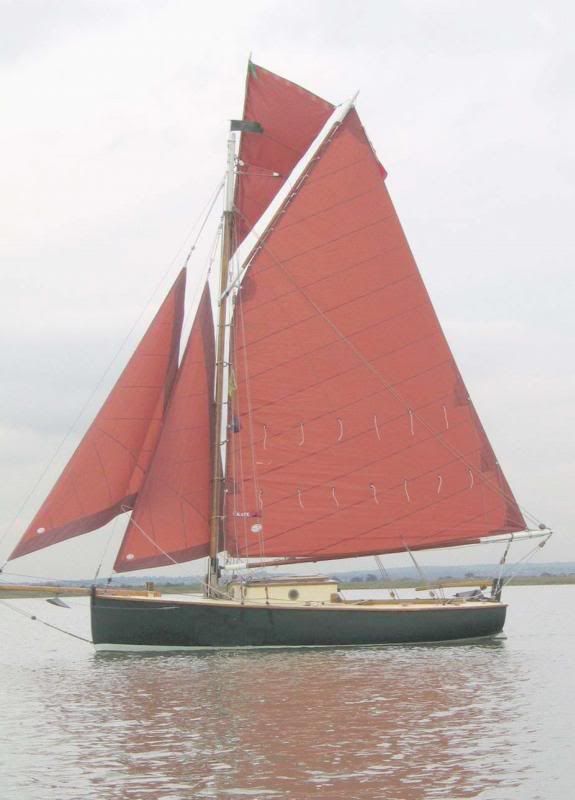 As of today we are now the owners of a beautiful gaff rigged cutter called Kate!
After looking at various traditional style craft over the last few months, we came across the Memory 19, a gaff rigged cutter with an overall length including the bow sprit of 25 foot. This was not a boat we had heard of before, but after some investigation on the internet, we decided that this was a boat to look at more closely.
The reason for looking at traditional craft was two-fold: firstly, we had decided that a downsized boat should obviously be smaller than Emjaytoo, but also should have a lifting keel, be trailerable and have an outboard engine instead of a diesel inboard. All these factors contribute to lower running costs. The hull, of course, would need to be GRP for ease of maintenance. A lot of traditional style boats start quite small and so they fit the criteria; secondly a small modern style yacht would just seem to be a ridiculously small and cramped version of what we already have, but without any of the comforts/luxuries. By going for a traditional style craft, we still get ridiculously small and cramped without any of the comforts/luxuries, but that is all offset by style, charm and novelty! And you have to admit Kate has all of those!
Obviously, we needed to see one of these boats in the flesh and found this particular one for sale over at Maylandsea on the Blackwater. A phone call Thursday evening to the owner resulted in some photos being e-mailed over and we started to think that this was a very nicely turned out boat. An exchange of e-mails on Friday resulted in a viewing for Sunday.
On Saturday we drove over to Swale Marina at Conyer Creek. Kim is familiar with Swale Marina as Wilkinson Sails used to be based there. It is about 40 minutes' drive and is a really peaceful location. Back in 2005, our first year with Maggie-Jane, we did a weekend trip to Conyer and the creek is very pretty. Anyway, our visit confirmed that this would be a good place to keep a little boat. The creek dries out, but you get about 4 to 5 hours on each tide which will be fine for day sailing. We met the owner of the marina and his father, the Commodore of Conyer Cruising Club. They were all very friendly, offering plenty of advice. The marina has vacancies for a boat of the size we are looking at, so Conyer Creek it will be.
So back to today and off we went to Maylandsea, with a hundred quid in the back pocket "just in case"! Well, to cut a long story short, we fell in love with Kate! The chap selling her was such a nice man who had gone to such trouble to lay everything out for us to see and could seemingly produce an invoice or bit of documentation for just about everything. His meticulous attention to detail reminded Wendy of Kim and when she saw all the miles of ropes and lovely old wooden blocks, she quickly realised that Kate would keep Kim happy for many years to come! In fact, it could well take a year to find out where all the bits of rope fit – though apparently the man has colour coded everything to make it easier and even offered to come down to help Kim if necessary.
So now we have to set in motion the potentially long process for selling Emjaytoo. Not a decision we have come to lightly by any means but, we believe, the right one. The financial savings will be considerable and the peace of mind and flexibility will be welcome. Not that we regret for a second anything about our time with Emjaytoo in Holland, but life moves on and so must we, to a new sailing life as "Old Gaffer" owners.
Back to the Top
Back to Archive