Back to Archive
Sunday, 18th July 2010 – Just Another Weekend On The Boat!
Again we decided to use the shuttle, catching the 6.50 from Folkestone. Although the mornings are still very light, it nevertheless seemed very early when the alarm went off at 5 am the same as on weekdays! It was well worth it, though, as we were on the boat by 11 am. There were some dark, grey clouds and it was gusting up to F5. Wendy was extremely tired and it was hard to summon the energy to go out, but at about 3.30 pm we bit the bullet and set off, especially as there was forecast to be a marked improvement by the evening.
We motored most of the way, as the wind was bang on the nose. We weren't too sure where to go and had a look at the "sheltered" side of the Zandkreekplaat and Bastiaan but they were either too busy or too exposed, so we carried on and spotted only one boat on the Goudplaat. Even though it was on the lee shore and bearing the brunt of the wind and waves we decided to give it a go.
We went in starboard side too, as Kim thought that we would finish up with the wind squarely on the port beam. By the time we were all tied up, however, it was quite apparent that the wind was coming in on the port quarter. Given the waves banging against the hull, right where our bed is, it looked as though we were going to end up sleeping in the forepeak. When the other boat left, Kim decided it might be a good idea to turn the boat around. However, never being one to do things the easy way, Kim chose to turn the boat around by hand using an inspired system of ropes and springs (Wendy would have taken the boat out and back in again using the engine…). The whole procedure took the best part of an hour, during which time the weather had changed completely and there wasn't a cloud to be seen, though the wind was still quite strong and the waves were still thumping against the jetty.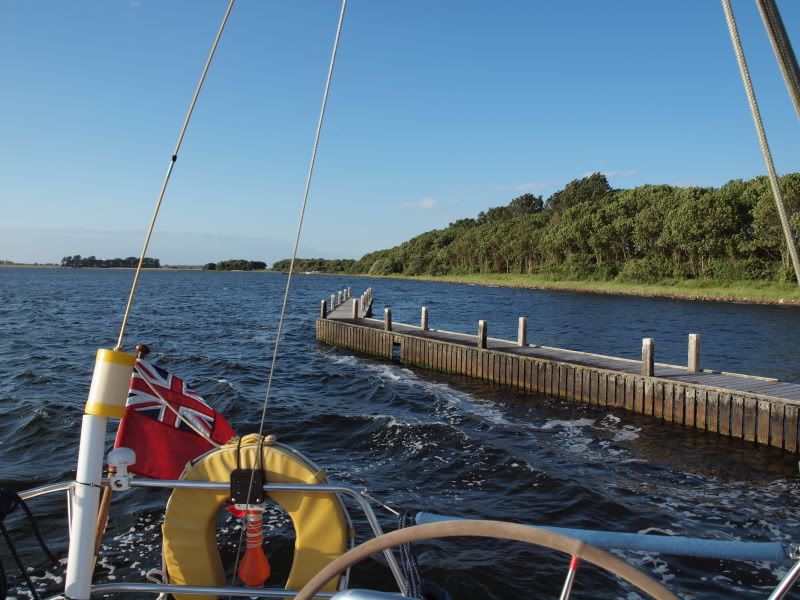 We were then treated to a classic Veerse Meer Sunset, which we had entirely to ourselves.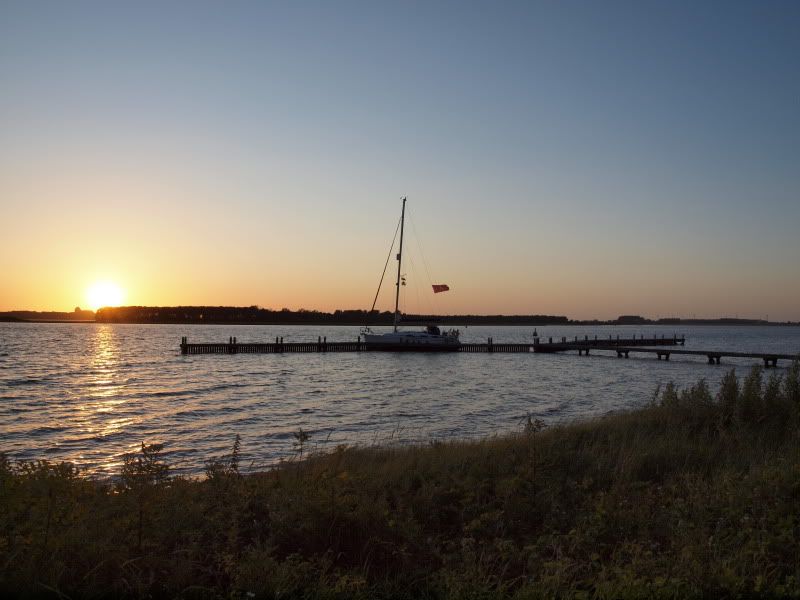 Dinner was some BBQ things we had bought in the local supermarket, cooked in the galley as Kim hadn't cleaned the Cobb out from our last trip. Given the weather conditions, however, it was probably a good move.
It must be said that Kim's decision to turn the boat round was more than vindicated as we had a very quiet night and awoke to a glorious hot sunny morning. One strange consequence of the wind blowinging on to the jetty all night was the vast number of jellyfish that had been blown over to our side of the Veerse Meer. The water looked like tappiocca!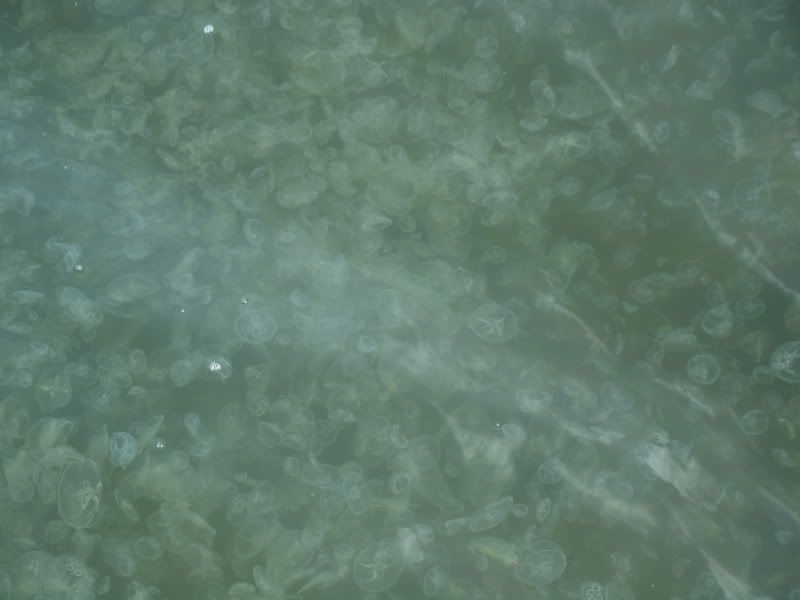 It turned out to be a perfect day for messing around on the water - and that appears to have been what most of the rest of Holland thought too. The water was heaving with boats of all shapes and sizes.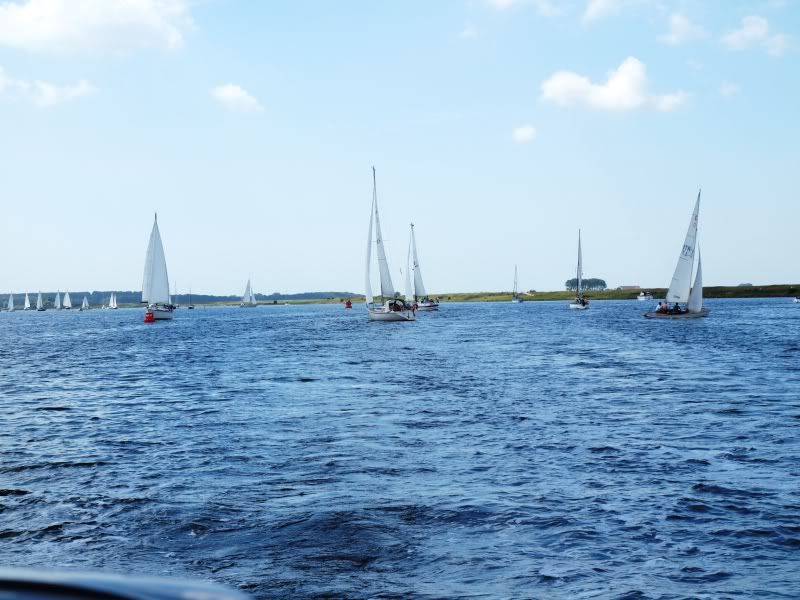 We initially sailed but the wind was very light and very fickle, making it hard to make any ground on the tacks. We goose winged for a while with the pole, but it really was slow going, so we eventually put the engine on and motored the rest of the way home.
We got back to our berth at 13.30 and it had become very hot and sticky. Some lunch in the cockpit and a quick clean and we were on our way back to Calais, sorry to be leaving but at least consoled by the knowledge that we'll be back next Saturday for a whole week – no doubt in the rain!
Saturday, 24th July 2010 – Day 1 And It's A Scorcher!
Which of course means it's all downhill from now on!
Actually, we have got off to a good start, despite some hiccups on the way. On Thursday Wendy tried to book the ferry for Saturday only to find they were completely booked up, something to do with the beginning of the school holidays. Anyway, the only crossing we could get was 6.00pm on Friday which initially did not fit in with Kim's work commitments, but with the help of Kim's boss John, we caught the 6.00pm ferry. The ferry was packed solid with loads of unruly kids, whose parents didn't seem to give a flying fingy what their offspring were up to. Then it took forever to disembark.
Finally we got on the road. At Sas Van Gent Kim got stopped by the Police and breathalysed! It was, by this time 11.30 pm Dutch time and seemingly the Dutch Police are able to operate random breath tests. Actually there was nothing random about this, they had blocked every exit from a roundabout and were breathalysing ever motorist. The really funny thing was that the policeman tried to breathalyse Wendy first (left hand drive – right hand drive?) and it was only when she managed to convince the policeman that she was not the driver (lack of steering wheel on her side of the car?) that he went round to Kim's side to breathalyse him. Needless to say, no further repercussions!
Saturday morning, we made a prompt start (I won't say early!) and headed round to the fuelling pontoon to top up the diesel tank and pump out the holding tank. Given it was very busy, perhaps one hour to sort it all out was not that bad.
As we headed off down to the Zandkreeksluis, Wendy announced that the steering felt very stiff and rough, so we diverted to the floating pontoons to carry out some checks.
Kim found that following his installation of the chart plotter some of the cables were snagging the steering linkage inside the binnacle. An hour or so later, all was sorted and we headed off towards the lock to join the mêlée.
By the time we cleared the lock it was 13.00 hrs and the winds were light, so we managed a combination of sailing, motorsailing and motoring, finally arriving at Sint Annaland at 17.30 hrs. We had planned to go all the way to Numansdorp, but always knew that Sint Annaland was the likely stop over. A few well earned cans of Grolsch and an excellent meal finished the first day off.
Sunday, 25th July 2010 – Day 2, Overcast And Manky
Got a good start from Sint Annaland this morning, leaving sharply at 9.00am. We made good progress with a mixture of sailing and motoring, but the weather was not very nice – very grey, very murky and a bit of drizzle here and there, enough to warrant foulies.
It was not cold though!
We had read that the Volkerak was very busy with lots of commercial traffic and was not very pleasant. We found it fine. It was very busy, but we stayed well over to the side of the main channel, even cut through a back channel behind an island and generally found the commercial traffic nothing to worry about.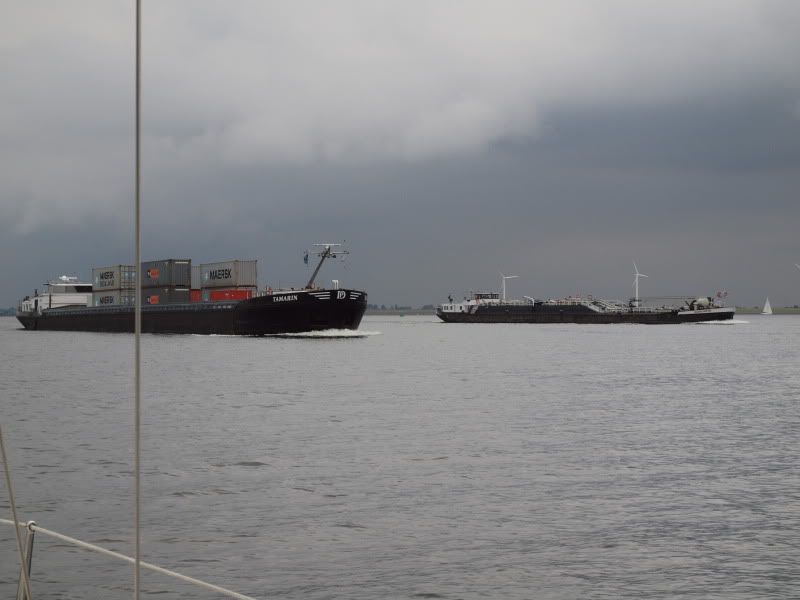 We finally tied up in Numansdorp at about 3.00pm. This is a very sleepy little back water just outside the Haringvliet.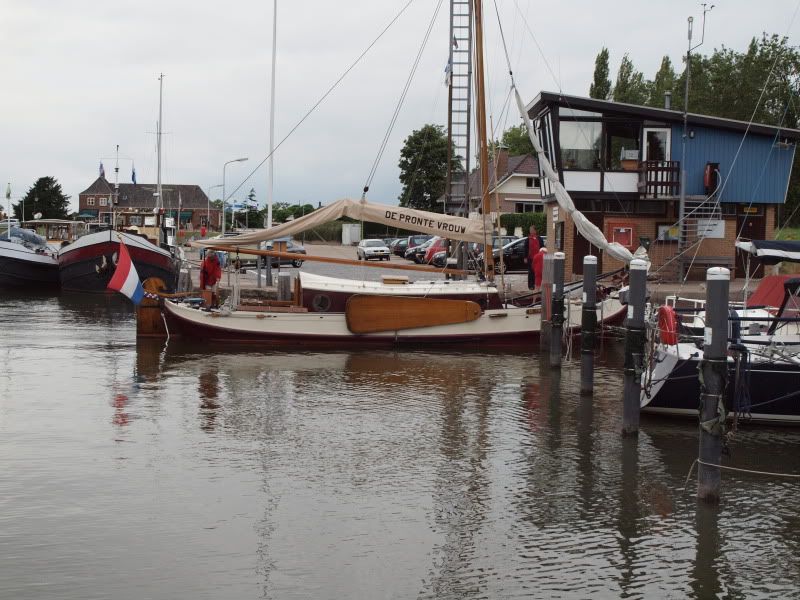 We went for a walk around the small town, but of course on a Sunday afternoon it was all shut up. It's a lot bigger than Kortgene, but still had the feel of a village rather than a town. Opposite the town quay is an excellent looking restaurant – Het Schipperhuis, but when we found that mussels and chips was €22 per person, we decided to head back to the boat and cobble something together from our own supplies. Meatballs made from some rare black spotted pig with rice and tinned carrots and beans.
The sky cleared for a while in the evening, but then finished overcast again. The Harbour office has Wi-Fi, but we didn't get the password, so no access.
Monday, 26th July 2010 – Day 3, Rocking & Rolling Up To Hellevoetsuis
Got away by 9.45 am and motored up to the HarringvlietBrug. It only opens on each hour and we had about half an hour to kill, but we managed to drag the approach out so we didn't have to kill too much time at the bridge.
The weather was grey, very windy and all on the nose, so we motored all the way there. It was a pretty bumpy ride with lots of spray all over the boat.
We arrived at Hellevoetsluis at about 2 pm and rafted up to a Bav 38 on the town quay. Once we were all secured, we went off for a walk, discovered some of Hellevoetsluis's more colourful buildings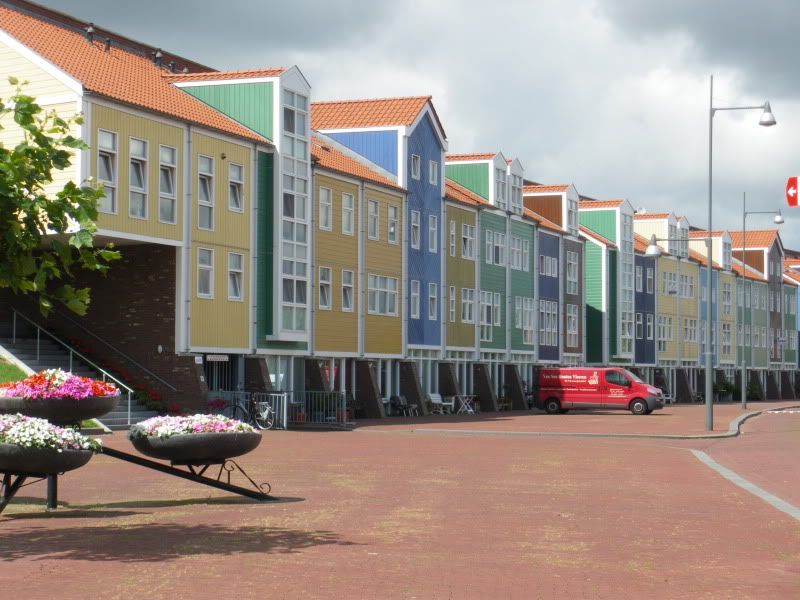 and eventually found the main shopping centre, including an Albert Heijn supermarket about a mile away from the harbour! By the time we had trekked back to the boat with our groceries, including further supplies of beer and wine which weigh a ton, we were exhausted.
After Wendy had cooked up an excellent Chinese, we retired for the night.
Tuesday, 27th July 2010 - Day 4, Exploring Hellevoetsluis
Today was planned as a "stay-in-port" day, seeing the sights. We had already discovered yesterday that various notable buildings had tourist plaques describing them and featuring a reference number. A visit first thing in the morning to the VVV (tourist info) provided us with a guide book which took us on a structured walk taking in and describing the various buildings which made up this well-known Dutch maritime town.
Whilst the main port had a lot to interest those fascinated by 18th/19th century fortifications and general naval installations,
we felt the place lacked any of the traditional Dutch charm associated with old towns and ports in Zeeland.
Throughout the day the weather remained grey and manky. We finished up with a visit to the Noordhinder lightship, which has been preserved in Hellevoetsluis.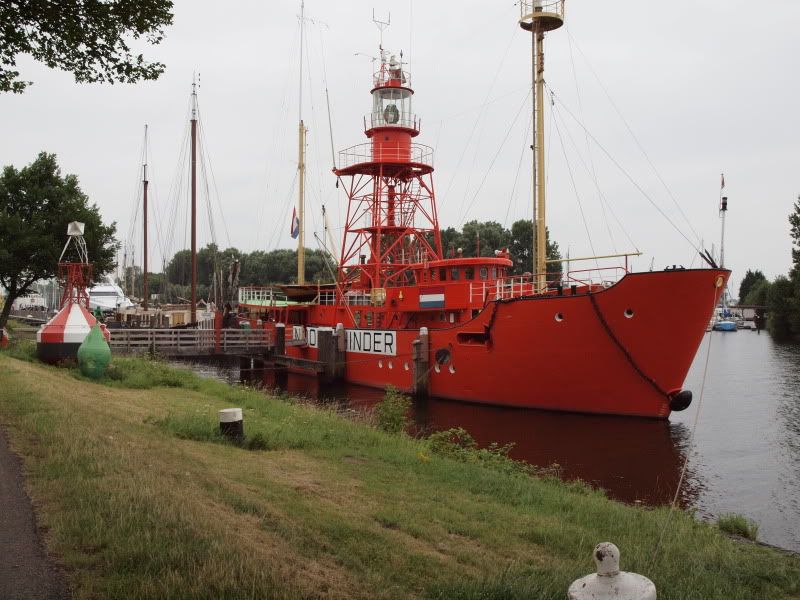 In the evening, after a somewhat greasy fry up, we watched Leslie Nielsen in Naked Gun which had us both in stitches.
Wednesday, 28th July 2010 - Day 5, Off To Middelharnis
First thing in the morning (about 5 am!), the sky was clear blue with not a cloud in sight.
By the time we had got back from the showers, however, it was back to the usual grey, manky weather. We made a good start, leaving Hellevoetsluis at 9 am. As we sailed along, we noticed definite patches of blue sky coming up from the west. By the time we arrived in Middelharnis at around midday, it was becoming postitively hot and sunny.
The pilot books had led us to believe that Middelharnis was probably quite a quaint little place to visit. It turned out to exceed all expectations and we were really taken with it. The hot weather and pavement cafe culture gave the place a real Mediterranean feel.
We had a really good walk around, found an Albert Heijn and then went off in the evening to find a restaurant for mussels and chips. We sat outside, on the quayside, and enjoyed our first meal out of the holiday. By the time we got back to the boat, dark clouds were starting to appear on the horizon and within a few hours it was raining. It remains to be seen what tomorrow will bring.
Thursday, 29th July 2010 - Day 6, Willemstad
We had quite a breezy sail down to Willemstad with increasingly sunny intervals. We ignored the modern marinas and headed straight to the town quay where the harbour master indicated that he had a gap suitable for a 10m boat. The gap was only 12m and the "mobos" either side were rafted 2 deep. Nevertheless we slipped in and were later joined by 3 further boats who rafted on to us and then the "mobo" rafts either side grew to 4 deep. This is what the harbour master's job is all about.
By the time we went off for a walk the sun had well and truly broken through and the afternoon turned into a scorcher. Willemstad is not quite on a par with Veere, but it's pretty close. Where else do you get a wind mill on the Kaai!
The town is laid out in the typical Dutch style with a moat to protect the town wall.
The wall then is either an earth embankment or brick faced embankment. It served two purposes; one to keep out the enemy and second, to keep out the sea!
The buildings in Willemstad were much prettier than Hellevoetsluis.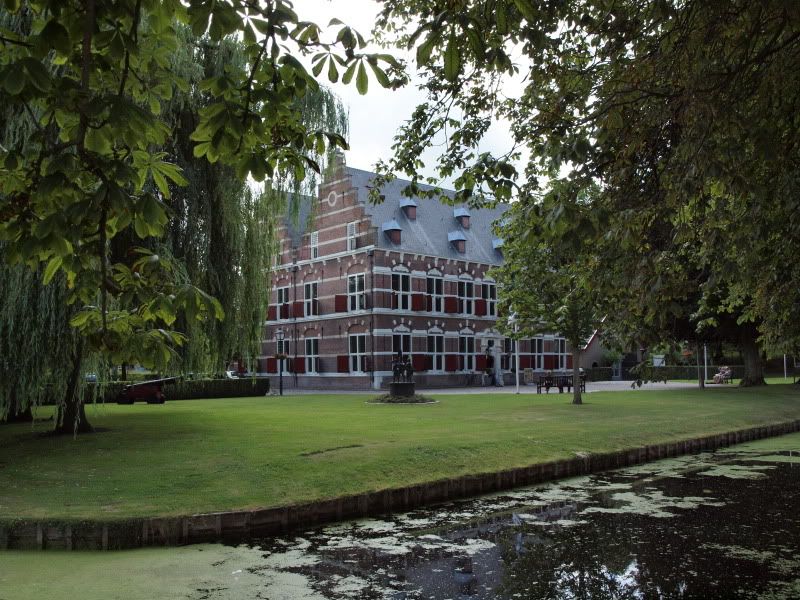 As usual we found the Dutch extremely friendly and Wendy was able to get some practice in with her Dutch. All her hard work is definitely paying off as she now gets frequent compliments on how good her Dutch is. She still gets the occasional person who thinks she's German, but never mind. Actually, it's quite funny sometimes, as she will often talk to French or German people we meet in their tougue, then speak some Dutch, then revert to English (for Kim's benefit) and thus totally confuse people!
One friendly Dutch couple even took a photo of us - just to prove that we were both there together!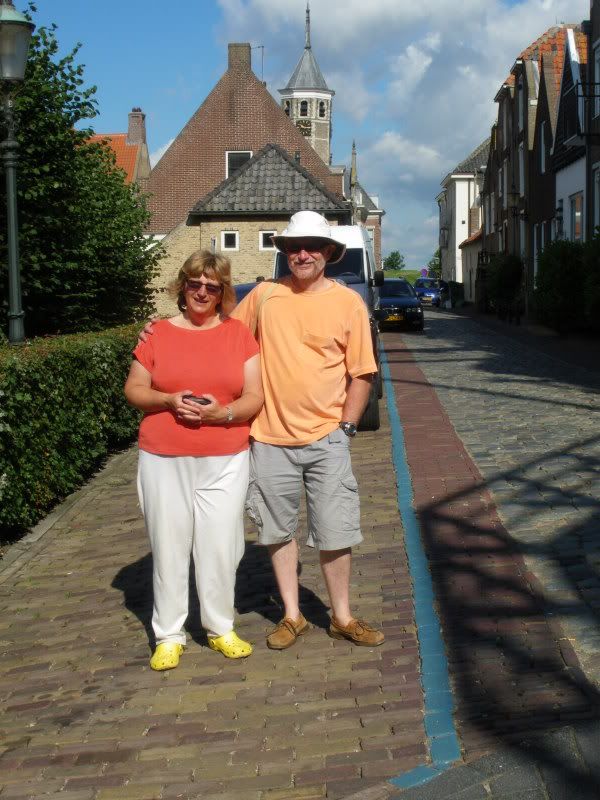 Friday, 30th July 2010 - Day 7, Back To Sint Annaland
Got up to a scorching morning. As we were on the inside of a raft of four boats and thus couldn't leave until everyone else had gone, we went off to find a supermarket to get some supplies. By the time we got back the Kaai was almost empty
and so we had an easy departure.
We motored across to the first lock and then entered the Volkerak for the return trip. The journey back to Sint Annaland was as uneventful as the trip up. The only notable thing was how small the locks were.
Our lock at Zandkreeksluis is used by commercial traffic as well as pleasure boats, so has to be large. On the Volkerak, because it has so much commercial traffic, there is a separate lock for pleasure boats which does not need to be so big.
As before, we motored straight down the Volkerak. After locking through to the top end of the Oosterschelde, we then sailed down to the Krabbenkreek in glorious sunshine.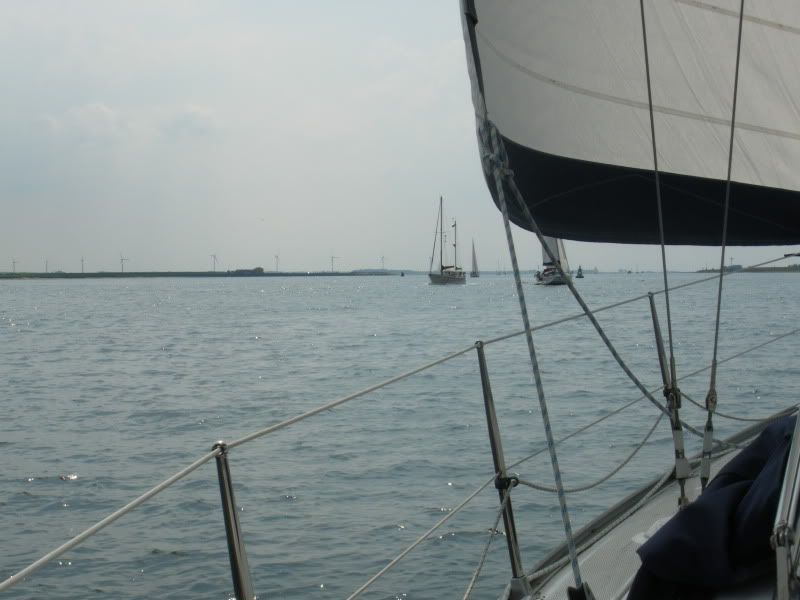 On arrival, the marina's solitary goose was on hand to greet us!
This was our fourth visit to Sint Annaland and each time previously, Kim has commented that we must have a meal in the marina's restaurant. So this evening we did. Whilst Wendy played safe with a steak, Kim had five enormous king prawns which he thoroughly enjoyed!
Saturday, 31st July 2010 - Day 8, Delta Marina
The weather didn't look very good this morning and the forecast was for it to be grey, windy and rainy. All of which it was. By the time we exited the Krabbenkreek and got the sails up it was blowing about 15 knots with gusts up to 20 knots plus. We put one reef in the main sail and then proceeded to have one of the most exhilarating sails we have ever had. At one point we were on the one tack for an hour or so and got the speed up to 7.2 knots!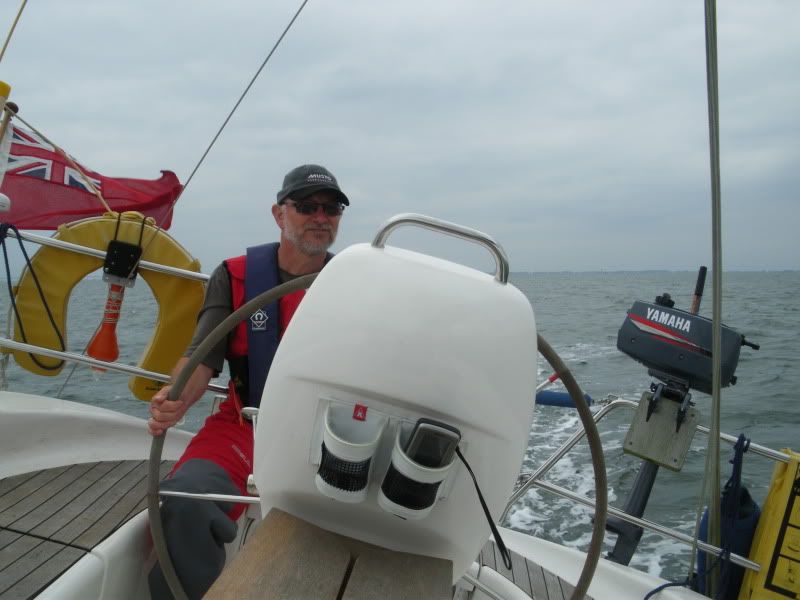 Although it was grey and windy it was not cold.
We had a bit of rain as we went up the Zandkreek, but otherwise it mostly stayed dry.
We were back in Delta by 3.00pm and Kim then gave the outside of the boat a thorough clean, before we settled down to an evening meal cobbled together from ship's provisions (tinned steak, Mediterranean vegatables and rice). Then we started looking at photos to choose what to upload on to YouTube for the Blog.
Back to the Top
Back to Archive