Back to Archive
Sunday, 3rd July - Success At Last!
It was a really early start Saturday morning as we caught the 06.50 Shuttle and were in Kortgene by 10.30. The forecast was for a reasonable wind - F3 to F4 from the north, not ideal for getting out of the berth, but okay and for a cloudy start, clearing later. We departed the berth without incident and headed off towards Veere. As the wind was northerly we were able to beam reach up to the Bad Hotel when we then dropped the sails and motored up towards the Goudplaat. There was only one yacht on the Goudplaat so it looked ideal until we spotted his red ensign. We don't go all the way to Holland to spend the weekend with British people so we continued on to the unattached jetty on the Haringvreter. Unfortunately that had a boat with a red ensign as well, but never mind, he turned out to be a rather sweet old boy from Cardiff who regularly sails a Trintella 34 across the channel on his own, whilst his wife gets the plane!
By this time the cloud was clearing and there was quite a lot of blue sky. We approached the jetty head to wind and Kim was all set to step off with a bow line when said Welshman rushed up to take our lines. He was a bit slow and the line came off the bollard at one point and so although we got tied up, it was not the slickest manoeuvre. Had Kim stepped off with the line and we'd done it "our way", it would have been okay. This is often a problem, somebody wants to take your lines, you don't want to be rude to them, you throw them the line and you then lose control of the process. We always prefer to be left to get on with it on our own.
It was only about 15.00 so we settled back in the cockpit, Wendy doing some water colour painting and Kim playing with ropes. Being early July, it stayed light until quite late and, as ever, we were mesmerised by the wonderful skies you seem to get in Holland – something we never take for granted.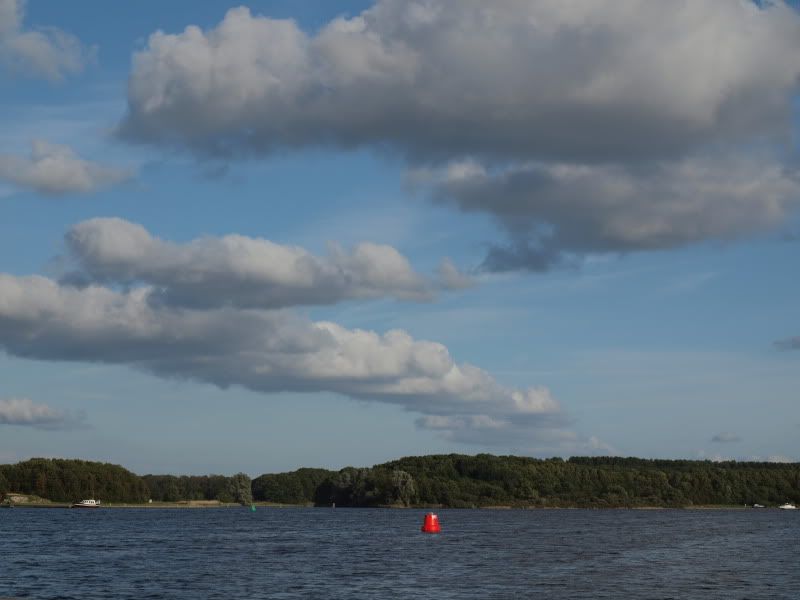 As we were very conscious of our battery power - it was showing only about 12.4 volts at best we opted to go to bed once it got dark at about 21.00 so as to avoid having to use the lights.
Sunday morning dawned bright with a light breeze and plenty of sunshine and a good deal warmer. Since we were booked home on the 20.20 Shuttle were able to have a leisurely start to the day, saying hello to a family of black swans.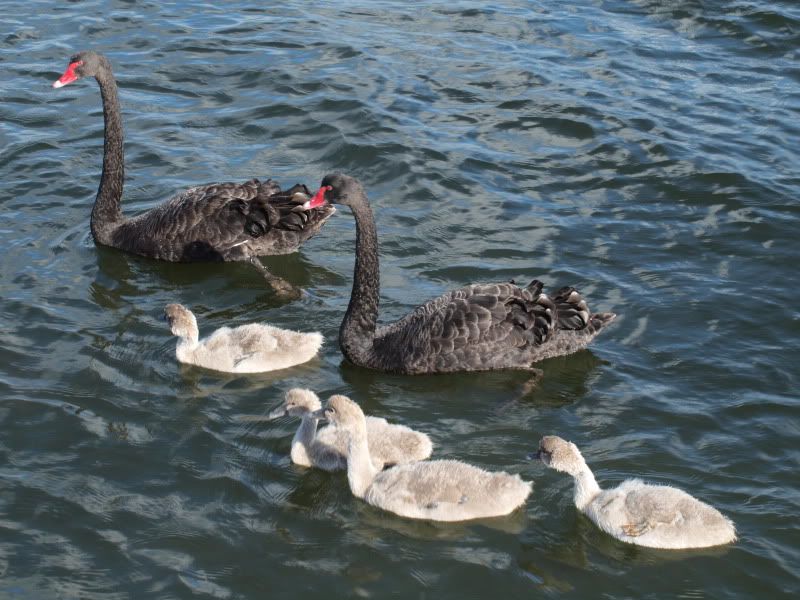 We then had a brilliant sail back to Kortgene, starting off under poled out genoa only,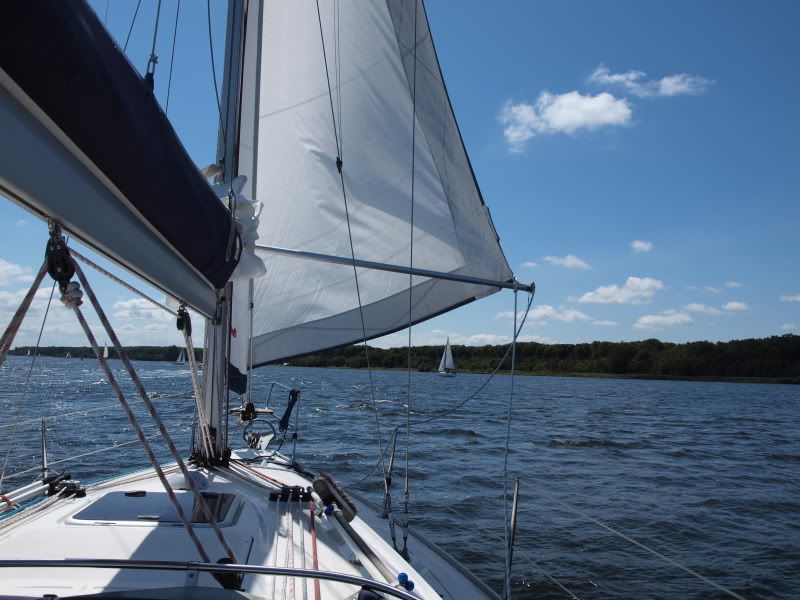 then getting the main up when we got to the Bad Hotel arriving in the marina at 14.00. The wind was quite gusty, which made for some fun sailing, especially amongst all the traffic.
Upon our return to our berth, we were able to try out the new mooring device with Kim taking the boat in and Wendy securing the midship spring to the pontoon without having to leap off the boat. She dropped the line over the cleat at the first attempt and the whole process was very successful. The back end still drifted across and we went fender to fender with the Bene next door, but given the width of box shared by two broad beamed ladies it's hardly surprising! One of our neighbours was watching the whole procedure and wanted to know where he could get a mooring device like ours. Could be a money spinner?
As we didn't have to leave until 16.30 we were able to relax and enjoy what had now turned into a glorious afternoon. Wendy did some more water colours and Kim tidied up the boat and made the bed - he likes all that domestic stuff! Well he does if it's in connection with the boat! (Shame he doesn't have the same attitude at home!)
The journey home was a bit frustrating at Calais with all the Border Agency carry on. It really is a fiasco, it took 40 mins to get checked in. Why can't we be like the rest of Europe? But apart from that minor hiccup it was a brilliant weekend, restoring confidence and really whetting the appetite for our week's holiday in a couple of weeks time.
All in all, two very happy sailors!
Wednesday, 6th July – Update On The Ultra Sound Anti Fouling
As previously mentioned the other weekend Kim had noticed some growth along the water line.
It is difficult to see if this is goes further down the hull or is just at the water line. Of more concern is that last weekend when we headed off the log wheel was not working. Once secured on the Haringvreter, Kim removed the log to inspect it.
As can be seen it was totally clogged with growth! In fact it was the worst it has ever been and the boat has only been back in the water since 20th April – exactly 12 weeks. Any way it has now been cleaned up and put back, but we really did expect the Ultra Sound Anti Fouling to keep the log wheel clean. Well that's the claim on the manufacturer's web site.
We shall not be going over this weekend as Wendy has Embroidery and Kim has the grass to cut, but we are thinking that if the weather is good the following weekend then we might go over then. Only thinking "might", as the weekend thereafter is the beginning of our one week summer cruise. Anyway it will be an opportunity to check the wheel again.
Saturday, 16th July – The Mooring Device
Having successfully trialled the prototype mooring device earlier this month, we have now produced the final version, or maybe it is a "pre-production" version!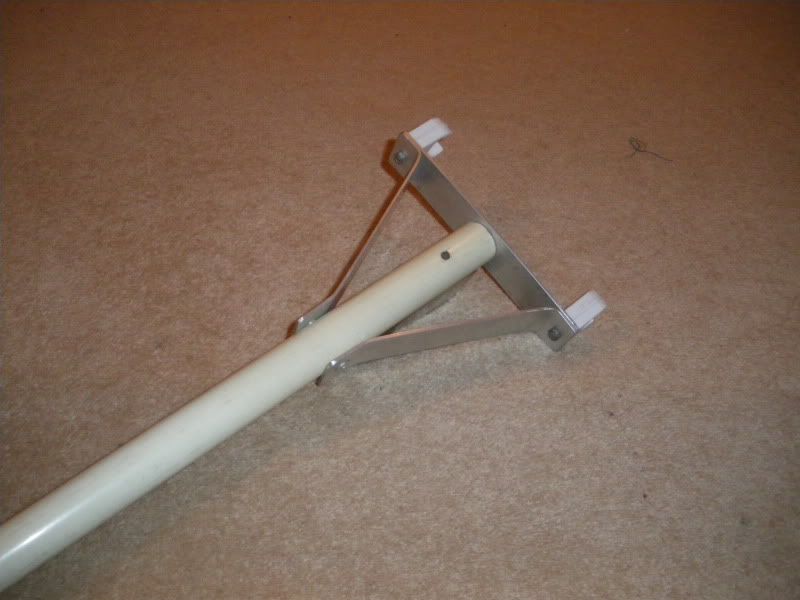 We had hoped to go over to the boat this weekend but the weather forecast was pretty grim and today has certainly borne that out. Additionally Kim has got a new car and had the opportunity to sell the old one if he took it up to Rugby today, which he did and subsequently got an acceptable price for it, but more importantly, sold it with minimal effort.
Next weekend we are off to the boat for a week's summer cruise. Where are we going? Haven't really decided, to a large extent it depends on the weather. Watch this space!
Saturday, 23rd July – Preparing For The Off
Tomorrow we are off for a whole week. We are booked on the 1000hrs DFDS ferry. We had originally booked to go this morning at 0800hrs, but decided that it was all too much of a rush and decided to postpone our departure. In any case the weather over in Holland was forecast to be pretty crap for the weekend. It is however, looking good for the rest of the week ahead.
Not too sure how well we will be able to post blog entries during the week since the Vodafone Mobile Internet USB Stick Kim bought back in February has not worked the last few times we have been over.
Sunday, 24th July - Delayed Start
Sunday's departure from Dover was not good. We were booked on the 10.00hrs DFDS ferry. As it was the first weekend of the school holidays, we decided to get down to the port with plenty of time to spare only to be told there was a two hour delay. The lady at the check-in said the delay was due to them having "lost a ship"! Further explanation revealed this was not as in the Titanic! Apparently an earlier ferry had got a mooring line tangled round its propeller and had to be withdrawn so every thing had been slid back two hours.
Once on board, it quickly became apparent that they were trying to catch up the backlog as the ferry was absolutely packed.
It was comforting to know that even the professionals do things like get ropes tangled around their prop. (Some might think it highly alarming that professionals have such incidents!) On Emjaytoo we have a rope cutter fixed to our prop, for just such an occurence, but in fairness, their mooring lines are a bit chunkier than ours!
We finally arrived in Kortgene at about 17.30hrs and our intention was to head off on Monday morning. When we arrived the weather was pretty grey and uninviting, but it gradually started to clear and by 19.00hrs was turning into a rather pleasant evening. So, as we have done once before, we decided to slip our lines and head down to the floating pontoon by the Zandkreeksluis in order to make a prompt start on the Monday morning.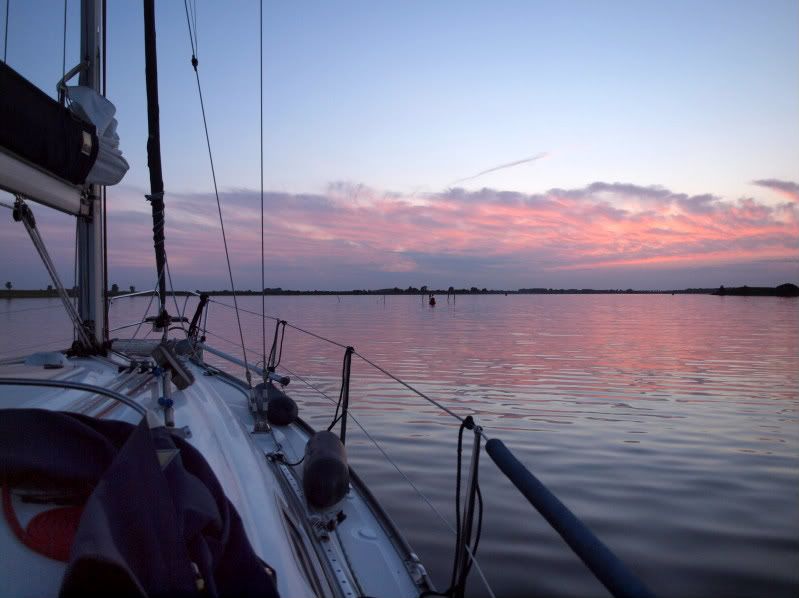 Monday, 25th July - Bl**dy Belgians! (Again)
Got a good start, heading off to the lock at 08.00hrs. Once through the lock, which all went very smoothly, Wendy got the bacon rolls on for Kim.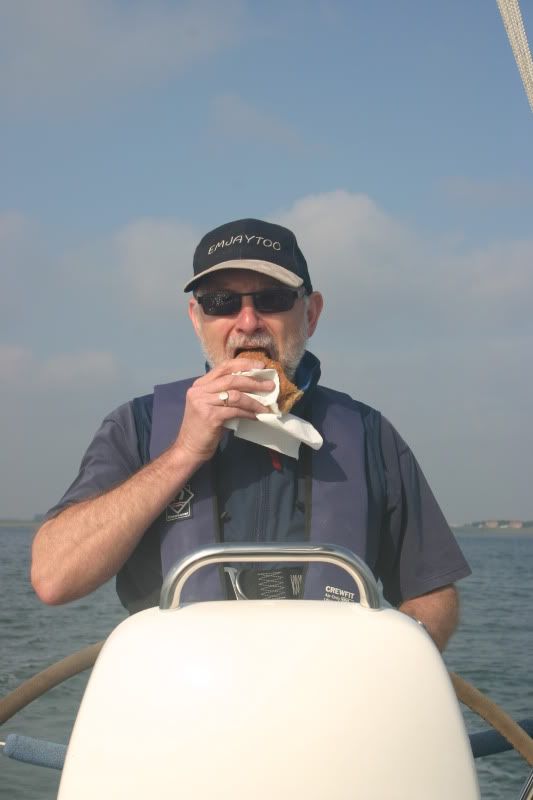 The weather was a mixture of sun and cloud with a reasonable breeze coming over the stern so sailed under genoa only heading upto the Zeelandbrug, ultimate destination, Bruinisse and the Grevelingenmeer. Once up to the Zeelandbrug, we put the main up and turned to starboard on a very enjoyable reach.
As we passed the Krabbenkreek the wind came onto the nose so we put the sails away and motored up to the lock at Bruinisse. When we got there there were about twenty or more boats rafted up, waiting to go in to the lock. We rafted on to a German boat with very nice people on board. It seemed a bit unfair, that when the green light came on to enter the lock, we were one of the first in and certainly the first out. But to try and hang back and be polite would have caused chaos. The German people said don't worry, just get in the lock. In all they must have squeezed over thirty boats in.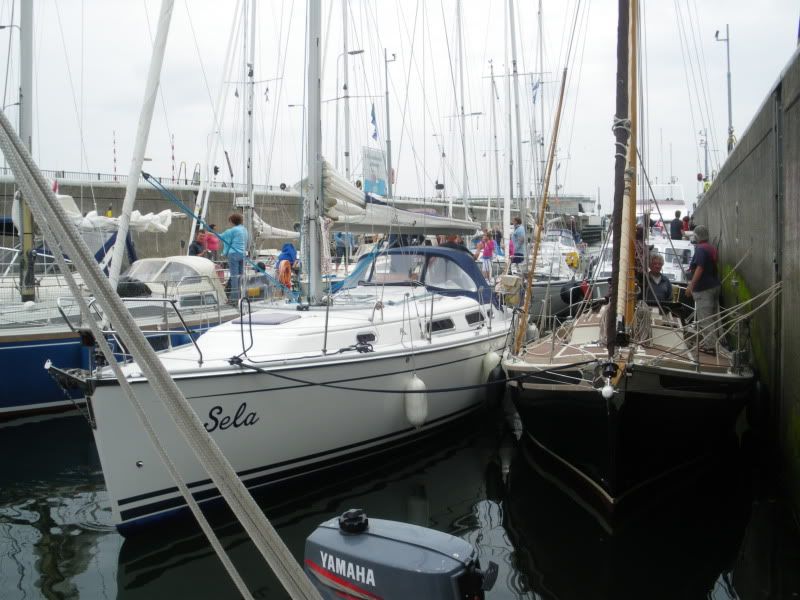 Again another clockwork smooth proceedure. A bit different from the last time we locked into the Grevelingenmeer in 2008 with Julie and Trev and we ended up broadside across the lock before finally ending up facing the wrong way. Of course with the lock so full it was a lot easier this time.
Once out of the lock we tied up on the waiting jetty for lunch and then went off to a nearby marina to get our Permit to use the Grevelingenmeer islands. The cost of a weekly card was €12,50 - pretty good value.
We then headed over to the adjacent islands of Mosselbank to find a mooring for the night. From a distant they looked pretty busy and in light of the number of boats we had seen entering the Grevellingenmeer, we quite expected to have to raft up. However once we entered the little harbour we found a good spot straight on to a jetty, right in front of the entrance and quickly got secured without incident.
Unfortunately the weather had become quite murky - a foretaste of things to come!
Then the bl**dy Belgians arrived. A yacht 11m in length entered the harbour helmed by a woman with a man stood on deck with mooring lines. Despite the fact that they were longer and consequently heavier than us, they made a 'b' line straight for us and asked if they could raft. There then followed a master class in bad behaviour. The woman, who seemed to be the skipper, started shouting, then screaming orders at her crew and us. Once secured, she continued shouting at her crew about how to raft their boat to ours using masses of rope. Ironically, she didn't bother to see how well we were tied to the jetty. Twenty minutes or so later Kim asked her if everything was okay, she said yes, but Kim could tell from her breathing and general demeanour that she was very stressed.
The next morning they left at about 06.00hrs, again she was shouting & screaming at her crew (presumably her poor husband).
Tuesday, 26th July - Staying Put
We knew the weather forecast for today was pretty dire, so were prepared to stay put especially as we had a good spot. It was very cloudy/black and we had plenty of showers during the morning.
Wendy had brought plenty of quilting 'projects', so she was happy and Kim was happy just pottering and watching the world go by.
Plenty of boats left our island mooring and plenty of new ones came along, all providing entertainment for nosey old Kim!
Late on in the afternoon a very serious and very smart looking steel Dutch ketch came in and gave us all a demonstration of how to get it wrong! They had decided to go on the other side of the jetty from us and man who was up in the front asked Kim to take his line. He was then giving instructions to the woman on the helm who subsequently appeared to have little idea of what to do. They ended up giving the corner of the jettey a mighty thump, such that had they been a fibre glass boat, they would probably have put a hole in the hull. Eventually they got sorted with lots of help from us and a few other people as well.
Now the interesting thing, was to compare this with the Belgians of yesterday. The poor man, whose pride and joy his lady crew had done her best to put a hole in, remained cool, calm and composed - no shouting, no screaming, just a few instructions issued with a slight hint of urgency. That's the Dutch for you!
Wednesday, 27th July - Archipel
This morning we decided to head off to Archipel. It was very grey, hardly any wind so motored all the way and it only took 2 hours so we were there by 11.30hrs. By pure luck, when we arrived there was space on the same jetty we had stayed on in 2007.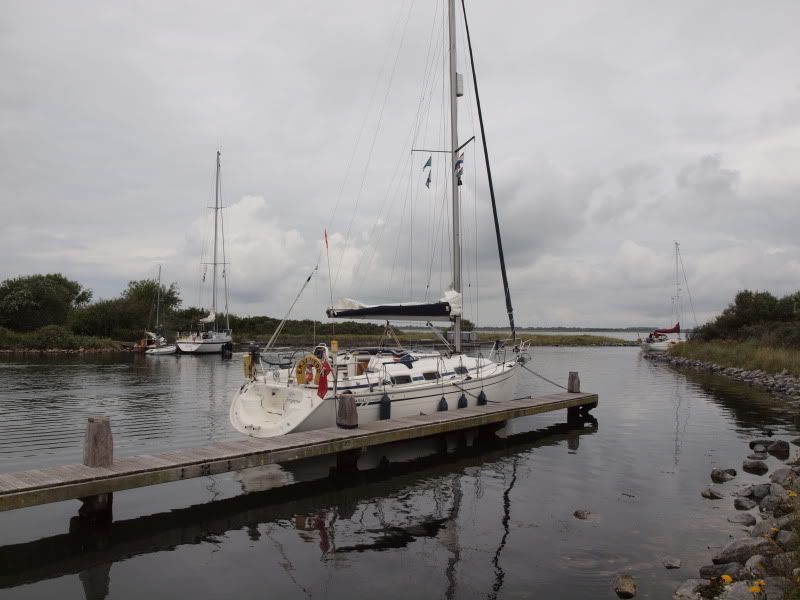 We went for a walk on the little island, all of 5 minutes!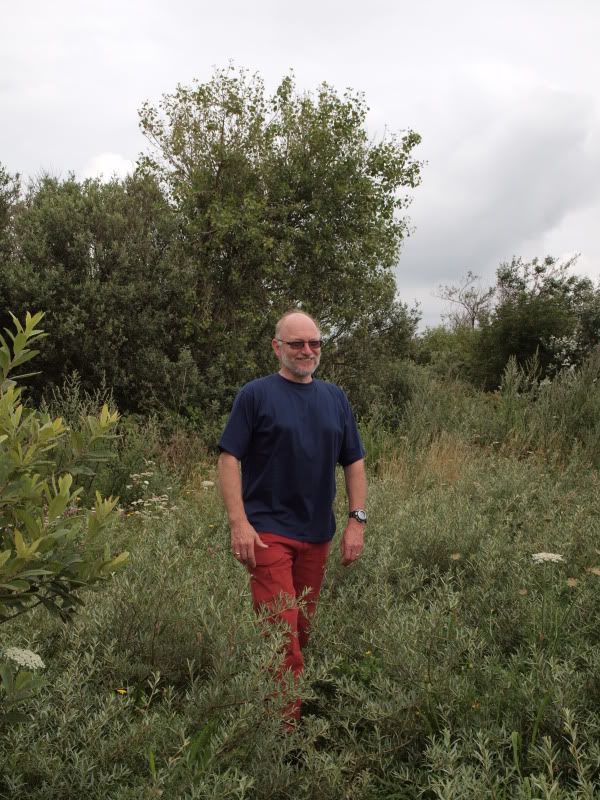 We got the tender out and had a play around with that.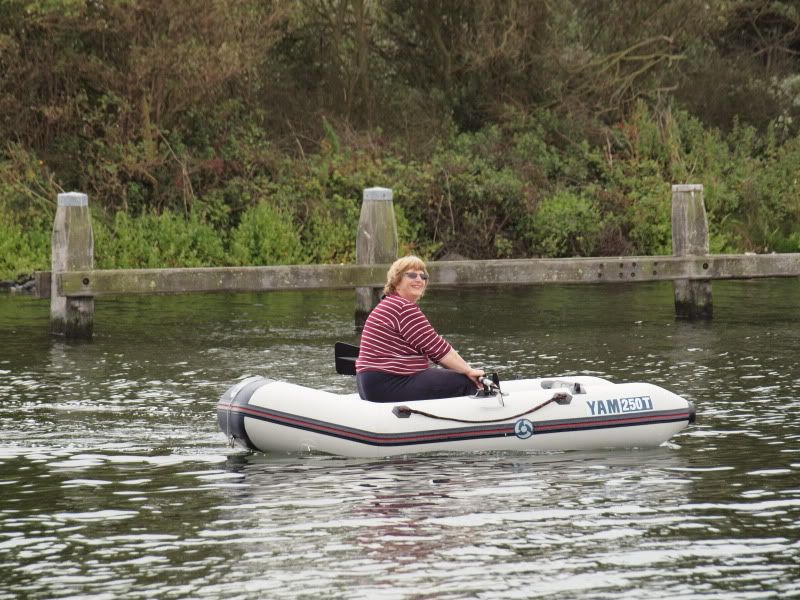 Kim then got out his Christmas present from Wendy which had been waiting since Christmas to be tried out.
As frequently happens, we met some very nice people and a lovely 8 month old Retriever/Bernese cross called Yushi who had to be ferried back and forth to the shore in an inflatable tender because by the time they arrived, they had to raft up to us as there was no direct jetty access left.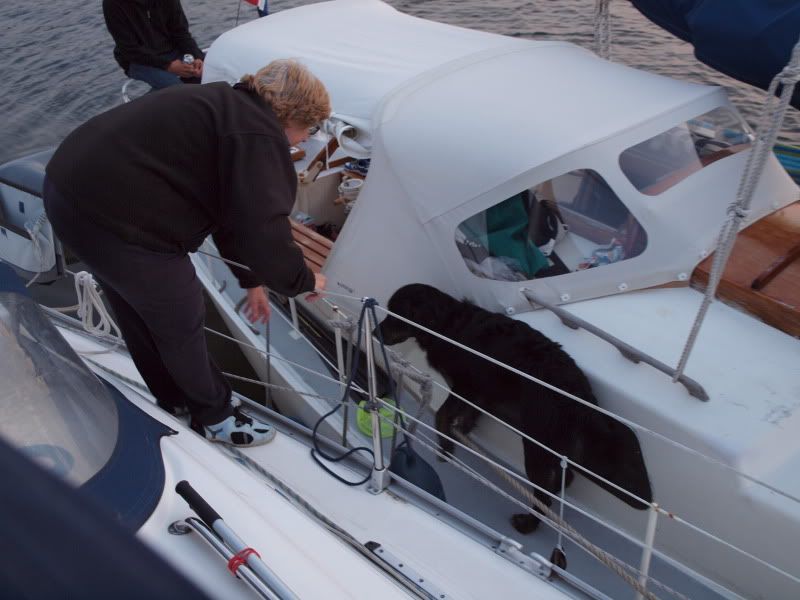 In the evening we were even treated to an hour or two of sun, but this was quickly covered up again by the grey murky cloud which seemed to characterise the whole holiday!
Thursday, 28 July – Brouwershaven
We had initially thought we might stay another day in Archipel, but we thought the greyness might look different in Brouwershaven so headed over there - a journey of 43 minutes, including the stop at the harbour master's office to pay and be allocated a berth!
The Harbour Master mistook us for a motor boat and told us to raft up to a mobo already there (no mean feat on Kim's part given the narrowness of the channel), only to then change his mind and make us move across the way and raft on to another sailing boat. The good news was that the sun came out and we had a lovely walk. Brouwershaven itself is very like Goes, with all the old merchants' houses arranged around the harbour and very picturesque.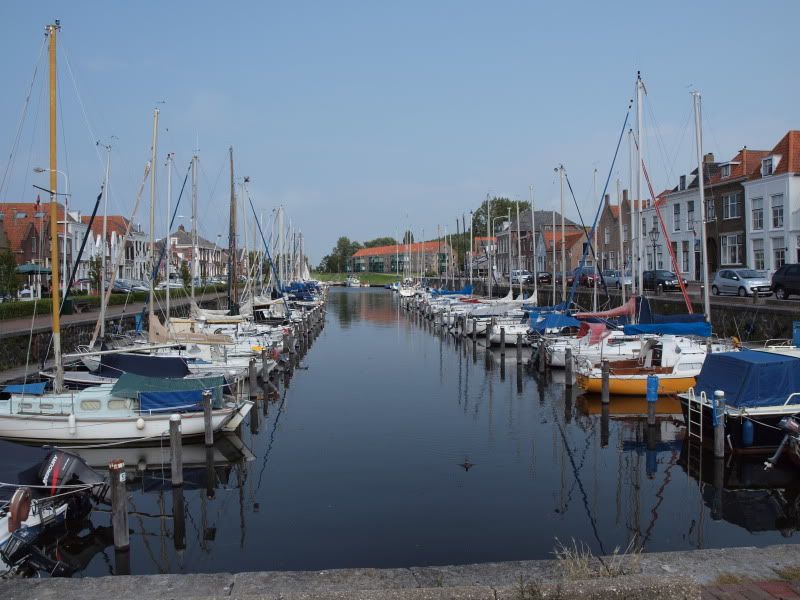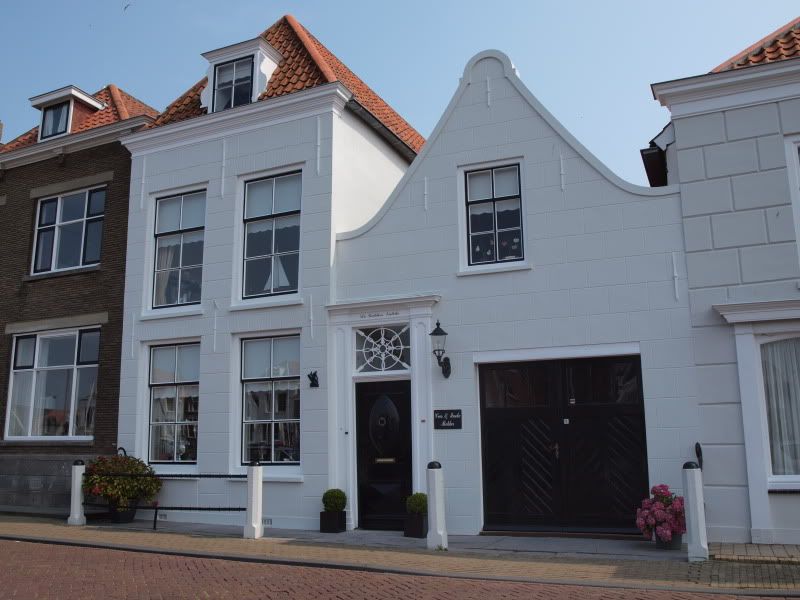 The evening stayed warm and sunny and we were even able to have our dinner in the cockpit.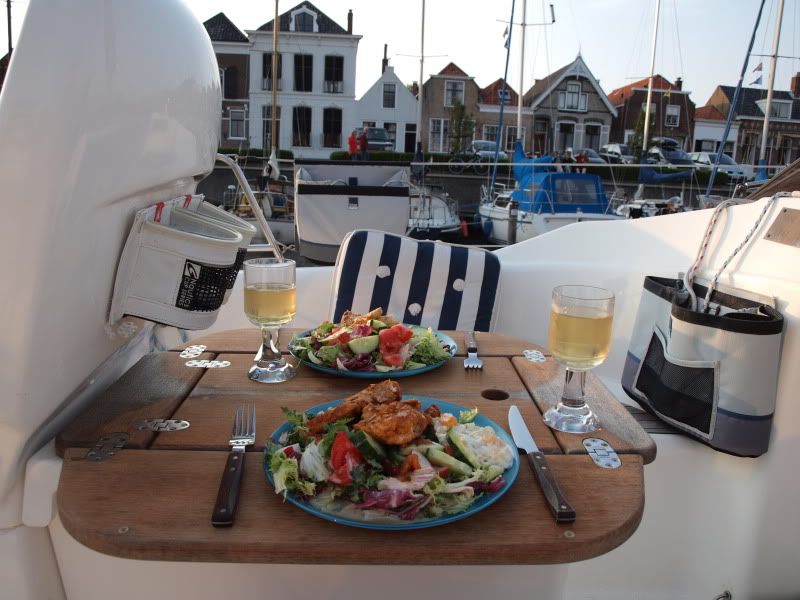 This time the clear sky lasted into the evening and enabled Kim to get some rather atmospheric night shots.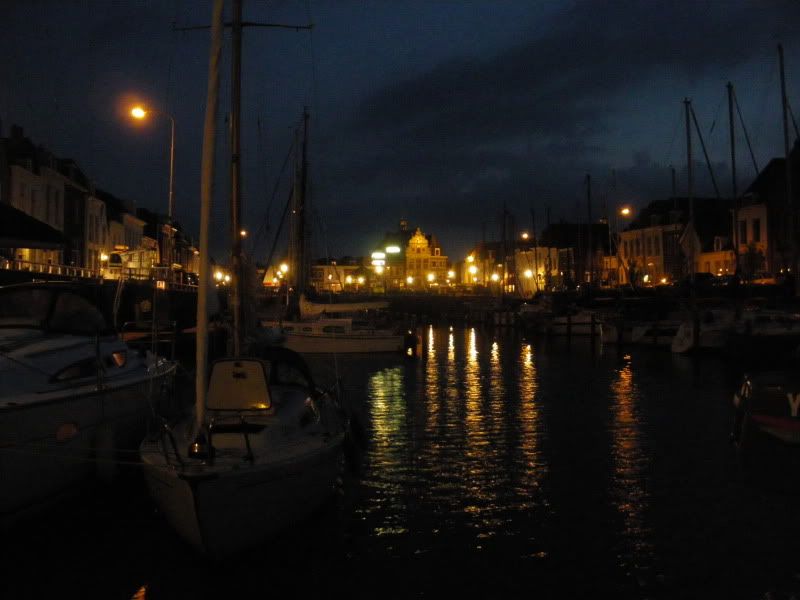 Friday, 29 July - Back to Delta Marina
When we woke up this morning, the greyness was back with a vengeance. We made an early start, stopped off at the service quay to pump out the holding tank and headed back to Delta with a view to going home on Saturday instead of Sunday. Funnily enough, on the way back down the Grevelingenmeer, we were visited by an old friend in almost exactly the same spot as in 2007
Note the difference in the weather from this year (on the left) and 2007 (on the right).
The trip was pretty uneventful, though the lock at Bruinisse provided some excitement. When we locked into the Grevelingenmeer we had been at the front, somewhat unaware of the melee behind us. This time, however, we were in the thick of it. It's a miracle that more damage isn't done with all those anchors on bow rollers sticking into other people's boats!
The sail back was mainly under genoa only or with the engine. The sun made a very half-hearted attempt to break through, but most of the time it was ...... yes, you've guessed it, grey and quite cold.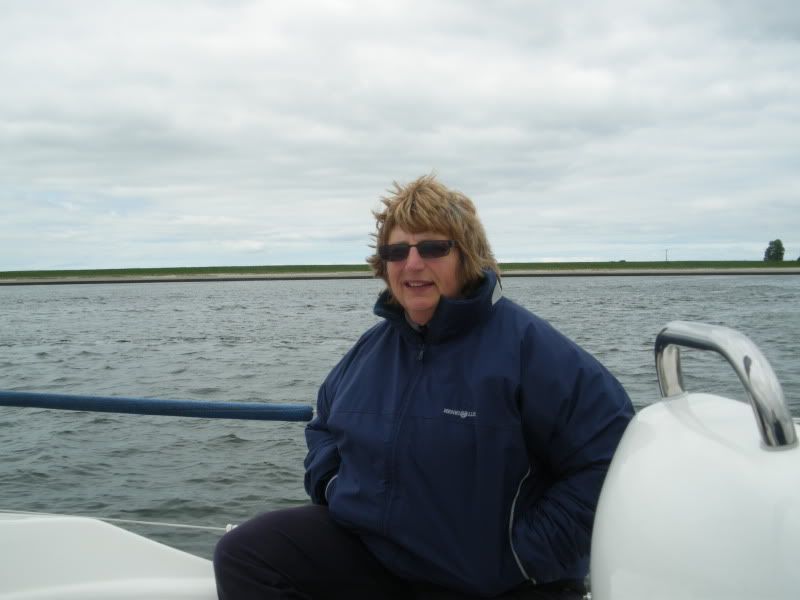 As we came out of the Zandkreeksluis the sky ahead of us looked a rather black shade of grey,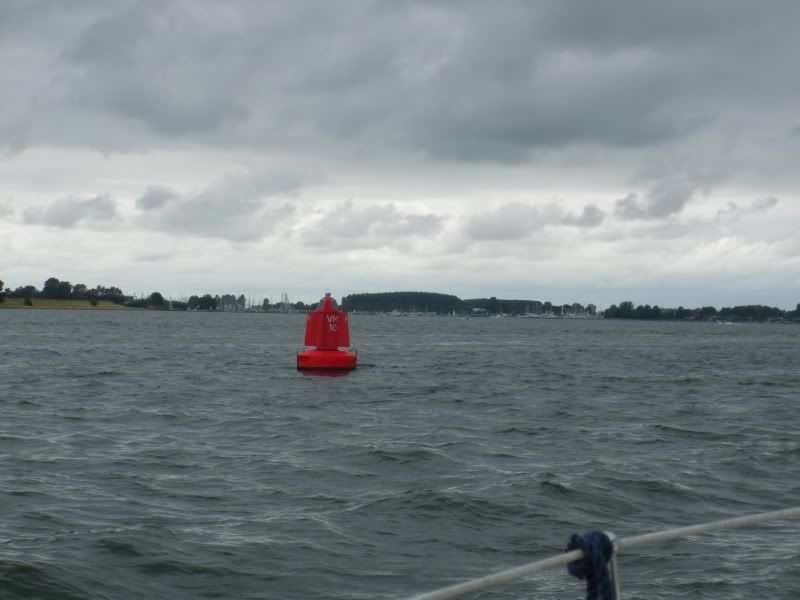 so we hurtled up the Veerse Meer at full speed and just managed to get into our berth before the rain started. We also managed to ring DFDS and change our booking to go home on Saturday, where no doubt the sun will shine for weeks once we are both back at work!
Back to the Top
Back to Archive