Back to Archive
Wednesday, 23rd July 2014 – Kate's Launch Is Booked!
After a month or so debating when to book Kate's launch, Kim finally made the 'phone call on Tuesday and the launch is booked for Friday! Kim won't be there to see her launched as he can't get the time off work. We will have to pay the marina to put her in her berth, Kim will then go up to Conyer on Friday evening after work to ensure she is suitably secured.
Saturday will be spent fitting the bowsprit and rigging the fore sails. Who knows, we may even get the engine installed and she could be ready for a "shake down" on Sunday. Exciting stuff!
Having said all that, we are suffering "Emjaytoo withdrawal" symptoms at the moment. It is nearly four weeks since we were last on board and another three and a half weeks before our two week summer cruise. We have of course had a week's camping holiday in Brittany during that time, but nevertheless, are still desperate to get back to Holland.
Sunday, 27th July 2014 – Kate Is In The Water!
Well in the mud, actually!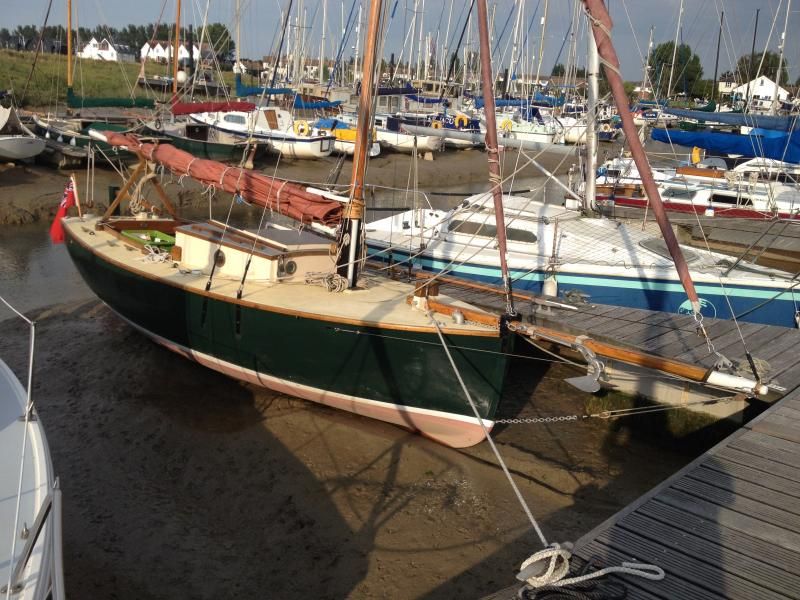 To be precise, as Swale Marina is tidal, Kate will spend half her time afloat and the other half sat in the mud.
There was a bit of a hiccup on Thursday evening when Kim went up to remove her cover (to make things easier for the marina when launching her) and went to have a look at her berth. The tide was out and there was a brick lying in the mud right where she will settle at each low water. A phone call on Friday saw that all sorted and on Friday evening Kim called in on his way home to put her cover back on.
On Saturday morning Kim decided to give Wayne Maddox a call. He is a chap over at Manston who repairs & services marine engines (he serviced our little 2HP Yamaha on Emjaytoo's tender). Kim's concern was that we didn't really know when Kate's engine had last been serviced, nor did know when it had last been run. After a chat with Wayne, Kim loaded the outboard into the car and drove over to Manston.
After dropping off the engine he got to Kate at about 11.30am to find her floating in her berth.
He then spent the afternoon doing the jobs he had set out to do and by the time he left she was ready to go to sea, once we get the engine back! That is agreed as being in two weeks time so, weather permitting, there is a very good chance Kate will get her first outing the weekend of 9th/10th August.
Back to the Top
Back to Archive