Back to Archive
Tuesday, 1st June 2010 – See Where We Went Over The Bank Holiday
If you click on "Replay Track" it will animate our route. Select "Satelite" for a Google Earth view.
Sunday, 6th June 2010 – Chart Plotter and Sunshine
The original plan for this weekend had been for Kim to go over and fit the chart plotter on his own. However, the forecast was good and in the end Wendy decided to cancel what she had on and come too – provided Kim got his finger out and got the job done quickly so that we could go off and have a barbecue on an island!
We caught the 8.00 am ferry and were on the boat by 12.45. The weather was scorching, with the thermometer showing 27 degrees and true to his word, after a quick sandwich, Kim set to work emptying the cockpit locker, pulling the wires through from the binnacle to the fuse panel at the nav station and cutting an aperture in the binnacle fascia panel to flush mount the plotter. Wendy kept out of the way as much as possible and frizzled on the foredeck, reading the newspaper. Fortunately the job went well and by 4.00pm we had a very smart new chart plotter and we were ready to go.
As it was the first really hot weekend of the year, coming out of the channel from our berth into the Veerse Meer was bit like joining the M25, with boats of all sizes whizzing around all over the place. But we're used to it now and soon slotted in and got the sails up. Progress wasn't exactly rapid due to the absence of much wind, but it was lovely to be out on the water sailing in just shorts and T-shirt. Quite a difference to last weekend!
We already had in mind that we would anchor if it was busy and it certainly was! Boats were rafted up on all the jetties
and Bastiaan de Langeplaat was bursting at the seams, with a number of boats anchored in the lagoon. We therefore decided to tuck ourselves in with a couple of other boats at anchor just off the channel between Bastiaan and the Zandkreetplaat.
We weren't 100% sure the anchor had set the first time, so we did it again and then even Kim was convinced that we were firmly secure. By now the sky was clearer and the temperature was 30 in the shade and the water an unbelievable 20.9 degrees! It never takes much for Kim to strip off and go for a swim and that is precisely what he did.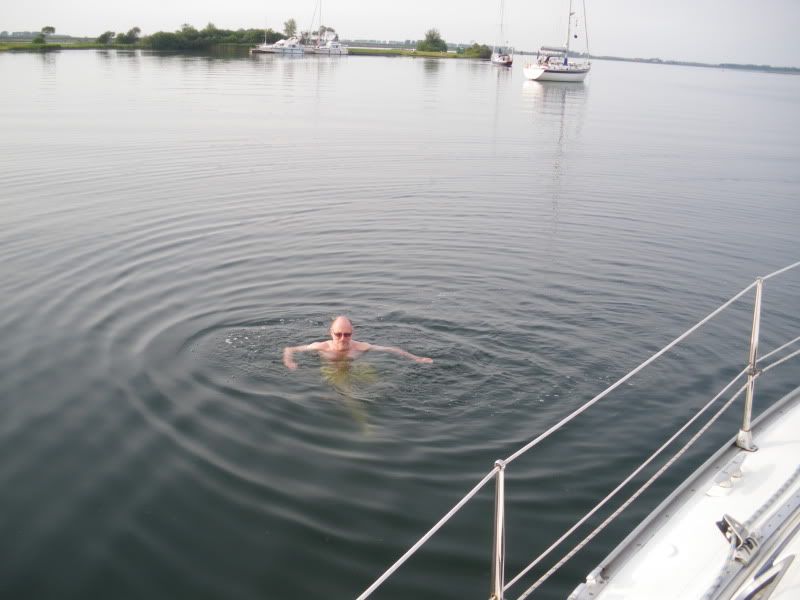 Wendy is a bit more delicate and went for a row in the tender instead – only to be marooned "at sea" whilst a swan circled the boat. Having not forgotten watching a totally unprovoked attack by a swan on a dog in a boat in Veere, she was understandably wary! Her extended period on the water did allow her to take some pictures of Emjaytoo at anchor from an unusual angle, though.
Thoughts then turned to food and whilst Kim sat on deck drinking beer and getting the Cobb ready, Wendy busied herself below deck preparing the meat and pasta. As ever, we didn't go without much and were able to sit outside to eat, only donning fleeces at about 10. It's at times like these that you remember the enormous differences there can be between the weather in the UK and the Netherlands, where it is frequently up to 10 degrees more extreme.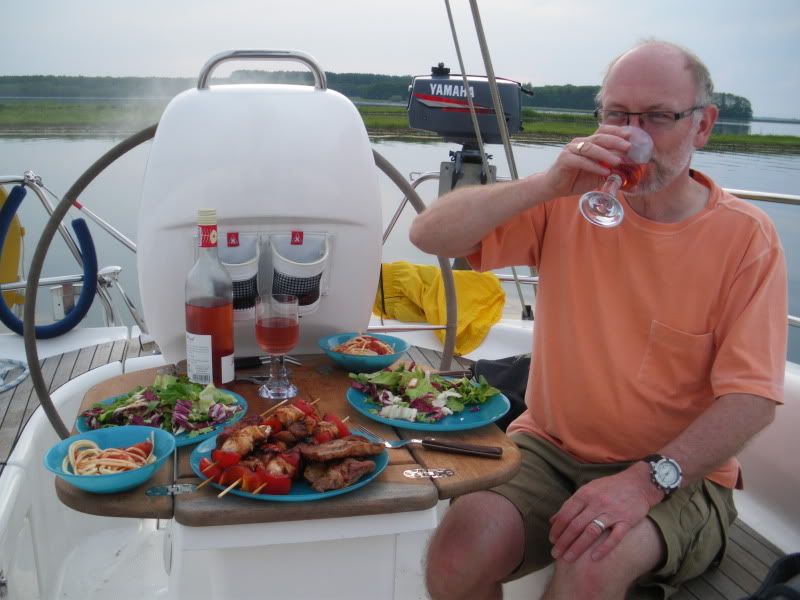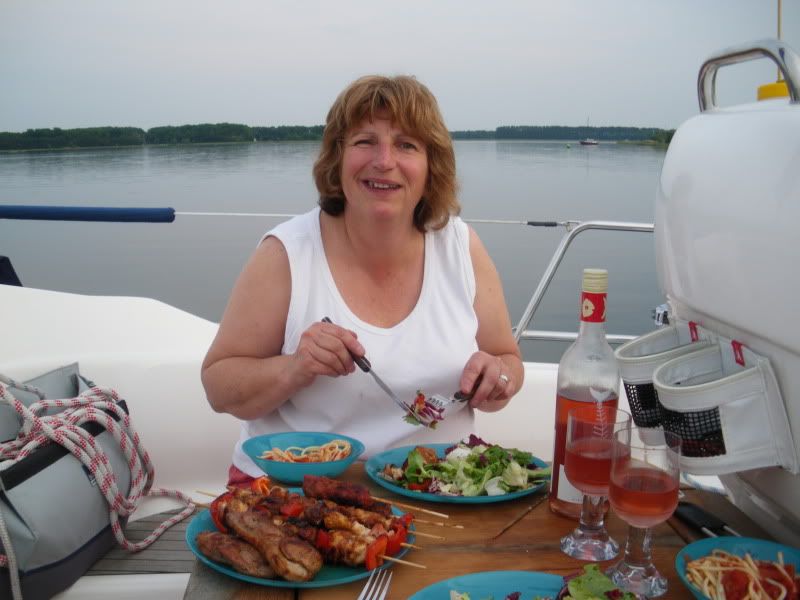 As forecast, Sunday's weather was not so wonderful. Initially a bit dull, then drizzly and then downright pouring it down! Getting the anchor up took several minutes as the erratic wind was making us shear around all over the place, but we were soon underway and had quite a good sail until we were almost home.
Kim tried another new method as we came into our berth, which involved putting a spring with a very large loop on the end over a cleat, without having to step off the boat. It worked very well, though Wendy almost aborted the approach when she thought she must be too far from the finger because Kim was in the wrong place compared to what she is used to.
All in all it was a brilliant weekend. The chart plotter is fitted and we spent a night at anchor. Neither of us really wanted to leave, but Kim at least will be back in a couple of weeks with Clint, hopefully in some more good weather. It's a beautiful place and we love it in all weathers, but there's no doubt that the sun makes it look even better!
The only slight down side to the new plotter, is that when we went off on Saturday afternoon the speed log wasn't working. Sunday morning, Kim cleaned it, but it still registered absolutely zero, so it would appear that when reconnecting the wiring in the binnacle fascia panel Kim must have got the connections to the speed log wrong or not properly connected. He was unable to sort it out when we got back to Delta due to the rain (can't open up the binnacle in pouring rain or else the wiring would get wet), so it's a job for next time. We sometimes wonder whether the speed log is worth messing around with as it periodically has to be taken out and cleaned (fortunately this can be done from inside the boat with only minimal water ingress) and in any event we get far more accurate information in respect of speed and distance travelled from the GPS. Sometimes when we are in tidal water it is useful to know what our speed through the water is and of course Kim being Kim will insist that if we have a piece of kit then it must work!
Sunday, 20th June 2010 – A Blustery Weekend On The Veerse Meer
Kim went over to the boat with his friend Clint, on Friday night. By way of change, he went over with P & O, the first time of using someone other than NorfolkLine for, probably, two years. A lot more expensive, full of a load of very noisy French school kids, but a much more slick operation than NorfolkLine. He then had to contend with the motorway being shut, ending up on a motorway going in the wrong direction and, when after 17 kilometres, he got off it, he had to pay a toll! He finally got to the boat at about 11.30pm.
Saturday was forecast to be sunny, cloudy, with a bit of rain and winds F4 – F5, which was pretty much the case. They arrived at Veere at about 2.00pm and by then it had started to brighten up, still very windy, though. As it was so windy Kim decided to go on the Visitor jetty outside the Kaai.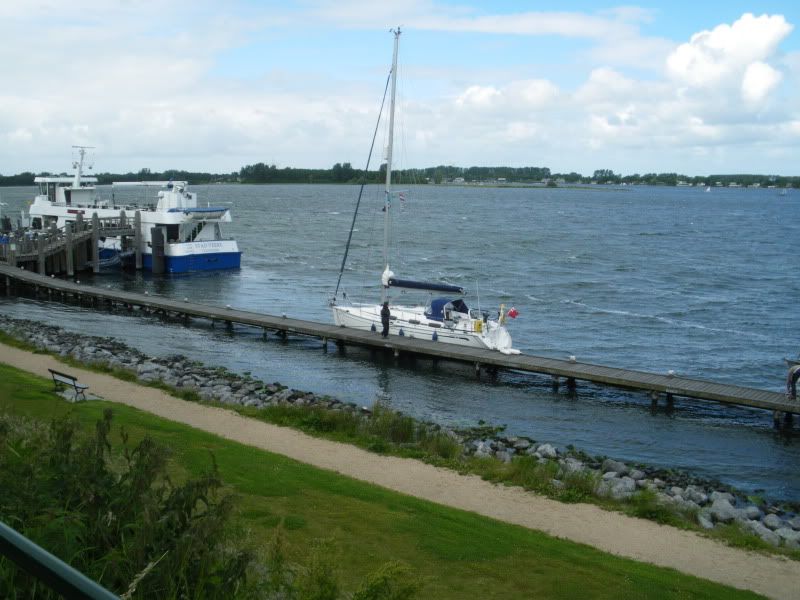 Kim then gave Clint the standard "Veere treatment" – walk around the town,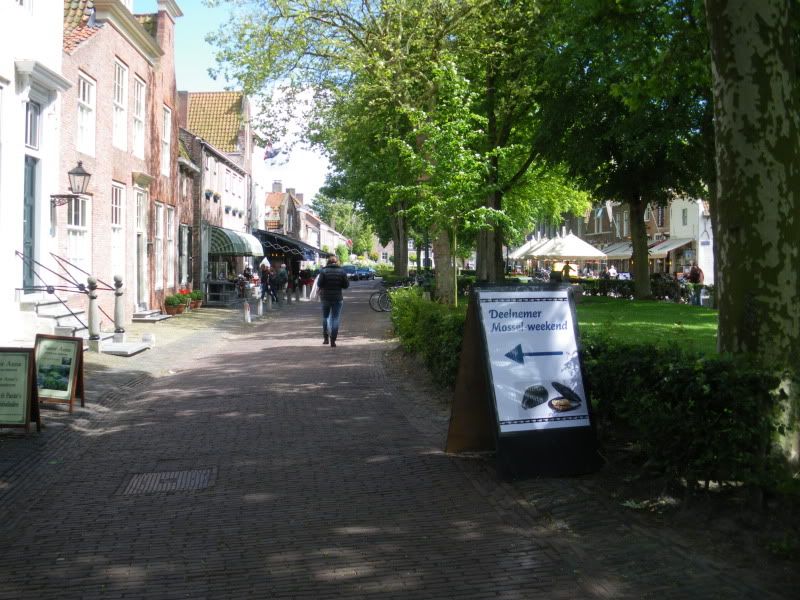 climb to the top of the Grote Kerke,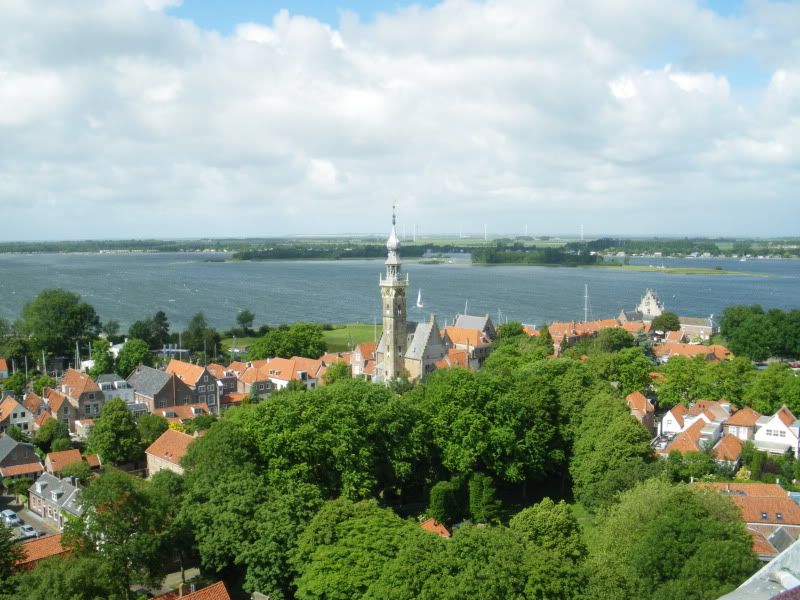 walk over to the windmill and Napoleonic defences, finally ending up in the Veere Yacht Club where they had an excellent meal. As always, at a very reasonable price!
The night on the visitor jetty was fairly bouncy, as the wind continued to howl, but they did get a good night's sleep.
Sunday morning was just as windy, but a lot more overcast. Initially they set off on a dead run towards the Bad Hotel with just the genoa and were getting up to 6.2 knots! Had to motor around the east side of Bastiaan de Langeplaat and then back under sail the rest of the way. Got back to Delta before the rain started and comfortably cleared away in time to catch the 4.40pm ferry from Calais.
So, a great weekend with Clint, who proved to be a good crew and very quick to pick up what to do.
Wednesday, 23rd June 2010 – Planning The Summer Cruise
On Kim's last trip over to the boat Wendy had asked him to bring the charts and pilot books home so we could start thinking about a week's cruise. We've got a week booked towards the end of July and we are again planning to go up to the Haringvliet. Whilst browsing through some past Blog entries, Kim came across this Google Earth image from a blog entry last September. The planned trip last year never took place for reasons that are explained in the blog entry of the day.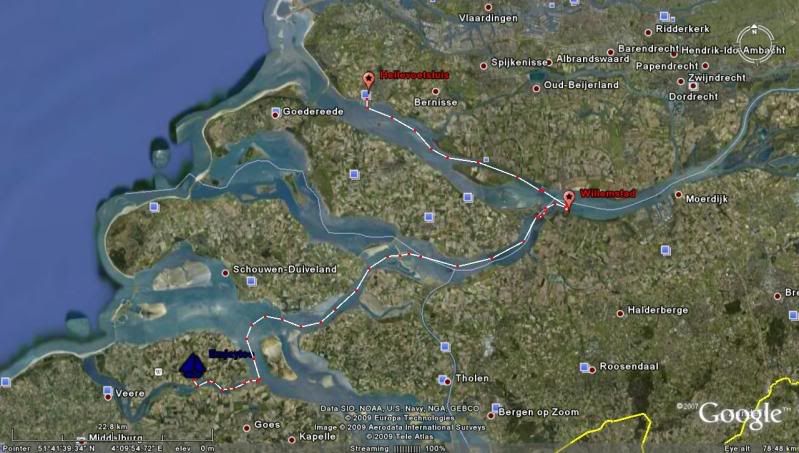 Let's hope, this year, we actually get there!
Sunday, 27th June 2010 – From Last Weekend To This Weekend
What a complete contrast! We decided to go over this weekend because the weather forecast was for it to be scorching. And boy, was it scorching!
We decided by way of a change to use the shuttle. It cost £20 more than NorfolkLine and it was a really good move. We went out Saturday morning, caught the 7.30 am shuttle and were in Kortgene by 10.30. By 2pm we were tied up on the Haringvreter unattached jetty, saying "hello" to a family of black swans
We did the usual things – walking, swimming and barbecue. Whilst walking, we saw the deer and had an amazing "eye to eye" with one of them.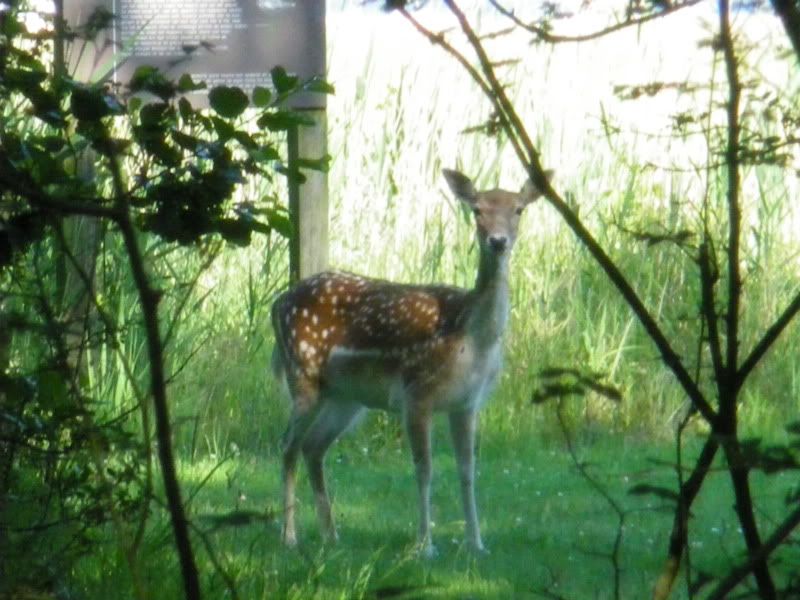 The swimming was great, the water was 24.8 degrees! The barbecue was pretty good too.
Because we were booked on an 18.40 shuttle we had a bit more time Sunday morning and were able to enjoy another swim. Even at about 10am in the morning the water was fantastic.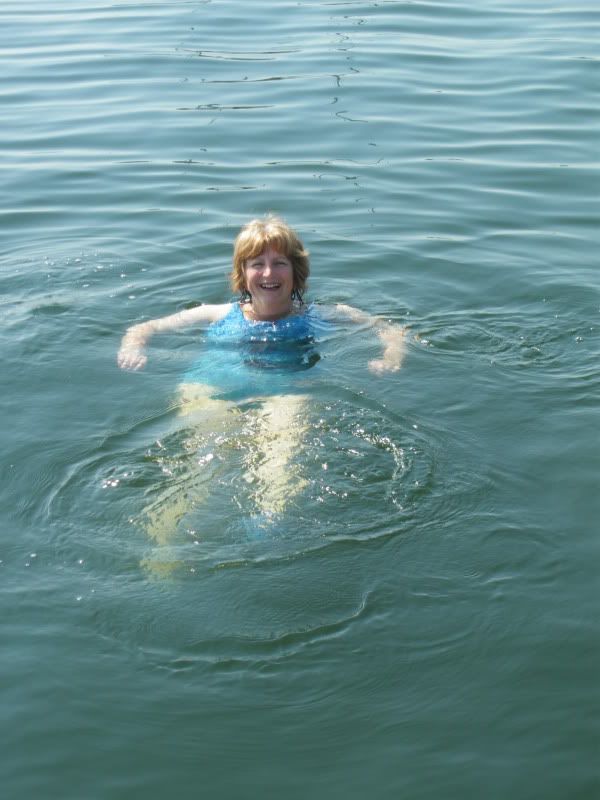 The Veerse Meer was absolutely packed and when you looked across at the beaches you could have been mistaken for thinking you were in Greece!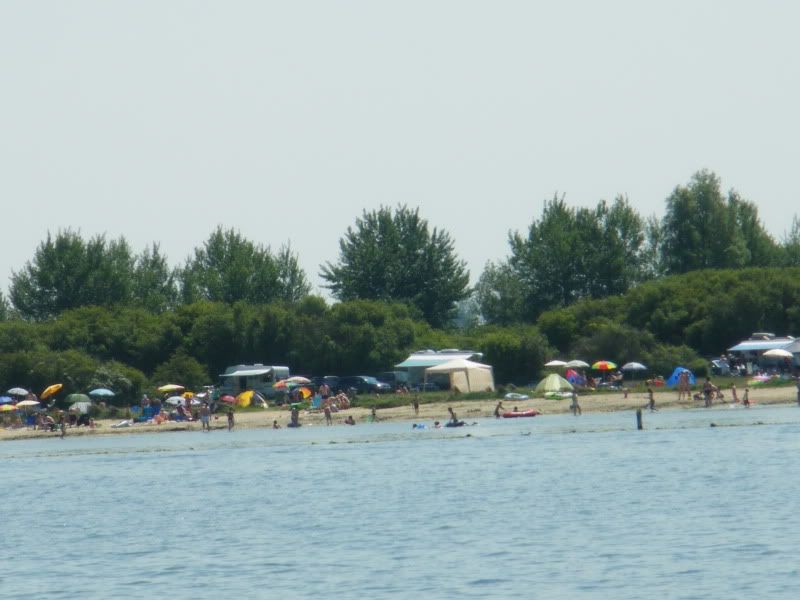 How hot did it get? Well this is the thermometer in the sun!