Back to Archive
Saturday, 1st June 2013 – Letting The Train Take The Strain
Last night, after posting up the day's blog, we started looking into the trip back down to Dordrecht on Sunday. This threw up a major problem – the bridge and lock to get out of Gouda does not operate at all on a Sunday prior to July! This meant that we either had to depart on Saturday or wait 'til Monday. The downside of Saturday was that we would miss out on Haarlem and have to set off in potentially very cold and windy conditions. The downside of Monday was what to do all day on Sunday. On the other hand, the advantage of leaving on Monday was that we got to go to Haarlem and the weather for Monday is forecast to be much warmer with more sunshine and less wind. Although not a pretty mooring, this is surprisingly quiet at night and above all it is cheap!
In the end, we decided on a Monday departure. So this morning, after breakfast, we walked down to the railway station in Gouda and bought our cheap day returns to Haarlem for €22 each and let the Dutch national railways do the job for us. By the time we got to Haarlem we were well pleased with our choice – the wind was howling and it was freezing! We would not have wanted to spend 4 or 5 hours sat out on the water. A glimpse of an information board seen from the train, said that it was 11 degrees!
Haarlem is a compact city, like Gouda or Dordrecht, surrounded by a circular canal/river system with a central market square dominated by the old Stadthuis and Grote Kerk, although it was quite hard to see as a lively market was in full swing when we arrived.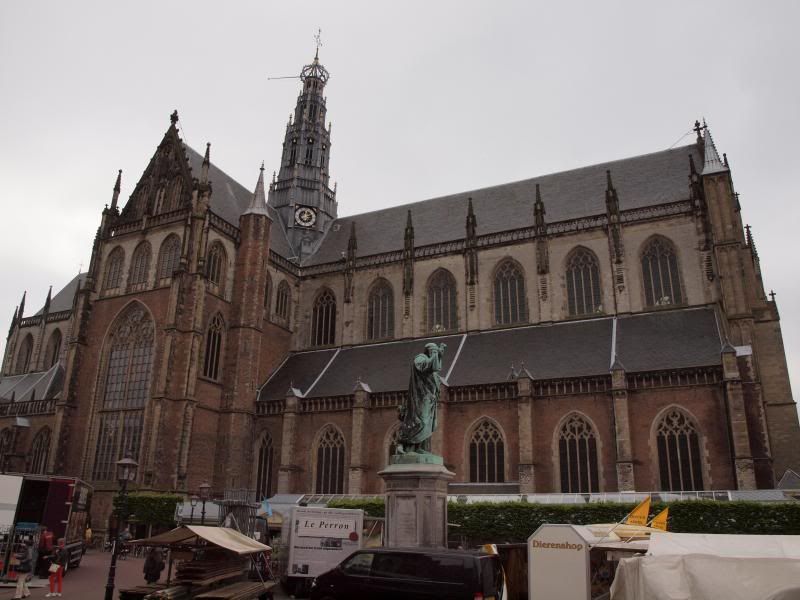 We did the usual walk around looking at the canals and old buildings, then we found a little cafe for lunch and after lunch went into the church (for a change!). These Dutch churches really are impressive and whilst each shares similarities, each has its own star features. The Church of Saint Bavo has an amazing wooden vaulted ceiling and an enormous organ played by a ten year old Mozart in 1766, as well as by Handel.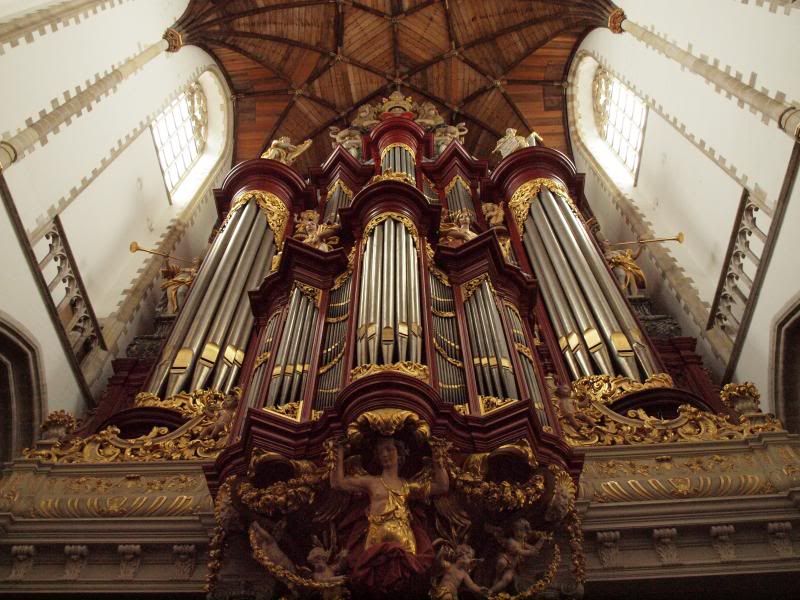 We walked around for a bit longer afterwards, but it was so bitterly cold and starting to rain, that we decided to make our way back to the station. In fact, with a barrel organ playing in the street and all the food smells wafting from the market, you could easily have been forgiven for thinking that this was a Christmas market – not the 1st of June!
Once back at the boat, Wendy managed to have a much longed-for shower in the Portacabin which passes for a toilet block here, before it is locked up until 9 am tomorrow. We will have an early night tonight and a lazy day tomorrow, hopefully in slightly higher temperatures, before starting the journey home on Monday.
Sunday, 2nd June 2013 – A Day of Rest
In spite our extra day in Gouda being imposed on us rather than voluntary, it has actually turned out really well. We were obviously more tired than we realised, since in spite of going to bed at 9.30 last night (when the sun was still shining!), we didn't wake up until nearly 8 this morning. This set the tone for the day.
We briefly ventured into the town to buy a 25 litre water container as our tank was empty and the water point on the quayside was way beyond the stretch of any hosepipe, but the shop we had spotted previously was shut. Kim then came up with the idea of carrying buckets of water from the tap to the boat and pouring it in via a makeshift funnel made from half a mineral water bottle. Six trips later and the tank was showing 50% so that will keep us going. Unfortunately no such ingenuity can give us free wifi but we'll be back in Dordrecht tomorrow so that will be fine.
Otherwise we spent the day lazing around in the beautiful sunshine, watching some of the somewhat incongruous wildlife,
grateful for the shelter provided by the spray hood from the cool northerly wind.
In the evening we started to plan our return trip to Dordrecht. This is not just a case of heading off when we feel like it. There are two bridges one of which opens once an hour and one which opens once every two hours. The latter has nowhere to tie up and wait, so getting the arrival right is critical. This, of course, is dependant on getting the first right. The matter is then complicated by us having conflicting information about opening times! We have decided to leave somewhere between 09.30 and 09.45 and see what happens!
Monday, 3rd June 2013 – Heading Back Home
Notwithstanding all the confusion of last night's planning, today's trip back to Dordrecht worked out remarkably well. We probably allowed a little bit too much time as we did have to slow it all down quite a bit, but we managed to time our arrival at the main bridges such as to avoid having to tie up or spend too much time "twirling". In fact we were rather grateful that we hadn't tied up at the Algera Brug as a lunatic barge skipper went by at a ridiculous speed and the boats tied up were really bounced up and down against the pontoon, showing rather more of their bottoms than they were ever designed to do! At least being free on the water, we were able to ride out the wash quite easily.
After we had gone through the bridge, a large commercial vessel going in the other direction treated us to a display of mysterious shenanigins involving dangling a poor unfortunate out over the water in a cage with a rope.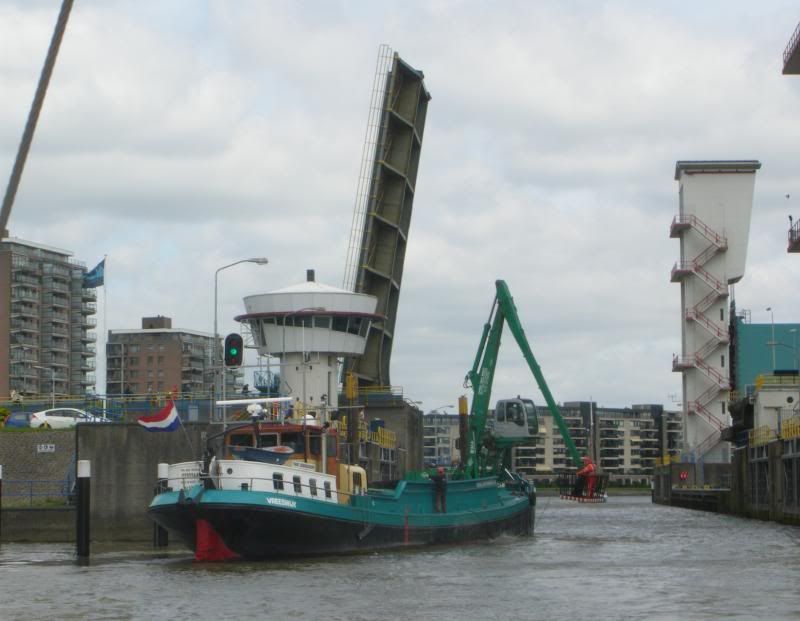 The weather was a lot warmer than on the way up, but that was probably due to the wind being a lot lighter. We have had a lot of high pressure, which unfortunately has to resulted in northerly winds, which, in turn, have been quite cool. The plus side is that it has been quite bright and we have had no rain, though for a while this morning we did wonder.
The Nieuwe Maas was much busier this time and we had to choose our moment carefully for the dash across to the starboard side. The tide was running at quite a rate and, combined with all the wash from the commercial traffic, made for quite a bumpy ride. A trip along this kind of waterway is something to experience, but not something we will be rushing back to.
We felt rather important at the Alblasserdam bridge as it was opened just for us! Opening it is a very slow, tedious operation which involves holding up the traffic on a busy road for the best part of 20 minutes.
Arriving back in WSV Dordrecht was a bit like coming home, especially as we were put back in berth 107 where we had been a week before.
A quick trip to Albert Heijn (Holland's answer to Sainsbury's) resulted in us being fully victualled for the next 4 or 5 days including whole racks of ribs for the barbecue! We live in hope!
Tuesday, 4th June 2013 – How To Turn A Relaxing Day Into A Stressful One!
We had a relaxing start, as we did not need to get through the Dordrecht Bridge until 11.15, in order to get into the Haringvliet by about 3.00pm. We took the route via the Oude Maas & the Spui. The Oude Maas connects directly to Europort and Rotterdam so we were somewhat surprised at how quiet it was. When we turned into the Spui it became positively deserted. The sun shone and it was idyllic.
We must have got the timing right as we were getting over 2 knots of current helping us on our way. We were able at sail a bit using the genoa when the wind was generally abaft the beam (which, since the wind was northerly, was a lot of the time).
However, it all changed dramatically when we entered the Haringvliet. The wind got up, the swell swelled and within minutes we were being buffetted about all over the place. Things became more comfortable once we were under sail, but it was still a bit of a contrast. Kim decided that rather than go into a village quay on the lee shore, it would be a good idea to stay overnight on one of the mooring buoys, as it would also enable us to have an early start for Zierikzee tomorrow.
We spotted a row of three mooring buoys, one of which was already occupied, which we took as a good sign. As neither of us has picked up a mooring buoy since our day skipper practicals, it seemed like quite a fun thing to do. Wendy motored the boat into the wind and Kim locked on (3rd time lucky) to the ring on the top of the buoy and there we were – bobbing and bouncing around all over the place in 16 knots of wind.
Kim then proceeded to attach a second line as a back-up (memories of ropes chafing through at Patitiri!). Whilst he was doing so, the other boat moved off, having obviously thought better of it and leaving us alone on a very exposed mooring.
Wendy is not generally prone to nervousness at sea and indeed always feels very safe and comfortable on a boat, even in rough conditions. On this occasion, however, she became acutely aware of the responsibility of the situation and the fact that if Kim were to be knocked overboard by a wave, he would be blown half way to Willemstad before she could even get the horseshoe life buoy off the back of the boat, let alone remove both the lines from the mooring buoy and make any attempt at recovering him. To say she was relieved when Kim then came back into the cockpit and announced that we weren't staying, is something of an understatement!
We therefore rocked and rolled our way down the Haringvliet towards the bridge, where we were able to hold station very comfortably for 15 minutes or so until the bridge opened (again just for us!). Our original plan was to go back to Numansdorp town quay but immediately after exiting the bridge, we went past the entrance to the more modern Numansdorp marina. Kim was initially uncertain, but when Wendy pointed out that it would save us an hour or so both this evening and tomorrow, he agreed to try it. The marina is nothing special in itself, though the location is very quiet and full of swallows, crested grebes and other birds. The best bits, though, are the loos and showers – free, modern, clean, lovely saily boat tiles and proper Grohe shower heads which you can take down from the wall to point where you want, rather than having to contort yourself under a fixed jet of water. Bliss!
As we arrived here rather late (7.15pm) and more than a little battle weary, dinner was a simple affair cobbled together out of what we had on board. We shall be having an early night soon (highly vocal water fowl permitting), ready to enjoy the showers again before leaving early tomorrow morning. Having just realised that it is now nearly 11.00pm and only just getting dark, it seems our early night has gone out the window!
Wednesday, 5th June 2013 – Back On Home Ground
We eventually managed to tear ourselves away from the Numandsdorp showers and get under way by 8.30 this morning. It was a beautifully sunny morning and noticeably warmer than of late. The journey down the Volkerak was uneventful, apart from bumping into a friend of Kim's from the YBW forum who was exiting the lock just as we were going in. You couldn't have engineered it better! We managed a bit of sailing under genoa only, but there wasn't really enough wind so we motored down through the Volkerak.
Once back in the Oosterschelde, we hoisted the sails and what we expected to be a mediocre sail, turned into a cracking one, with speeds of over 7 knots over the ground.
The result was that we reached the Zeelandbrug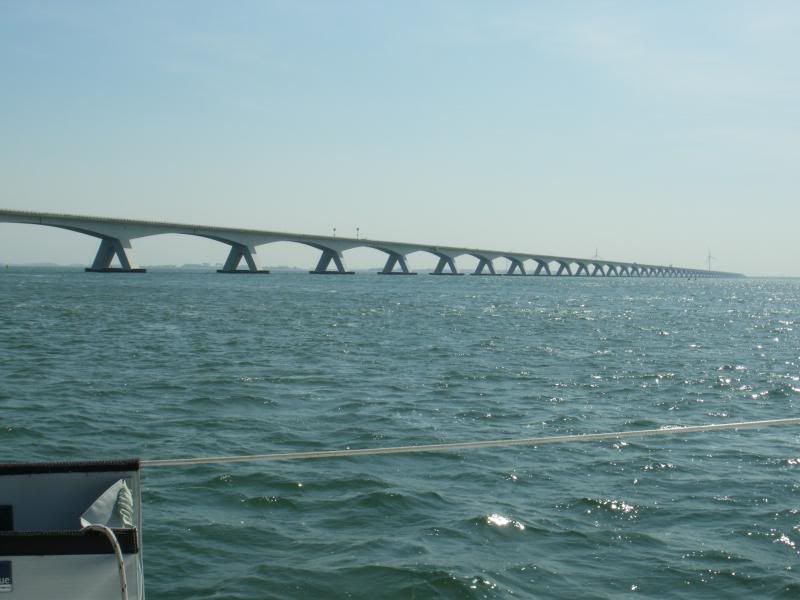 an hour earlier than expected and consequently were tied up in Zierikzee by 4.20pm. Another tiring day but at least a warm one. Zierikzee proved to be quiet enough that we got directly onto the main pontoon, but did end up with another boat rafted up to us. After tidying up the boat and having a cup of tea (euphemism for having a beer!), we went off to our favourite restaurant – Eatcafé Markzitcht.
Updated the blog and had an early night.
Thursday, 6th June 2013 – Bastiaan de Langeplaat
The forecast F3 for this morning was barely even 3 knots and with a cloudless sky it was a scorcher. After refuelling, emptying the holding tank and taking on more water, we realised that we just about had time to bomb down to the bridge for the 11.20 opening. We expected it to be breezier and cooler once on the Oosterschelde, but in fact it was just the same and we drifted along, carried more by the tide than the wind.
After locking back in to the Veerse Meer we made our way up to one of our favourite spots, inside the lagoon at Bastiaan de Langeplaat.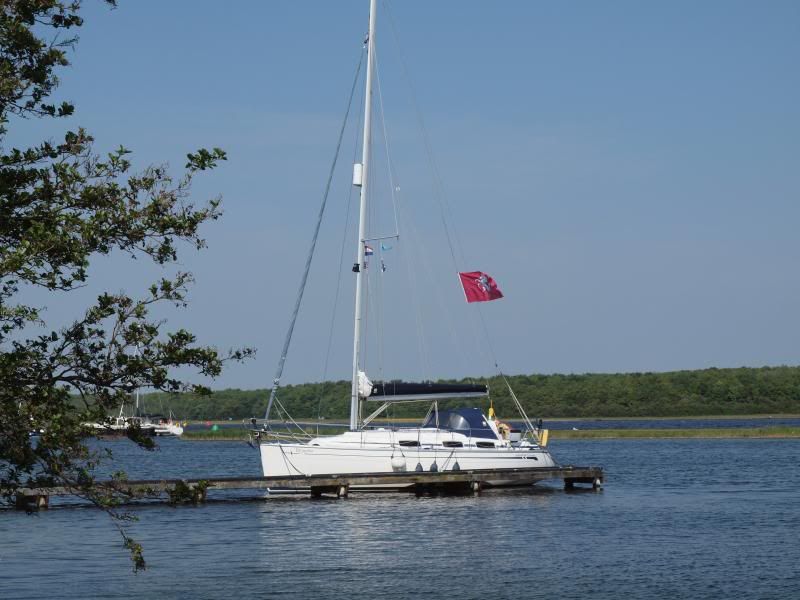 This is the start of a brief "holiday within a holiday", when we intend to drift between islands for a couple of days and thoroughly chill out. The 18 knot northerly breeze put paid to any ideas of a barbecue this evening, but we nevertheless had an excellent meal on board. The goal tomorrow is to get into the Omloop, though whether this is possible remains to be seen as it always seems to be packed out.
Friday, 7th June 2013 – Up The Congo
First job this morning was to confirm the weather forecast and ring up and change our shuttle crossing to late Saturday evening. Whilst it would be nice to have another day on an island, there are very strong winds forecast for Saturday afternoon/evening, just when we would be arriving back at the marina. The thought of a whole day at home getting back to normal was also very appealing, so we will head back to Delta very early tomorrow, have a thorough clean up and leave at 18.30 ready to get the 21.50 shuttle.
Yesterday as we turned in to the lagoon at Bastiaan we looked across at De Omloop and thought it would be an ideal place for today. So after we'd had breakfast we watched until a few boats had gone and then crossed over. A trip of all of 20 minutes. We motored up the bit we call "The Congo" and found an idyllic spot well sheltered from the wind by all the trees.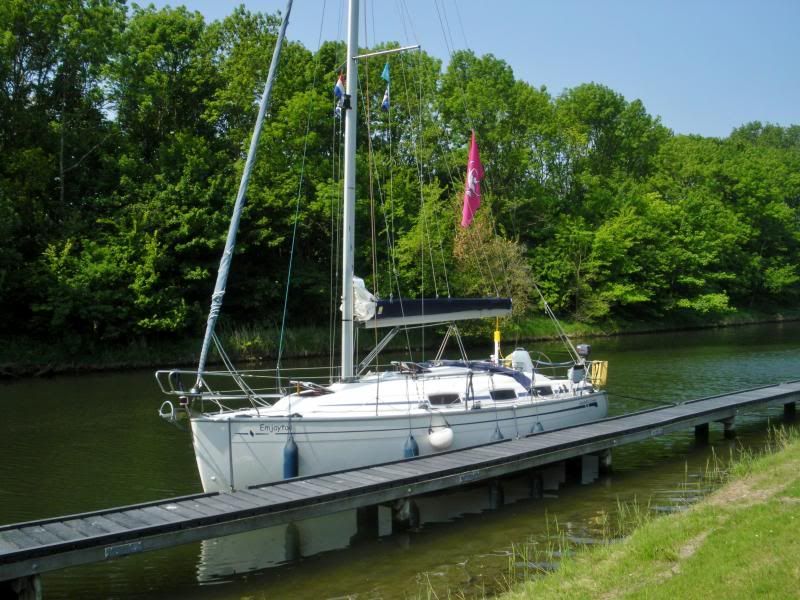 The afternoon just got hotter and hotter. Wendy sat on the grassy bank painting and Kim busied himself with boaty things (euphemism for getting bored!).
It really was a scorcher and couldn't have been a better end to our holiday. We were actually able to get the barbecue out
and sit on shore to eat, only retiring back to the boat for coffee and the washing up. The wind is obviously howling, but we are beautifully sheltered here. Definitely our new favourite place.
Saturday, 8th June 2013 – Back In Blighty
This morning, we got a really early start and were away by about 08.00. It was still very windy and all on the nose, so we motored back at 5 knots plus. The result was that we were back in Delta just after 09.00. This was just as well, since although the wind had moderated a bit, it was still north-easterly and Kim made a complete hash of berthing the boat! It took him three attempts and the only consolation was that at that time of the morning, there were very few people around to witness it!
We were then able to spend a leisurely day cleaning the boat, both inside and out, taking a respectable break to enjoy a fried chicken & salad lunch in the cockpit and then head off to Calais for the return Shuttle.
We arrived in Calais a couple of hours early for our 21.50 crossing and got an earlier crossing. This meant that even after stopping in Folkestone for a Burger King, we were home by 21.00 BST. All in all, a very good day and we had the comfort of knowing that Sunday was ours to unwind and prepare for the shock of "Monday back to work"!
Sunday, 23rd June 2013 – Reflections On Our Summer Cruise
It's now two weeks since our cruise and whilst we are back on the boat again this weekend, the weather is foul – winds up to 27 knots in the marina and heavy rain, so we have been able to sit and reflect on our two weeks cruise.
The initial plan had been to go through Amsterdam on the night convoy and get into the Markermeer. The first week was pretty cold and on occasions very windy, so by the time we got to Dordrecht, we had decided against Amsterdam, the night convoy and the Markermeer, setting our sights on Haarlem instead.
By the time we got to Gouda the novelty of Dutch canals had worn off! Although the route, known as the Staande Mast Route, had bridges that would open to let us through, some of them were pretty major road and rail bridges and hence only opened every two hours, or sometimes less frequently! Our Stentec navigation software was very good at taking these times into consideration, but at the end of the day we decided that the Stande Mast Route is fine if you need to move your boat up through the canals. But for a boat with a 45 foot mast on top of it, the canals are not really suited for a leisure cruise.
That said, we enjoyed Dordrecht and Gouda (not sure we would want four nights in Gouda again!). We enjoyed the bit of canal work we did do and the Spui was really quiet and peaceful. Spending two weeks on the boat was definitely new territory! When we first got home we thought we would be unlikely to do it again, but then as the days went by and we remembered the good bits (not that there were any bad bits), we concluded that Dordrecht and Gouda were worth visiting again.
So look out for another two week cruise next year! Whether it involves both Dordrecht and Gouda is open to discussion, but we're sure we'll be back in Dordrecht at some time in the future.
As for today, the wind eventually peaked at 30 knots, but around lunchtime it brightened up, so that apart from the howling wind it was actually quite nice. The wind however, really was howling!
Back to the Top
Back to Archive