Back to Archive
Monday, 1st June 2015 – Turning The Corner.
Today has been a great day! Wendy woke up feeling crap, felt a bit better in the afternoon and now feels crap again! So a great day!
Seriously though, Wendy called into the yacht charter office on her way back from having a shower and spoke to Hans, who said he could do our manoeuvres course this afternoon. He reckoned two hours would be sufficient. After breakfast, we went up to the Albert Heijn at Kamperland and got some shopping on the basis that after our course this afternoon, we would head off out of the marina for a few days.
"Mr & Mrs Infoma" had arrived yesterday for what we thought might be an extended stay, but found out today was only till today. We finally got round to some proper introductions and now know that they are Fop and Ineke. When they arrived yesterday, Kim asked him if he had received the email from the Marina as we had not had any response. He said that he had and would be investigating the possible options with the marina, which sounds a bit ominous for what only seems to us to be a superficial scratch, but other than that they were chatty and friendly.
After a light lunch and (in Wendy's case) a restorative nap, we welcomed Hans on board to give us the benefit of his knowledge with regard to harbour manoeuvres. Like all good skippers, he was an incredibly calm and patient man who seemed to curl up like a little mouse and take up no space at all! His English was almost perfect (apart from an American accent!), which made the afternoon a very pleasant experience. He showed us a brilliant technique for getting the boat out of its box and we then did some general manoeuvres and learnt a good bit about how to turn the boat in confined spaces. Finally, we had a couple of goes at reversing into our berth which went really well. Hans didn't really teach us anything we didn't already know but opened our eyes to what could be done using some of the techniques we had forgotten about. Above all, however, he gave us back our confidence and that is worth more than money can buy!
One added bit of excitement was when Kim suddenly noticed that the wheel was turning round too many times, aka falling off! When the wheel had been removed to enable Sylvia to come on board, it had obviously not been screwed back on again tightly enough. Fortunately some quick thinking and the proximity of the winch handle to do up the fitting enabled disaster to be averted.
Buoyed up by the success of our manoeuvres, we decided to set off and at least manage to spend one night out of the marina. Fop and Ineke were back by the time we left and watched with a mixture of amused bewilderment as we deployed the new technique for departing, which worked perfectly.
We motored all the way to the Haringvreter as the black clouds were looming and it was pretty cold by this stage. In fact it even rained slightly as we approached but then calmed right down for an hour or so, before starting to blow up bang on cue. Tomorrow could be an interesting day if the the promised F6 to F7 materialises.
Tuesday, 2nd June 2015 – Hunkered Down On The Haringvreter.
Last night was a wild night with much disturbed sleep! When we arrived at the Haringvreter there was already a yacht on the out side of the jetty and we went in astern of her. The wind was forecast to be south westerly, so should have been on the beam coming over the island. Kim figured that we would be fairly well sheltered. Not a bit of it! For a start there was more south in the wind than west and additionally the waves were being pushed up the channel south to north and straight up our backside. So we had the "slappers" all night plus the boat groaning at her moorings.
Wendy woke up feeling even worse, her cold well and truly in to her sinuses and we don't have any medication apart from some out of date paracetamol! Unfortunately with the weather as it is we are stuck here till tomorrow. The rain which had been intermittent through out the night, dried up mid morning and we did manage a walk after lunch. It was a big effort for Wendy to even get off the boat, never mind push herself to go for a walk, but she did say the fresh air was a help. As we walked around the island, we were able to reacquaint ourselves with some of the residents -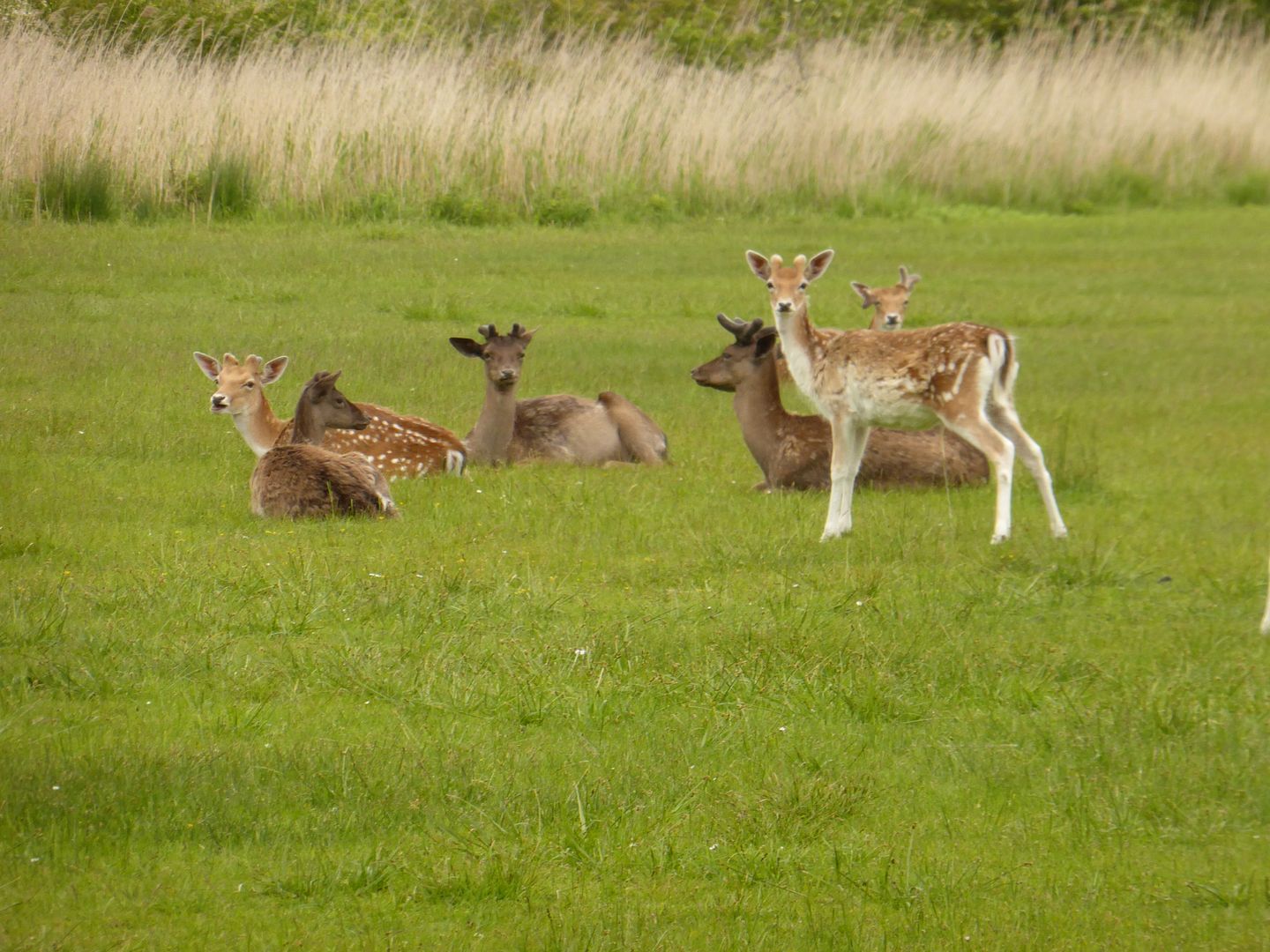 We got back to the boat and put the kettle on for a cup of tea and a stroopwaffel. Meanwhile the wind continued to howl, on occasions rocking the boat quite considerably.
(video)
In the evening a band of clear sky appeared in the west just as the sun was setting and we got a rainbow
and a superb sunset.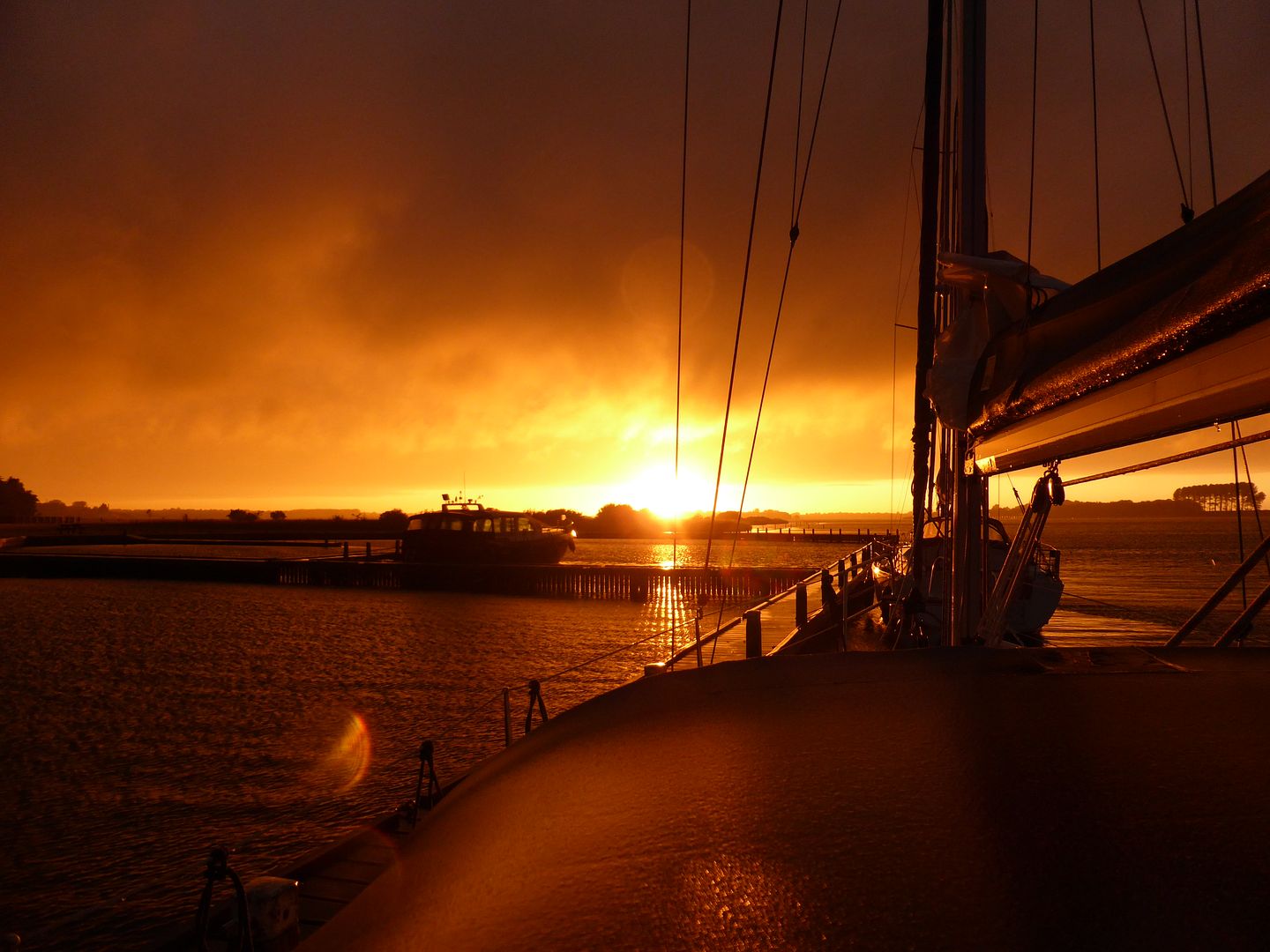 Which just goes to show, that no matter how bad the weather is, Zeeland can still treat you to a magnificent sunset!
Thursday, 4th June 2015 – Some Decent Weather At Last.
Wednesday was a bit brighter but initially still very windy so we decided to stay put until later. We went for another walk round the island, only the other way round this time. We were just discussing having lunch when the British invasion arrived, well two boats actually, but enough to make us reconsider our options. We don't know what it is, but the British always seem so unfriendly, especially compared to the Dutch/Belgians. Everyone on the water waves to each other except the British, who seem to lower their heads, turn the other way and ignore you!
The Goudplaat was dismissed as a potential lunchtime stop as it was very exposed, so we opted for Arneplaat instead and had it all to ourselves. In the lee of the island it was even possible to sit in just a T-shirt – such a change!
Our arrival back into the berth did not go quite as smoothly as with Hans but still way better than previously and the important thing is that Kim feels more confident.
In the evening we met up again with Colin and Sylvia and went for a meal at the Paarderkreek campsite restaurant. It was not a patch on what we had had there previously but was still very enjoyable and afterwards we retired to their motor home for coffee.
On Thursday morning we set off with them for our boat tour of the Veerse Meer. It became increasingly hot and sunny and we were able to sail under genoa only as far as the turning to Bastiaan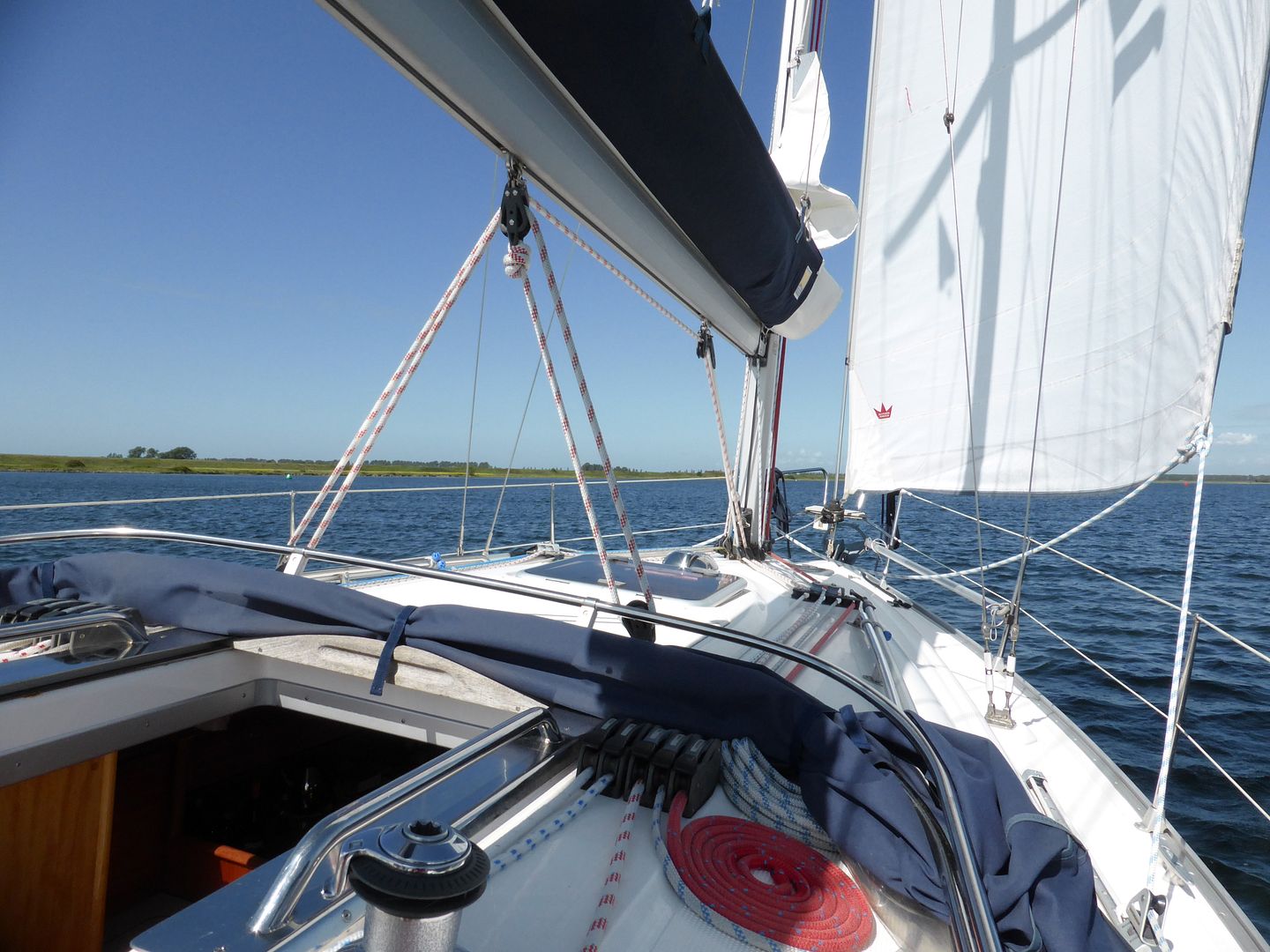 but then resorted to the engine. Although we eyed Bastiaan up as a potential lunch stop, it looked quite crowded so we decided to try our luck in the Omloop. Like last time, it proved to be scorching in there
and we enjoyed a delicious barbecue, food courtesy of Sylvia, cooking courtesy of Kim on the Weber gas barbecue. We then sat in the cockpit enjoying the tranquillity.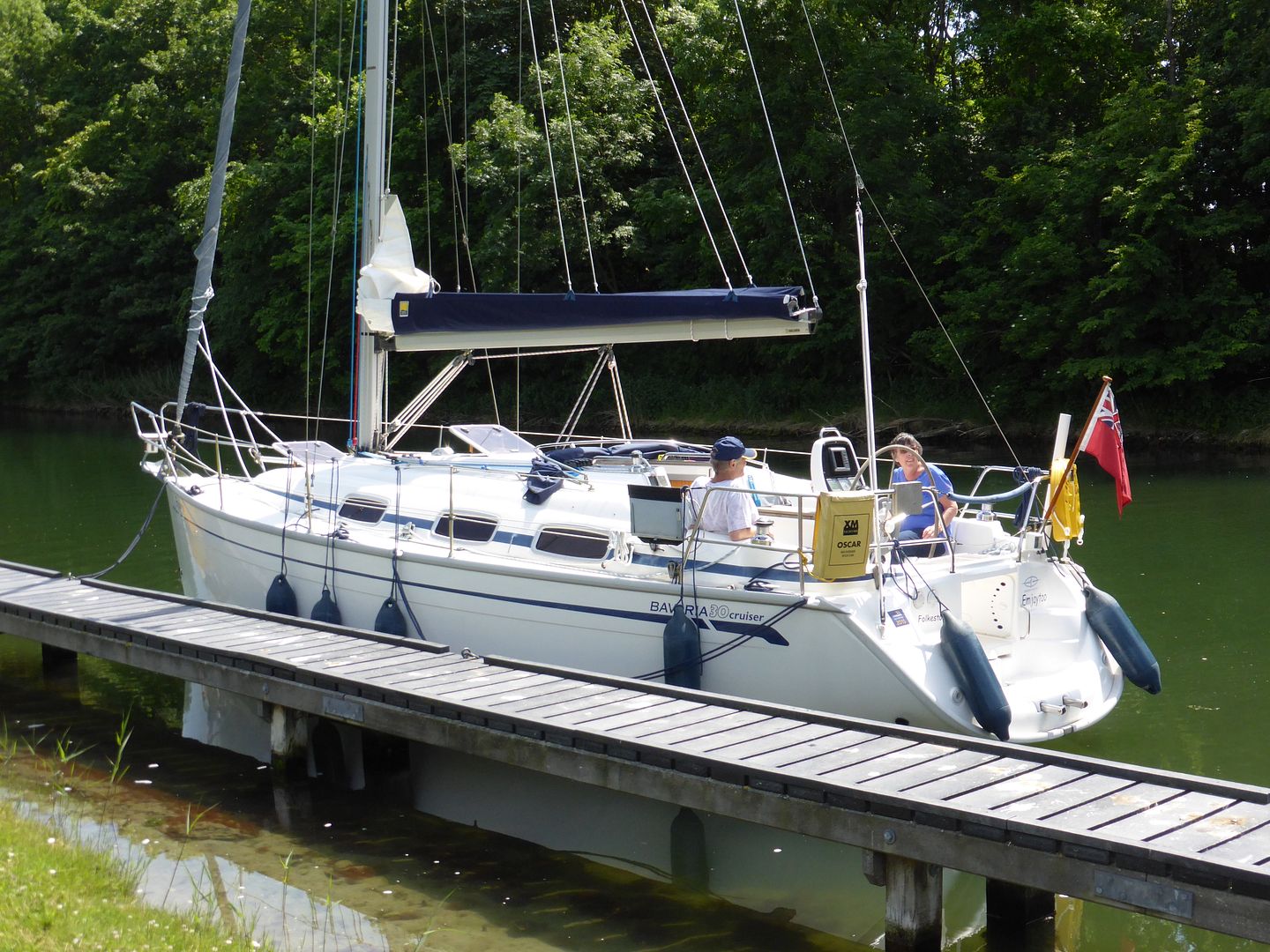 After lunch we set off up towards Veere, through the gap over to Kamperland and then back to Kortgene. By now the wind had got up and made it quite chilly but at least they were able to see everything. Although the wind was totally opposite to the wind yesterday, Kim was very pleased with how our return to the berth went.
We had another drink with Sylvia and Colin before taking them home and then settling down to a quiet evening enjoying the wonderful weather. In fact, Wendy's feet were so hot that she spent several lovely minutes sat on the sugar scoop dangling her feet in the water. What a contrast to last week!
Our plans for tomorrow, our last day, are to get clean and tidy, possibly pop into Goes to the quilt exhibition and meet up with Sylvia and Colin in the evening for one last meal out. Kim was even muttering this evening that perhaps the holiday hasn't been that bad after all!
Saturday, 6th June 2015 – And Then It Was All Over.
Friday was planned to be a rest day, cleaning the boat and packing up. Well, we certainly rested, but we did little cleaning or packing! We put a few things in the car in the morning, but Kim spent most of the time getting the Blog up to date. After lunch, we went into Goes to have another go at visiting the quilt exhibition at the Goes museum. This time it was open! Wendy thoroughly enjoyed both the museum and the quilt exhibition, but since it was all in Dutch and Kim couldn't understand any of it, he found the visit rather boring.
By the time we got in the car to drive back to the marina the temperature was 34 degrees C. It was like being in the Med! But it wasn't to last! The forecast was always for a dramatic deterioration on Friday afternoon/evening and round about 5.15pm it changed. Within a short space of time the barometric pressure dropped, the wind veered and increased and the sky blackened. Then the rain set in, accompanied by thunder and lightning!
We met up in the evening with Colin & Sylvia for a final meal at the Boot Café (newly re-branded as the La Trattoria La Barca – it's gone Italian!) and on Saturday morning we packed our things, gave the boat a quick tidy up inside and head back to Calais to catch the ferry home.
Our trip back was uneventful and we were indoors at about half five, having stopped at Sainsbury's for some shopping. Wendy was glad to be home, but to be fair; she had had the rougher time, as her cold was still well and truly entrenched!
As summer cruises go it was pretty pathetic, a few days out and only 34 miles clocked up. On the other hand, it was a lot more than last year! That got cancelled entirely! As a fortnight's holiday, it was a break from the usual work-a-day routine.
Sunday, 21st June 2015 – Not The Best Weather, But A Pretty Good Weekend.
Originally we were going to go over for Friday and Saturday as we were not able to get a crossing back on the Sunday. However, at the last moment Eurotunnel released some crossings so we changed our plans. Also the weather forecast looked better for the Saturday/Sunday.
Saturday afternoon we went up to Bastiaan and went inside the lagoon. The wind was from the west; our departure from the berth went very well and we got out in one. We got the sails up straight away and started short tacking up the lake. Kim was helming and Wendy doing all the hard work. After a while we swapped over and one tack later, Kim announced that it was too much like hard work and we put the engine on. Too much "hard work"? He'd only done one tack!
Once tied up, we went for a walk and although it was a bit grey, Bastiaan looked as beautiful as ever.
The evening was calm but very cloudy and no sunset. At one point it tried to rain, but not much. During the night, the wind freshened and changed direction so we ended up with the "slappers". Being in the lagoon, they weren't too bad, but nevertheless kept Wendy awake for several hours!
In the morning it was grey, murky and drizzly.
The forecast was for the wind to get up in the afternoon and possibly rain, so after breakfast we set off back to Delta. We were generally running under genoa only and getting well over 5 knots, so got back to the marina by 12:20. By the time we turned into the marina it was gusting 20 knots and Kim was pretty apprehensive about parking the boat. It was a bit sheltered inside the marina, but there was still a cross wind of 10 knots or so to deal with. Wendy really started to feel for Kim when, as he was reversing down to our berth, she could see the people from "Anonymous" stood on their boat watching and Fop & Ineke were obviously on board Infoma as their satellite dish was propped up on the pile their side. Nevertheless, Kim did the turn into the berth really well and, okay the chap on "Anonymous" did have to fend us off slightly at one point, but still it went well. Wendy got the line over the windward pile and swiftly went back to take over the helm when Kim stepped off onto the pontoon, all as per our new berthing plan. However, she was horrified to look up and see the over-helpful Belgian from "Anonymous" on the bow of our boat re-tying our pre-set line!! It could so easily have scuppered the whole procedure. Talk about cheek! Kim attempted to explain to him later that our lines are the right length to temporarily hold us but we doubt that he was listening.
After we got ourselves secured, Infoama went off out for a day-sail. Later on in the afternoon they came back and their usually so very slick entry into their berth went horribly wrong. One of their fixed lines accidentally snagged on a part of the boat it shouldn't have done, causing their boat to swing violently towards us resulting in a very loud impact. Kim rushed up on deck within seconds as he had been watching them come in through the window. It would appear that one of our fenders took most of the impact and the loud noise was their anchor banging against our toe-rail. Over the years the toe-rail has taken many knocks and scrapes and it was difficult to see whether there was really any damage or not. However, it was very satisfying to see the sometimes smug Fop make a pig's ear of it like everyone else. In fact, Kim almost wished that there had been some minor damage. Hopefully we won't hear any more about the minor scratch we put on his boat!
We left the marina at 15:30, giving us plenty of time to get to Calais for our 19:36 crossing. We hadn't chosen one so late, we just hadn't been able to book an earlier one. We got to the check in at 18:00 and go offered a crossing 15 minutes earlier. However, after popping in to the shop to restock on St Omer, we got called through well before our crossing and actually got on the 18:50, which was a real result. We were in doors by twenty past seven.
So, although the weather wasn't that good, it wasn't a bad weekend!
Back to the Top
Back to Archive