Back to Archive
Saturday, 3rd March 2012 – Servicing The Life Jackets
Whilst wandering around at the boat show back in January, Kim had a chat with the guys on the Crewsaver stand about servicing our life jackets. They said he could do it himself, just a case of checking the jackets over, maybe washing them in fresh water and orally inflating them to test they don't leak. Then they added that if they were more than five years old we should check the expiry date on the Hammar firing devices as they only have a five year life and will have the replacement date displayed on them. Our original four blue jackets were bought in 2005 and indeed when the firing mechanism on one of them was removed, it clearly showed 2010 as the replacement date.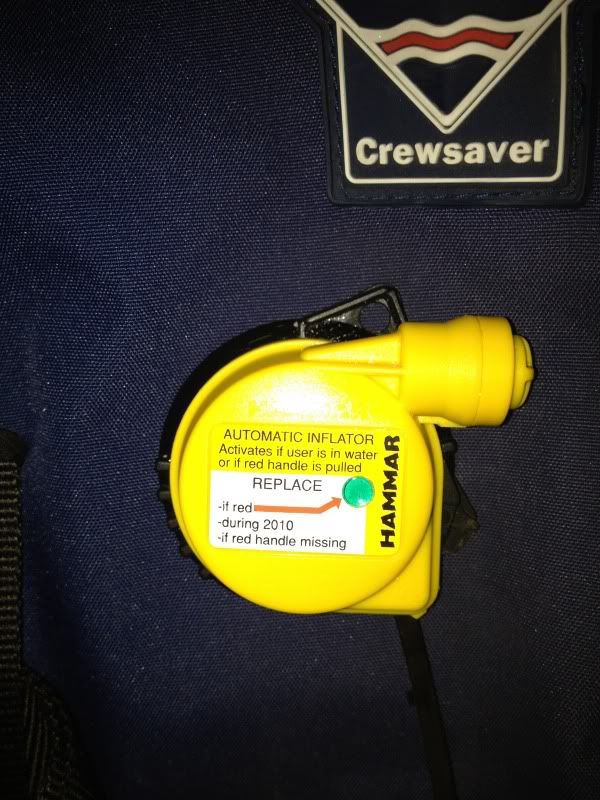 Kim then ordered four replacement kits which duly arrived this morning. Given that the old ones will now be removed and discarded even though they are probably fine, Kim decided to manually activate one to see what they are like when they go off.
The other three kits will be taken out and replaced as we need four life jackets at Easter when our friends from Germany - Romana and José - will be spending Easter with us on the boat. However Kim says he will hang onto them and later in the year when we're into "Veerse Meer swimming weather", he will swap back one of the expired kits and have a go at jumping in the water to test the automatic aspect of the firing device. So look out for more exciting video in the future!
Actually, some of you may recall that three years ago we carried out a minor check of the life jackets, but of course at that time the firing devices still had a year or so left in them. As the test firing today showed, just because they are out of date, it doesn't mean they necessarily won't work. The trouble is you'd hate to find out that one didn't, when you really needed it!
The same thing applies with the flares. They are all out of date now and out of date and perhaps unstable explosives on board the boat are not a very good idea! In England disposing of time-expired flares is not easy – no-one wants what, in some cases, might be very unstable explosive devices. In the Netherlands it is very different; we got rid of one lot a few years ago. The Marina Chandlery took them off our hands with a cheery "no problem!"
The question is, do we replace them and if so, with what? More pyrotechnics or maybe the new-fangled laser devices. Pyrotechnics typically only last three years and given that very few people ever fire a flare in anger, they are rather an expensive safety device. Laser flares last as long as their batteries, typically five years or more and then all you do is replace the batteries. Something to be looked into.
Other items that will need checking for their expiry date are the fire extinguishers. Emjaytoo will be five years old in May, so a lot of things will start to need replacing – the gas hose to the cooker is another item that comes to mind. As was commented on last year, the house battery proved itself to be incapable of holding its charge and we are currently awaiting quotations from the marina for various options on a replacement battery. Oh, and we got a letter from the Maritime and Coastguard Agency a couple of weeks ago to remind us that Emjaytoo's registration needs to be renewed in May. And in case we thought we might not bother, we got a letter from the marine mortgage company to remind us that it is a requirement of the mortgage that Emjaytoo continues to be Part 1 Registered!
It's now only two weeks until we head over to the boat to recommission her. The ferry is booked and all the gear will soon be back on board freeing up the cupboard in the spare room. Another three weeks and it will be Easter, the winter lay-up is almost over!
Friday, 16th March 2012 – The Waiting Is Over!
Well, the waiting is over and the new season is about to start. The car is loaded up and we are booked on the 0720hrs Shuttle tomorrow morning. The forecast is for it to be dry Saturday, so we should get the sails back up and the spray hood on in the afternoon. In the evening - Iets Anders, maybe? Sunday will be sorting all the inside out. We will leave the dinghy and outboard in the garage for another time.
Sunday, 18th March 2012 - Back In Commission
This has been one of our earlier recommissions, usually we wait 'til the end of March. On Saturday we caught the 0720 shuttle, but then lost the benefit of an early start when Kim realised that he had not put our overnight bag in the car - no clean clothes, no night wear, no toiletries! Fortunately he remembered whilst we were still on the Shuttle, so we were able to call in at the Auchan Hypermarket at Dunkerque and rectify the situation. We finally got to the marina at about 1145.
The weather stayed dry and the wind was coming directly over the bow which greatly helps when putting the sails up. By 1800 we were pretty much finished. We'd had the foresight to stop off at Iets Anders as we came into the village and book a table for the evening. The restaurant had been completey refurbished at the end of last season and this was our first time of seeing it. It wasn't entirely to Wendy's liking, but Kim thought it was very smart. The food, however was their usual very high standard and we had an excellent meal even finishing off with Liqueur Coffees. Back on board, we fired up the old 1960s vintage fan heater and soon had the saloon warm and cosy.
Without too much to do Sunday, we were able to have a leisurely start. After finishing off the tidying up we went for a walk via the chandlery where Kim was able to get rid of our time-expired flares. In England this has become a problem as to what one does with them. You can't throw them in a bin, they are explosives after all. Letting them off at home is illegal and not without risk of injury. Nobody official - Police, RNLI, Fire Brigade, want anything to do with them. There are a small number of designated Coastguard Stations which will take them by arrangement. In Holland, you just wander into your local chandlery and it's " ..no problem"! Jackie in the Chandlery, said the local Fire Brigade would dispose of them. We won't be replacing them as we don't really think they are necessary for our type of sailing.
We had a good walk along the lake shore by the camp site, but it was pretty cold and windy - well it is only the middle of March!
We got back to the boat, had some lunch and packed away. Kim would have liked to have been able to clean the outside of the boat. It was particularly dirty, almost covered in mud! The wind must blow dust off the surrounding fields and then rain cakes it onto the decks and cockpit. We didn't have a boat scrub with us, so it will be a job for Kim to do in a couple of weeks time when he comes over to fit the new toilet pump which we bought at the end of last season.
It's only 3 weeks 'til Easter when our German Friends Romana and Jose will be coming to stay on board and we are hoping to show them the delights of Veere.
Back to the Top
Back to Archive