Back to Archive
Saturday, 9th March 2013 – Three Weeks To Go
The weeks are slowly ticking by and various bits & pieces are coming together.
A couple of weeks ago Kim found a chap over in Thanet who repairs and services outboard engines. Wendy was able to drop the little Yamaha 2HP off on the way to her Friday embroidery class. It doesn't particularly need a service, but it does need a "kill-cord" fitted. The age of the outboard is such that it was not manufactured with one and whilst we have managed without to date, we have seen some rather nasty You Tube video of what happens if you fall out of the tender and it runs you over! Hopefully that will be done in the next week or so.
Earlier in the week, Kim popped over to Wilkinson's at Faversham and picked up the sails which they have had cleaned, valleted and, in the case of the genoa, repaired. The stitching in the genoa had started to rot and part of the sail had fallen apart! Whilst they have repaired the sail, they have pointed out that the UV sacrificial strip is on its last legs and this season will be its last, so that will be a job for next winter's layup. They were supposed to have cleaned and repaired the spray hood, but whilst having cleaned it, the repair had not been done, so another trip will be needed soon to pick that up.
On the Stentec front, Kim finally got a response from them and after reloading the software, it now appears to work properly. It doesn't seem that brilliant, but it does cover the bits of the canal system our current Dutch chart sets (both paper and electronic) don't, so we'll wait and see if and when we make our trip to Amsterdam. Kim has booked two weeks off work at the end of May/beginning of June (utilising the May Bank Holiday) and the Shuttle crossing is booked, so we are committed to two weeks doing something! It's a bit early in the year, but we have had some very good weather at that time of year previously, so we'll see.
We have previously commented that our aft cabin berth had been proving rather uncomfortable and so we brought the cushions home with a view to seeing what could be done. As commented on at the time, they don't appear to have crushed down or anything, so we decided to try a 2 inch layer of memory foam. This was ordered a week or so ago and turned up within a couple of days. It will now need cutting to the right size – the aft cabin berth is not rectangular!
Hopefully, by the time we go over at Easter the gas system will have been checked over. Kim had an e-mail from the marina to say they would put the work in hand, so presumably the first we will know is when the bill arrives!
Finally, it looks like Kim may have slipped up with our Shuttle crossing for Easter. A few days ago he got an e-mail from Eurotunnel advising us that as we were going over at a very busy time, we should check the details of our crossing. This is when it became apparent that we are not booked on as an over height vehicle, or in other words we can't take the roof box. Not the end of the world, but a bit annoying. It just means that we may need to leave some of the "not so necessary" stuff until a later weekend. As Wendy says, we seem to take far too much stuff to the boat every year and half of it gets brought home at the end of the season without having been used (slight exaggeration says Kim).
So, there we are, only three weeks to go, well slightly less, actually!
Saturday, 10th March 2013 - The New Matress
Finally got round to cutting the new memory foam matresses to size. We bought two pieces as one large piece would have been far too cumbersome to get in and out of the boat. We also bought a "teddy bear" cover, which is basically a thermal blanket made out of the same synthetic material teddy bears are made from, so nice and cuddly! The whole thing is then topped off by a large double bed sheet which is held in place whith velcro to the underside of the original matress. We have previously used two single fitted sheets, but they never really stayed in place due to the irregular shape of the matresses.
So, now we wait to try it out on the boat.
Sunday, 31st March 2013 - Easter
Well this is it - the start of the 2013 sailing season! This will be our 8th year in Holland!
As Easter falls early this year, it is no surprise that the weekend is pretty cold. It has generally been quite bright and we've had no rain, since the showers have fallen as snow! Although cold the temperature has managed to stay above freezing during the days - just -, so what bit of snow we have had, has not settled.
We came across on the shuttle Friday morning and since Kim had forgotten to book an 'over height' crossing, we were not able to bring the roof box. This meant that we could not bring as much stuff as we might otherwise have done and Thursday evening was rather fraught, with Kim packing and re-packing the car 3 times.
Some of the stuff for the boat had to remain at home for a future trip, particularly the memory foam matresses. It was a struggle getting the main matresses in, but on the whole there wasn't much we were short of. The electric radiator, coupled with the 1970's fan heater, proved their weight in gold once again, as the ambient temperature on board was well short of double figures.
We arrived on Friday at around 12 and unloaded the stuff onto the boat in a couple of trips. Within a few hours we had everything ship shape again and went to the village to stock up on a few provisions. It was very cold but we wrapped up well.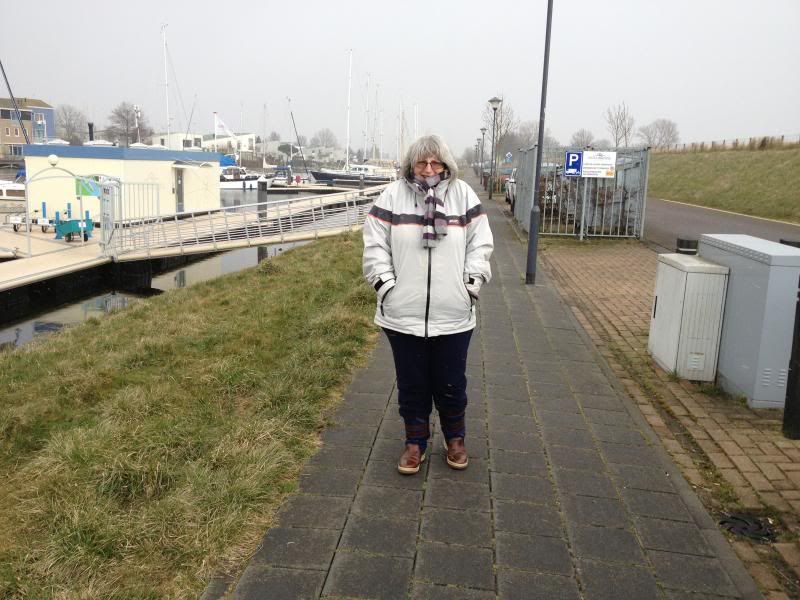 Saturday dawned just as cold but fairly bright, with the forecast of snow showers and stronger winds later, so we set to and got the genoa and then the main back up. There was a brief pause for a trip to the chandelery when Kim realised that a shackle had disappeared from the boom, but this was soon rectified and the job finished.
Our trip for the evening was our now customary visit to Iets Anders, where we are now well-known and greeted warmly. By the time we left there a few hours later, we were happy, well-fed and oblivious to the sub-zero temperatures, as witnessed by the starry sky and thick frost on the cars!
On Sunday, our plan had always been for a day out and thus it was that, in spite of losing an hour due to the arrival of British Summer Time (joke!), we set off around 11 am for Brielle, a historical fortified town just north of Hellvoetsluis. Brielle was a lovely town, though it might perhaps have been easier to enjoy it without the biting wind and snow showers! Without realising it, we arrived on the eve of a major celebration of the liberation of Brielle from the Spanish in 1572, which is apparently celebrated with the usual Dutch gusto on 1 April each year. For whatever reasons, this appears to involve hanging out a lot of fishing nets and laundry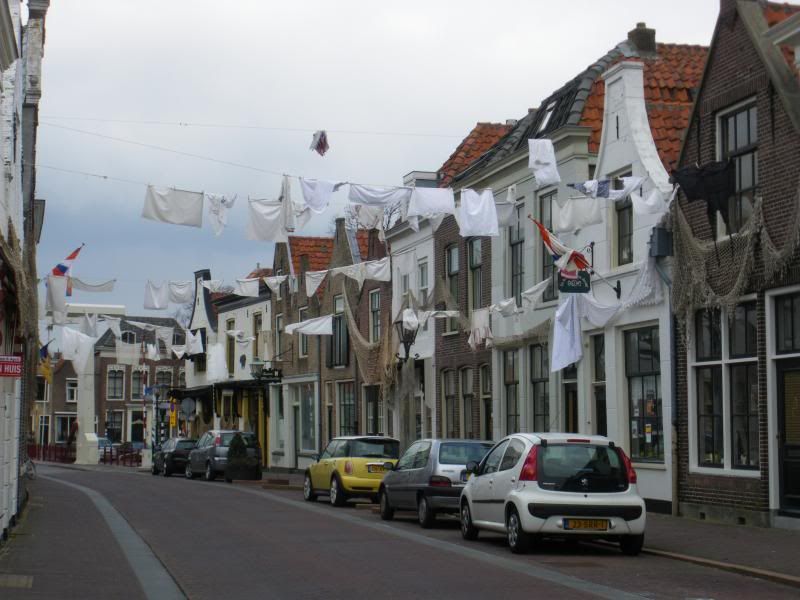 With these temperatures, however, it is hard to imagine anyone getting excited about a street party, though we were assured by a friendly local couple, that some 10,000 visitors are expected for tomorrow's festivities! This encounter with the locals is typical of our experiences in the Netherlands, really friendly people who speak excellent English and are keen to share their pride in their country and heritage.
The rest of the town was pretty much like any Dutch waterside town - quay with boats, windmill, lifting bridge & pretty gables.
Upon arriving back at the boat, we battened down the hatches for a cosy evening in and enjoyed a good meal, even followed by a traditional Easter egg, courtesy of Kim's company. Tomorrow will see a leisurely start and tidy up, followed by our return home, in the hope that our next visit will be in somewhat more benign conditions when we are actually able to sail!
Back to the Top
Back to Archive