Back to Archive
Sunday, 8th March 2015 – Here We Go Again
Officially this is the beginning of the new season! Our winter lay-up is now down to 3 months! To be fair this was a bit of an opportunist "camping" weekend very much like last year's. The boat is still winterised and so we didn't have any water on board and we brought sleeping bags rather than make up the bed properly, but hey, we were back on the boat so we were happy!
We had a roof box crossing booked so we took the opportunity to bring the sails back and some other gear such as the tender and outboard. We won't actually re-commission the boat for a few more weeks and as we won't be over at Easter, it will be well into April before we get to take her out.
This weekend was just about having a relaxing time and enjoying ourselves. After we had got some of our stuff on to the boat on Saturday afternoon, we went for a drive over to the MediaMarkt (huge electrical store) on the outskirts of Middelburg. We went to look at fan heaters and also to investigate options for TV viewing. We also needed to do some shopping as we didn't bring any food with us. The TV thing has turned into a bit of a disaster. Our attempts to sort out the overcharging to our bank account have been a total failure. All we have succeeded in doing is stopping the direct debits. KPN still keep invoicing us for other people's subscriptions, but we just ignore them! Our account was shut down last year, so we can't get any channels apart from four free-view ones. Presumably other people in the marina are having the same problem inasmuch as we have stopped paying their subscriptions! We are resigned to the fact that we will never get our money back as KPN are an absolutely atrocious company and communicating with them is like beating your head against a brick wall – quite ironic really for a communications company!
We were hoping that there might be another provider for terrestrial digital TV, but looking around MediaMarkt, they were only offering KPN and we wouldn't want to start another account and direct debit with them. Back on the boat a bit of internet research revealed that the Netherlands has the highest use of cable TV in Europe, over 90% of people watch TV via a cable connection. Terrestrial TV is a minority system only really used by people for caravans and boats. Thus there is only one provider. So, as Wendy can understand the Dutch free view channels and we never watched that much TV (the built in DVD player is more use), we have removed the digi-box and will take it home. Sometimes you just have to know when you're beaten.
On Saturday evening, we had a nice meal on board and managed to make it last the whole evening, as we frequently do. We had brought a DVD with us but didn't get to watch it. All in all we really don't think the lack of TV will be too much of a problem and we might even get to watch some DVD's.
Saturday's weather was fairly bright and sunny with a high of 15 degrees,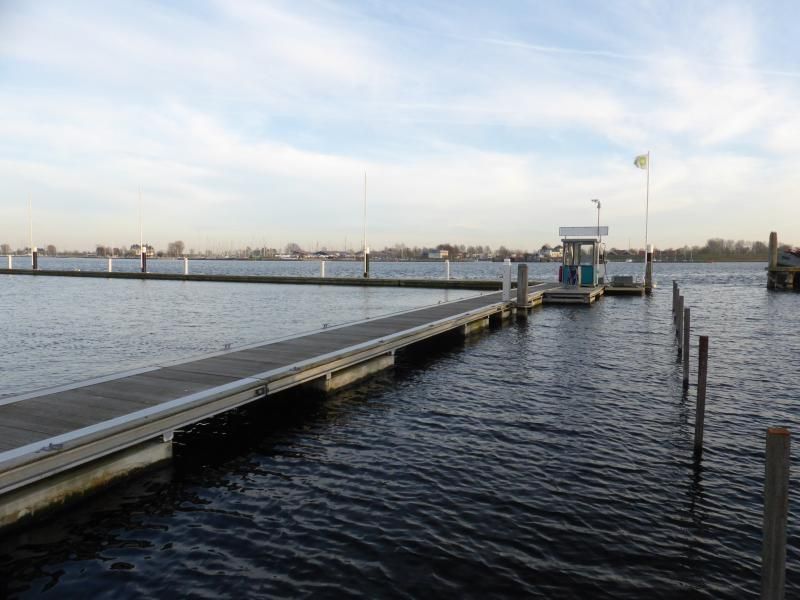 but Sunday started even better – clear blue sky and not a cloud in sight.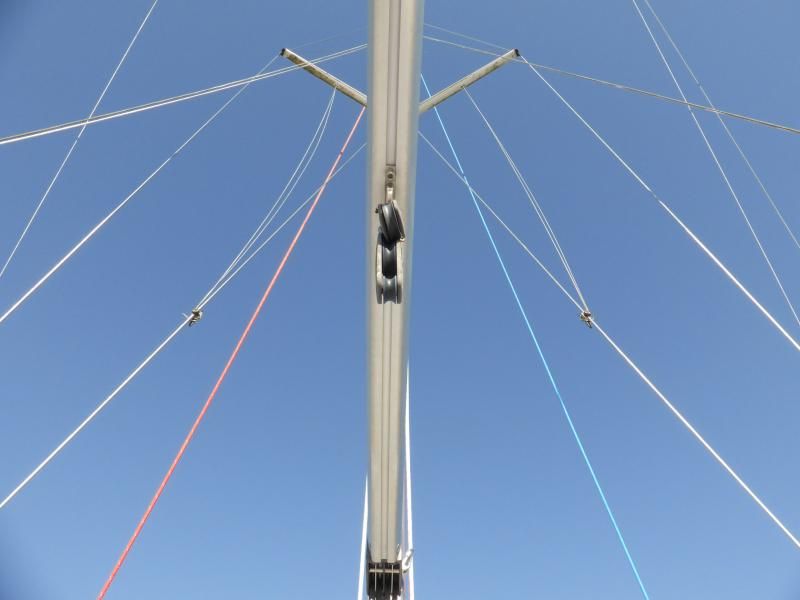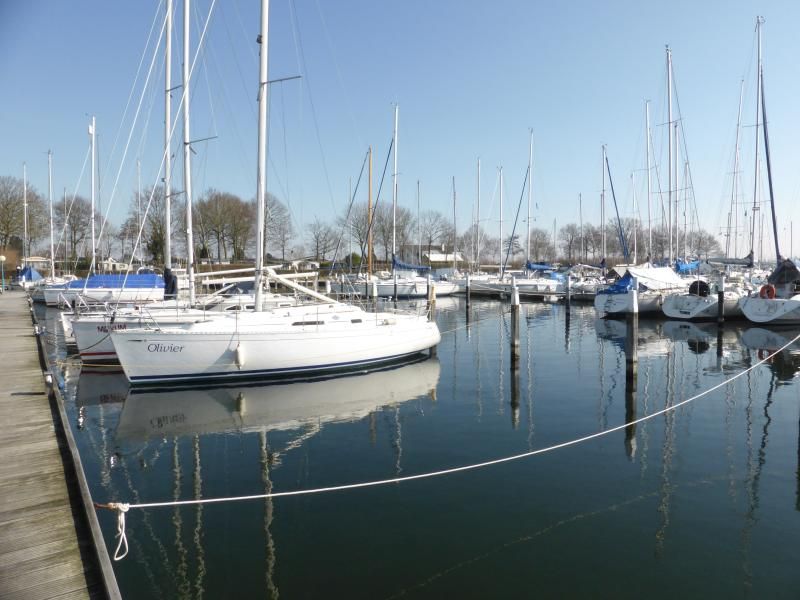 Kim got the sails, the tender and the outboard back on board. Then we decided to leave early and stop off for a walk at the top end of the Veerse Meer – the Schotsman. The weather was absolutely glorious.
Did you spot Veere in the distance?
It was a bit windy and the wind had a chill to it, but the sun had real warmth and we only needed light jackets. There was a real buzz in the air as well, with lots of people out and about on bikes, walking, even windsurfing - a real taste of things to come.
There are some really spectacular properties in the Schotsman.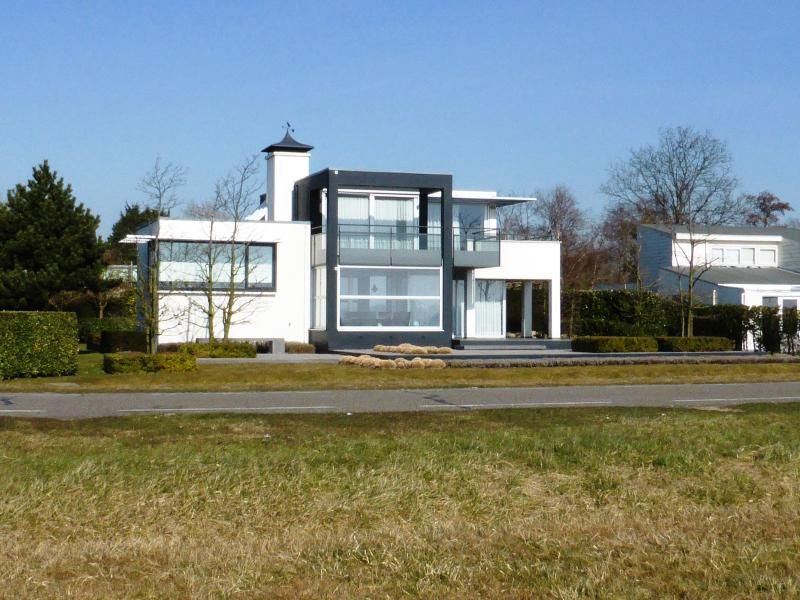 Some with their own moorings.
And as always, the Veerse Meer has its birdlife.
We took our time with our walk and then drove down to Middelburg, stopping at MacDonalds. We were by this time a bit late starting back for Calais, but we weren't that bothered if we had to get the later crossing as we had had such a nice time. As it turned out we pulled up at the Shuttle check in bang on 20 past 6 local time the last check in for our 6.50pm crossing. So all in all, a very good day.
One thing that did come to light was that the marina had not installed the fuel filter. This was not such a bad thing as we hadn't discussed where it is to go. From the marina's point of view there are several different places, but from our point of view some places could be pretty inconvenient for accessing the unit. So Kim will give Pieter a call in the morning to sort it out.
Next trip is in two weeks time, weather permitting. That will be for the big clean, inside and out.
Thursday, 19th March 2015 – Update On Kate
It is now getting on for two months since we put Kate on the market. We put her on a website called Apolloduck, which is a fairly high profile website for selling boats. To date, that has produced no enquiries. It did produce a couple of unsolicitored calls from some west country newspaper trying to sell us advertising.
A couple of weeks ago, we put a classified ad on Ebay. That has produced two enquiries. The first was a time-waster, chancing his arm with a silly offer – unseen! The second looked more promising. A chap from Manchester, who already owned a bigger boat, had obviously done a lot of sailing over the years and was looking for something he could trail. He also expressed an interest in "old gaffers". However, once he saw some of the photos, particularly of the interior, he backed out, saying he thought the boat was too small. Wendy said it was Kim's fault for sending him pictures showing how small the boat was!
The problem was that the chap didn't really know what a Memory 19 was. He hadn't done his homework! The fact is that the boat will only really sell to someone who, having done their research, has decided they want a Memory 19. In this respect, the advert on Apolloduck is okay. If you "Google" 'Memory 19 for sale', Kate comes up fairly prominently via Apolloduck. The people who find her via Ebay are not seriously looking for a Memory 19.
So, to date no progress. And the next marina bill for Kate has landed and it is all turning into a bit of an expensive episode. But, hey, we all make mistakes!
This weekend we are off to our "proper boat" as Wendy calls it! It's another weekend of semi-recommissioning her! The main job this weekend is to jetwash her and get the sprayhood and sails back on. The forecast is for it to be dry, but pretty cold! But at least we will be back in Holland, on our beloved Emjaytoo!
Sunday, 22nd March 2015 – A Weekend Of Two Halves
It really was a bit difficult to get motivated at 5 am on this cold, grey Saturday but the rest of the stuff had to get to the boat somehow, so off we went. Things did not improve when we checked in at the Shuttle only to find that crossings were delayed by almost 90 minutes. The weather on the other side of the Channel was no better, with a strong Northerly wind, temperatures of around 5 degrees and intermittent drizzle.
We headed for the newly discovered Albert Heijn supermarket in Kamperland to get some shopping, only to find that they were having some special day or other, with a packed car park and a somewhat incongruous (and deafening) Caribbean steel band. The supermarket was great, though, and a considerable improvement on the C1000 which used to be there.
After all that, it was gone 1 by the time we got to the boat. The wind was howling and the temperature on board was barely 6 degrees, so the first job was to get the good old fan heater going. By now it was 2.30 and time to sample some of our Albert Heijn goodies – a lovely rustic baguette, ham and tomatoes with a sprinkling of Pom-Bears.
Over the course of the afternoon we gave the boat a good clean inside and got most of the stuff in from the car and stowed away in its rightful place. It wasn't long before the saloon was looking very presentable again. Unfortunately the same couldn't be said for the forepeak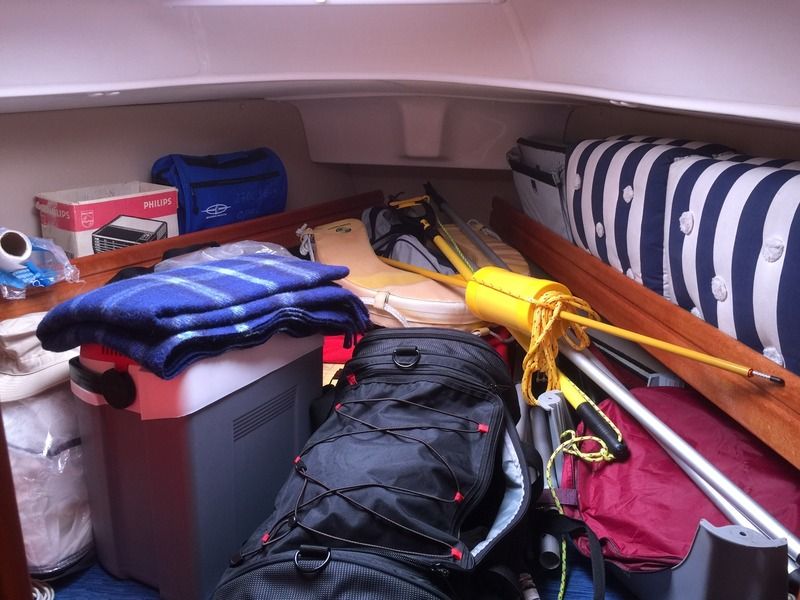 which was used as the storeroom for all the outdoor stuff.
Our evening was spent pleasurably in the time-honoured fashion, with a good meal and a couple of videos.
The night was a bit cold and our sleeping bags weren't really up to the job but at least next time we will be able to make the bed up properly as the fuel filter has now been fitted. Sunday morning started just as windy and miserable as Saturday had been and we decided to leave the outdoor jobs until next time. As a result we went on a rather chilly but invigorating walk in the 'bungalow park' behind the marina – actually a rather upmarket housing estate along the lines of the Schotsman, where we went last time.
Once we got back and had had a coffee, the weather suddenly changed. The wind dropped, the sun came out and Kim decided to jetwash the deck after all.
while Wendy played the dutiful wife and sat down below cooking Sunday lunch and reading. The sky was a brilliant blue and people seemed to appear out of the woodwork to start doing 'things' on their boats.
Our lunch was a sort of roast – a pre-seasoned chicken in a roasting bag courtesy of Albert Heijn, which proved perfect for cooking in our gas oven as it didn't make a mess.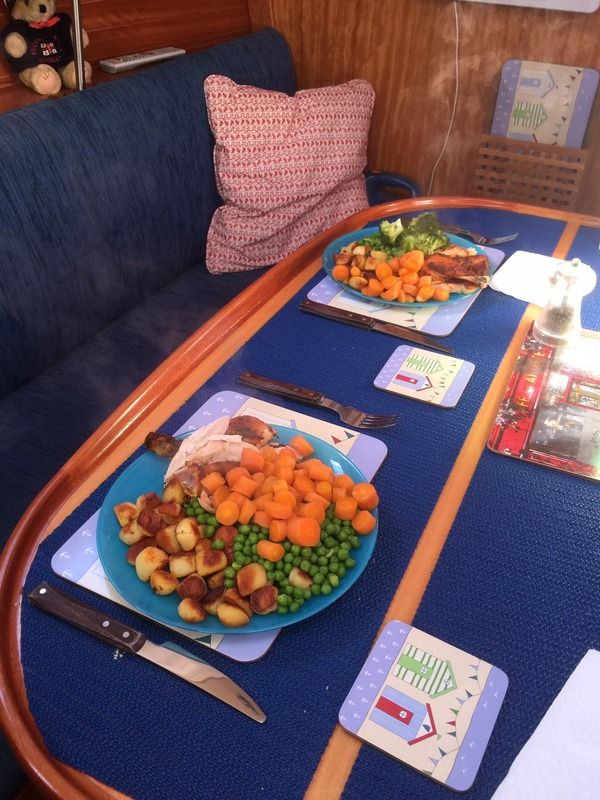 All very enjoyable and relaxed. We were booked on the 20.20 as we had been unable to book an earlier crossing but with the extra work on the boat, didn't expect to get it. However, we were lucky once again and checked in at Calais with a few minutes to spare, meaning that we drove straight through and were home shortly after 8, i.e. just under 4 hours door to door.
Sunday, 29th March 2015 – Kate Comes Out Of The Water
It hardly seems five minutes ago we were all excited that Kate had been put in the water. Now she is out, but other than that no closer to being sold. The marina lifted her on Monday and put her back in her trailer. They asked if we could remove the bowsprit as it is easier for them to move her around the hard, so this was done today, although it was not the nicest day to be up at Conyer.
The advert on Apollo Duck has been renewed, so fingers crossed!
Back to the Top
Back to Archive