Back to Archive
7th May 2009 - Teamwork
Having originally planned to have a long 4 day Bank Holiday weekend, we ended up postponing our departure to the Saturday morning after Kim had to cancel Friday's holiday due to work commitments. In order to get the best out of the Saturday we took the 6.00am ferry to Dunkerque. That meant getting up at 4.00am! Didn't seem like quite such a good idea when the alarm went, but worth it in the end!
Having got the boat sorted, we headed round to the fuelling jetty to have a go at pumping out the holding tank. But there were too many boats there, so we abandoned the idea and set off towards Veere - destination Middelburg.
The weather was cloudy with some spells of sunshine and a reasonable breeze – 10 to 14 knots. After an hour or so of short tacking down the Veerse Meer, we gave up and put the engine on. The tacking was fun for a while, but was hard work and with a VMG of only 1.5 knots, too slow.
Had the lock at Veere to ourselves and motored down the canal to Middelburg in glorious sunshine, albeit a bit chilly. Arrived at Middelburg to find the Spijker Brug open and the Havenmeester calling us through to the inner harbour with the choice of rafting alongside or going between piles. Since we were expecting to go alongside the Havenmeester's jetty we had all our fenders down, so a hasty switch in plan was instigated and following some athletic leaping about the boat by Kim and skilled helming by Wendy we neatly slid between a set of vacant piles with only inches to spare. Whilst rafting up can be fun and sociable, it is definitely more private to be on your own.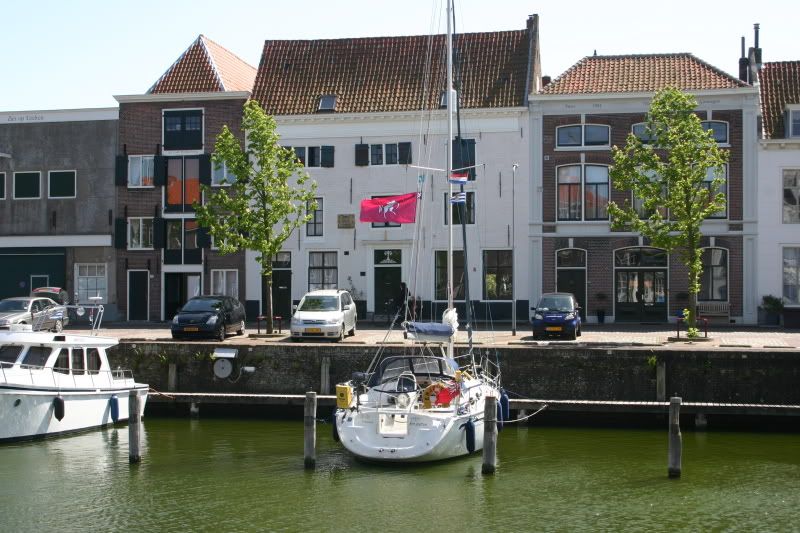 After a quick walk around we returned to the boat for a nice meal and an early night. Well, by this time we had been up 18 hours.
Sunday morning was a very leisurely affair as we did not have to rush off anywhere. After breakfast we went for a longer walk around Middelburg. It started off quite cloudy, but by lunchtime had brightened up considerably. Wendy has acquired a new photographic interest – Dutch Front Doors and took loads of photographs. Well Middelburg does have a lot of front doors!
We had looked at the pilot book to see what time the Spijker Brug opened and it said every hour on the half hour, but with a five hour gap between 11.30am and 4.30pm. However, having watched it open a couple of times after the supposed gap we wrongly assumed that the pilot book was inaccurate. Anyway, we slipped out of the box expecting the bridge to open at 3.30pm, only to be disappointed. Fortunately quite a few boats had left during the morning openings, so we were able to go alongside the visitor jetty whilst we waited for the next opening. Which occurred at 3.15pm!
Back up the canal to Veere and straight into the lock with no waiting around. This is the lock we had a lot of trouble with last year on our previous trip to Middelburg. We always like to go port side to in the lock, but when heading back into the Veerse Meer there is a horrible offset in the lock on the port side. So we had decided that in future we would always go on the starboard side. On this occasion there was only one other yacht in the lock – on the starboard side and right in the middle of the wall leaving only the port side vacant (it is a small lock!), unless of course you raft up to the boat already in there! Which was precisely what we did and it made for a very easy exit.
We then headed down to the Haringvreter for an overnighter. This is the biggest island in the Veerse Meer and Kim visited it last year with the boys. There were only three other boats there, so it was very quiet. We had a really nice long walk and saw the horses and the deer, later watching an oyster catcher and crested grebe fishing their supper from the shallow water around the island.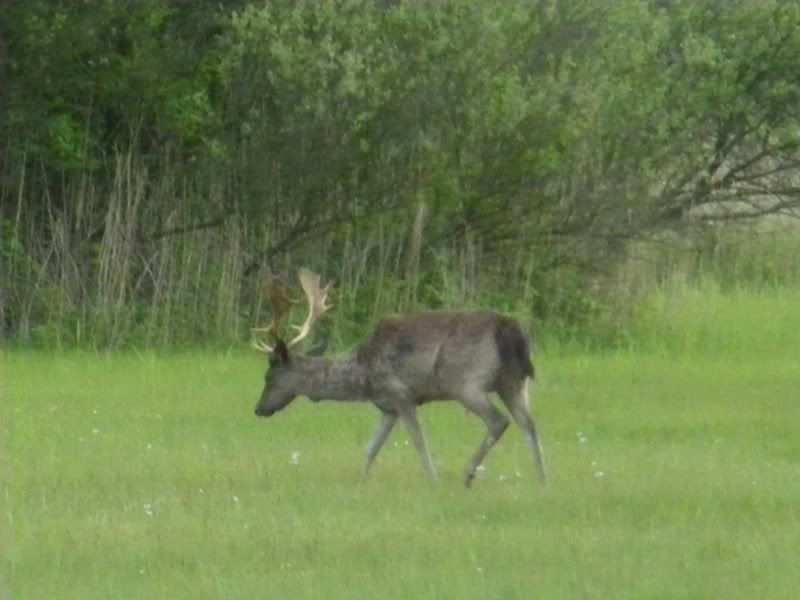 First thing next morning there was no wind and the water looked like glass, with brilliant sunshine making for a superb photo opportunity. Coincidentally, we have both quite independently chosen this shot as our wallpapers.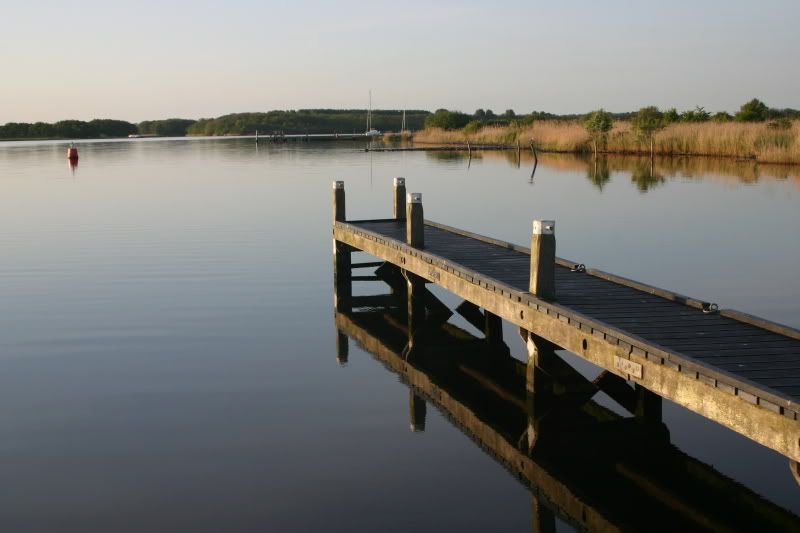 The wind then filled in and we had a really good downwind sail back to the marina. After all the brilliant teamwork and excellent boat handling by Wendy, our arrival at our finger berth was not so clever, but you can't have it all your own way and at least we didn't hit anything – it just wasn't very clever. Wendy did the turn into the berth expecting the wind to swing the bow round, but it didn't so we landed up at 45 degrees. It's all very different this year as there is now a boat in the space next to us so not all of our old "tricks" work, but with sailing there are always lessons to be learned for the future! Next time Wendy is going to treat it as going between piles and - hopefully - all will be well.
9th May 2009 - Changes to the Radio Regulations
A few weeks ago Wendy spotted an article about changes to the European inland waterways radio requirements. A bit more research reveals that the Netherlands along with a number of other EU countries (United Kingdon excepted - of course!) signed up to some agreement called RAINWAT some years ago regarding the requirements for VHF radio on board boats within the EU inland waterways. UK as normal didn't want to "join the party" so were offered a derogation.
Well, the long and short of it all is that the derogation has ended and the UK has decided to join up to RAINWAT. So what this means is that we have to get Ofcom, who issue our Radio Licence to issue us with an ATIS number and amend our Radio Licence. Sounds like a load of bureaucratic nonsense. Anyway, apparently one can e-mail Ofcom and they send you stuff out in the post. So last night I sent off the e-mail and we will wait and see what happens.
Of more concern, was that as I was researching the issue I then find that an ATIS enabled radio is illegal in the UK (apparently) and that under RAINWAT boats in the Netherlands are supposed to monitor two channels at the same time - Ah, Dual Watch, you say!. Well apparently not you must have two radios. That's okay, we have a second portable VHF. That won't do as, apparently in the Netherlands, our portable radio is illegal because it can receive too many channels including one of the ones we're supposed to monitor. Apparently what this means is that we should have two fixed VHF radios. I really don't believe all our neighbours in the marina have two fixed VHF radios! I suspect some of them don't even have one!
We will have to ask around when we are next over. Which by the way is in two weeks time (Bank Holiday Weekend). James is coming down for a long weekend and we will go over on Friday evening and come back Monday evening. A quiet weekend is planned - Haringvreter for two nights with lots of chilling!
22nd May 2009 - A Weekend With Jimbo
Following on from the last entry, the necessary paperwork duly arrived and at least it didn't cost anything. Whether our radio can be set to transmit the ATIS number remains to be seen.
It is now Friday evening and we are on the ferry - the usual Friday night Norfolkline and Jimbo has gone to get the coffees. The weather forecast looks as if Saturday & Sunday should be cloudy and sunny with a slight chance of rain, whereas Monday could be quite wet, even with thunderstorms.
The plan is to spend a quiet weekend on an island, read books, watch films, have a barbeque, watch the Grand Prix on Sunday and generally chill out (Jimbo's itinery!)
26th May 2009 - Aground Again!

Went over for a quiet weekend with Jim. He didn't want to do much sailing, just wanted to "chill" – have a bar-b-que, watch the Monaco Grand Prix, have a walk and generally take it easy. And that is exactly what we did.

Saturday morning we did some shopping in the village, got some excellent kebabs at the local butchers and some nice rolls at the bakers. We then headed off to the refuelling jetty where the holding tank pump out is located, as the previous trip had left the holding tank full. In order to get close enough to the pump out point you have to go on the same bit of jetty as the boats that are refuelling. Given that it was a Saturday afternoon, of a public holiday weekend and by this time the weather was terrific, we expected quite a queue. In fact we didn't have to wait too long and the whole process was completed quickly.

The sail up to the Haringvreter was good, full main and genoa. The water was pretty busy and we started to think that we might not be able to find any space at the main harbour/jetty we had in mind – the one we have been to previously. And indeed it was full, but about a quarter of a mile away there is a good sized jetty which is not attached to the island. This had quite a bit of space.

Presumably most people want access to the thunder boxes, bins and the nice grassy area. It suited us fine as it gave us an excuse to get the tender out and to use its outboard, which had not been fired up since last year when it was serviced.

We got the Cobb out and cooked up the kebabs, just as it started to rain. The Cobb is not affected by the rain as it has a cover. The rain did produce a wonderful rainbow, though.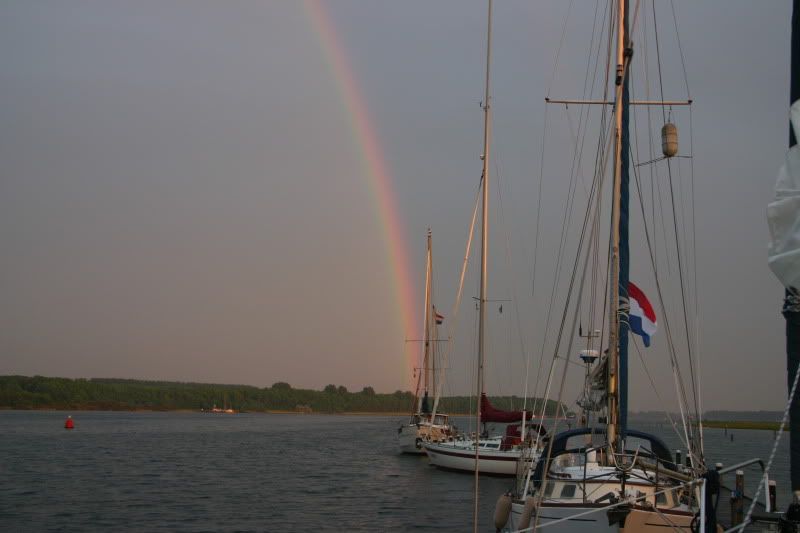 The rest of the evening was spent watching a film.

Sunday we had a very leisurely day, Kim had a swim (the Germans on the neighbouring boat thought he must like cold water but it was actually 17 degrees, which isn't too bad for May!)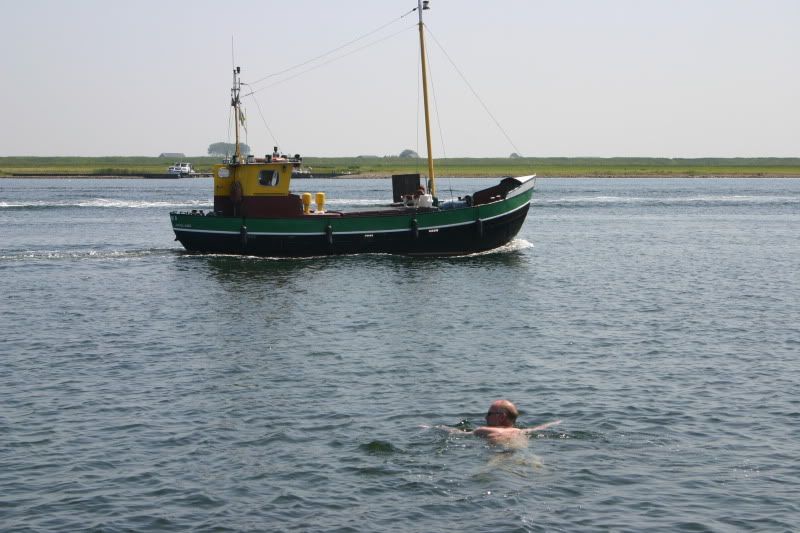 and we played with the Man-Overboard recovery device and boarding ladder. This was a very useful exercise as Wendy attempted to get Kim back on board over the side. In a choppy sea, getting back on board via the swim platform at the back would be too dangerous as the stern of the boat would be bouncing up and down too much. The whole exercise proved to be hard work, Wendy attached the rescue/lifting strop to a spare halyard and then winched Kim up as he climbed the webbing ladder. Neither the winching nor the ladder would have worked on their own, but combined, it was just about possible for Wendy to get Kim back on.

After the exertions of all that Kim and Jim settled down to watch the Grand Prix.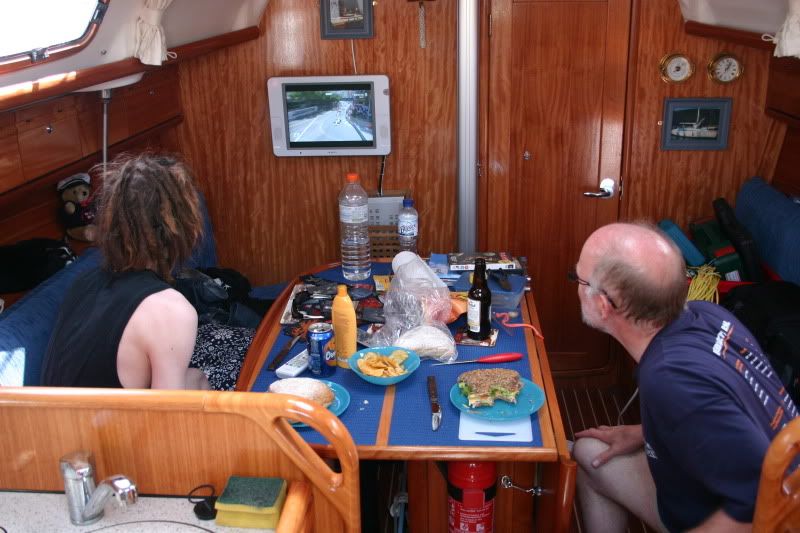 Then we went over to the island in the tender (all of about 100m!) and had a pleasant walk round the island. All the time the sun shone and it was glorious! Sunday night we had a lasagne that Wendy had prepared at home and had an early night. We started to have a problem with the house battery getting low. The nav instruments were inadvertently left on over Saturday night and with the boat not motoring anywhere we had to put the engine on a couple of times to recharge the batteries.

Monday morning we headed back to our marina. Kim had made a towing strop for the tender, so instead of deflating it and putting it away we towed it all the way back.

The grounding occurred as we were beating up from the Bad Hotel. We were on starboard tack running up a line between two green buoys out on our port side. We were in effect sailing along the 5m contour. At this particular spot the bottom shoals very steeply so we had little room to play with. Kim hadn't been watching the depth gauge and the first warning was the 2.0m alarm going off. Kim threw a tack in immediately, but too late, we grounded. There was not a lot of wind and we were sailing quite slowly – 2 knots maybe. The strange thing is that, when clearly stuck on the bottom, the depth gauge was showing 1.9m – we draw 1.5m! We whipped the sails away and started motoring astern and slowly she came out. Veerse Meer mud is very forgiving!

With three adults on board and no access to proper toilets, the holding tank was completely full again, so we decided that it would be easier to empty it before berthing the boat, rather than leaving it till the next trip over (which is in two weeks time). Monday was not a public holiday in the Netherlands (they had theirs on Friday) so we thought it would be dead easy and quiet. It wasn't! There were other boats waiting to refuel and when we did get on the jetty, we found that we needed the Havenmeister to switch the pump on and he had gone to lunch. Fortunately, he interrupted his lunch for us.

The long and short of it all was that by the time we had pumped out the tank, got back on our berth (which took two attempts), put the tender away and then done all the usual packing away things, it was getting on for 2.00pm – we were booked on the 5.00pm ferry and really should have left by 1.30pm latest! As we headed back to Dunkerque the sat nav had our arrival as 4.30pm, Wendy was confident we would still make our ferry – check in time is 45 mins prior to departure. 10 kms out from Dunkerque we encountered road works and the next thing is, the Sat Nav is predicting arrival at 4.45pm! Well, we checked in and were told we were booked on the 7.00pm ferry and no we couldn't get the 5.00pm one – we were too late. Wendy remained confident, though her confidence wavered a bit at the sight of the usual queue for UK passport control. But we drove round to the holding area to find they were still loading. So by the skin of our teeth we caught the ferry! In fact, we were put on the lorry deck which meant that when we got to Dover we disembarked before the cars – a real result!

So, all in all, a very enjoyable weekend with better than expected weather.

We have another long one booked in two weeks time.