Back to Archive
Sunday, 2nd May 2010 – Impromptu Cruise
Arrived Friday night, after stopping off at MacDonalds in Goes. Saturday morning was not looking too good – raining and so we started to resolve ourselves to a typical British Bank Holiday weekend. Kim was reluctantly dispatched to the bakers to get some rolls, which involved him in having to talk to Dutch speaking people on his own. He came back rather chuffed as he had managed to purchase 6 bread rolls speaking only Dutch!
In the afternoon Kim was quite keen to, at least top up the fuel and pump out the holding tank. So without any preparation, we set off, purely to motor round to the fuel pontoon. After filling up & pumping out we then motored off to return to our berth. However, the afternoon looked a bit brighter so we decided to have a short sail. This involved a lot of scrabbling around as the sail covers were still on, none of the halyards were fastened on, the chart plotter was still down below, the instruments were not switched on – well, we hadn't planned to go for a sail!
We headed down the Veerse Meer towards Bastiaan de Langeplaat under full main & genoa in 12 -15 knots of wind and then as we got to the channel that branches off to the east of Zandkreekplaat, we decided that even though Sunday's forecast was for heavy rain and winds up to force 6, we would tie up on Bastiaan and stay over. We then had a pleasant walk and even sat in the cockpit with a beer
watching the sun go down.
We usually endeavour to have enough food on board so we can always rustle up something interesting and so we had melon to start, followed by Beef in Velvet Porter with tinned peas and carrots, finished off with cheese and biscuits, all washed down with a few glasses of wine! No slumming it on our boat!
We then watched a National Geographic DVD about India.
And so to this morning. It was breezy and raining. Yesterday we had checked out the "thunder box" loos on the island to see if we might use them in the morning rather than fill our holding tank. Being the beginning of the new season they were brand new units and of greatly improved design – being almost on a par with proper flush loos. So, even though it was raining Wendy headed off for an early morning constitutional!
As there was no time constraint on us since we were not going home 'til Monday, we had a leisurely start and then donned full foulies
and headed back to Kortgene. The wind was all on the nose and it drizzled/rained all the way back. We got back about lunch time and the wind was coming from the north east, a direction we are not familiar with and so the first approach to our berth went wrong. Wendy wisely aborted, but then got a bit stuck trying to get the boat going in reverse, in the right direction. It can be very difficult to get the boat going backwards when you are in a tight corner, once it's got steerage in reverse it's fine. Wendy's second approach was spot on and after we had tidied everything away the rain got heavier and the wind got up – all as forecast, but we had missed the worst of it.
So whilst we thought we would have to "pay the price" for our impromptu cruise, we actually got away lightly.
Tonight we are planning to head over to Het Veerhuis for a meal.
Monday, 3rd May 2010 – Monday Morning Blues
The food last night at Het Veerhuis was excellent, spoilt only by the smell of cigarette smoke. The restaurant was not very busy so we got a table by the windows, or more to the point, as far away as you could get from the bar, where the cigarette smoke was emanating from. This was not as bad as the time last year when we sat right by the bar and the smoke was positively unpleasant. The culprit appears to be the patron who must think that as it is his establishment, he can ignore the law. It's a real shame, because the food really was superb, but we will think twice about going there again.
Over night the wind got right up and we were getting gusts up to 30 knots through the marina along with lashings of rain. The boat was snatching at her moorings all night which made for disturbed sleep.
Things didn't improve any during the morning, although we were able to take it easy, getting the boat cleaned and tidied up with plenty of time to spare.
Norfolkline ferry home as usual.
Monday, 10th May 2010 – A Boys Weekend
This weekend gone, Kim went over on Friday night with his friend Andy for a boys' weekend. The weather was forecast to be a mixture of sunshine and cloud, winds F2 – F3 and no rain, so it looked good.
On arrival the boat was pretty wet from some obviously heavy rain and it rained on and off through the night. Last weekend we had discovered that a deck fitting above the forepeak was leaking rain in and the bedding had got wet. We'd left a plastic bag with a towel in it under the point where the rain had leaked in, but it seemed not to have reoccurred.
Saturday morning was pretty grey and murky and after going into the village to get some rolls and cakes Kim and Andy set off for Veere. The wind was westerly, about 4 – 6 knots, accompanied by very light drizzly rain and after several hours of tedious tacking they finally gave in, turned the engine on and proceeded up to Veere.
Kim took Emjaytoo in to the Kaai and got the last space on the jetty. It was about 35 foot and so pretty tight, between another yacht and a mobo, but Emjaytoo slid in like putting a glove on! The total time for the journey to Veere – about 10 miles, had been 4 hours so they were a bit cold!
After a warming cup of tea and some cake Kim gave Andy a whistle stop tour of Veere and then they headed for the Veere Yacht Club for an excellent and reasonably priced meal.
The night was a bit warmer than the previous, but of course punctuated at half hourly intervals by the Town Hall clock bells – well it is Veere!
Sunday morning, was just as grey and murky, but there was noticeably more wind and after motoring out of the Kaai, they got the sails up and had a cracking sail back, getting between 5 and 6 knots out of winds up to 15/16 knots.
On arrival back at Delta, Kim was faced with the problem of having lost our fixed length mooring line which is used to check the boat as she enters our berth and then to spring against to keep her straight. He rigged a replacement, but had to guess at the length, which turned out to be too long. In addition the wind had now moved round to the North-east (the direction Wendy had had to contend with the previous weekend) and he under cooked the turn and had to abort. The second go was much better, but with the check line the wrong length, the boat went up against the main pontoon and thus could not be held straight by motoring against the spring. With our neighbour's boat alongside, the boat can't really go anywhere, but Kim would be miffed that it hadn't been perfect!
All in all, considering the weather, it wasn't a bad weekend!
Next trip - the Bank Holiday weekend at the end of May.
Monday, 17th May 2010 – A New Chart Plotter
Kim has been hankering after a new chart plotter for a number of years. We currently have a Garmin 276 which is a brilliant little plotter, even if it only has a 3½ inch screen. It has a very high screen resolution, but it is a bit small and it mounts on the binnacle via a rather cumbersome bracket. So about two years ago Kim started looking around for a flush mounting unit that could be permanently set in to the binnacle. At one point the Standard Horizon 180 unit using C-Max charts was at the top of the list, but Kim being Kim, couldn't quite bring himself to part with the cash, so the research went on.
More recently, it was decided that as Kim already had Garmin products and was familiar with their electronic charts, the new plotter should be a Garmin and after discounting the Garmin 451 (screen too small – only 4½ inches) and the Garmin 551 (resolution too low) the new Garmin 556 rose to the top of the list. Then Kim found that the earlier version, the Garmin 555 could still be had and for a good saving against the new model. Further enquiries revealed the major difference between the old and new models was that the new one accepted the new NMEA 2000 language for communicating with other devices whereas the older model only accepted NMEA 0183. Since the device will be used in stand alone mode and in any event, all our other kit talks NMEA 0183, the new NMEA 2000 was not worth the extra money.
Marine Superstore in Port Solent were advertising the older 555 model and since we were going down to Kim's cousin near Winchester, last Sunday, for a family get together, we decided to call in at Marine Superstore on the way there to check out the unit.
It was all going okay until Kim questioned how up to date the charts on the older 555 model were. The chap in the shop, who clearly knew his stuff, advised that as the charts were factory installed, they would now be a couple of years out of date. However, they could sell us an up date pack. When Kim pointed out that for the extra cost of the update pack we could buy the 556 model, the chap said we could have the update for free. Deal clinched!
So off we headed for a family "pig roast"!
Saturday, 22nd May 2010 – Getting the Chart Plotter to Work
The new chart plotter is only powered by 12 volts and fortunately Kim has a 240v/12v transformer with a car "cigarette lighter" socket (left over from a 12 volt fridge that had long ago given up the ghost), so he was quickly able to rig up a connection to boot up the plotter. Everything seemed to be okay except that the unit (set up in the conservatory) could not lock on to more than one satellite (a minimum of three are needed to get a fix). We left the machine powered up for over an hour on two separate occasions, but it wouldn't have it, so consequently it thought it was somewhere in Florida! (American product?). Since Kim had rigged it up to plug into a 12 volt car "cigarette lighter" socket, he then took it for a drive around Hawkinge and eventually, not only did find and lock on to 3 satellites, it actually locked onto about 6.
Once returned home and back in the conservatory, it now connects up fine. They do tell you when first booting up a GPS in a totally different location, to make sure you have a very large uninterrupted view of the sky. Anyway it's working a treat and has now gone back in the box ready for installation on Emjaytoo.
This may be delayed a few weeks as next weekend (the Bank Holiday) we are going over to the boat, but will want to sail (not spend the weekend trying to install a chart plotter – these things always take a lot longer than anticipated!). So it looks like being the weekend of the 5th/6th of June when Kim will go over on his own, to fit the chart plotter.
Friday, 28th May 2010 – The Bank Holiday Starts Here
Despite "iffy" weather forecasts all week, here we are on board Emjaytoo Friday night, ready for the Bank Holiday. The forecast currently, is for a good bit of wind, a good bit of rain and a good bit of sunshine, so put the foulies on and make the most of it! Well, we will see tomorrow! Still planning a trip up to Zierikzee for some mussels & chips!
Sunday, 30th May 2010 – Windy & Grey in Zierikzee
Saturday morning and the weather forecast was not really any better, although it didn't look too bad outside. Due to Wendy forgetting to bring the eggs & bacon, breakfast was reduced to toast! This was not such a bad thing as it did mean that we got away by 10.00 hrs (BST). By 11, however Wendy was all ready to jump ship, never to return! As is often the case when we haven't been out for a while, Kim loses confidence in his own/our ability and becomes what we will euphemistically call "difficult"! This had earlier led to a reversal of roles, with Kim helming and Wendy crewing, but as we approached the lock in the increasing wind, Kim was all for going back and spending the night on an island! But the lock went well and once we were through, relations and humours improved!
The trip up to Zierikzee was pleasant, winds around 10 – 15 knots from the south-east and a bit of sunshine, so we ran up under genoa only.
We arrived in Zierikzee about 14.15 hrs (BST) and were directed to raft up to a 35 footer, whose owner was not on board. Rafting onto an unoccupied boat is always interesting as you have to step from one boat to the other and secure some lines fairly swiftly, whilst at the same time not knowing the layout of the other boat, where the cleats are, how high the guard rails are etc.! With her short legs, Wendy's fear is that she will get stuck somewhere between the two boats, but fortunately all went well this time. She did provide some entertainment, however, when she had a complete blank about tying a bowline (which she does in French), whilst speaking to Kim in English and a nice old Belgian man first in Dutch, then in German. We got there in the end, though.
We had a walk around Zierikzee, found the Albert Heijn, did a bit of shopping, got some eggs & bacon and headed back to the boat.
By the time we got back it was raining quite hard.
We had a quick beer on board and then headed off to the Eetcafé Marktzicht for what we hoped would be "mussels & chips". This is a restaurant we discovered a few years ago when on a trip with Julie & Trev. Unfortunately we are not in the mussel season. Something about only getting mussels when there is an 'r' in the month! Nevertheless, we had an excellent meal and this restaurant is now due a mention in our Dutch Cruising Guide. It's like a tardis inside and was very busy. It is decorated like a pirate galleon and in the bit where we were, water was intermittently sprayed at the windows to simulate being at sea. Quite a talking point!
Sunday morning got off to a leisurely start, with us intending to head back to the Veerse Meer in the afternoon. Wendy went over to the showers and on the way back stopped to look at the Harbour Notice Board where the Harbour Master had just posted up the day's weather forecast. This changed our plans – rapidly! The forecast was for the wind getting up to Force 7 – 8 and the Harbour Master had written in red "Remember the bridge – F 7". A quick chat with one of our neighbours revealed that the bridge does not open when the wind gets over F 7, not that that was the reason for our rapid departure, we didn't fancy sailing back in a F 7 and Wendy certainly didn't fancy putting the boat back in its berth in a F 7.
We got to the bridge just before 10.00 hrs and the wind was just beginning to touch the bottom of a F 7! The 15 minute wait for the bridge to open was bouncy to say the least!
When the bridge did open, Kim was positioned to go through first out of the half dozen or so boats queuing up and whilst his concentration was focused on steering the boat through the middle of the opening, Wendy was staring up at the top of the mast which was swaying from side to side and getting dangerously close to the bridge structure. Talk about "rocking & rolling". Once clear of the bridge we motored for a bit then unfurled the genoa and had a cracking sail back in winds ranging from 15 knots to 25 knots occasionally accompanied by some quite heavy rain.
Back in the Zandkreek, the wind had eased a bit and we passed through the lock without incident although it was quite busy. By the time we got back to Delta at 13.00 hrs, the wind had dropped right down to about 8 – 10 knots and coming from the west, Wendy put the boat back in its berth without any problem. Having lost our fixed length spring last time out, Kim had set up a temporary spring which worked fine. Coming back into our berth is the one situation where we never reverse roles – the step down onto the finger is quite big and above all it's very bouncy, so like jumping on a foot wide trampoline. Not pleasant!
In the afternoon we went over to the chandlery and a bought a length of 16mm mooring line in which Kim spliced in two loops so as to provide a new berthing spring. Meanwhile the wind outside got up again, touching 30 knots and that's in the marina! Ironically, it was quite sunny, but we were glad to be safely tied up and it did give us chance to hang out some nautical washing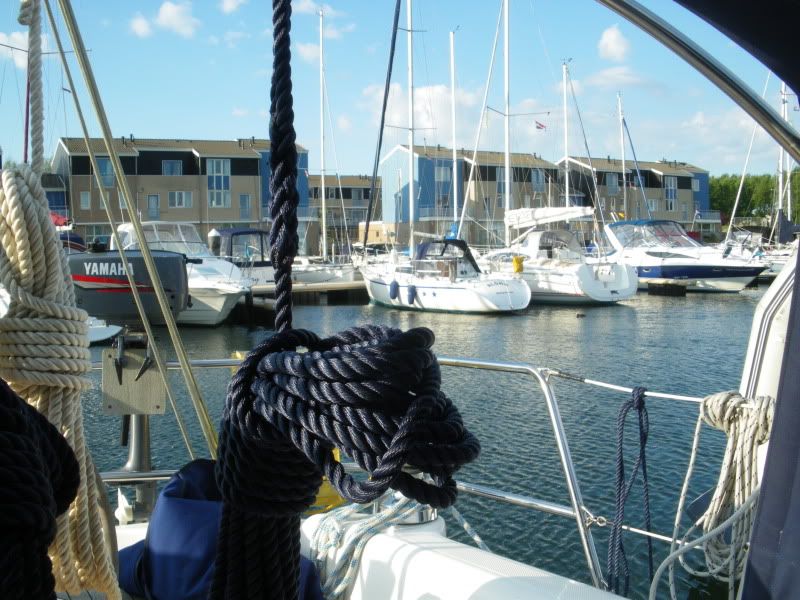 Sunday evening we spent on board. We had melon to start, then Wendy cooked up lamb steaks with new potatoes, sugar snap peas, asparagus and mint sauce. It was almost as good as a Sunday Roast!
Back to the Top
Back to Archive