Back to Archive
Saturday, 4th May 2013 -Being Patient
Having spent a week and a half or so studying the various on-line weather forecasts, we set off Saturday morning to catch the 07.20am shuttle, hoping for a glorious Bank Holiday weekend. It was indeed very sunny, but unfortunately it was also a whole lot windier than the forecasts had led us to believe. The result was that by the time we arrived in Kortgene, the wind was howling through the rigging at over 20 knots and we decided to stay put. It was at least a lot warmer than our last visit. Our decision was vindicated as the wind progressively built throughout the afternoon and it even threatened to rain.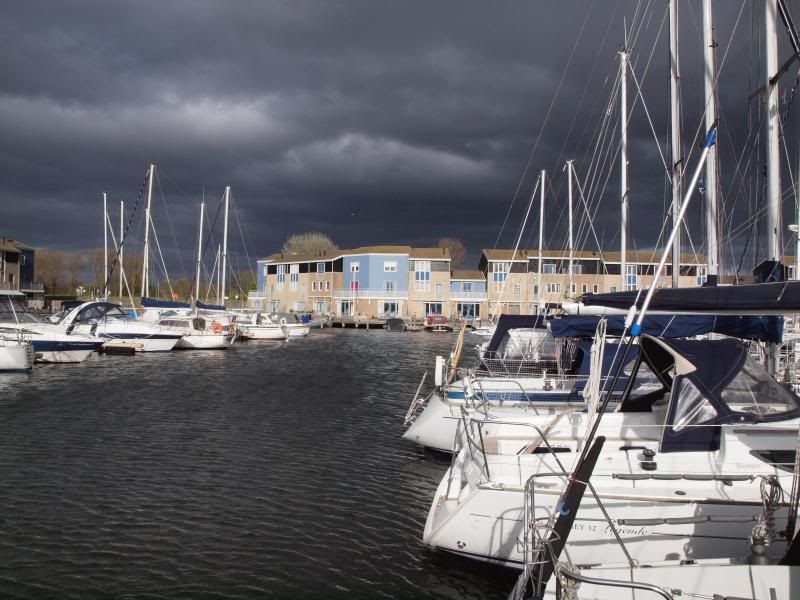 We did manage a beer in the cockpit. Never mind "Ice Cold In Alex"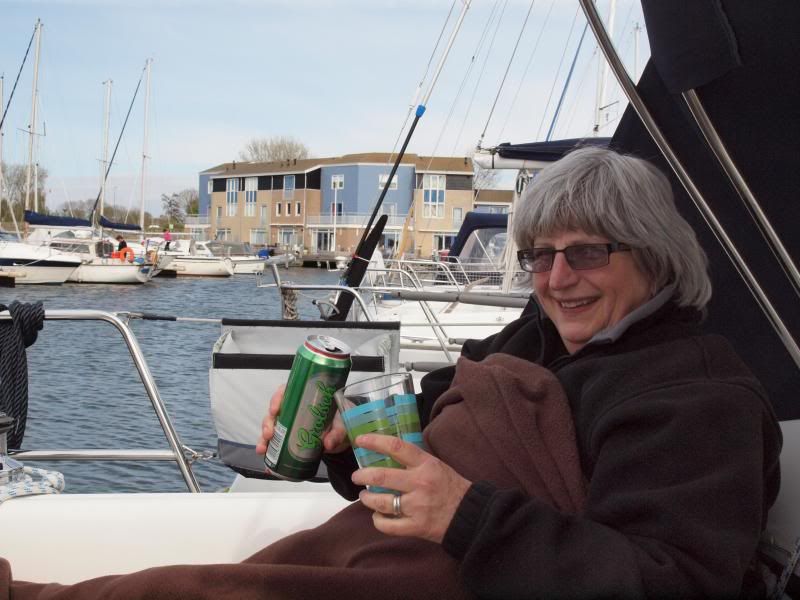 More Like "Ice Cold In Kortegne"!
So here's to Sunday, when the wind is due to moderate and we can hopefully get out of the berth!
Sunday, 5th May 2013 - Worth Waiting For
We awoke this morning to a gloriously still, sunny morning, exactly as forecast. After a cooked breakfast and a leisurely start, we fired up the engine at about 9.45 and set off up the Veerse Meer. There was a bit more wind once we were out on the water and we soon got the sails up and tacked our way up the channel, although not always that easily as Kim's figure of eight knots on the genoa sheets proved to be a complete pain, getting wedged on just about everything going during the tacks (outer shroud, inner shroud, halyards ...).
Given the weather, it was no surprise to see so many people out on the water, all contributing to a real summery buzz. Wendy suggested that we might like to anchor up for lunch. Although initially not so keen, Kim eventually gave in and we spent a most enjoyable couple of hours just off the Zandkreekplaat, where it was extremely warm, with the thermometer recording around 28 degrees in the sun!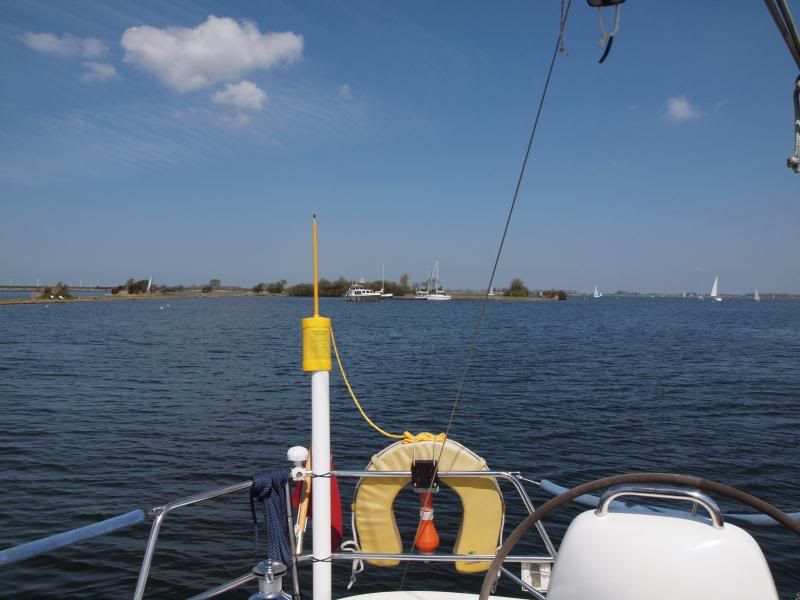 After lunch, and with bowlines replacing the figure of eights, we continued up past the Bad Hotel towards the Goudplaat. As the wind was favourable and because it felt a bit cold now, we made straight for the Goudplaat jetty and tied up for the afternoon. With the sprayhood protecting us from the wind, the cockpit was extremely warm, resulting in both Kim and Wendy exposing parts which had not seen the sun since last year!
It was then time to try out the new gas barbecue. Although fans of the Cobb, we have become increasingly frustrated with the lack of space and lack of "barbecued-ness" so have bought a small Weber gas one.
If our meal this evening was anything to go by, it is going to be most successful.
After dinner, we took the usual sequence of stunning sunset pictures, probably no different to the ones we took last year or the year before that, but stunning none the less.
This really has been a fabulous day to remind us why we do this and why we love Zeeland so much.
Monday, 6th May 2013 – A brilliant Weekend
This morning was much the same as yesterday and we had a slow sail back to the marina in glorious sunshine. Our present habit of using the shuttle meant we had enough time in hand to enjoy the slow sail back without having to resort to the engine because we were running out of time, something, a couple of years ago, that was quite a common occurrence.
All in all, we had a very enjoyable first weekend out with no mishaps. Our arrival back in the berth was not perfect, but hey, we were a bit rusty after the winter layup!
So, all looks good for our Summer Cruise, in less than 3 weeks time. It's a bit early to start checking the weather forecasts and they always prove to be unreliable anyway. But Kim is starting to read up on the planned route, consult our Louise Busby pilot book and plot the route on the Dutch navigation software.
Actually, the latter is proving a bit of an obstacle, since Kim's little netbook computer is playing up and he is in the process of trying to do a factory restore on it in the hopes that it will function properly.
Tuesday, 14th May 2013 – Software Issues
After numerous attempts to get the netbook working properly, Kim finally accepted defeat and bought a new small laptop. The initial set up went very well and it is considerably faster than the old one. However, attempts to download the Stentec software for installation kept failing due to "unknown network error". This morning, Kim downloaded it at work and put it on a memory stick. He was feeling very pleased with himself until he tried to install it on to the new computer this evening. It installed okay but would not then activate, saying Kim had used up his allowable activations already.
So it will be an e-mail to Stentec to tell them that this due to computer problems and see if they will release new activation codes.
Thursday, 16th May 2013 – Software Resolved
Stentec, on this occasion, were very prompt getting back to us with an additional activation code and the navigation software is up and running without any issues. The next thing is, when we get over to the boat to get the GPS receiver to work with the new computer. Kim seems to recall having a bit of trouble with the old net book, but that was a couple of years ago, so difficult to remember properly. We'll find out soon enough!
There is still a bit of planning left to do, mostly making a note of all the bridges on route and their opening times. Also cross referencing the route with the information in our Louise Busby pilot book.
The only other issue is the weather! It really is not very good for mid May. We still have the central heating on at home and the forecast is not looking that much better in a fortnight's time!
Friday, 24th May 2013 – Coldest Spring On Record?
Well something like that. Arguably, Spring is over and we are entering Summer! Feels like bl**dy Winter! And that is how we will commence our two week cruise! Tomorrow we catch the 07.20 Shuttle and drive up to Kortgene.
The plan is still to head towards Amsterdam, but with such a miserable looking weather forecast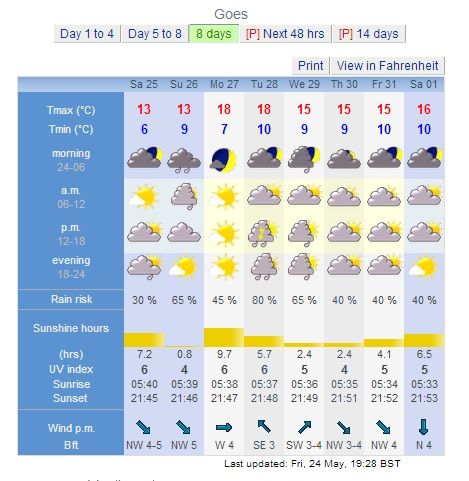 we are just going to take each day as it comes and see how far we get.
Saturday, 25th May 2013 – Summer Cruise, Day 1
Well that's a joke for a start! Summer Cruise? It is our own fault really to expect stunning weather this early in the year. The trouble is, Kim booked his holiday at the back end of last year to take advantage of the Late May Bank Holiday. Last year at this time, it was glorious – Kim was swimming in the Veerse Meer, the water was 20 degrees! So, as they say, it seemed a good idea at the time.
We arrived at lunchtime and immediately switched our clocks to Dutch time. This is something we haven't done before, finding it easier to stay on BST. This time, since we are over for two weeks and since we will need to be very aware of bridge opening times, we decided to switch to local time. There was a lot of stuff to get out of the car and stowed away on the boat and a number of IT issues for Kim to sort out, such as getting the new navigation software to talk to the GPS receiver and getting the Dutch mobile internet dongle to work. Coupled with the fact that the weather, whilst at least dry was pretty cold we had decided in advance not to depart until Sunday at the earliest.
The process of getting every thing stowed away went very well, in fact when we had finished, Wendy commented that the boat was tidier than when we just come over for a weekend. The IT issues went amazingly well too! The new netbook connected to the GPS receiver without a hiccup and the Kim got the Dutch mobile internet dongle to work first time too.
The afternoon passed very quickly and soon it was dinner time. This comprised beef goulash (which Wendy had prepared in advance) plus a little drop of the old red stuff! The rest of the evening was spent watching the TV and looking at tomorrow's route to Sint Annaland – weather permitting!
Sunday, 26th May 2013 – Summer Cruise, Day 2
The forecast was for the weather to remain dry but still cold and windy until Monday, when it is to get warmer and a bit less windy. We decided, after a leisurely day, to make a start by going down to the pontoon by the Zandkreeksluis to overnight and then get an early start Monday morning in order to by-pass Sint Annaland and head straight for the Hollands Diep (Numansdorp or Willemstad).
When we left Delta at 16.50 the wind had moderated a bit (so Kim claimed) but by the time we got to the pontoon it was blowing 23 knots. It was a tad hairy getting alongside, due to the wind trying to blow us into the nearby fishing nets, but it all worked out okay and we have the place to ourselves albeit a bit bouncy.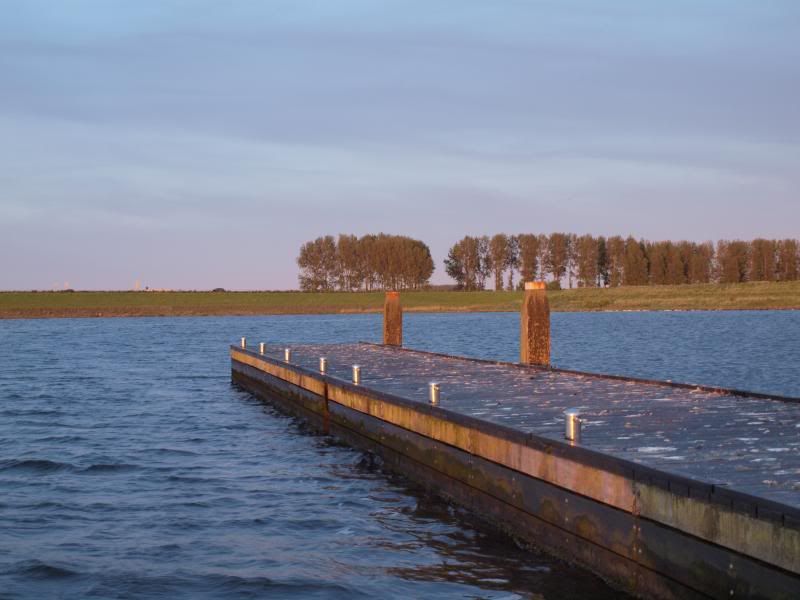 This is actually quite an interesting place to be moored up as we can observe the bridge/lock operations on one side, whilst watching the seagulls and cormorants on the pontoon adjacent to us.
Monday, 27 May 2013 – What a difference a day makes
Exactly as forecast, we awoke this morning to an almost cloudless sky and very little wind. The trade-off was that it was very cold and it was well into the afternoon before we lost the thermals and fleeces, but it was lovely just to see the sun.
After leaving the pontoon at just after 8, our trip to Numansdorp was fairly uneventful. To start with we had a fantastic beat up to the Zeelandbrug,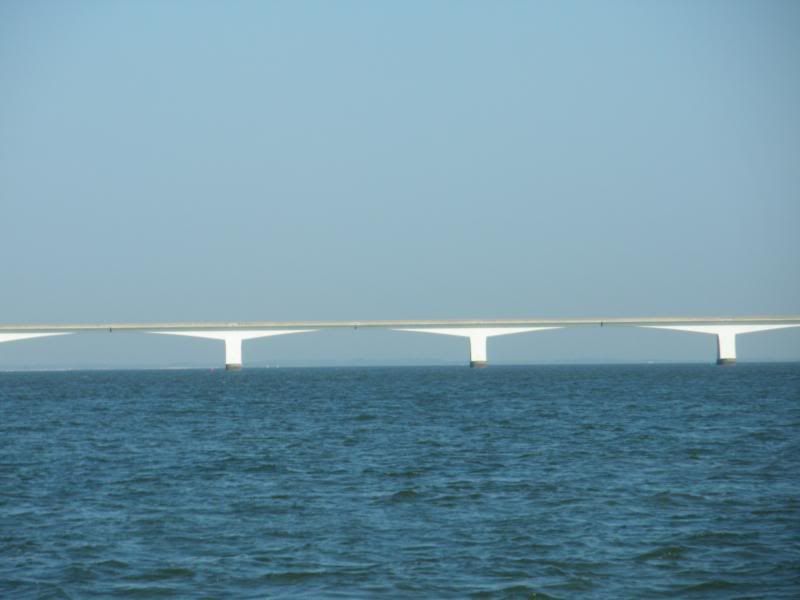 then the wind was mostly abaft the beam so thereafter our sailing was under genoa only. The favourable winds and ebb tide meant that we initially made over 8 knots over the ground, though this fell away sharply once we turned off up the Keetengat, and the tide started to turn.
Once in the Volkerak we sailed initially but soon decided that as our priority was to reach Numansdorp at a reasonable time, we should go under power. When we arrived at Numansdorp, none of the right-sized boxes were free, so we went alongside the town quay.
Following his experience in Willemstad, Kim was quick to identify the need for a sideways fender up against the large piles and this proved very useful.
Once tied up, we dashed into the village to try to find a Spar market or something similar. In the end we got some lovely pre-marinated meat from the butcher and lots of salad and some gorgeous strawberries from the greengrocer. By this time, the sun was scorching and we sat up in the cockpit for pre-dinner drinks, and excellent dinner and coffee – what holidays are made of!
Tomorrow is Dordrecht and into the Dordtse Kil – new territory for us!
Tuesday, 28 May 2013 – And Now For Something Completely Different
This morning we awoke to another clear blue sky and sunshine, only this time it was a bit warmer than yesterday. The planned trip up to Dordrecht was very dependent on bridge opening times, specifically the road and rail bridges in the middle of Dordrecht. The new Navigator software takes all this into account and since the bridge in question only opens once every two hours, our optimum departure time was 11.00.
Out in the Hollands Diep it was quite windy and a bit cool. Given that the wind was directly on the nose and that we had a lot of commercial traffic to contend with we motored all the way. Crossing in front of the large, fast-moving barges to get over onto the other side of the Dordste Kil proved to be a bit scary but it's all a matter of timing and once into the Dordste Kil the traffic moderated (a little bit) and the wind came onto the beam. The river/canal was, however a whole lot narrower and we had barges passing us with only about 20m clearance.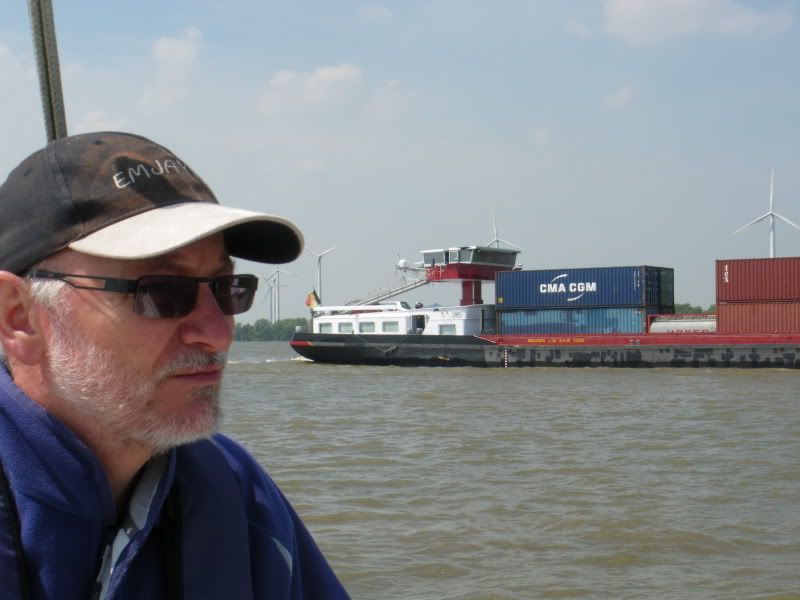 The wake they produced as they passed, also meant that it was extremely bumpy.
We got up to Dordrecht with about an hour in hand and found the waiting pontoon. As we came alongside we had gusts of 25 knots and it was a bit stressful. Wendy said it wasn't exactly her idea of a holiday and Kim said it was challenging! Our departure from the pontoon was also a bit challenging, as even the trusty stern spring struggled to get us off the pontoon and Emjaytoo's port side took a bit of a scrape along the pontoon. The Belgian boat also moored alongside the quay was subsequently stopped and received a severe telling off from the water police for passing between a manoeuvring barge and the quayside!
Once through the main bridges,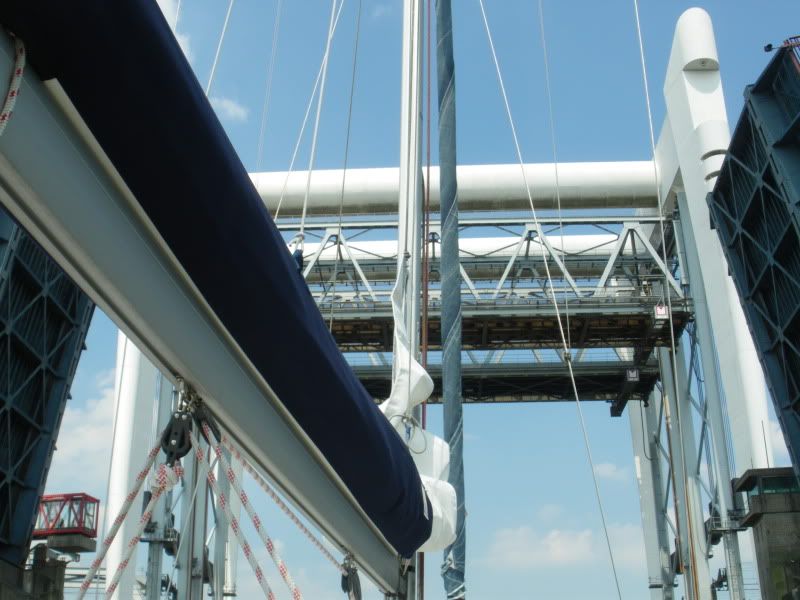 we then had to tie up in a side arm to await the opening of the little bridge leading in to the old harbour (actually called Nieuwe Haven, 'cos when it was built in 1410 it was the new harbour). We were then directed in to a finger berth and were secured by 16.00.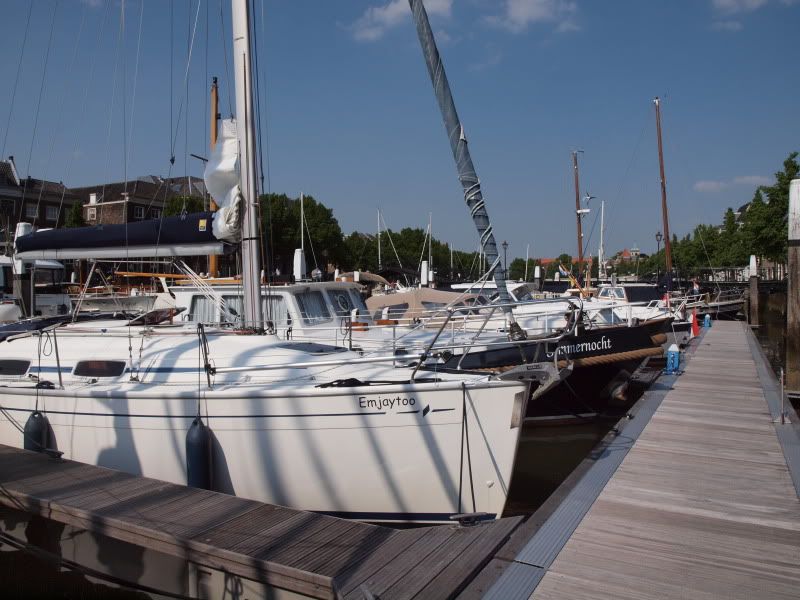 In the shelter of the harbour it was scorching and after a bit of relaxation we headed off to find the supermarket. After a bit of a sight seeing tour back to the boat we settled down to the customary aperitif in the cockpit. This was somewhat curtailed as the sky darkened, the temperature dropped and rain threatened. All forecast! However, it seemed to pass over and by 9.15 we were sitting outside with our coffees, albeit with our fleeces back on.
Tomorrow is forecast to be pretty awful, so we have booked two nights and will be spending the day in museums!
Wednesday, 29th May 2013 – A Quiet Day In Dordrecht, Trying To Keep Warm
Today was forecast to be cold, wet and miserable and that was exactly what we got! After our trip up yesterday and given the forecast, we had decided to spend the day seeing a bit of Dordrecht. This was not really a compromise as Dordrecht is the Netherlands' oldest city and we really needed a day to do it justice. In the morning we visited the Grote Kerke which was free.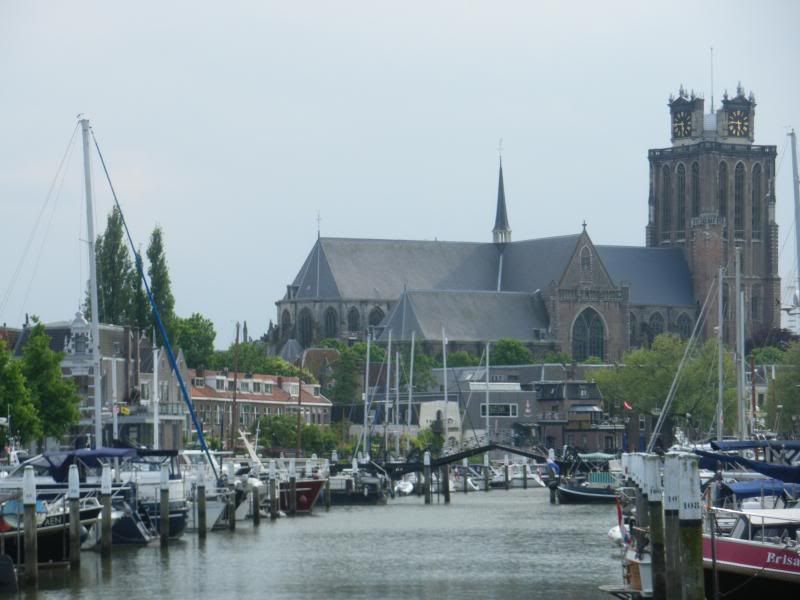 This is, in fact, a cathedral or minster every bit as impressive as any English cathedral. For a euro each we were able to climb to the top of the tower where, despite the gloomy weather, we were rewarded with some spectacular views of the city and the three rivers which have made the city the place it is today.
We returned to the boat for lunch and then went off to visit a restored old merchant's house. This was a bit of a disappointment. Five euros each to get in and a woman curator who obviously thought we had come to steal whatever we could get our mitts on! She insisted that we took our coats off and put them in the cloakroom – actually citing possible theft as the reason why we had to take our coats off! She then followed us round like a hawk. There wasn't anything worth stealing anyway, apart from maybe, some paintings, that you could hardly have put in your coat pocket.
In the evening we went out for a meal to an Eet Cafe where we had a set course meal and a couple of beers for a very modest price. A most enjoyable end to our stay in Dordrecht.
Thursday, 30th May 2013 – Off to Gouda!
We made a good start at 8.30 based on Kim's Stentec software which takes all the bridge opening times into account. It was very grey, a bit cold, but mostly little or no wind. The first obstacle we had to tackle was the convergence of the three rivers at Dordrecht – the Dordste Kil, the Merwede and the Nieuwe Maas. This is, apparently, the busiest inland waterway intersection in the world, according to our guide book. It was busy, but it was okay. Yes, the barges do go faster than we are capable of going and no they don't have indicators, but you just have to be patient and wait for an appropriate gap.
The next obstacle was the bridge at Alblasserdam.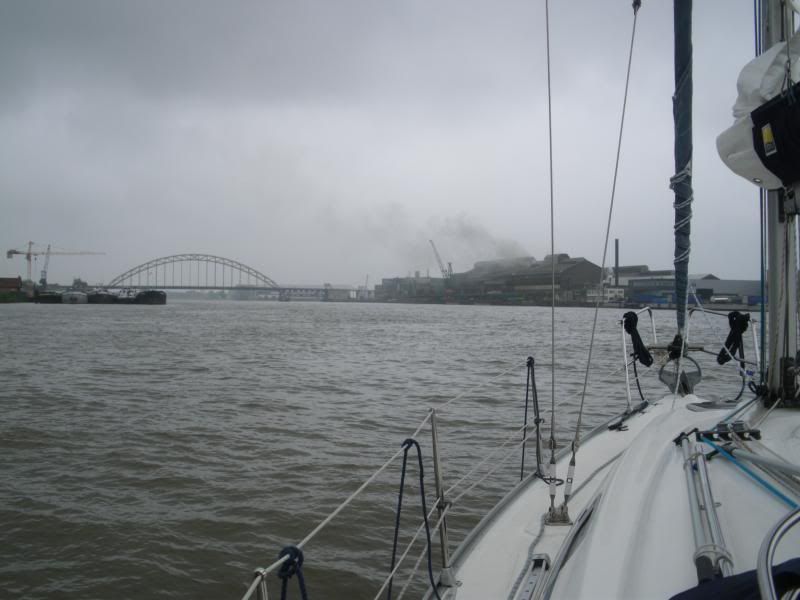 This bridge opens every two hours and we were aiming for the 10.00 opening. We got there too early and then when we radioed up they told us it would not be opening until 10.15, so we had over an hour to kill. Fortunately, we were able to wait in a side arm and benefit from the fact that there was so little wind.
As we worked our way up the rivers towards Gouda, it gradually got quieter and a bit more rural, though the Dutch do seem to have a habit of living in houses in the most unlikely places!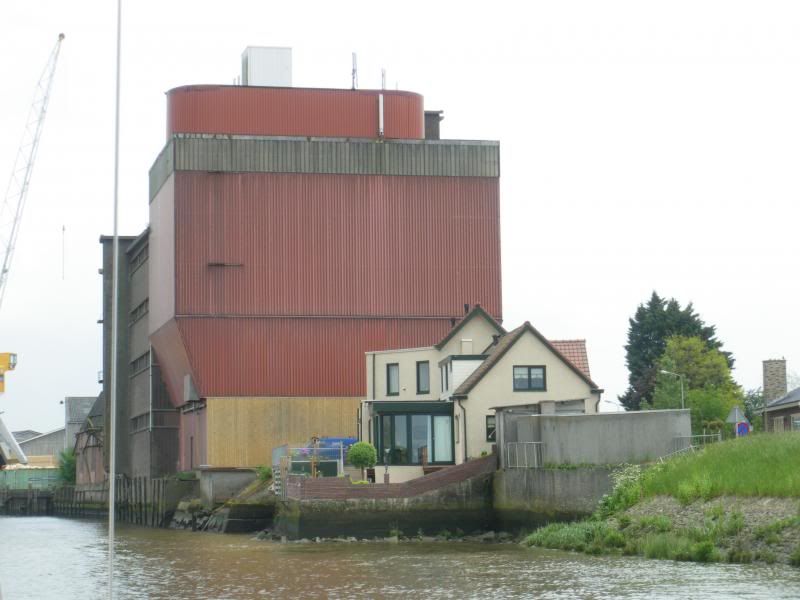 It was all fairly uneventful, though we did see some spectacular riverside property, complete with hydraulic boat lifts. We kept pace with a barge making its way up the twisty canal, not seeing much other "big" traffic until we arrived at the Julianasluis lock, where the world and his wife seemed to be waiting! The barge we had been keeping pace with signalled to us to go ahead of him into the lock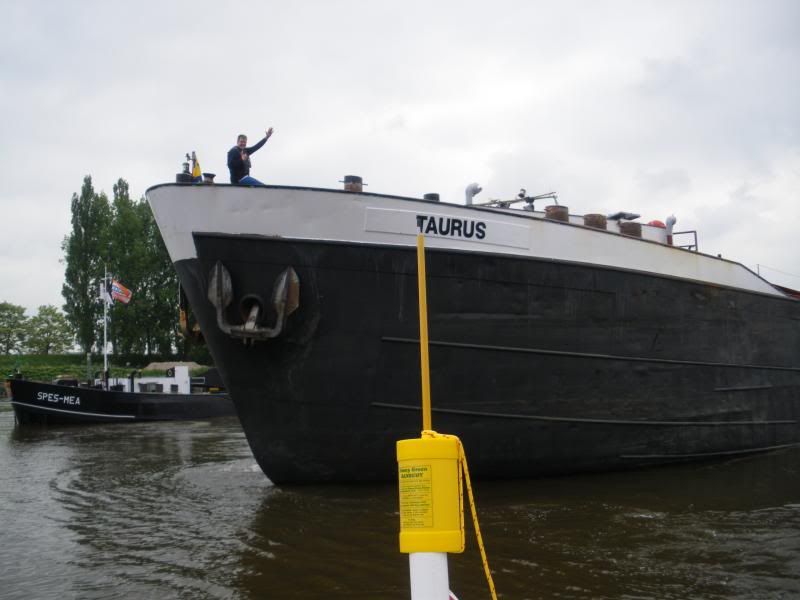 with a large sight-seeing boat, so in we went. Suddenly all the trippers appeared on deck snapping photos left, right and centre – no doubt hoping to photograph some great mishap at first hand! Alas - for them – they were disappointed on this occasion.
In no time at all we were on the final approach into Gouda, chasing to catch up with the other boats ahead of us before the bridge. In reality, however, we needn't have bothered! We landed up tied to the quayside in the most insalubrious of locations.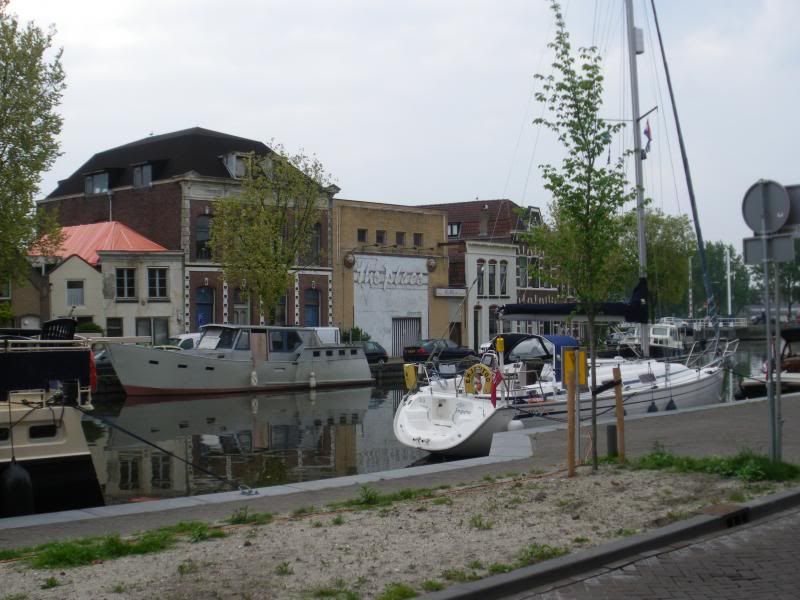 A couple of loos and showers in a portacabin and - horror of horrors - no wifi!
Sustained by a cup of tea and a stroopwaffel, we ventured into the city centre, which proved to be a cross between Middelburg and Bruges, parts of it very beautiful,
parts of it more mediocre.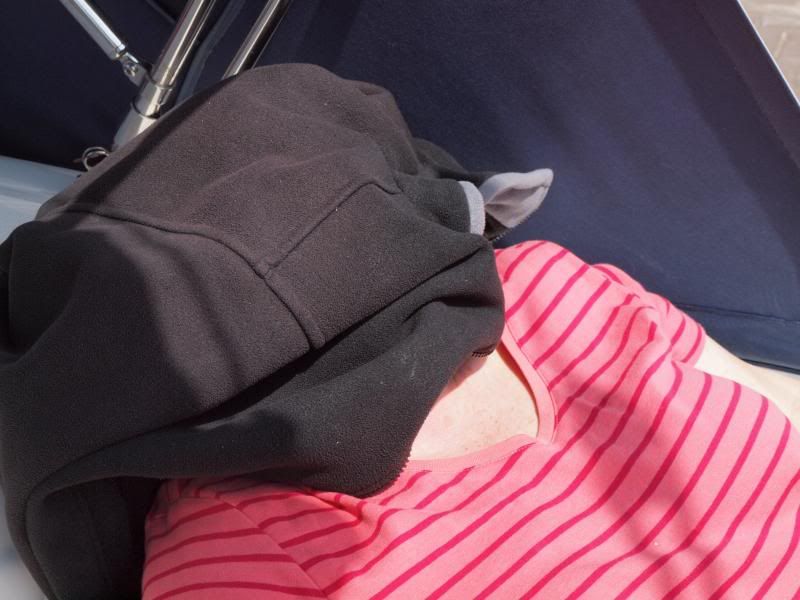 It remains to be seen what we make of it tomorrow, when we make a more thorough inspection.
Friday, 31st May 2013 – All is not lost!
In spite of our concerns last night, our night proved to be very peaceful here and we woke up this morning a little better disposed towards Gouda, especially as the sun soon came out. First stop was the historic boat museum a few minutes' walk from here.
Certainly not picturesque in a Zierikzee kind of way but interesting nevertheless. Gouda obviously has quite an industrial past and is actively regenerating its city centre, whilst still trying to preserve its rich heritage.
After looking at the old boats and "gongoozling" as some boats locked through into the Hollandse IJssel, the next stop was the Sint Janskerk. Like Dordrecht, a large church of very definite cathedral proportions. This magnificent church dedicated to Saint John the Baptist has the finest collection of 16th century stained glass windows in the Netherlands, if not western Europe! In fact the church is famed for its stained glass windows.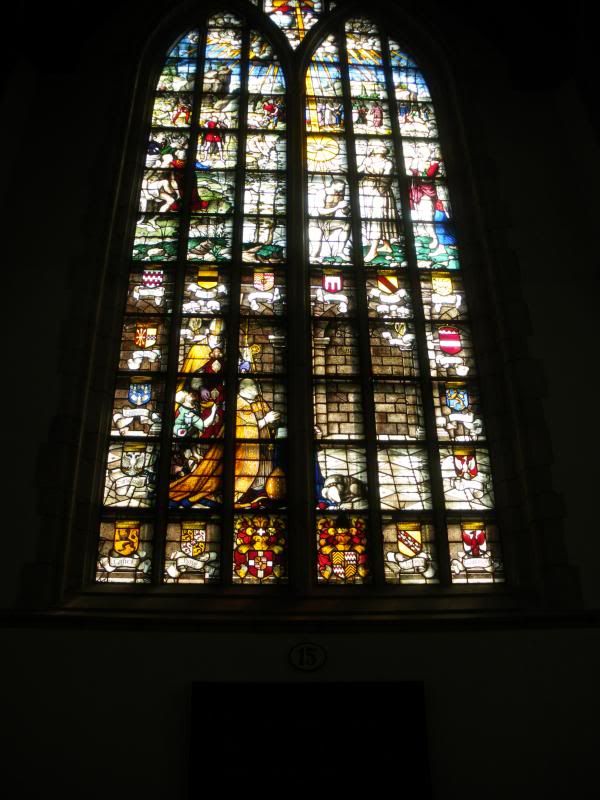 Unfortunately, this church cost to go in, Kim then paid an extra euro to hire the English language audio guide which was well worth the money. It also contributed to the fact that we spent nearly two hours in the church. We had bought a combined ticket for the church and city museum which included a free coffee in the museum cafe, so we had lunch before going into the museum.
Note, in this picture, Kim's head is not yet showing the signs of having been smashed into the top of the forepeak door frame. Rest assured, before too long, it had!
By this time the grey weather that had greeted us earlier in the morning, had given way to glorious sunshine, albeit very windy. In the shelter of the cafe terrace it was scorching.
We then made our way back to the boat, via the Town Hall,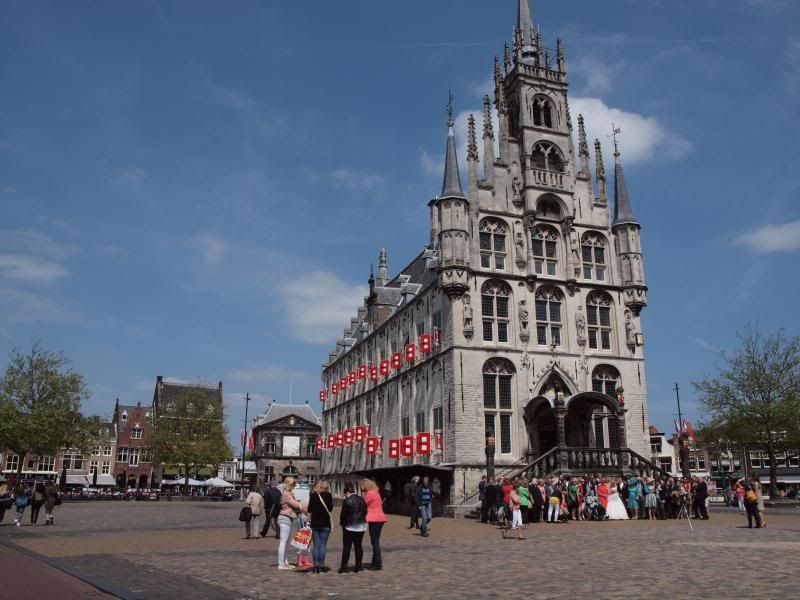 where we sat in the cockpit enjoying the afternoon sun sheltered from the wind by the spray hood. Later on we nipped up to the Albert Heijn supermarket to get some shopping.
When the Harbour Master came round this morning we were advised that we could have three nights for the price of two. Initially we did not think we would take this up. However, later on during the day we thought about our proposed plan to continue up the canal system to Haarlem (Amsterdam by this time having been knocked on the head on the basis that it would be a lot of hassle to get to and such a big city we would barely scratch the surface of it). After a conversation with a fellow Brit who was touring the Dutch canals in an English narrow boat (á la Terry Darlington) we decided that 55 mins on the train versus two days on the boat was probably a better bet, oh, and the two days would be to get there, never mind the two days to get back. In any event we had decided that we had probably done the Dutch canal thing and would like to get back to the Veerse Meer to enjoy a barbecue on one of the islands – providing the weather holds.
So the current plan is Haarlem tomorrow, then back down towards Dordrecht on Sunday, by which time the strong gusts are also forecast to have disappeared and the sun to be shining, even if the temperatures are not that high. From there it will be on to Willemstad and then maybe Sint Annaland or maybe directly into our home waters. Whilst it's been fascinating and certainly challenging at times, the trip has been well worth it, but we would now both like a couple of relaxing days drifting between islands.
Back to the Top
Back to Archive