Back to Archive
Saturday, 2nd May 2015 – More Soul Searching!
This weekend Kim was able to take advantage of his reduced hours' working and take the Friday off, so we could have a four day weekend (Monday is the Early May Bank Holiday). Rather than head off to the boat for the full four days, we decided to have an ordinary two day weekend (Friday/Saturday) on the boat, followed by another two day weekend (Sunday/Monday) at home. This enabled us to use one of our cheapo crossings rather than paying for a full price return. Thus, the Shuttle crossing was booked some weeks ago and we were committed.
As the weekend approached, the weather forecast was showing two distinct low pressure systems tracking in from the west with blustery, wet and cold weather. The good news was that there was a definite window between the two systems and it was the Friday/Saturday – the days we had booked our Shuttle return. So nice to get it right for once, even though Kim had been saying it would have been nice to have had a long four day weekend on the boat.
Last Monday Kim had phoned Pieter in the marina to report the loose fitting on the fuel filter and when we arrived it was good to find that they had attended to it, so we were able to put all the gear back in the cockpit locker and tidy up the fore peak.
We finally got away at 12.45 and as there was not too much wind the departure, whilst not going as planned, was still satisfactory. Once out on the Veerse Meer we put the main up but didn't unfurl the genoa as we thought there might be a lot of short tacking. Up as far as Bastiaan the wind was all over the place, but once past Bastiaan it settled down to a constant direction and started to build in strength. We were getting about 15 knots by the time we reached the Goudplaat.
Friday in Holland was an ordinary working day, but for the Belgians it was a public holiday (May Day), so there were quite a few boats out.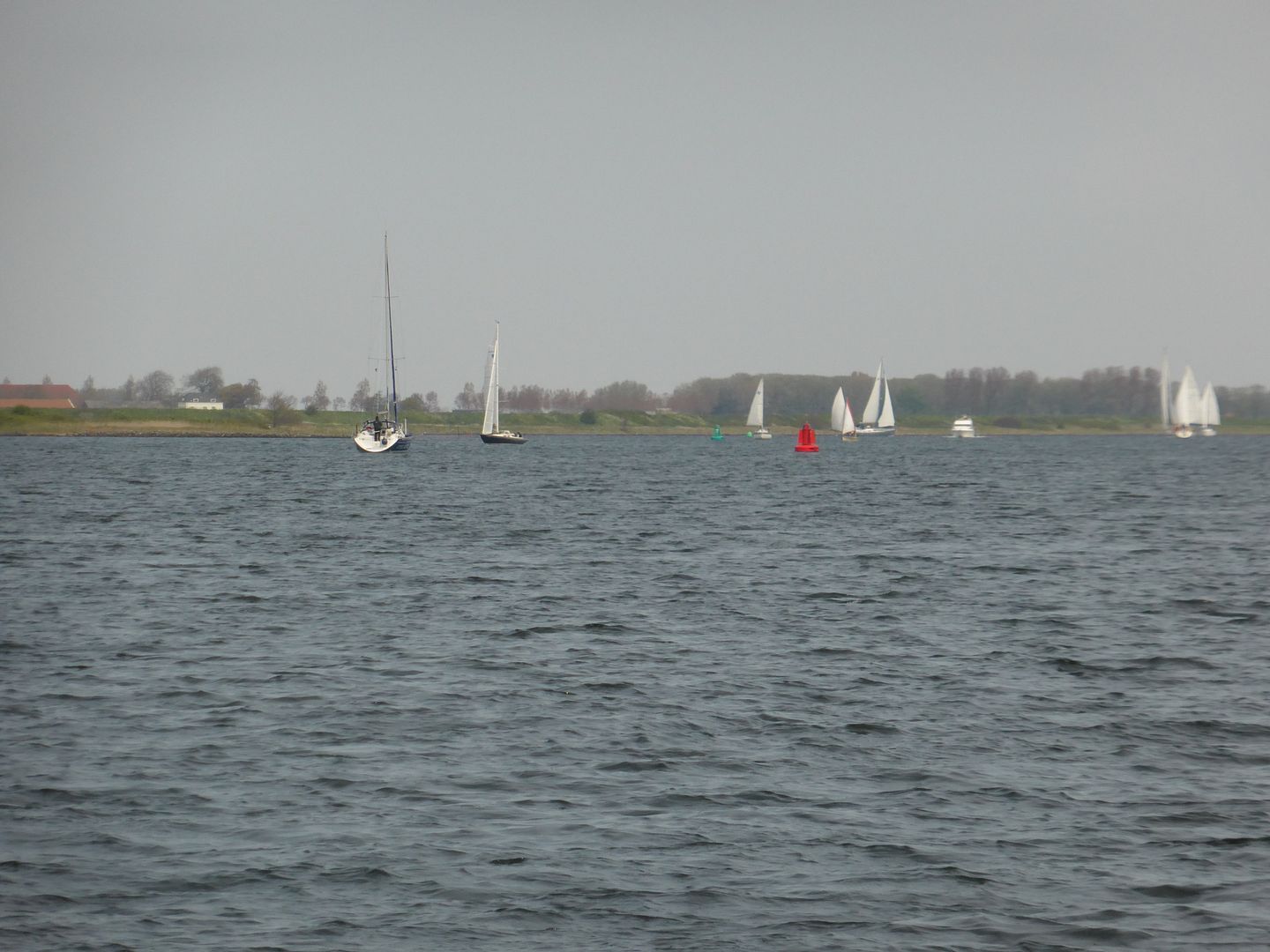 However, we quickly realised that those boats that were out were only day sailing as all the jetties were deserted and could have had our pick. We decided on the Goudplaat as it is sheltered from easterlies which was what the wind was due to do overnight. It is also a bit of a traditional season opener for us. Inevitably we had the place to ourselves as we have often done in the past.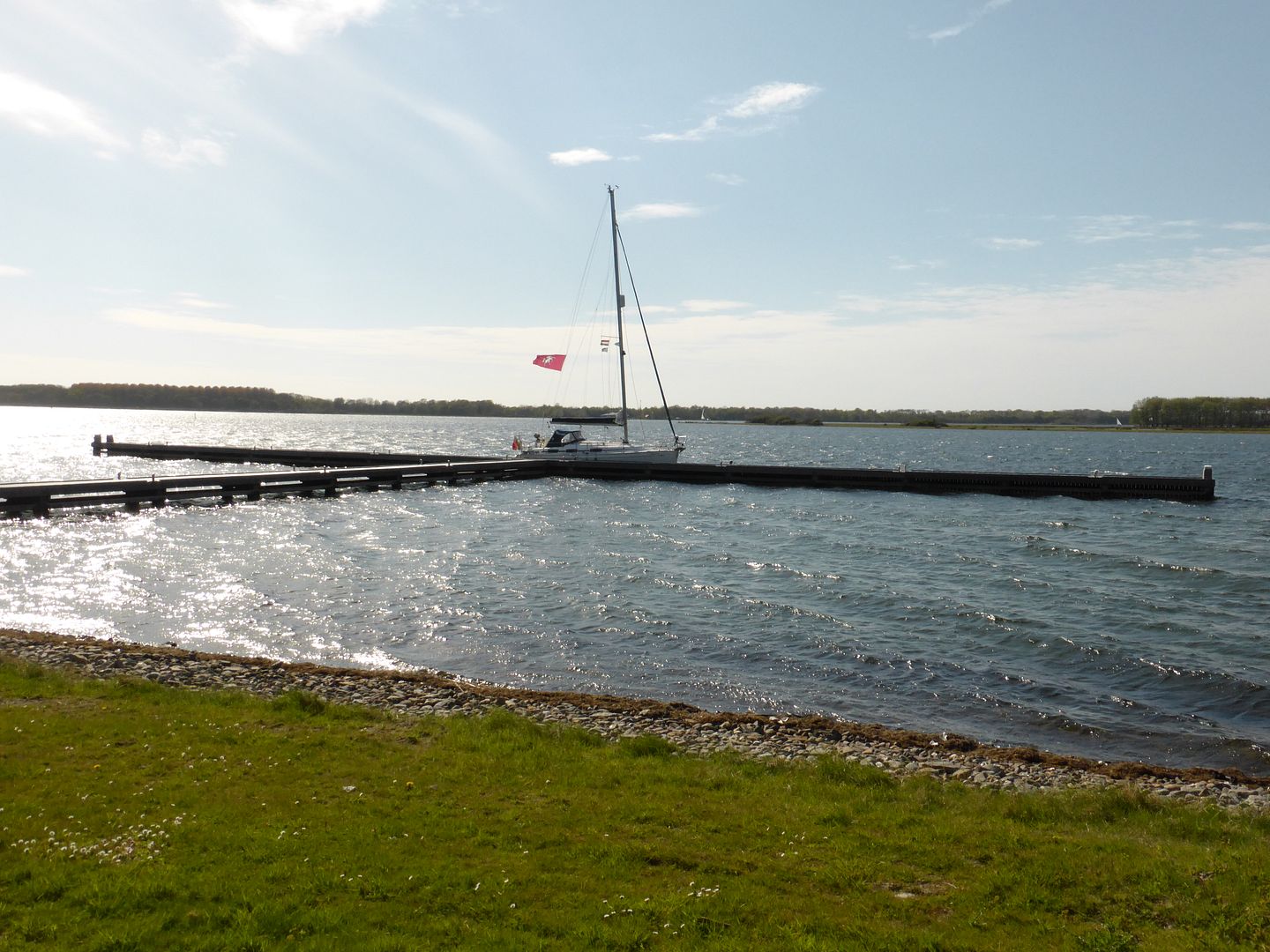 By the time we were tied up we were getting 20 knots on the nose, but the sun was shining and tucked up under the sprayhood it was quite warm. After a cup of tea, a stroopwaffel and a snooze (in Wendy's case) we went for a nice long walk along the lake shore,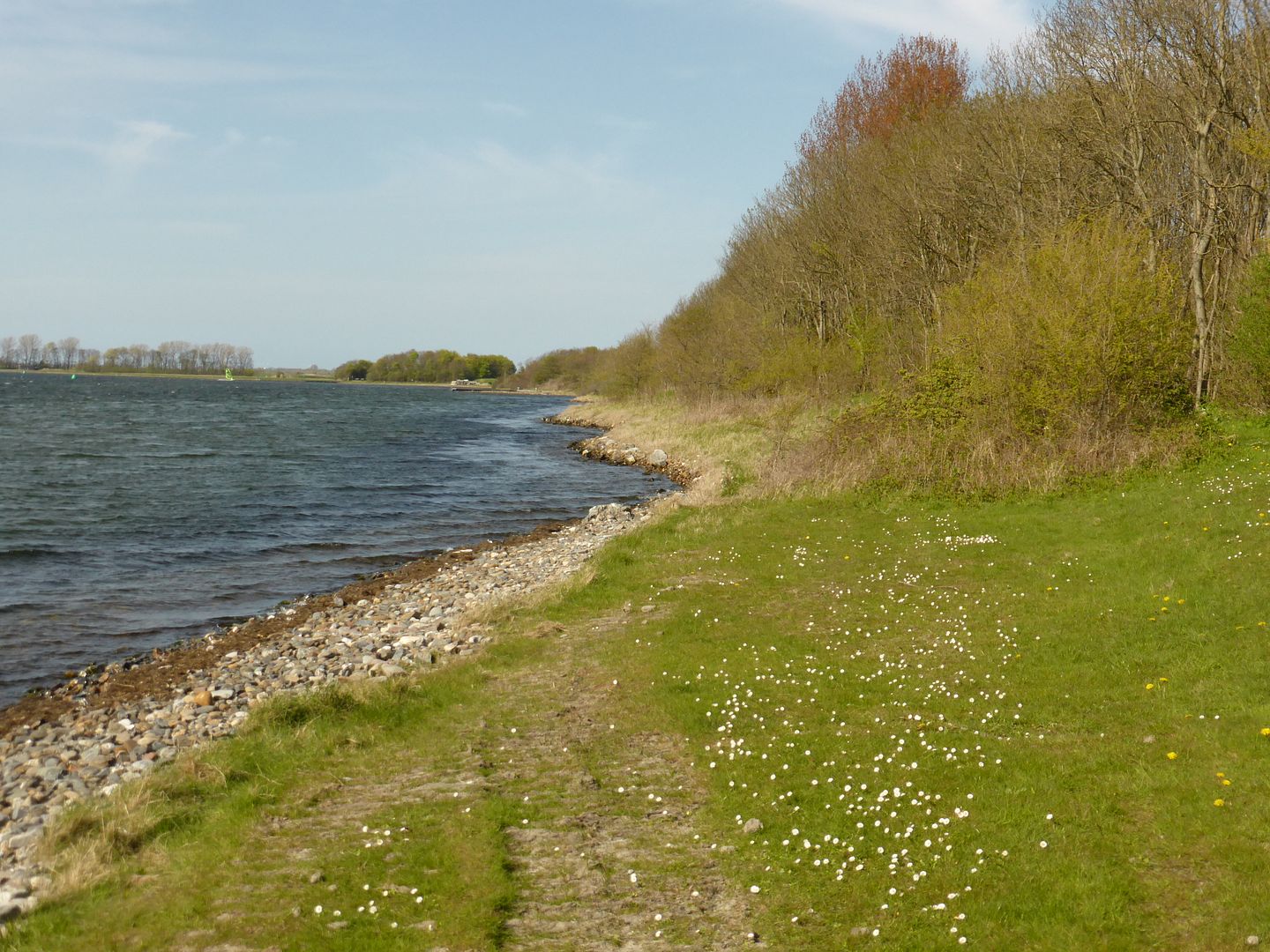 through the woods, past the fields and back onto the lake shore.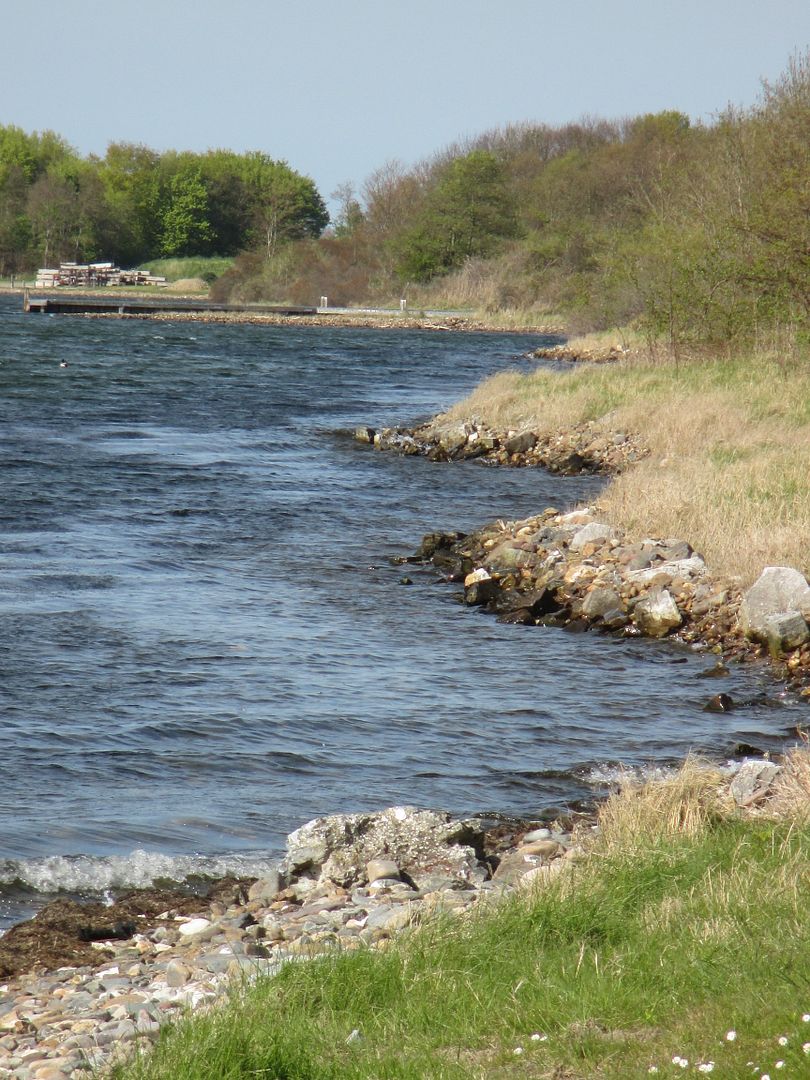 One of the advantages of the Goudplaat is that not being an island, you are not limited when it comes to walks.
In the evening we settled down in the cockpit with beer and crisps (which were rather soggy after Wendy had thrown her beer all over them, hence Kim's enthusiasm to scoff them down!)
and waited for the sunset. Unfortunately the sky had clouded over and it was not one of the best, but never mind.
Dinner was a beef bourguignon that Wendy had made the day before washed down with the leftovers of the wine that had gone into the dish.
Overnight the wind died away to nothing and we woke up to a very still morning with plenty of blue sky.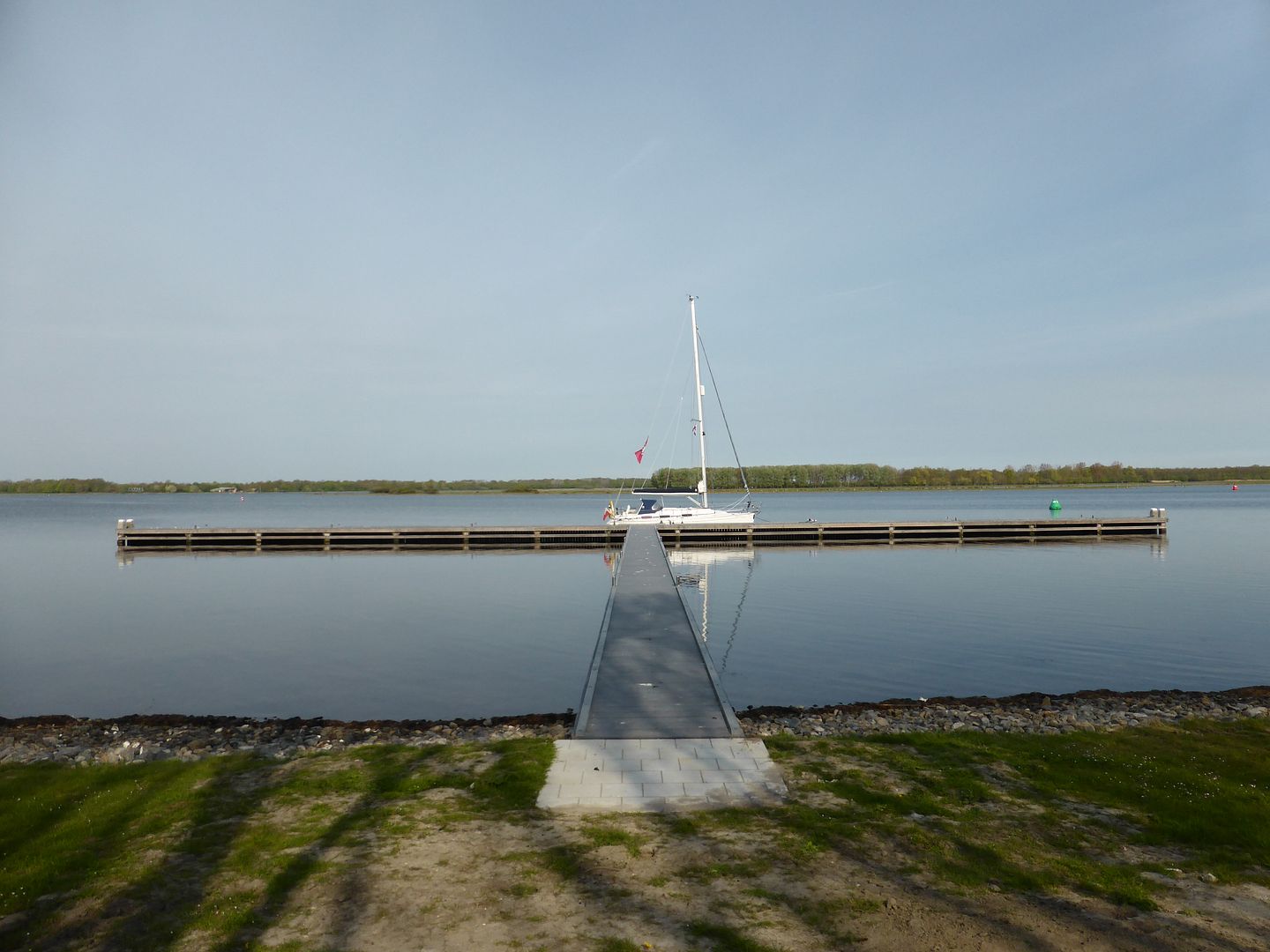 Our Saturday night Shuttle was booked for 22.20, so there was no pressure on leaving and we spent the morning soaking up the solitude. Well, we did for a while until the world and his wife started to arrive. At 12.00 we departed for the marina. The sail down to the Bad Hotel was good and then we tacked and started heading to the west of Bastiaan. The rest of the sail back home would have been short tacking, so after a couple of tacks, we dropped the sails and motored back, mumbling that perhaps we are getting a bit old for this lark!
By the time we got back to the marina, the wind was blowing a steady 10 knots from the east and as Kim reversed into our box the wind blew the bow off causing the boat to pivot on the port side pile with the result that the stern swung across and hit our neighbour Infoma. There didn't appear to be much damage other than a scratch on their blue hull line. Kim took a photo of it and we will send it to the marina so they can notify Infoma's owners.
Being our first trip out of the season, this has a very discouraging effect on Kim – "oh, that's it, sell the boat!" Anyway, after we had had a cup of tea and a stroopwaffel, we decided to do something more practical and wandered over to the offices of Waterfront Jachtcharter as Wendy thought they did tuition. And indeed they did! In fact they even run a special 3 hour course to teach you the finer points of harbour manoeuvres. As our 2 week holiday is coming up in a few weeks' time, we were able to book a lesson and hopefully pick up some tips. In Kim's defence, however, it must also be said that we watched 3 other boats come in and all have the same thing happen to them.
We were finally cleared away and left the marina at about 17.00. Mindful of the fact that we needed to eat, we called in to the Buffalo Grill near Dunkerque, only to find it packed out with people queuing out of the door, so abandoned that idea and headed straight to the shuttle in the hope of getting an earlier crossing so that we could eat on this side of the Channel. Being the Saturday evening of a Bank Holiday weekend, we expected the shuttle to be fairly quiet, what we didn't expect was for it to be deserted! We were the only car at the check-in, the only car at the French passport control and the only car (there was a coach) at UK customs control, something we have never experienced in all our years of crossing the Channel. The end result was that it was 10 minutes from check-in to boarding and barely 5 minutes after that before the half-empty train departed. By 9 o'clock we were buying our fish and chips in Cheriton.
All that remains to be done now is for Kim to send his photograph and e-mail to the marina and pluck up the courage to go back to the boat in a week's time!
Thursday, 21st May 2015 – Moving On.
The soul searching was short lived!
Kim sent off the photo and e-mail to the marina, who replied to say they had forwarded it to "Mr & Mrs Infoma", but we have heard nothing back from them. In fact Wendy says she is a little concerned that they don't appear to have visited their boat this year. They didn't take their sails off for the winter, which most people do – we certainly do. We haven't been over since the beginning of May, so we don't really know, but it seems strange that they haven't responded to the e-mail.
This coming weekend we are over to the boat for a whole two weeks! Not too sure the weather is really up to it. The temperatures are struggling to get into the upper teens and there is a fair chance of rain. The second week looks better that the first, so we have decided not to go off anywhere during the first week. In any event we have our "box-bashing" course on the Wednesday and on Thursday/Friday we are meeting up with Wendy's cousin Sylvia and husband Colin. They are over in Holland with their motor-home and will be staying in Zeeland for a few days. On the Monday and Tuesday we have decided to visit Amsterdam – by train! After the success last year of our "mini-holiday" to Nice by train, when we were down in Provence, we thought a train ride to Amsterdam would be fun, so we have booked a hotel for the Monday night. After all, we failed to get to Amsterdam by boat a couple of years ago, so this time we shall make sure!
It is always a nice idea to take your boat a present, especially when you haven't seen her for a while and since her horse shoe life buoy was looking rather shabby after eight seasons sitting on the push-pit rail, Kim decided that a new one was in order…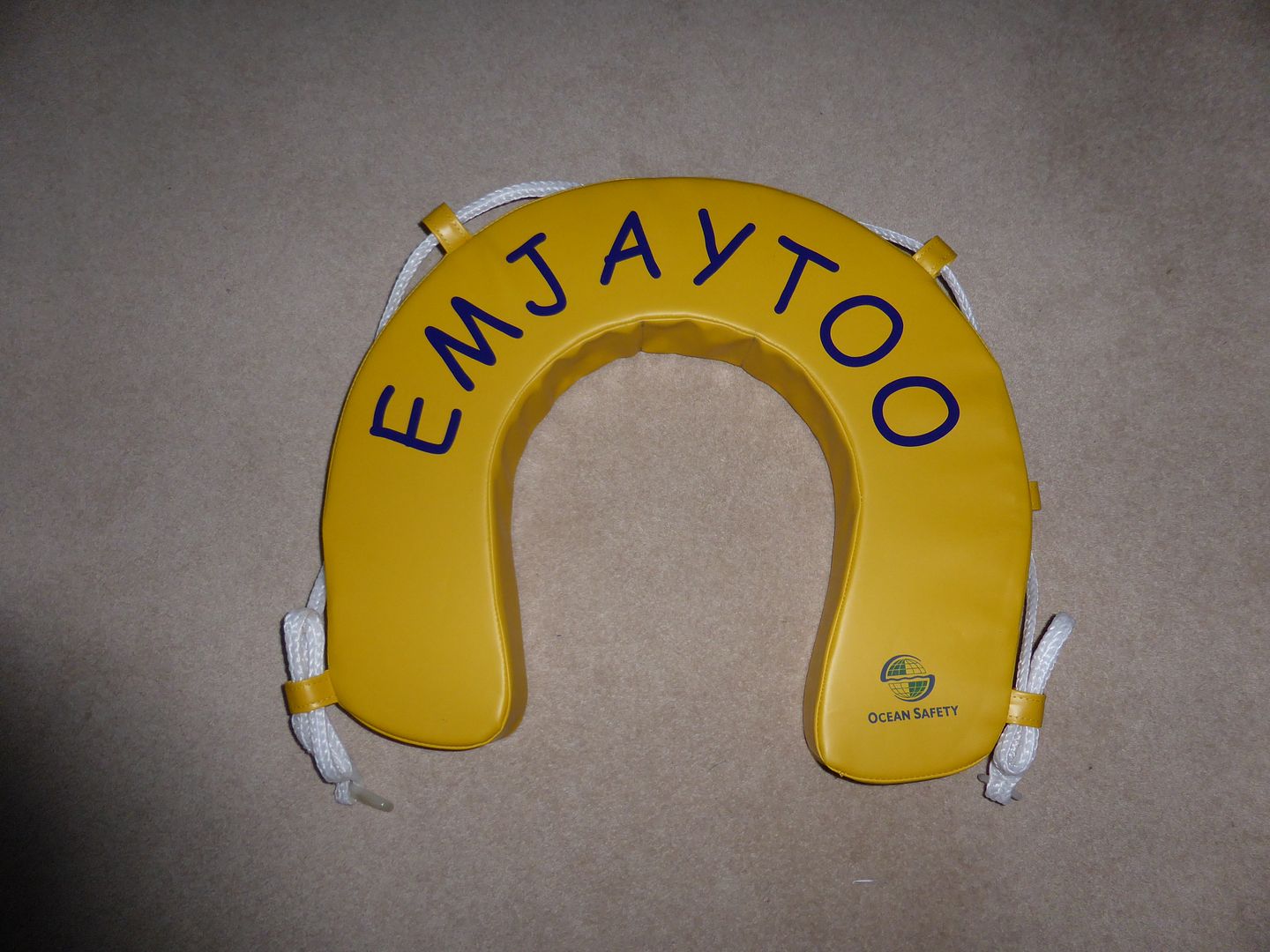 ..complete with her name emblazoned on it in blue comic sans font to match the lettering on the hull.
Saturday should be a relaxed day as we are taking the P & O ferry at 12.00 noon, but the crossing could be a bit lively as there are Force 7 winds forecast! Pass Kim the Kwells!
Sunday, 24th May 2015 – Taking It Easy.
This is the beginning of our two week "summer cruise". Except this year it will not be a "summer cruise". First off, it is too early in the year; secondly, we are not dashing off anywhere; and thirdly, we have two weeks holiday in Provence already booked for September!
So we caught a leisurely 12 noon P & O ferry on Saturday and arrived at the the marina around 5.00pm local time. From now on all timings will be local (CET).
Saturday evening, we went for a walk and whilst it was very sunny,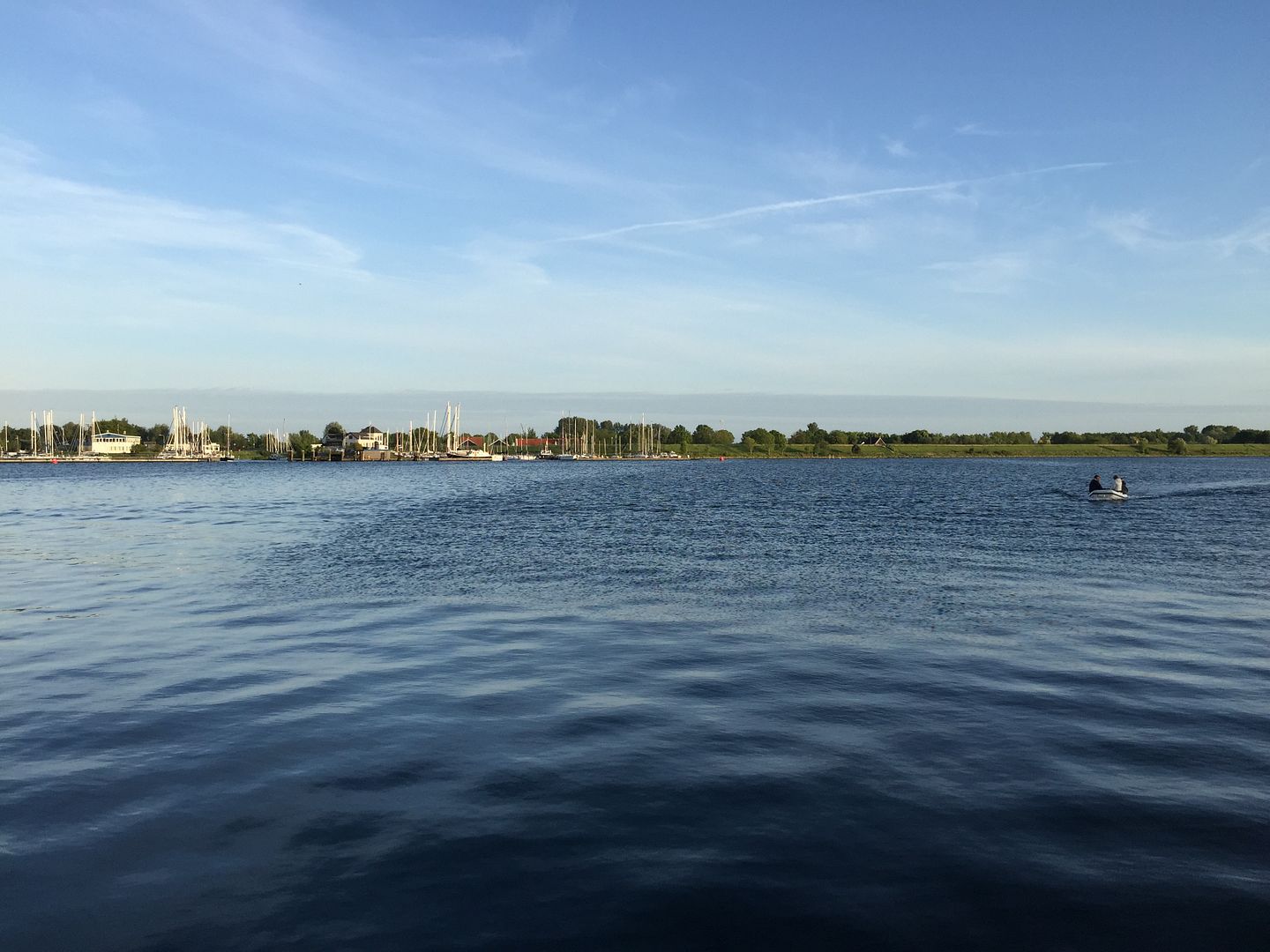 it was also very cold. After dinner we sat and watched a video, then went to bed.
Sunday morning dawned bright and sunny and whilst initially a bit cold, it soon warmed up. We had a lazy morning and then drove in to Goes to visit a quilt exhibition at the Goes museum. Despite information to the contrary on the website, it was closed! So we had a wander over to the railway station to check out the parking arrangements for tomorrow when we have our train ride to Amsterdam. We then went in search of lunch and ended up at the Hotel Café Jersey, which some of you might remember, is where we ended up eating on the Saturday night of our February trip to Holland. By this time it felt as if we were in the Mediterranean! Kim had set off in shorts & T-shirt and was still sweltering!
This weekend is the Whitsun bank holiday which is observed across most of Europe. Consequently, you might have expected places to be in full holiday mode, especially as the weather was so gorgeous. However, everywhere was really quiet.
The marina was fairly busy, but not buzzing and Goes was almost dead!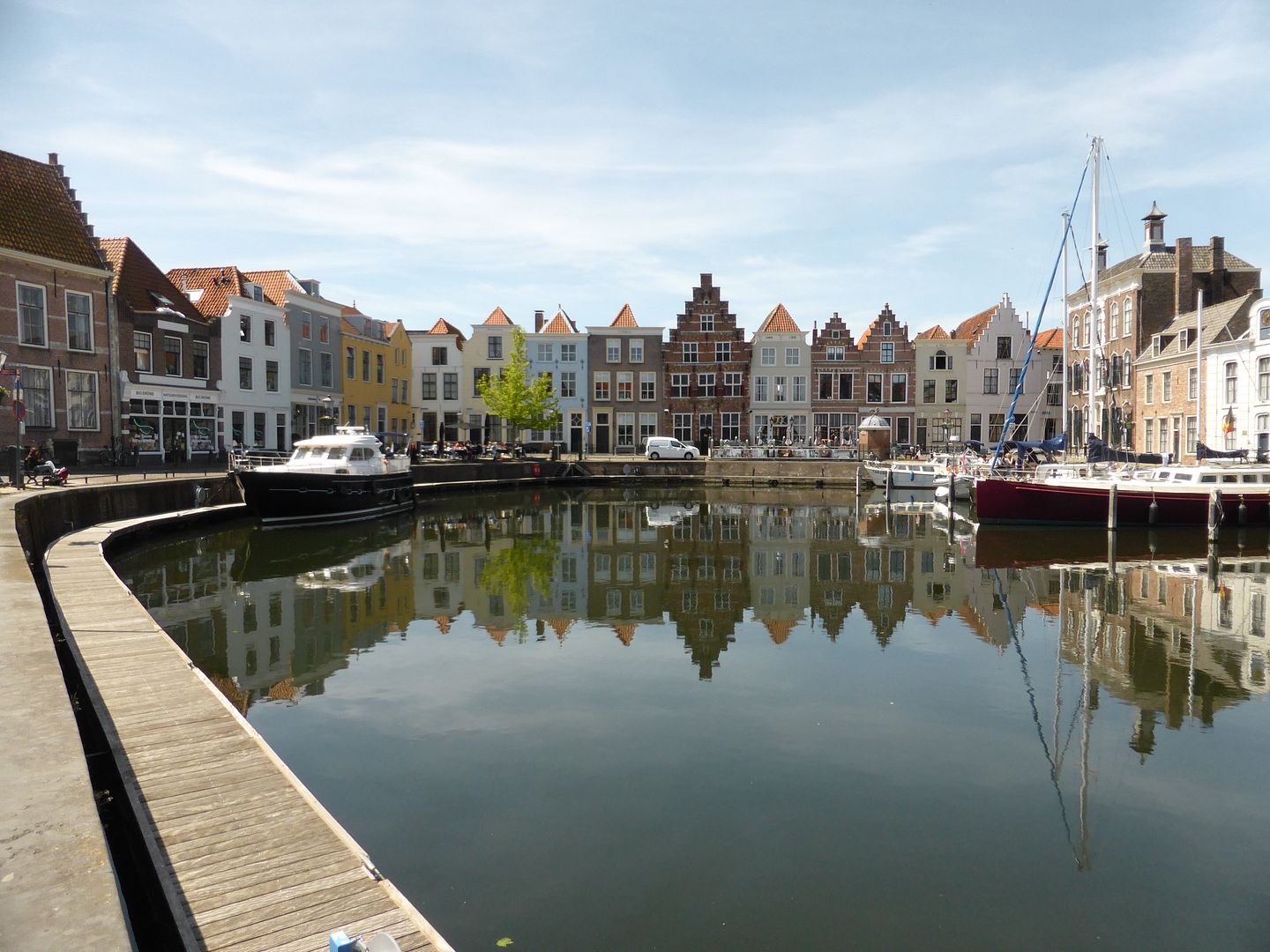 Back at the boat, we sat in the cockpit having a beer until it clouded over and started to get cold. After dinner it started to rain, which is probably why everywhere was quiet – the rain was forecast.
Tuesday, 26th May 2015 – Our Mini Holiday To Amsterdam.
As was planned, on Monday we caught the train to Amsterdam and arrived at about lunch time. Our hotel was about a twenty minute walk from the station and we only had a very small rucksack, so we walked and started to immerse our selves in the Amsterdam atmosphere (canals & bikes).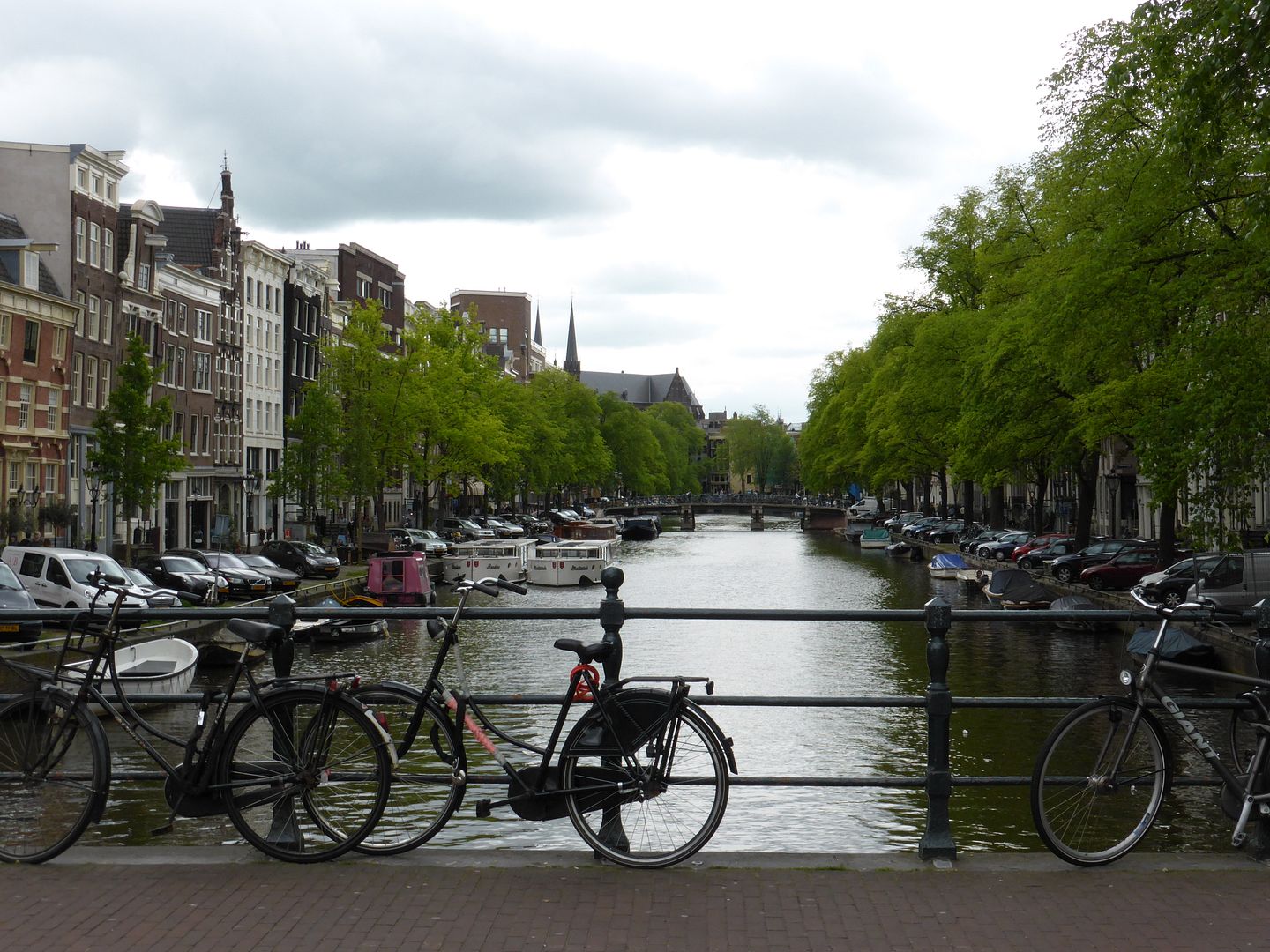 Whilst we were too early to check in, as is often the case the hotel were perfectly happy for us to leave our bag and we set off in search of lunch. We had learnt our lesson on Sunday in Goes, so only had a pannini and a portion of fries between us, plus a couple of beers, of course! Well, we didn't want to spoil our appetite for the evening.
We spent the afternoon walking up and down mile upon mile of bicycle lined canals and whilst some were prettier than others, they did all start to look the same after a while!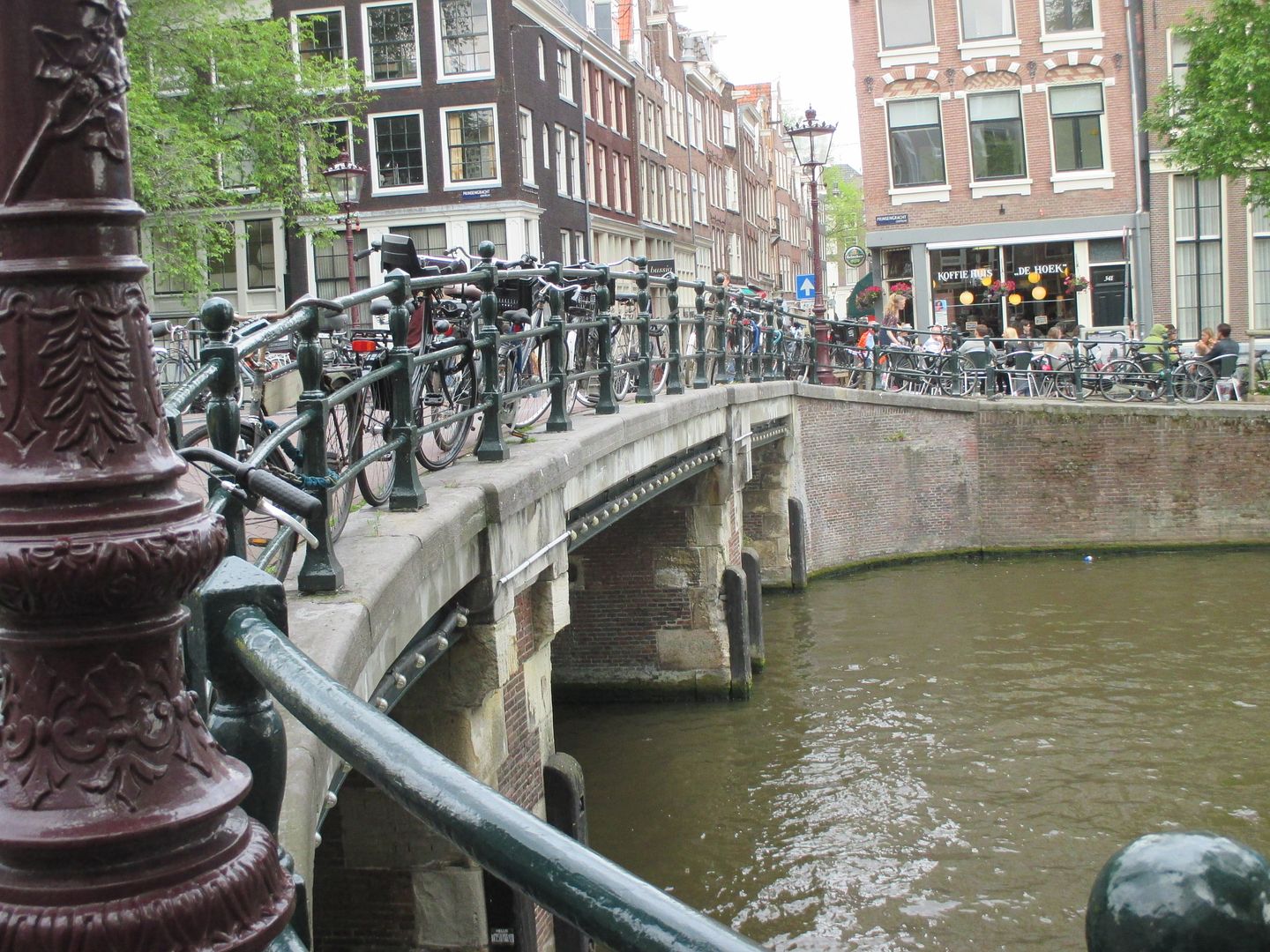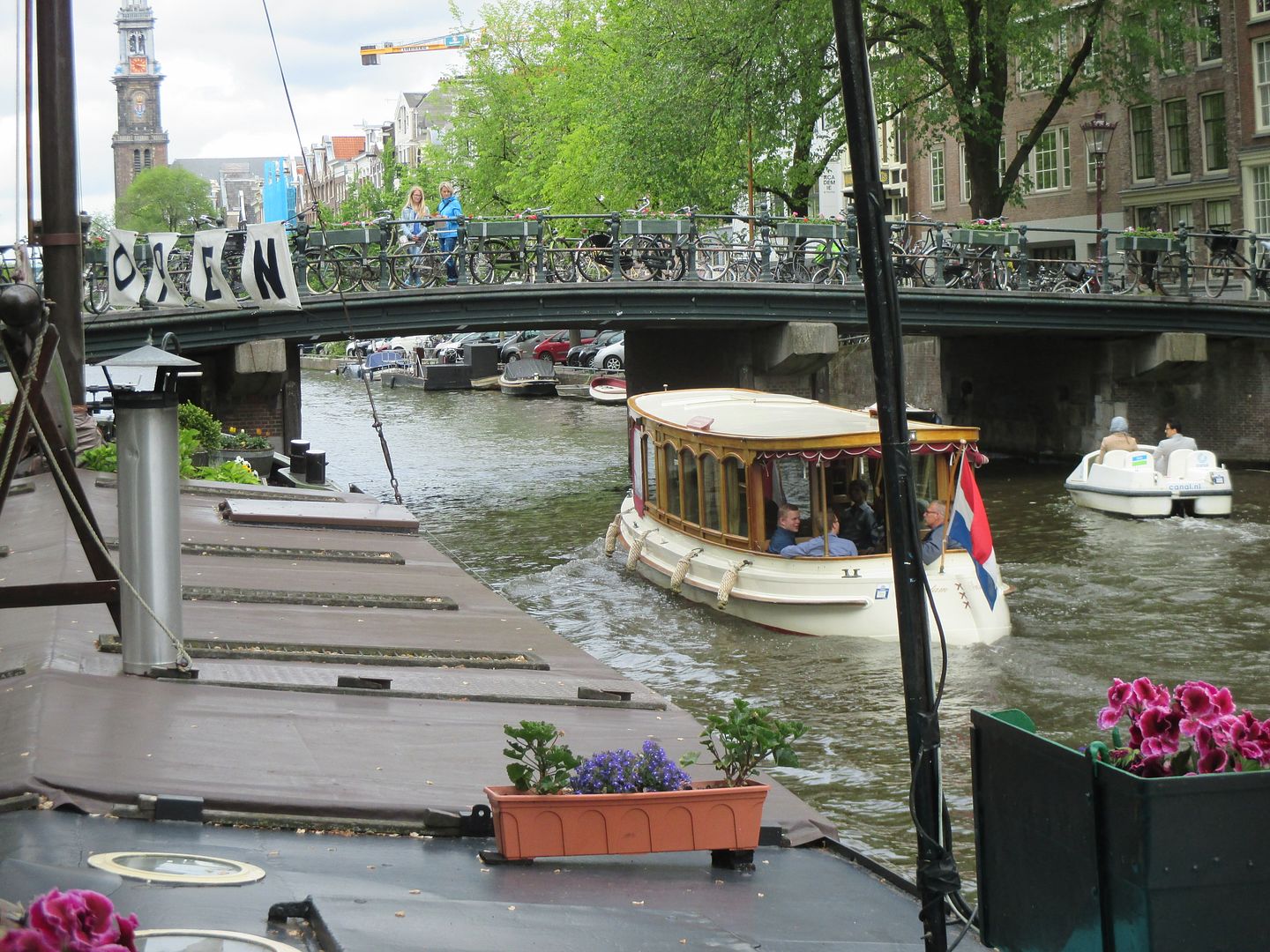 We did however visit a museum houseboat which was a converted 19th century barge. It was absolutely lovely inside and very homely.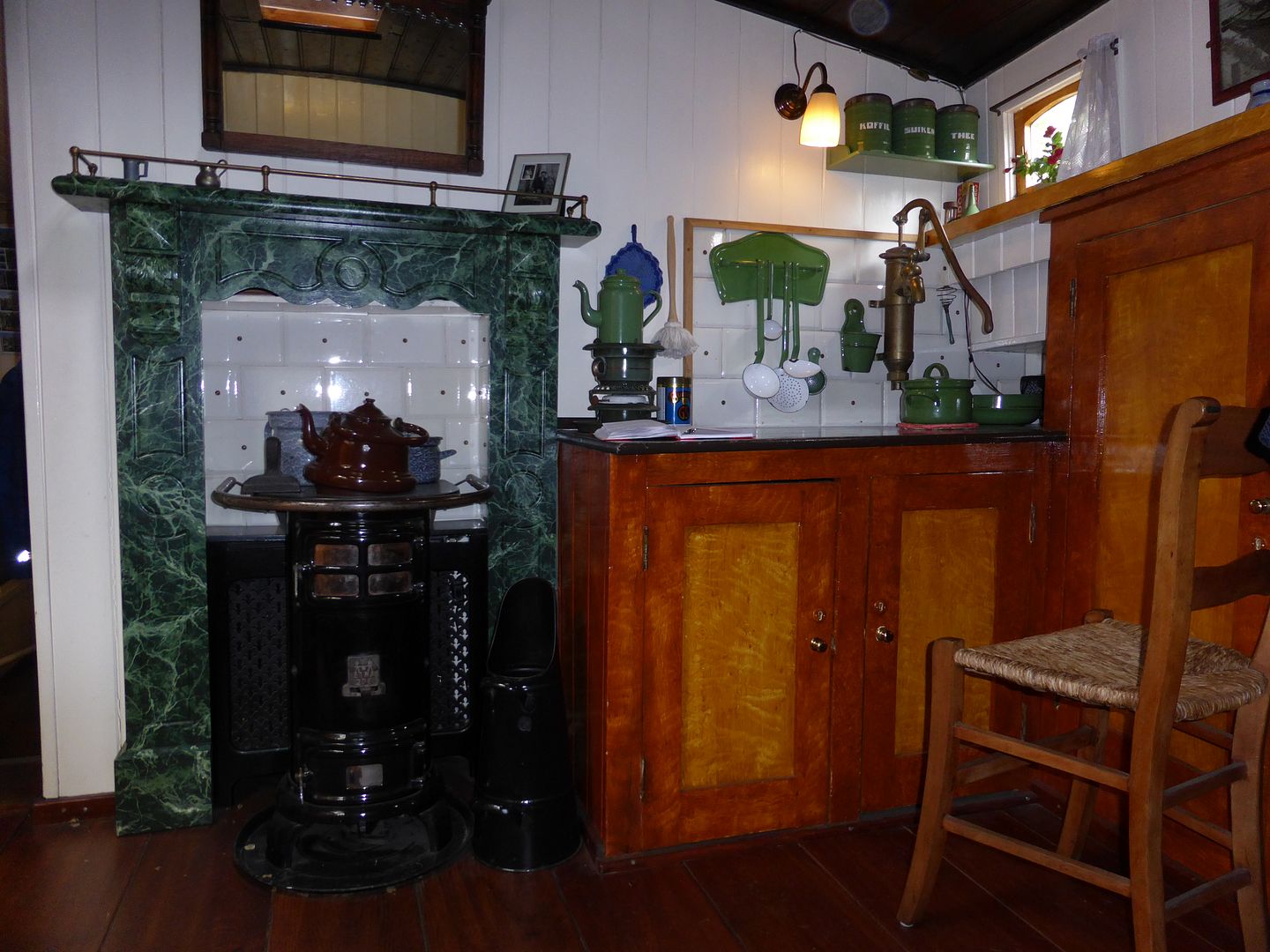 On our way back to the hotel we identified a nice looking restaurant and booked a table for later on. Our hotel room was on the third floor with superb views over the canal.
Watching the Dutch cyclists charging around, you wonder how they don't all hit each other! Although judging from the mangled state of some of the bikes, not all them make it unscathed!
We then went off to find a pub for a couple of drinks before dinner.
Our meal at the Struisvogel (Ostrich) was superb and very reasonably priced due to there only being a set menu at €26.50 for three courses (that's less than £19 each at today's exchange rate!) This was not the first time we have had an excellent meal at a restaurant named after an ostrich. Veere has a restaurant called the Struiskelder (Ostrich Cellar) and they are both accessed down steps from the street to the basement.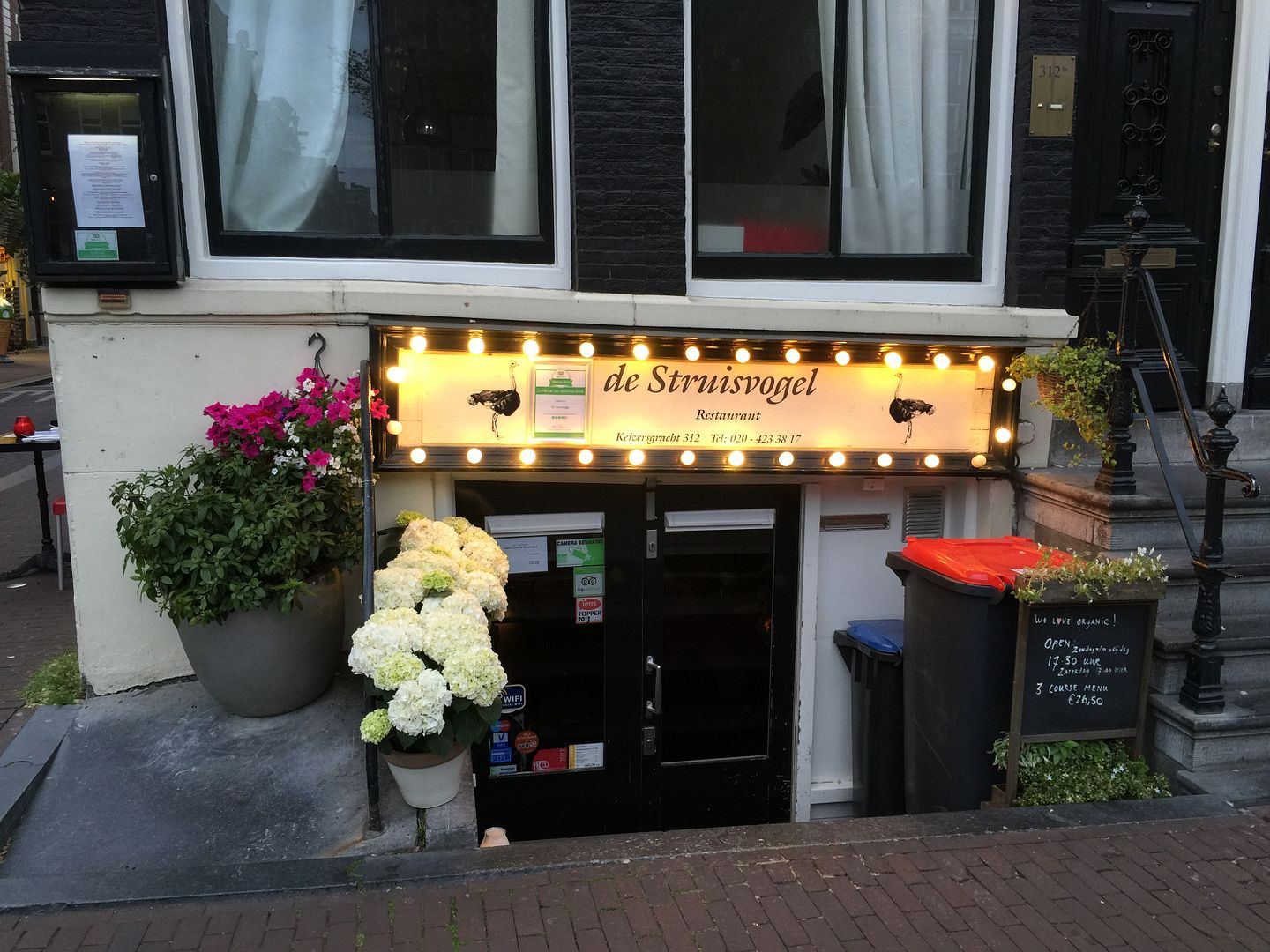 Tuesday morning, after breakfast we went on a canal boat trip.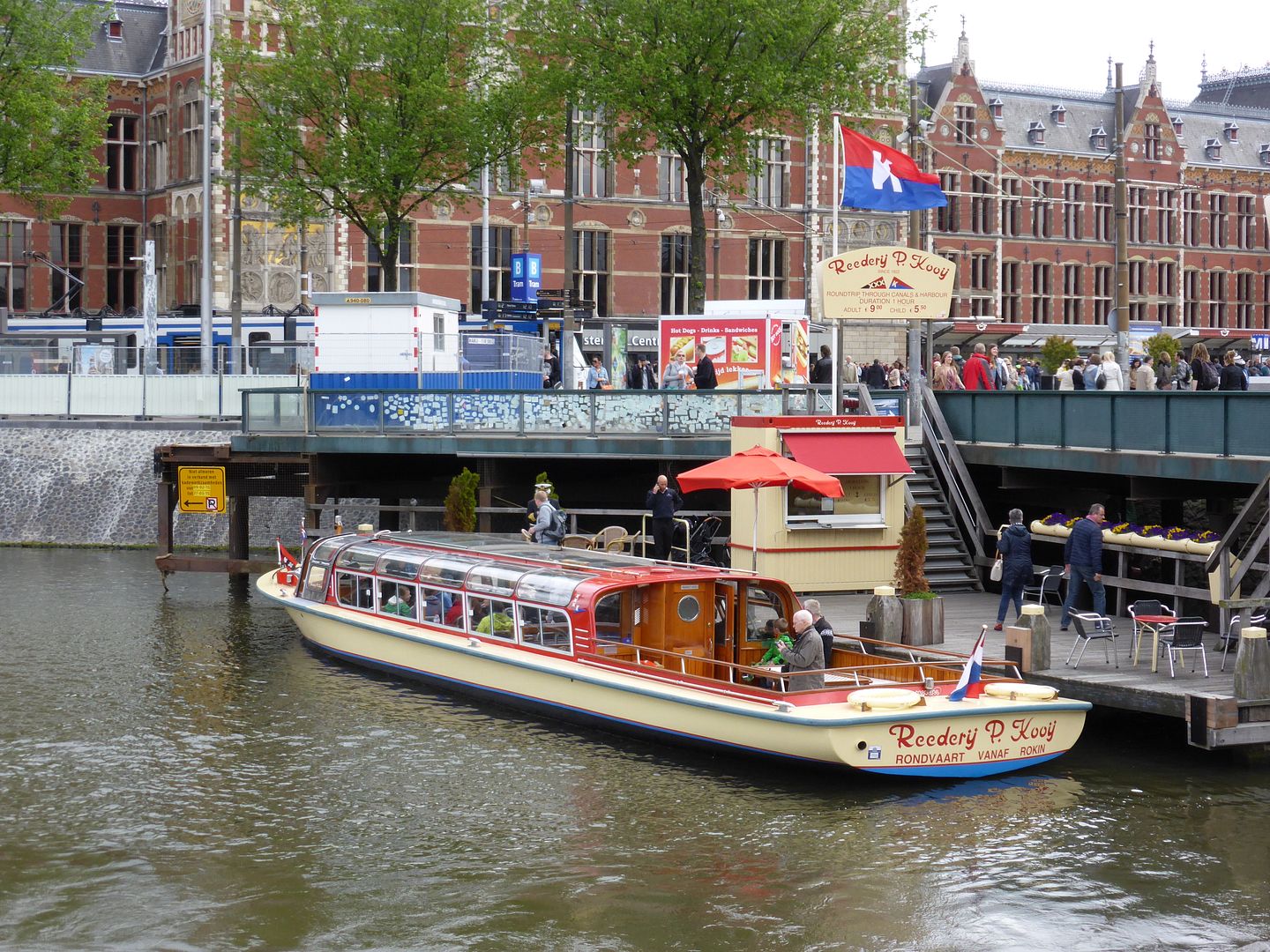 Well you can't go to Amsterdam and not have a trip round the canals! This was very informative, we saw quite a bit of the city we hadn't by walking around and learnt some interesting facts. Like even though in the sixties, the City Council spent a fortune on low kerb barriers to stop vehicles ending up in the canals, they still have to pull about 35 vehicles, 100 people and over 12,000 bikes from the canal each year!
After that we went to the Red Light district, saw the "ladies" sitting in their little glass fronted cubicles (rather seedy really, so no photo's!), walked past the "coffee shops" sniffing the air and even found a cannabis museum! But we didn't go in!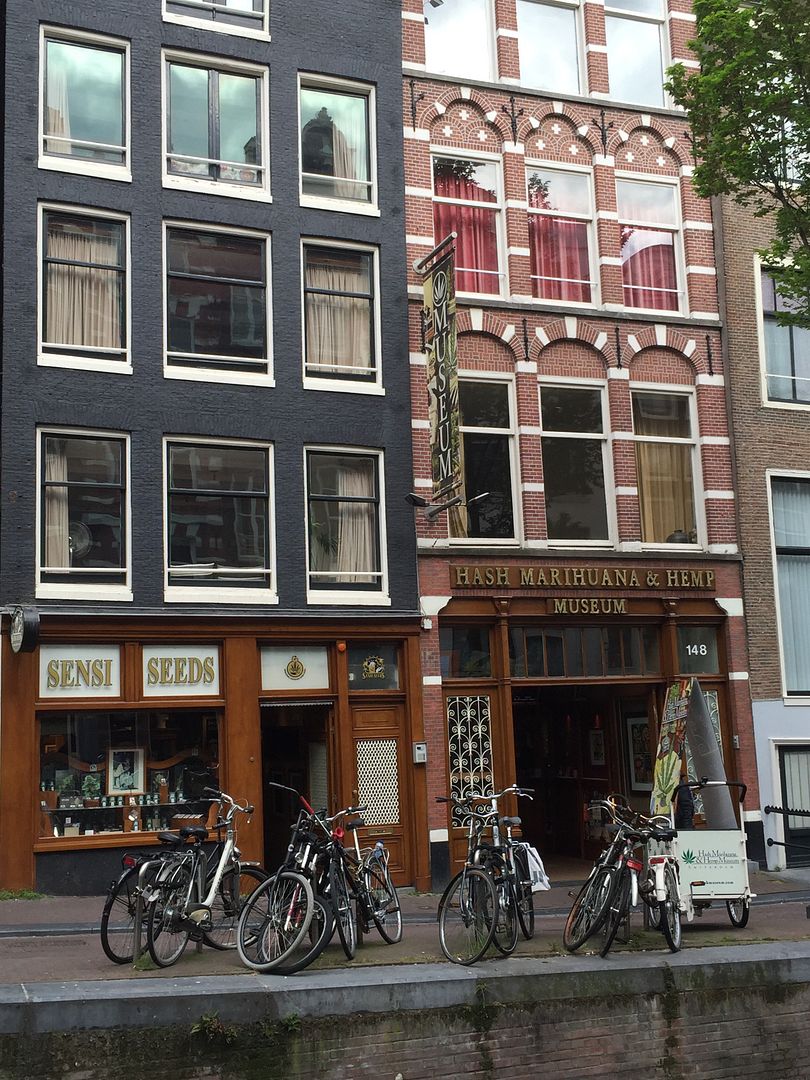 We chose an Argentinian steak house for lunch and pigged out on what seemed a superb rib-eye steak each. We figured we would be late getting back to the boat and wanted our main meal at lunch time. It was unfortunately pretty expensive due to all the add-ons to the bill! In fact the previous night's meal had been far better value for only about €5 more.
After lunch, we went to the Resistance Museum. We spent over two hours there and only just covered the basics. We used the free audio guide and thought the whole thing was very well presented. As frequent visitors to the Netherlands, it is quite apparent to us that a lot of Dutch people don't like the Germans and when you visit this museum, you realise why.
We caught the train back to Goes at about 5.30pm and were back on board Emjaytoo three hours later.
Wednesday, 27th May 2015 – Argentinian Revenge!
What had seemed a very nice meal yesterday afternoon, was not so nice at 4.30 this morning! Both Kim and Wendy had to make a dash for the loos, only to find our swipe card wouldn't work and so we had to rush back to the boat and use our own loo!
We then spent all of the day confined to our boat and feeling very sorry for ourselves. Needless to say we had to cancel our Boat Handling Course. We gingerly nibbled some oat cakes for lunch whilst keeping our fingers crossed (or was it our legs?).
By evening we were both feeling well enough to have a light supper.
Friday, 29th May 2015 – Colin & Sylvia Arrive.
On Thursday, we continued to take things easy. We went over to the charter office and found Hans who should have taken us out "box-bashing" on Wednesday. We had quite a chat and he next has slots for Monday and/or Wednesday of next week. It is a real shame we missed our previously booked slot.
We then went off to the Albert Heijn supermarket at Kamperland to get some shopping as we were out of everything. The weather was blustery all day and occasionally quite cold.
In the evening Wendy's cousin Sylvia and husband Colin arrived at the Paardekreek camp site in their camper-van. We invited them over for dinner on board Emjaytoo and we had a very enjoyable evening.
Today, we met up with Colin & Sylvia mid morning and went off (by car) to Veere. The weather forecast for this afternoon was heavy rain and high winds. After a walk round Veere and views of the Kaai, Grote Kerk and Town Hall we stopped at a café for a coffee. We then drove over Neeltje Jans and on to Zierikzee where we had a short walk in to the town to look for lunch. After studying several menus, we ended up in our old favourite Eetcafé Markzicht. Everyone, except Kim had the ribs, which were just as impressive as the last time we were there. Kim had a steak, which was very good and hopefully will not have the same after-effects as a certain Argentinian steak did!
By the time we got back to the boat, the sky was as black as the ace of spades, the wind was howling and the rain started to come down – all as forecast! We left Colin & Sylvia to their own devices over on the Paardekreek and we battened down with the fan-heater. Yes, it was that cold!
Sunday, 31st May 2015 – Now Wendy Gets A Cold.
By Saturday morning Wendy's sore throat of yesterday had turned into a full-blown cold. She hasn't had a cold in over 6 years so was not best pleased with this one, especially coming so quickly after the food poisoning.
We went over to visit Colin & Sylvia in their camper-van and ended up having lunch with them. The rain gradually eased as the day progressed but it was still very chilly with a strong wind. We all went for a bit of a walk along the shore line of the Paardekreek and eventually we returned to our boat by about 4pm. We were able to enjoy some brief sunshine in the cockpit before it clouded over and we retired down below for a light meal and 3 hours of the Godfather video.
We woke up today to more howling wind and intermittent heavy rain. All together thoroughly miserable. Kim had a good tidy up while Wendy went over to bring Sylvia and Colin back for lunch. It has been very fortunate to have them to pass the time with, otherwise this holiday might well have been extremely tedious.
Back to the Top
Back to Archive