Back to Archive
Sunday, 7th November 2010 – A Trip To Wilkinson Sails
Earlier in the week Kim had contacted Cindy at Wilkinson Sails and arranged to take the sails over on Saturday for them to clean valet and if necessary make any minor repairs. He also took the stack-pack sail bag as some of the webbing straps were starting to fray through. Well it has had four seasons of exposure to the elements (plus one winter as well in the first year).
Wilkinson Sails have recently moved from Conyer Creek to Faversham Creek and the trip is much easier as they are right at the top of the creek, virtually in the town centre.
Turn around is about 3 - 4 weeks, but as Kim said, we're not exactly in a hurry for them. Any time before Easter 2011 will do! Oh, it does seem a long way off!
Thursday, 11th November 2010 – An E-mail From The Marina
Having dropped off the form requesting the marina carry out the winterising when we cleared the boat away, Kim, as you might imagine, then proceeded to fret as to whether Jackie had passed the form to the Technical Department, whether they had lost the form and just about any other thing that might conceivably go wrong! He even wanted to 'phone the marina up and enquire when they were going to do the work.
Well, he shouldn't have worried. Today he got an e-mail from Ad in the Technical Department pointing out that we had forgotten to put on the form when we wanted the winterising carried out and was it alright to do it now or were we still sailing. So now Kim's mind has been set to rest in the knowledge that the boat will be winterised.
Saturday, 20th November 2010 – Boating In The Back Garden
You can tell the season is over - the blog entries become more sparse and the quality/content starts to become drivel!
So today's bit of drivel is about Kim flushing through the outboard engine to get rid of the salt water so it doesn't sit in the cooling system all winter slowly corroding the engine.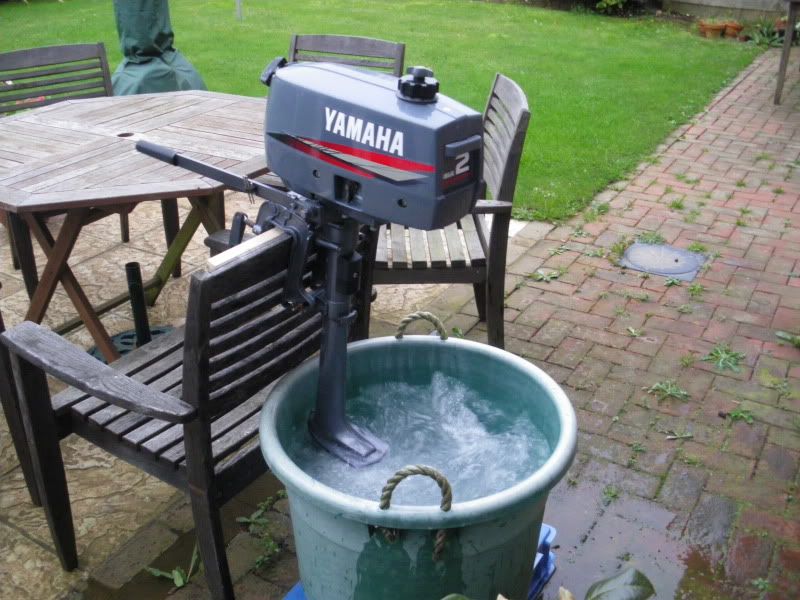 And we even have a picture of the outboard chugging away on the back of a garden chair.
Saturday, 27th November 2010 – First Of The Winter Snow
On Wednesday Kim got another e-mail from the marina, this time with the invoice for the winterising. This is a big improvement on past performance, as we have never received the invoices, only ever getting the reminders when we've failed to pay. Infact, on Friday the hard copy turned up in the post! Presumably this means that the winterising has been carried out. We certainly hope so, as this was Veere this morning!

Photo Courtesy of Houtekamer & Van Kleef
Back to the Top
Back to Archive