Back to Archive
Sunday, 15th November 2015 – Shut Up For The Winter.
We woke up on Saturday morning to the news that there had been a number of terrorist attacks in Paris on Friday night, over a hundred people had been killed and there was talk of France shutting its borders! We checked on Eurotunnel's website, but all they said was that services were running normally. We checked the traffic on the motorway up to Belgium expecting long delays at the French/Belgian border, but it appeared ok, so off we set.
The shuttle was very quiet, we had the roof box on, so were over-height and there were only four vehicles in the whole of the over-height section of the train. Had the news from France put people off? Don't know, but although we were booked on the 8:20 shuttle we got on the earlier one.
Compared to our previous trip up to Kortgene, the weather was definitely wintry! The forecast for the weekend was for heavy rain and winds up to Force 8. Storm Abigail was battering Scotland and we were due to get a taste of it. By the time we had stopped for some shopping, we arrived at the marina at quarter to twelve. By this time it was raining, but not heavily and the wind was still moderate.
We were extremely glad that virtually all of the topside clearing away had been done on our previous trips; all that was left was to take down the courtesy flags and remove the boat hooks from the coach-roof.
The afternoon was spent down below with the new fan heater on. Wendy had swapped her "arty stuff" for Italian home-work - yes, she is learning Italian now! That's right – French, German, Spanish, Dutch and Italian!
During the evening the wind got progressively stronger, so that by the time we went to bed it was quite literally howling! Add to this that the boat was bouncing all over the place and snatching at her mooring lines, it was hardly surprising that we got very little sleep. We left the instruments on all night so that we could see the maximum wind strength – 41 knots which is not far short of 50 mph.
Throughout the morning the wind continued at the same strength,
but it mostly stayed dry and after breakfast we packed our remaining stuff. A final clean up, tip the cushions up and we were ready to leave.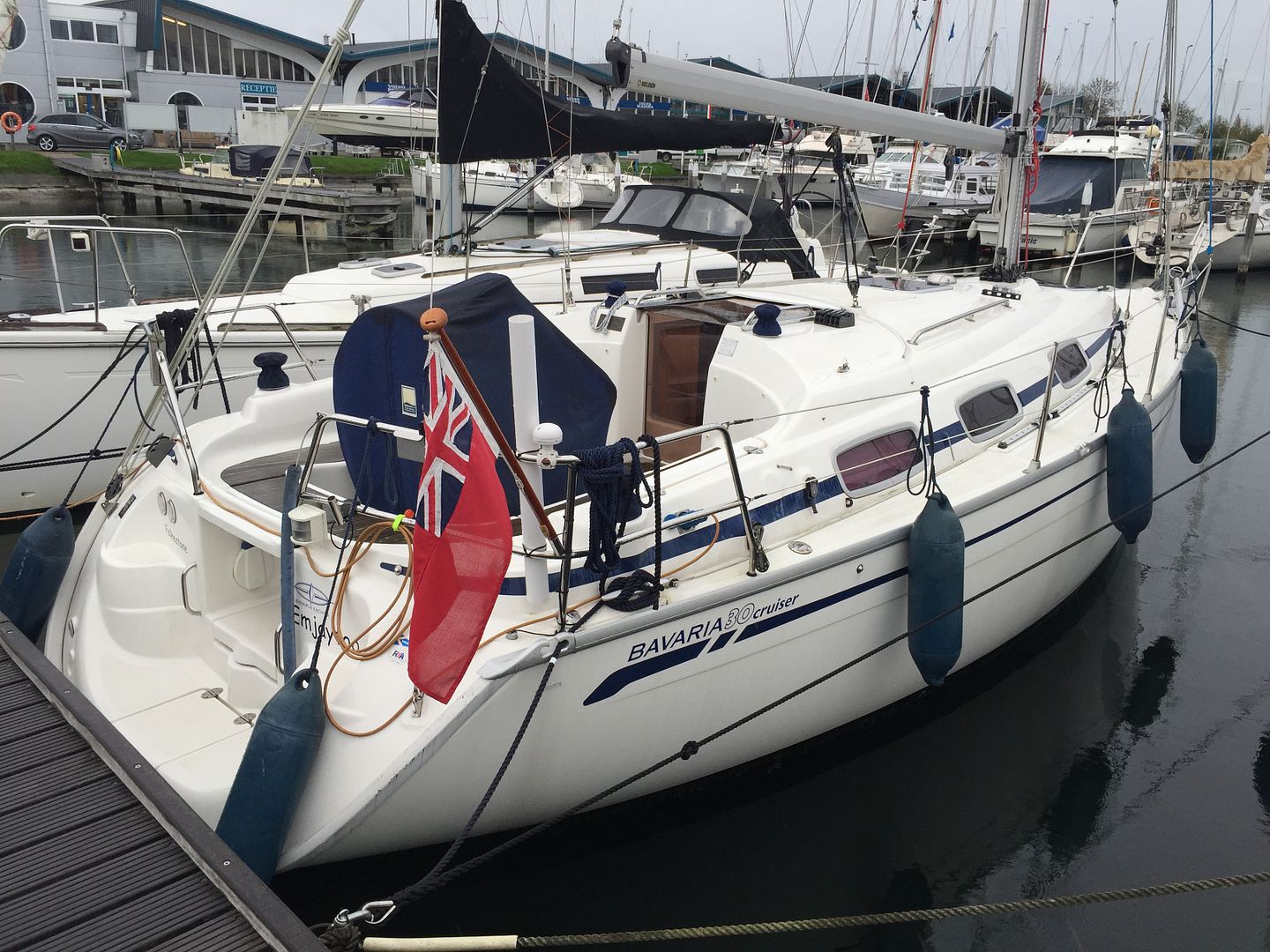 We went over to the chandlery to say goodbye to Jackie and she said "Have you doubled up your lines? It's going to be very stormy this winter." Well, Kim had thought about doubling them up, we used to do it when we were in the binnehaven, but had decided not to bother. Jackie's comment was enough to make him change his mind, so back to the boat we went. By this time it was starting to rain quite hard, plus the howling wind of course. It didn't take that long but by the time we got back to the car we were pretty wet. Well, Wendy was soaked!
With the aid of the heated seat in Kim's car she slowly dried out as we drove back. We had managed to leave a bit earlier than necessary, so were hopeful that we would get an earlier crossing. As it turned out, the events of Friday night put paid to that. As we drove over the border from Belgium to France the French had set up a security checkpoint and this delayed us by about 15 minutes, not too bad. But the delays at the Shuttle amounted to 2 hours, all due to the French authority's massively tightened security – they were searching every car. Add to that the UK Border Agency's increased security as well and it was not a good trip home.
Okay, the circumstances behind our awful trip back were appalling and put our discomfort into perspective; throughout this year it seems to have been one thing after another. We are trying to be positive about next season and planning ways round some of the problems we know we will face, but we can't help wondering whether things have changed to the point that keeping a boat in the Netherlands just isn't feasible.
Sunday, 29th November 2015 – What To Do With Kate?
Three weeks ago Kim collected Kate's winter cover from Wilkinson Sails in Faversham who had carried out some repairs on it ready for the winter and yesterday we went up to Conyer Marina to swap her summer cover for the winter one. It doesn't afford total protection, but it is bigger than the summer one.
Seeing Kate tugged at our heartstrings and raised the question as to what we should do with her. You thought we had decided to sell her! Well so did we! But seeing her close up in the flesh (well okay, wood and grp!) had us donning the rose coloured specs and allowing our hearts to take control!
Kate's brightwork (varnished woodwork) has suffered a bit over the last year, so she will need some attention in the spring. A good rubdown and a couple of coats of yacht varnish should suffice and then we should try to sell her again.
Except, when we got back home we started to think of alternative places to keep her that had fewer tide restrictions and might give us more opportunities to sail her. This is partly connected to the fact that we are going to have to re-think how we use Emjaytoo next year. We are thinking that lots of frequent 36 hour trips to Emjaytoo as we have been doing for the last nine years is not sustainable. The charging back and forth is getting too much for us, especially with the seemingly never-ending list of other factors which conspire to make the journey more fraught. What we are going to try for next year is fewer trips but longer ones. This should give us more weekends at home and so more opportunity to sail Kate if we can work round the tide. And that's how we got to thinking where else we could keep her.
We started to look at Gillingham Marina, where it all started with Maggie-Jane back at the end of 2004. Gillingham has access 4½ hours either side of high water and in the year or so we were there we never felt restricted by the tide. Of course we looked at the fees for a year's berthing and that's as far as we got! Kate would cost as much in Gillingham as Emjaytoo costs in Delta. Okay the Euro exchange rate is very beneficial at the moment, but nevertheless two lots of marina fees is not on. Wendy has been looking at the option of storing her inland, e.g. at a campsite, and then retrieving her from there every time we want to sail her. However Kim has rightly pointed out that the time required to rig/de-rig the boat every time we wanted to use her would probably mean that she didn't get used much.
So, she'll have to go back on the market …. perhaps!
Back to the Top
Back to Archive