Back to Archive
Sunday, 21st October 2012 - Last Trip Out Of The Year
With a couple of days holiday (Monday & Tuesday) and a four day shuttle return booked, this will be our last trip out this year. In two weeks time we will be over to clear the boat for the winter.
The forecast for this weekend was not looking that great and Kim had rather optimistically booked a 07.20 shuttle on the basis that it would give us plenty of time to head off somewhere "distant"! Well, seeing how the forecast was developing, Wendy suggested putting it back a couple of hours so we didn't have to get up at the crack of dawn Saturday morning. Kim left it too late and by the time he called EuroTunnel the next available crossing was mid-day, which would have been too late. So off we went at 07.20.
By the time we got to Delta Marina at 10.30 it was grey, threatening to rain and not much wind. The forecast for Sunday was for it to be quite blowy with plenty of rain, so we decided that we should make the effort to get off, even if it meant staying holed up on an island all day Sunday. It was better to sit out bad weather in the tranquility of an island rather than the marina. (We won't mention mains power and fan heaters!)
As we set off in full foulies, it started to drizzle and within half an hour, what little wind there was, disappeared, so we put the engine on and motor sailed up to Bastiaan. By now it was 14.25 and we had been on the water for a couple of hours, so were starting to feel cold. We decided to go inside the lagoon, following our sucessful reconoitre back in September and tied up to one of the jetties. A first, as Kim has been saying for years that he wanted to moor up inside the lagoon.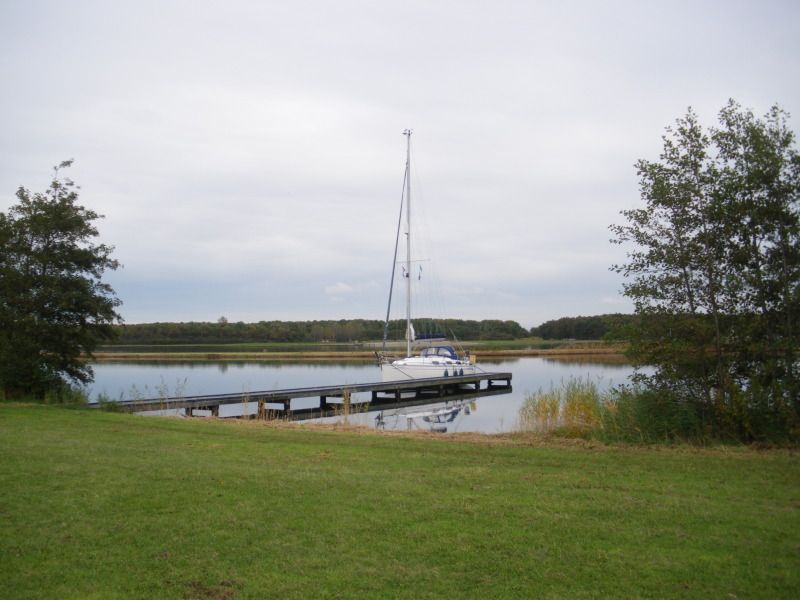 There were a couple of other boats on Bastiaan, but generally, we had our pick as to where we went. At this time of year we expected it to be very quiet, but it was surprising how many boats were out on the water.
Once we got the hatches battened down the heat from cooking soon warmed up the saloon and we had a cosy evening.
Sunday, we decided to stay put on Bastiaan. The wind had got up over night as forecast and it was quite blowy most of the day. As forecast, it died down in the afternoon. We could have moved on to another island, but there seemed little point as we were comfortable. It was still very grey, but not cold. By mid afternoon we were the only boat left on the island.
We watched a film on the DVD player and again cooking dinner provided sufficient heat to keep the saloon cosy for the evening.
Monday, 22nd October 2012 - Back to Delta
Woke up this morning to a thick fog,
which wasn't forecast! The wind had died away to nothing overnight and so it was very eerie. We debated whether we should go to Veere as planned, since the prospect of getting fog bound on Tuesday morning with the pressure to get back to Calais for the Shuttle, was not appealing. Kim's work would not have been impressed if he failed to return to work on the Wednesday. Anyway after checking the various weather forecasts, we decided to risk it.
The sail up to Veere was brilliant, not because of the actual sailing – the wind was quite light so progress was slow, but more because of the glorious sunshine! Once the fog burnt off it was almost 20 degrees and definitely T-shirt sailing.
There was some discussion as to who would take Emjaytoo into the Kaai. The Kaai is Wendy's nemesis. The entrance is very narrow and you can't see what it's like inside until well after you are committed, once inside there is very little room to manoeuvre, especially if it is packed out. On several occasions Kim has taken Emjaytoo in to find large expanses of quayside vacant, but of course you don't know until you are in! Well, on this occasion Wendy bottled out again! At this time of year, especially on a Monday, you would expect it to be very quiet inside. However, at this time of year they start to fill up with "winter berthers". When we got inside, there was no space directly on the quayside, so we started to eye up a boat to raft up to, when the skipper appeared on deck to announce that he was just about to depart. We hovered around for a few minutes and then moored up in the space he vacated. All fairly easy, another occasion missed by Wendy!
After considering the Yacht Club for our evening meal we headed off to the In Den Struykelder. The Yacht Club offers excellent value for money (almost cheap) but we have real reservations about the level of service they offer, plus being a Monday night, we were concerned as to their ability to produce a decent meal. The In Den Struykelder was not cheap, but boy, was it quality! In fact, both on price and quality, it was on a par with Iets Anders in Kortgene, maybe better – one meal is too early to tell, though!
Tuesday, 23rd October 2012 – Back home
Tuesday morning, we were met with a bit of fog/haze, but nothing to disrupt out trip back to Delta. To start with there was enough wind to get a reasonable sail, but then the wind started to fade away and we had to complete the trip under engine.
We got back into our berth at 12.30 and since we didn't have to depart for Calais until about 16.00, and since the weather was ideal (sunny and no wind) we decided to take the sails off and pack them away into the car. In all, we got a good bit of the winter decommissioning done this trip.
Our next trip is in two weeks time to strip out the rest of the boat for the winter.
Back to the Top
Back to Archive