Back to Archive
Sunday, 6th October 2013 – A Strange Weekend!
Earlier in the week we decided to change Sunday's return shuttle to a later one to give us more time on Sunday. The idea was to go to Zierikzee, which is easily do-able on the Saturday, it is the Sunday return that is tight for time. Kim tried to get a crossing one hour later, but they were all booked, so we ended up with a return crossing at 20 past 8 instead of our more usual 20 past 6. This meant that we would not have to leave Kortgene until 5 o'clock, thereby being able to have a leisurely Sunday.
We set off from Kortgene on Saturday at 11.30 and headed down to the Zandkreeksluis. We were able to sail although the wind was not that great, but we had plenty of time so were able to enjoy it. The weather was pretty overcast, but with occasional bright spells and at least it was relatively warm.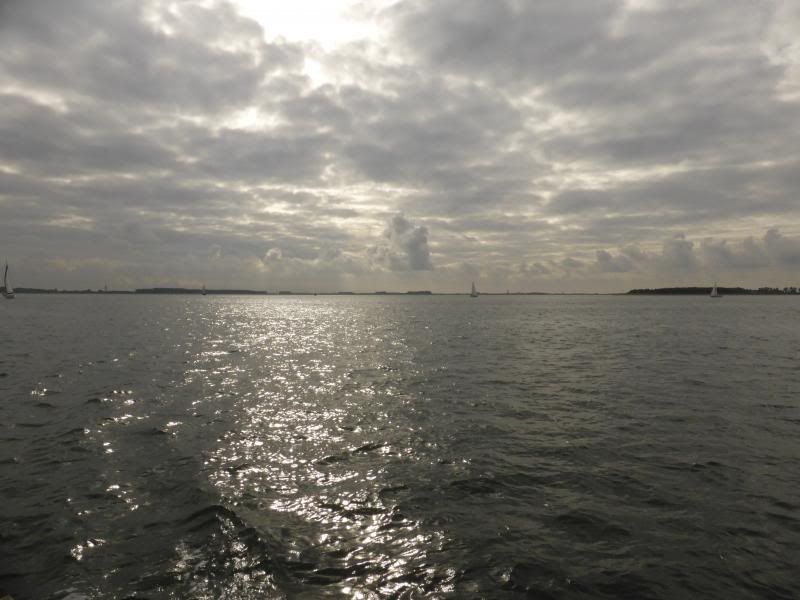 All was well until we exited the Zandkreek and started to beat down the Oosterschelde. We did the first tack across the main channel, apparently enjoying a "cracking sail", and then tacked back only to find that the foul tide was carrying us up river so we were in fact going in the wrong direction, "catastrophic" apparently! Having wasted an hour, albeit having a good sail, we then put the engine on and motor-sailed up to Zierikzee.
Upon arrival in the canal, we found the storm surge gates shut! We have never seen this before. There was a boat in front of us and a couple behind so we twirled around for 15 minutes or so and then the gates opened. Why were they shut – who knows? Once we got up to the Nieuwe Haven, Zierikzee was its usual busy self and we ended up three out in a raft of four. After a beer in the cockpit, we went off into the town to get mussels & chips. We ended up at our regular Zierikzee haunt, the Eet Cafe Marktzicht, but were not overly impressed which was a shame. We had tried another restaurant which gets excellent write-ups on Tripadvisor, but it was full. Eet Cafe Marktzicht was busy, and at least we got a table, but it has definitely gone downhill recently.
What had been intended as a leisurely start to Sunday morning with a bit of a lie in, ended up with us up at the crack of dawn conscious of the boats rafted inside of us and the fact that the Dutch were an hour ahead of us. Also, three Belgians, albeit extremely friendly ones, trundling across your boat on their way to the loos/showers at the crack of dawn, was not conducive to a lie in!
We left Zierikzee at 9.00 which wasn't too rushed and whereas it was looking like being a bright sunny day when we got up, by the time we got back into the Oosterschelde it was positively murky, almost foggy.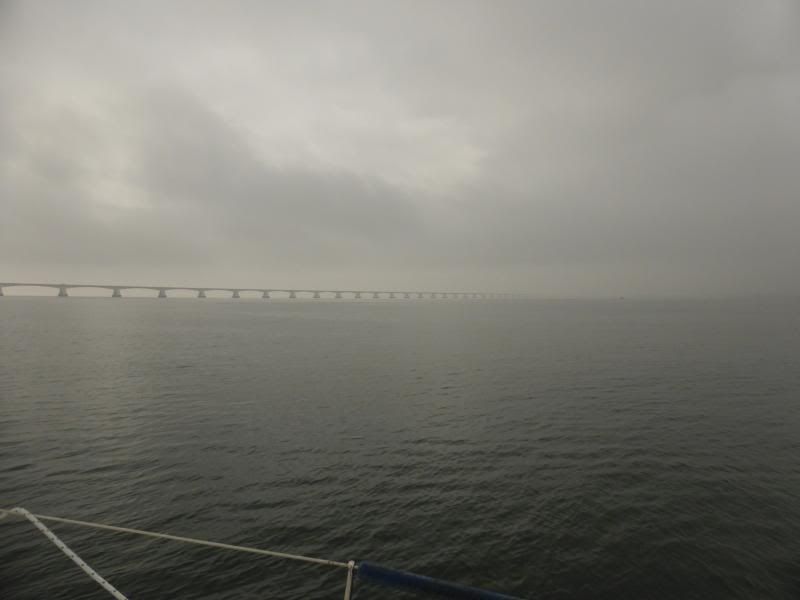 On top of that there was no wind, so we motored all the way back with the navigation lights on. As we approached the Zandkreeksluis it started to clear and by the time we got back into the Veerse Meer the weather was really looking good and we were ripping off the cold-weather gear as fast was we could!
At this point we thought we might anchor somewhere for lunch, so continued past Delta, but by the time we got past the Parderkreek, we changed our minds and turned round to go back to Delta. This was mainly because we realised we would end up motoring as far up as Bastiaan, which seemed a bit pointless, so in the end were tied up back in our berth at 12.25. With four and half hours to go we were able to have a proper cooked lunch and spend a leisurely afternoon lazing in the sun and generally chilling. By this time the weather was glorious – almost 20 degrees and a cloudless blue sky. Certainly not the sort of weather to think about packing the boat away for the winter, as some people were doing.
We left the marina at 5.00pm, had an uneventful trip back home and and were back indoors by 9.10 pm, having had another great weekend. We can't believe that we only have one more trip out this year – weather permitting.
Monday, 21st October 2013 – Last Sailing Weekend Of The Year.
Well, it should have been our last weekend for sailing, as our next trip in two weeks time is to clear the boat for the winter. However, from a few weeks back the weather forecast had looked "iffy" for the weekend; this was a shame as Kim had a day's holiday still to take, so we had booked a 3 day long weekend.
The forecast for Saturday was reasonably benign, although heavy rain was forecast for the latter part of the afternoon. Couple that with rather cool temperatures and fairly strong winds, it didn't make for a very attractive day. We could have headed off and found somewhere to hole up for the weekend, but the forecast for Monday was to be very wet, very windy and not very warm. Anyway, we decided to stay put in Delta Marina and our decision was vindicated when, by 4 pm, the rain was pouring down and the fan heater was belting out; we spent a very snug afternoon and evening battened down against the elements.
On Saturday, we went for a day trip to Veldhoven (the other side of Antwerp) to visit an international quilt show – well it was better than sitting around on the boat being bored all day! Actually, Kim quite enjoyed it and even amazed Wendy by buying a quilt kit that he says he is going to do himself!
In the evening we went to Het Grand Cafe at the Paardekreek camp site where we had the October Special set three-course meal and coffee for a very reasonable €22.50 each. It was an excellent meal and it's nice to know that after 8 seasons in Delta Marina, we can still find new places to discover! On the way back to the boat we got pretty wet as it was raining heavily – the first rain of the day
Monday morning was nothing like the forecast, okay it was grey and it did try to rain once or twice, but generally it was warm, dry and the sun frequently broke through the grey clouds. The wind was still from the south but nowhere like that forecast. A southerly wind is ideal for dropping the sails, so that's what we did, both main and genoa off the boat.
After lunch, having got the rest of our gear into the car, we headed off for Calais. We got there early enough to get the shuttle 30 minutes before our booked crossing and were indoors by 7.00pm. We got the car unloaded, had a "spag-bol" and glass of red wine which finnished the weekend off a treat!
The one thing that came out of this weekend was what a complete load of rubbish the weather forecast was. The forecast was for southerly Force 4 – 5 with gusts up to Force 8, no sunshine, heavy rain with thunder & lightning and temperatures around 18 degrees C. The desire to have mains power in the evening (for the fan heater) and the thought of coming back Monday morning in gale force winds and pouring rain, were what decided us to stay in Delta for the weekend. Okay, we were glad of the fan heater in the evenings, but we could have gone to Veere! As it turned out, we had a very enjoyable weekend, a nice day out Sunday, a nice meal Sunday evening and got the sails down on Monday, but it still doesn't get away from the fact that we could have had a less than enjoyable weekend because we took decisions based on a completely inaccurate forecast. The only bit that was anywhere near accurate was the temperatures.
Back to the Top
Back to Archive