Back to Archive
Sunday, 5th October 2014 – The Mosselplaat, Again.
We had decided that the decision to go or not to go should depend on the weather. We have three more crossings and it is not really practical to go over to the boat six weekends on the trot, so one or more has to go. Or not! The thing is, if the forecast is good we'll go in case the remaining weekends are not good. So needless to say the forecast was good for this weekend, so off we went!
Actually the forecast was good for Saturday, but with a weather front coming through Saturday night which would bring strong winds and rain. Sunday was then forecast to be bright and sunny, but with the wind moving from southerly to north easterly, it was going to be a good bit cooler.
We got to the boat at about twenty to eleven and instead of messing about with coffee and biscuits, we prepared to depart straight away. We slipped out of our box at 11.30 and headed off towards Zandkreekplaat. As the wind was southerly, we got a really good reach all the way to the Bad Hotel, and then turned north so as to have the wind on the stern giving us a great goose-winged run. Wendy doesn't like this point of sail very much due to the danger of an accidental gybe. It all feels so relaxed and easy, but in fact you have to watch the luff like a hawk for the first signs of a flutter and take action accordingly, be it the helm or the crew. If Wendy is helming, she doesn't trust Kim to concentrate and not get distracted. If she is crewing she gets bored just sat there holding onto the mainsheet ready to sheet it in fast if a gybe looks possible. It can also be very annoying in light winds when the sails just flop around and do nothing. On this occasion, however, the wind was very steady and it was a great sail.
Having discovered the Mosselplaat earlier in the year, we decided to give it another go. There were a lot of boats out on the water,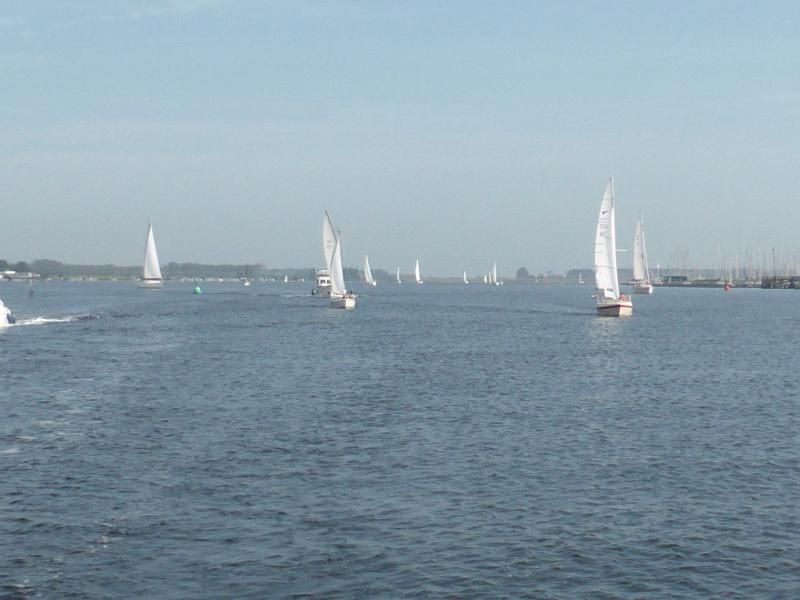 but it seems they were mostly out for a day sail and most of the islands were fairly unoccupied. We went in to the jetty with some gusts of 18 knots and were glad to be all tied up by twenty to three. It seemed the overnight weather front was approaching a bit faster than forecast.
After we had had a cup of tea, a little snooze (in Wendy's case) and a walk around the island, the sky started to get quite black, the wind picked right up and it started raining. We managed to sit in the cockpit for a while sheltering from the wind under the spray-hood, watching thunder and lightning off beyond Veere. Eventually it started to rain heavily
and we had to retreat down below.
During the night the wind howled hitting a peak of 28 knots and veered round to the north. This was bad news for us as we had gone alongside the jetty facing head in to the southerly wind. This way you get shelter under the spray-hood and the aft cabin is projected from the waves. Because the wind shifted round to the north, the rain was blown in under the spray-hood and more importantly we got "the slappers". This got so bad that at one in the morning we had to move to the fore peak. The noise could still be heard, but at least it wasn't directly under our bed and we did manage to get some sleep.
In the morning the rain had stopped and the wind had moderated, all exactly as forecast. Also as forecast it was a good bit cooler thanks to the now northerly wind, but with a generally much fresher, brighter feel to the day.
We decided again not to worry about what time Shuttle we caught, but to just enjoy the day. After breakfast we sailed down to the Bad hotel on a broad reach, but when we turned east towards Zandkreekplaat the wind came on to the nose and as we didn't fancy a load of short tacking, we motored the rest of the way.
We got back to the marina at about 1.30 and went straight to the fuelling pontoon, where we took on 50 litres of diesel and pumped out the holding tank. This now means that the boat is ready (in at least these two respects) to be winterised. We have to accept that with only two more crossings booked before we decommission for winter, this could be our last trip out. Sat in the cockpit at bit later in short-sleeves having lunch, though, that seemed somewhat hard to believe.
It took two attempts to get the boat back in its box, but the second attempt went well. We finally got away from Delta about three quarters of an hour later than normal, expecting to get a Shuttle as soon as we got to Calais, (well Kim was expecting that, Wendy was a bit more pragmatic). The check in offered us a crossing two hours later than our booked one (which of course we had missed). With Kim moaning, we went into the terminal to get something to eat. The queues at the Burger King were really long so we decided to give the one next door a try. This gave Kim even more cause to moan as we both had steak and chips and whilst Wendy's was a thinner bit of steak and nicely cooked, Kim's was a lot thicker and almost raw! Even Wendy donating half of her steak did little to raise Kim's spirits.
Kim would say the trip home was not very good, but there was a bit of good news in as much as we didn't have to wait until our re-booked crossing at 8.20pm, but in fact got on the one before, so got home at 8.45pm. That was five hours door to door, which wasn't that bad.
It's possible that part of Kim's grumpy mood was due to having been to the boat four weekends running. He seems to be getting a bit fed up with all the driving each weekend and the Shuttle on a Sunday night. As stated at the beginning, we can't really keep this up for six weeks on the trot, so we have decided that we will not be going next weekend whatever the forecast – honest!
Saturday, 18th October 2014 – Staying In The Marina.
After spending last weekend at home during which we got loads of useful things done, we were ready for a weekend back on Emjaytoo. The forecast was for it to be warm (22 degrees) and sunny, but with quite strong winds, especially on Sunday. Kim had it in mind to go to Veere, but the Shuttle was delayed (technical problems, then a broken down coach on the train), so by the time we had done some shopping in the village, it was getting on a bit when we arrived at the boat, so we decided to stay put.
This had a number of benefits:
We were able to sit in the cockpit and have a really pleasant shrimp salad and glass of wine for lunch.
We were able to go over to the Boot Café and book a table for the evening.
Kim was able to spend some time updating the website and Wendy was able to sit in the cockpit reading her book.
Whilst it was quite breezy, it was really warm. We watched people clearing their boats for the winter dressed in shorts and T-shirts, which seemed bizarre! During the afternoon it clouded over a bit.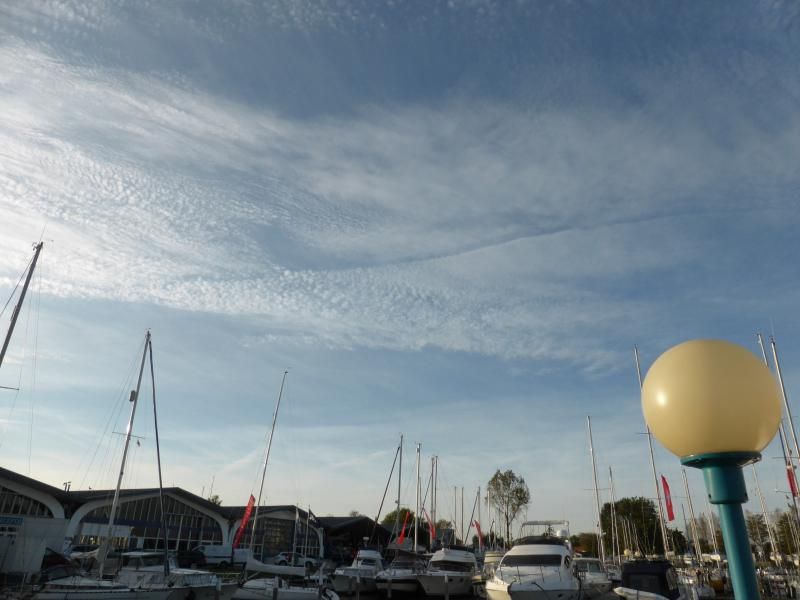 "Mackerel skies & mare's tails,
Tall ships set short sails"
A portent of things to come, perhaps?
During the week Wendy had made a curtain to put up at the companion way hatch. As we now face stern to the jetty, we often feel a bit exposed when people walk by. The curtain is threaded over a piece of dowel and slots into the track that the companion way hatch slides in. The overall effect is very good.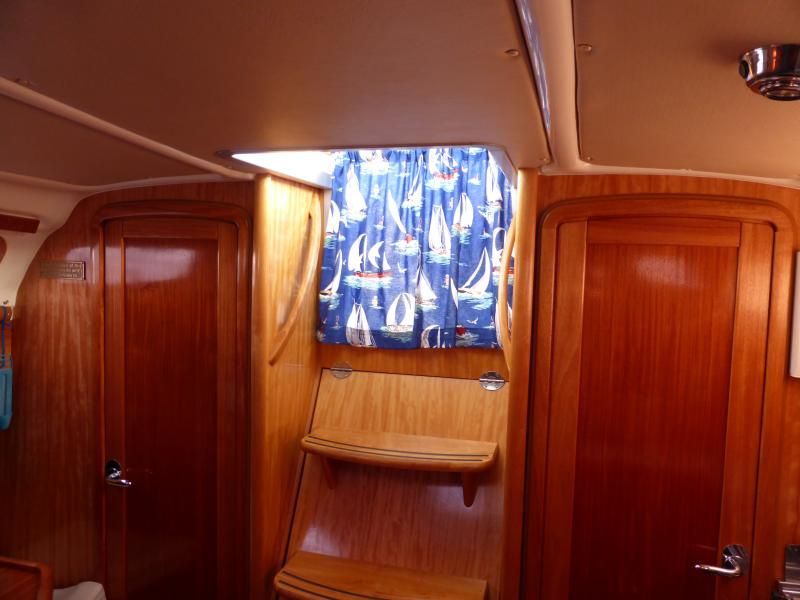 Sunday, 19th October 2014 – Back Home.
Last night's meal over at the Boot Café was excellent and even with drinks the bill only came to €71 (£56).
Sunday morning arrived with clear blue skies and very little evidence of the forecast high winds! However, as the morning wore on the skies darkened and the winds increased. It was still very warm for mid October – over 20 degrees!
We then watched both our neighbours, who had obviously decided that it was far too good a day to not go out sailing, struggle to get their boats out of their respective boxes. The people on our port side, whom we have only seen once before ended up having to fend themselves off us, despite there being about seven of them on board. To be fair, they did have the full force of the wind on their beam blowing them onto us! The surprise was the really nice Dutch couple with "Infoma" to our starboard side. He always seems to be fully in control and takes the boat out and puts it back with the greatest of ease. We couldn't work out what went wrong – he was being blown off us and yet seemed to heading towards us at one point as his wife was yelling something about letting a line off!
One doesn't like to gloat, but it is very reassuring to see people, who we perhaps perceive to be more adept than us at manoeuvring their boat in and out of its box, make a hash of it! It's nice to know we are not the only ones who cock it up occasionally!
As the weather became more subdued, so did Kim's mood and by lunchtime he was bored and wanted to go home. This was a pity as Wendy was thoroughly enjoying her relaxed day playing with "arty" things.
Anyway, we cleared the boat and headed off to Calais just after one o'clock in the hopes that we would get on an earlier crossing than our booked 19.20 one. We arrived two hours early, were offered a crossing an hour earlier than our booked one and managed to get on one an hour and half earlier, so all in all – pretty good! Except Kim still moaned!
Back to the Top
Back to Archive