Back to Archive
Sunday, 4th October 2015 – Scuppered By The Migrants!
Saturday morning the alarm went off at 5:00am and Kim went down to make the tea. We always make time to have a cup of tea in bed before getting ready to catch the 7:20am Shuttle. When he got back Wendy was reading the news on her iPad. "I wouldn't rush your tea, I don't think we will be going anywhere this morning" she said. The Shuttle web site subsequently confirmed that following an overnight incursion by migrants, all services were suspended until at least 10:00am and thereafter there could be delays of up to 3 hours!
So we phoned Eurotunnel and cancelled our crossing, putting it back in the "pot" for another day. Had we tried to get across, we probably wouldn't have got to the marina until 4 or 5 in the afternoon and would have had to spend hours hanging around!
It was a real shame as the weather was glorious and we have had so little use of the boat this summer. As it turned out, we actually had a really good weekend, spending Saturday visiting a National Trust property not too far away, enjoying a nice meal with a bottle of wine and watching a DVD in the evening. On Sunday we relaxed, taking it easy and having lunch in the garden in the glorious sunshine!
All this got us to thinking. We had done some of the things we would have done if we'd gone to the boat (meal, wine, DVD, lunch in the sun), we'd done some things we wouldn't have done, such as going out for the day on Saturday, and all without spending 8 hours (and that's on a good day) travelling there and back!
So here we are again pondering the future of Emjaytoo. This summer has proven that there can be life without the boat. Spending 8 hours getting to Delta and back, motoring (because there was no wind) to Bastiaan or the Goudplaat, to then do what we can do at home (meal, wine, DVD, lunch in the sun) is losing its appeal.
Sunday, 11th October 2015 – Too Cold To Sail.
After last weekend's cancelled trip, we were pretty nervous all week, checking for the latest news on the Shuttle website. So it was with some trepidation that we set off on Saturday morning. We were booked on the 7:50 am, but as it was very quiet we were able to get on the 7:36 am, even allowing time for a bacon roll!
Before the train pulled out of the platform, we could see through one of the windows blue flashing lights and lots of activity on one of the other platforms and did wonder whether an "incident" was about to shut the tunnel and subject us to hours of delay, but fortunately the train pulled away almost on time and we had an uneventful crossing.
The weather in England and France/Belgium was pretty grey and cold, but as we crossed into the Netherlands it brightened up noticeably. The forecast for Kortgene was for it to be cloudy with sunny spells and a fresh easterly wind on Saturday. Sunday was forecast to be colder with an increased easterly wind so we had already decided that the weekend would be spent in the marina.
As the forecast was for the temperature to drop to 5 or 6 degrees overnight, we decided to stop at Mediamarkt in Middelburg and get a new fan heater. We have commented before on our trusty 1960s Philips fan heater. It is quite noisy, is either on or off and we certainly wouldn't be happy to leave it on over night or if we weren't on board. We have also thought for a while that we are on borrowed time with it. In the end we got a great little heater which is really quiet with thermostatic heat controls - and all for about £20.
After some shopping at Albert Heijn in Kamperland we arrived at the boat at lunch time. By now the weather was glorious and we sat in the cockpit having a salad. Wendy spent the afternoon down below doing "arty" things whilst Kim cleaned the boat. It had got pretty dirty over the summer with quite a lot of green algae on the coach roof. As the afternoon wore on the temperature rapidly dropped and the new fan heater was given a good christening.
In the evening, we went over to La Barca (the Italian restaurant in the marina that used to be the Boot Café) and had an excellent meal. It was really nice to come back to a warm boat. Overnight the fan heater kept the boat warm and snug with minimal noise – no worse than the fridge. In fact it was too warm overnight and Kim had to get up and turn it down!
Sunday morning was very breezy, quite cold, but bright and sunny. We certainly made the right decision to stay in the marina. We were able to have a lazy morning and Kim pottered around doing little jobs on the boat whilst Wendy continued with her "arty" things (Kim's description – he hasn't actually got the faintest idea what she does!).
By lunchtime the wind had dropped a bit in the marina and so we were able to sit in the cockpit for lunch again.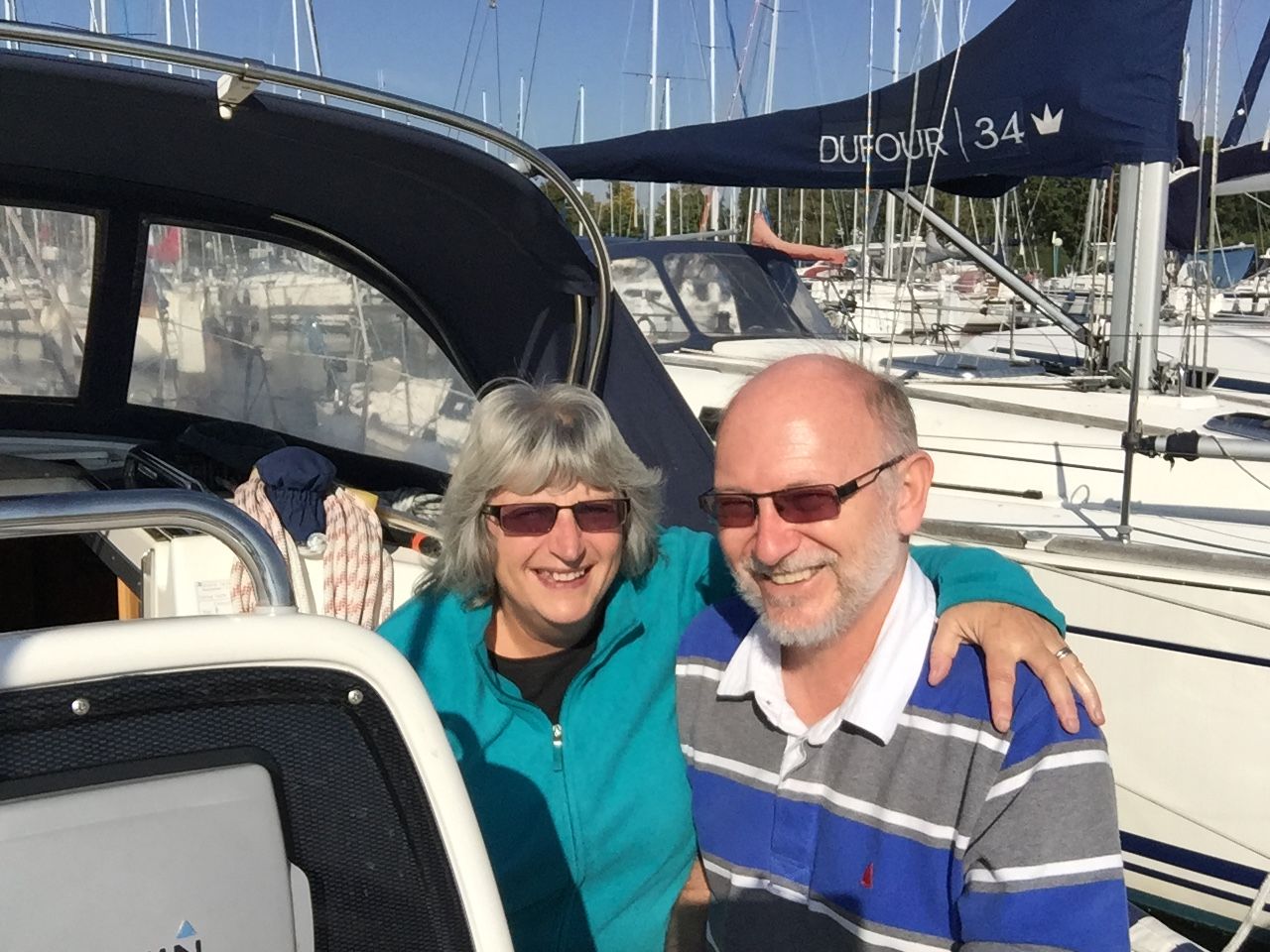 We did notice that out on the water it was a lot windier and would thus have felt really cold.
We left on time for our 19:20 crossing, but the journey to Calais turned into a bit of a nightmare! Firstly, road works led to a diversion almost into the centre of Middelburg, then Kim decided not to follow the sat-nav and found that his "preferred" route didn't actually lead to the road we wanted – another long and this time unnecessary diversion. Finally the road works that caused us so much trouble two weeks ago were still on around Nieuwport and we listened to the traffic alerts on the radio warning of up to an hour's delay, so off we went on another lengthy diversion to avoid those road works. Amazingly, by the time we got to the shuttle we had only just missed the 19:20 and managed to get on the 19:50 which was pretty good really.
So, maybe not a very exciting weekends by some standards, but positively blissful by ours. The weather turned out to be a bit better than forecast but it would have been cold out on the water and being on an island without power for our heater it would have been very cold overnight. So all in all we did the right thing.
We now have a two week break before our next trip.
Sunday, 25th October 2015 – Last Sail Of The Season.
All week the Calais terminal migrant crisis had been causing disruption and we were again nervous about what the situation would be on Saturday morning. In addition, the Shuttle website was warning of road works on the Calais side. As it turned out, the service was running normally when we left home at 6:30am. It had been a real struggle to get motivated. The alarm went off at 5:00, it was dark, the forecast wasn't that great and it was tempting to snuggle down with a cup of tea and get up when we felt like it. However, we made the effort and got to the shuttle with enough time for Kim to have his bacon roll and coffee. It was the first weekend of half term so quite busy with the train leaving about 10 minutes late. About half way across, the train slowed to a crawl and we were advised that the control centre had ordered the train to slow down because there were "bits" lying on the track! Bits of what? We didn't really want to know! Anyway after about 20 minutes it speeded up again and we finally arrived about half an hour late.
The traffic on the motorway wasn't too bad so only minimal delay there and some of the previous road works in the Netherlands had been cleared making the journey to Kortgene reasonably easy. Nevertheless, all the uncertainty conspired to make the journey a bit fraught. We stopped at the new Spar shop in Kortgene which is very impressive for a village supermarket, and got some vitals for the weekend.
Over lunch we pondered on the question of whether we take Emjaytoo out overnight. The marina had the benefit of electricity for our fan heater and wi-fi connectivity. The temperature inside Emjaytoo when we arrived was only 10 degrees but we soon warmed it up with the fan heater. The appeal of an island overnight was tempered by the prospect of no heating. Finally, we decided that as this weekend was most likely the last opportunity this season, we had to go out. We have two more crossings booked, but we will use those to bring stuff home.
The wind was westerly so we motored up to Bastiaan de Langeplaat and decided that was far enough as it was quite cool on the water. Although we didn't think there was much wind we had great difficulty getting alongside a windward berth as the wind kept blowing the boat off. In the end Kim got ashore with a line, but had to concede he probably "leapt" more than he should have done. To make matters worse, the water inside the lagoon at Bastiaan is barely 2 metres at its deepest, so having the depth gauge play up just as we entered made the whole arrival even more fraught!
We immediately got the hatches shut and the heat from the kettle and us, had the temperature up to 18 degrees by 16:00. Kim read whilst Wendy happily resumed her mysterious "arty things" and we spent a very relaxed and enjoyable hour or so. Dinner was a simple dish of pasta, tuna and tomato sauce so there was not too much washing up for a change!
We were so snug and cosy down below that before going to bed we ventured up on deck to have a look round. There is something quite magical about being moored on an island where it is almost silent and the darkness is pierced only by the intermittent flashing of the red and green buoys and a few odd lights in the distance. Last night's sky was rather special, though, as we saw some rather strange dim white streaks of lights that move across a sector of the sky for a few seconds every 4 or 5 minutes. Wendy suggested meteors but the sky was too cloudy, Kim wondered about the Northern Lights but they were south of us. We shall never know!
After an amazingly comfortable night with our hot water bottles under two duvets, we got up on Sunday morning to about 12 degrees in the saloon but it soon warmed up to 14! Surprisingly it didn't seem that cold. Our decision to stay out overnight was soon vindicated. It was an absolutely beautiful morning, chilly but sunny and clear with the birds singing and some amazing photo opportunities.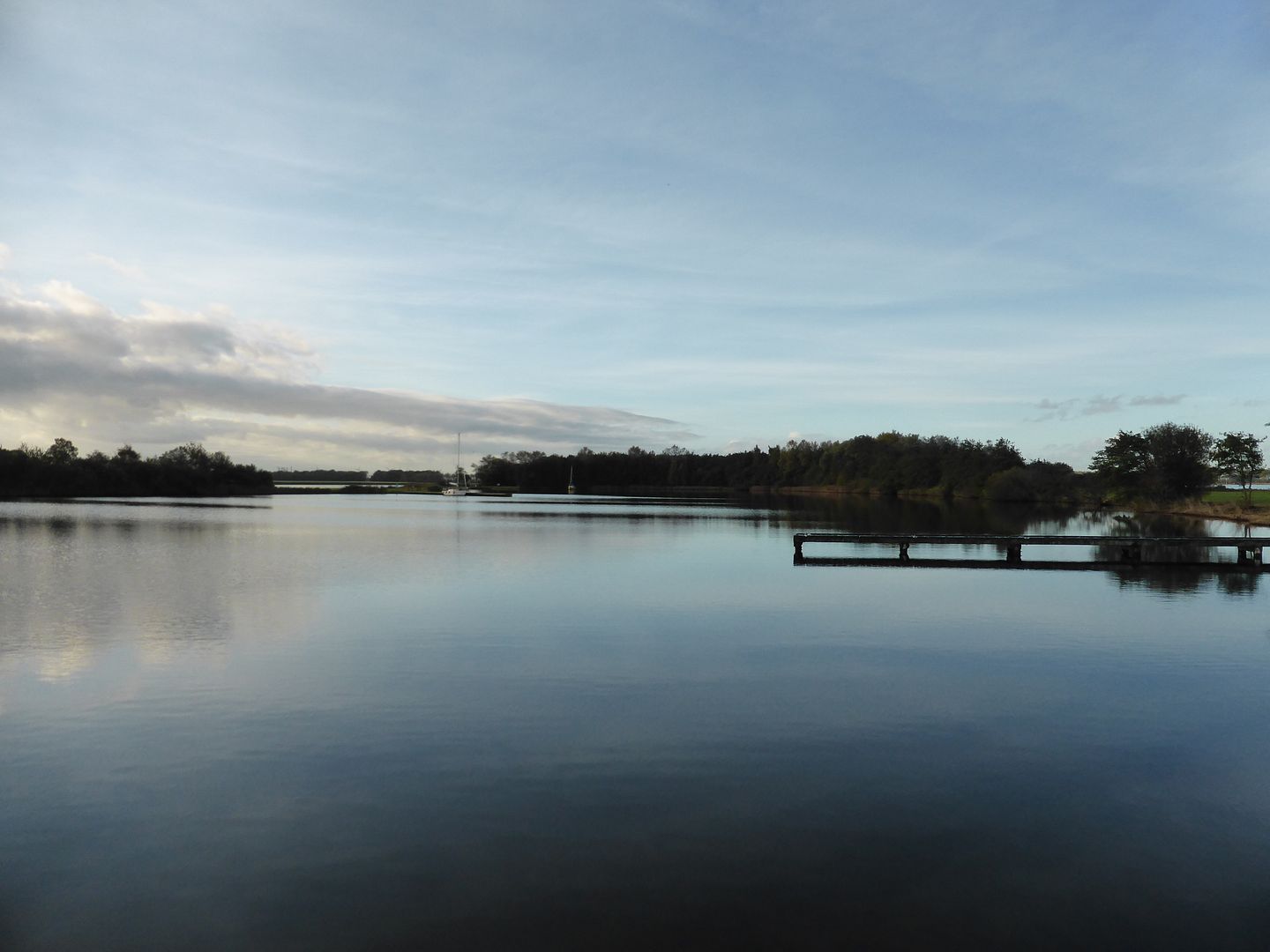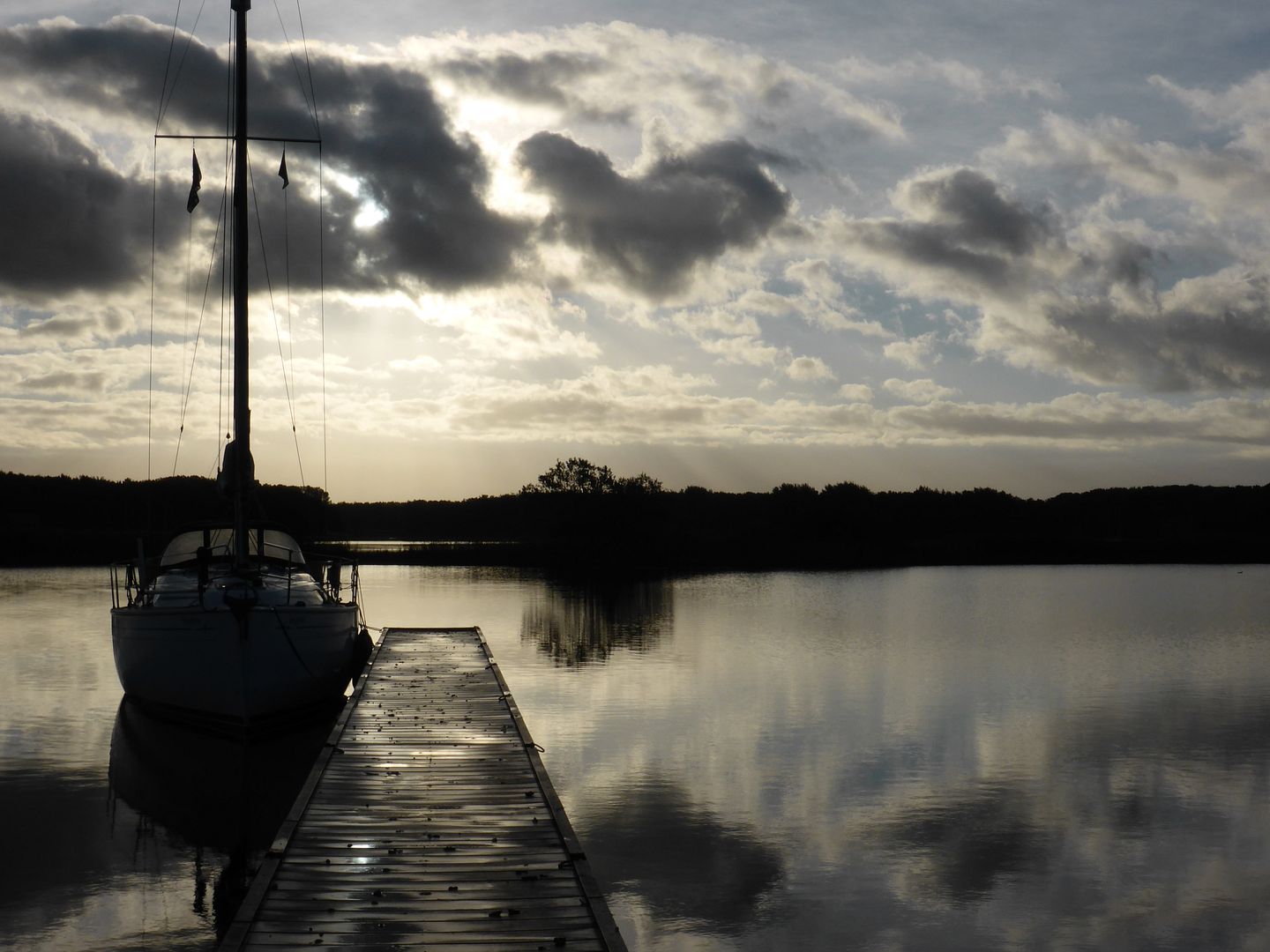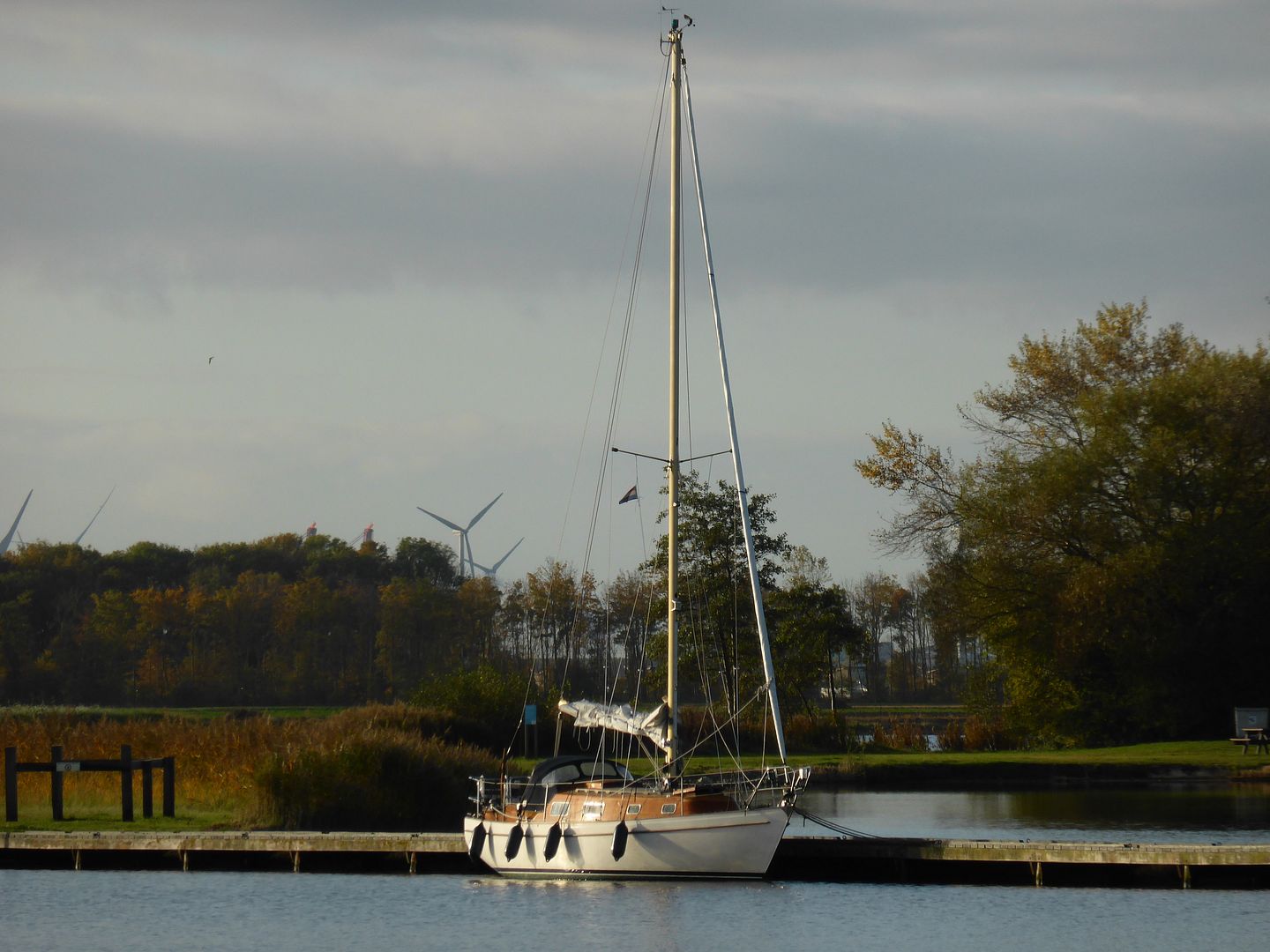 Our departure was without incident, in spite of the depth gauge saying that there was 165 m of water below us in the Bastiaan lagoon! Once back in the main channel of the Veerse Meer we were able to get the sails up and had a good sail for an hour or so. The wind then started to drop away and we began to get a bit chilly so decided to put the engine on and just get back. Our arrival in our berth went very well, though Wendy rather let the side down by getting into a conversation with our Dutch neighbours before she had completed all her tasks. However, the benign conditions meant that this wasn't a problem – fortunately for her!
Although neither of us really wanted to, we decided that it would be stupid not to get the sails off the boat. It was sunny and warm in the marina and what little wind there was, was straight down the line of the boat so perfect conditions. After all that work we made the most of the sunshine and had lunch in the cockpit – not bad 8 weeks before Christmas!
As we were already running ahead of ourselves because of having put the clocks back, and also because of the predicted traffic delays at Calais, we decided to leave early and try to get on an earlier shuttle. We had a really good run back to Calais, apart from losing a few minutes in the contra flow system, and booked onto a crossing 30 minutes early which, amazingly, departed bang on time. All in all it was a brilliant weekend and we are so glad that we didn't take the easy option and stay in Delta with the fan heater on!
Saturday, 31st October 2015 – Disruption At Calais!
This weekend was to be Part I of clearing the boat for the winter and earlier in the week Wendy had suggested that rather than go over on Saturday and come home Sunday, why not go over just for the day on Saturday. That way Kim wouldn't have the long drive back on Sunday and instead could have a relaxed day before being back at work on Monday. The relaxing day at home on Sunday appealed, but a daytrip to the boat on Saturday did not! It would be a minimum of 8 hours travelling for just a few hours over there. Okay, we were only going over to bring stuff home, but Kim (and Wendy) wanted to make a bit of a weekend out of it, so the solution was to go over on Friday evening after work.
In the early years we used to go over on the ferry on a Friday night, but that was before we started buying our cheap 48 hour shuttle crossings and at that time Kim was working a lot closer to home. Anyway, the crossing was booked for 7:20pm and Kim got away from work in sufficient time. Unfortunately the shuttle was a bit delayed and we got to the marina 20 minutes later than planned – 10:45pm GMT – but that was fine. It really paid off on Saturday morning when we were able to enjoy a relaxed cup of tea in bed instead of getting up at silly o'clock to catch the shuttle.
The weather was glorious, if a bit chilly, and we took the opportunity to get the spray hood off and clear most of the outside gear. We then went over to the Veerhuis for lunch and sat out on their patio with a burger and a beer. Again, a bit cool, but glorious, especially for the end of October.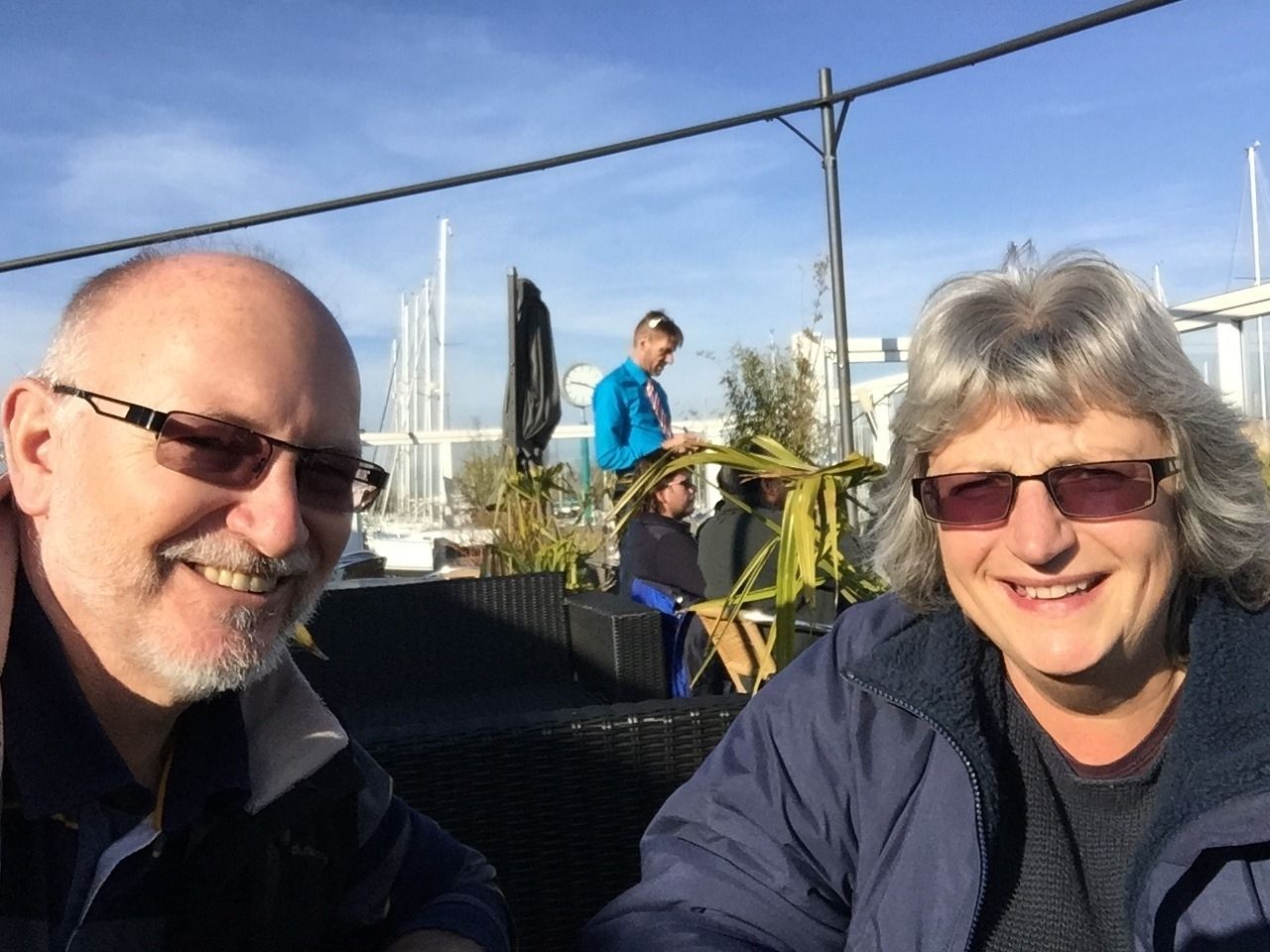 Back at the boat, we sat in the cockpit having a coffee. A quick check on the Shuttle's website alerted us to the possibility of 40 minute delays at Immigration Control, so we packed a few things from inside the boat and left for Calais.
When we got to the Calais terminal we found no delays due to Immigration Control, but we did find 90 minute delays due to one of the tunnels being closed due to some problem! Given that we had arrived early, we ended up waiting over two hours before we got away.
It's things like this that make us question whether we want to be doing it all again next year. Okay we have had a pretty bad year so are a bit disillusioned with it at the moment. However, at one point this afternoon Kim said to Wendy it was a pity we hadn't brought the roof box because we probably could have cleared the whole boat this weekend, thereby avoiding our final trip in two week's time. The look of horror on Wendy's face at the prospect of not being able to spend one last weekend on Emjaytoo before we finally shut her up for the winter was choice!
Going out Friday evening was an opportunity to try out that option with a view to rethinking how we use the boat next season. As mentioned earlier, this season has been pretty bad for lots of different reasons, but we clearly have to rethink things for next season. It will not be enough to just think we can plan our weekends like we always have and it will be all right next season. Maybe fewer, longer trips will be the answer.
Back to the Top
Back to Archive