Back to Archive
Tuesday, 1st September 2009 - Back In The Swing
Got the ferry over on Saturday morning and arrived on the boat at about 1.30pm after getting some shopping in the village. We had planned to head off late afternoon to an island, but it was a bit windy and we got talking to Phil & Denise, then they invited us over for a cup of tea. Then they suggested we all went out for a meal at Iets Anders in the village. So our plans to go off that afternoon got postponed and we had a very enjoyable evening and an excellent meal.
Sunday morning, the weather was very overcast, even with the odd smattering of rain, but we decided to head off anyway. As is usual over here, the weather gradually improved during the middle part of the day and we had a cracking sail from the Bad Hotel up to Kamperland. We were going to go to Veere, but we could see that the visitor jetty was packed out and since there was room on the main Haringvreter jetty we put in there for the night.
We then did the usual stuff - cup of tea in the cockpit, read a book, go for a walk around the island,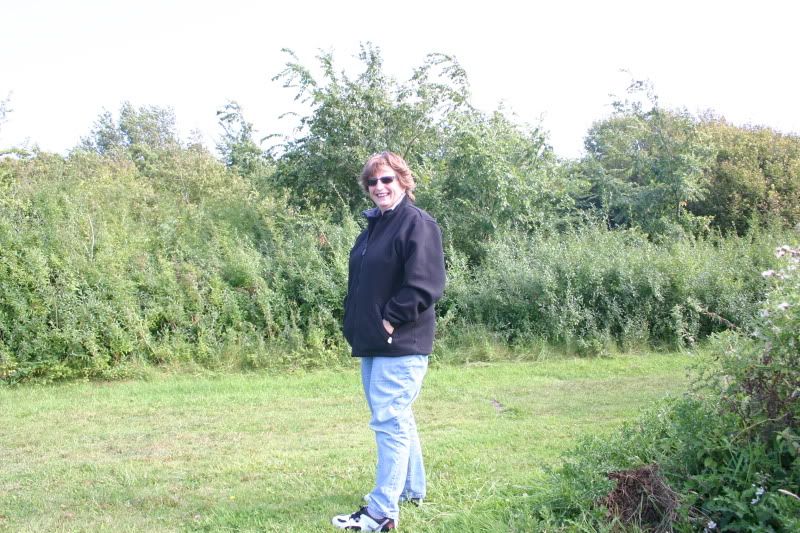 come back to the boat, sit in the cockpit drinking Grolsch, eating pistachio nuts, have a bar-b-que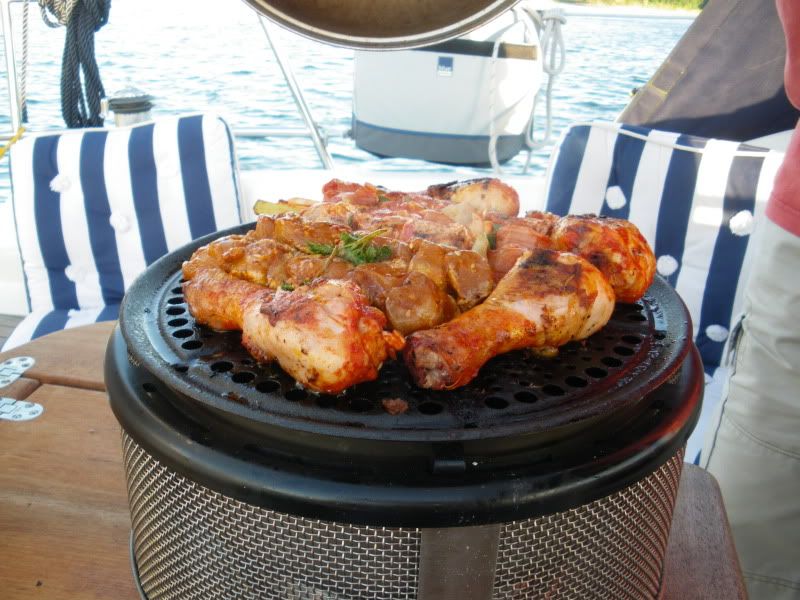 and then retire for the night.
Monday morning was a leisurely start. After breakfast we headed up to Kamperland to make use of their pump out facility. We had spotted how accessible it was on our last visit and indeed it proved easy to get along side. However the harbour master seemed to favour punters spending money i.e. those who wanted fuel. She let one boat push in in front of us and would have let a second until she found out they only wanted water. Having said that it only cost 55 cents compared to Delta Marina's €2!
We then thought about going over to Veere again, but the visitor jetty still looked packed out
so we decided to head back towards Kortgene with a view to spending the night on the new pontoon down from the Parderkreek. However as we approached it Wendy started to have second thoughts about the depth. The chart said it only had 1.1m, although it was rebuilt last year. There were also a few boats on it so we turned round and headed back towards Bastiaan de Langeplaat.
When we arrived it was quite windy and there were several boats, some only small day boats, already there. We tried to get on the outside of the hammer head. Kim was helming and two things were against us. First, there wasn't really quite enough room and secondly it has horrible piles sticking out from it. There was a Dutch style mobo already there, Kim made a real pigs ear of it, shrugged his shoulders and gave up. We then did what we should have done to start with and went on the outside of the main jetty, which just about had enough room after we squeezed in between the day boats. A cast of thousands appeared to take our mooring lines and what ever else they could get their hands on. It is just so much better when you can do it on your own and your own way. Still, it saved any jumping on & off the boat and you have acknowledge that eveyone is so friendly and they only want to help.
The afternoon was very bright and sunny, but as it was quite windy one person warned that on the outside of the jetty we would be pinned on in the morning. Wendy said in a nonchalant manner that we would deal with that problem in the morning.The rest of the afternoon was a repeat of the previous, except we didn't go for a walk. Well, we've done Bastiaan a few times now and it's not very big! The day trippers all went home and then there were just three overnighters including ourselves. It was a glorious evening,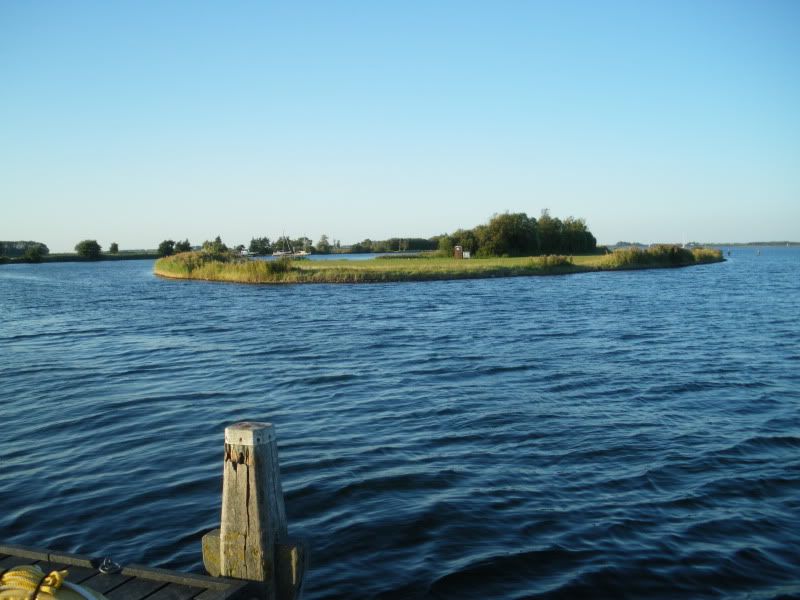 well worth the effort of getting on the jetty.
When we went to bed the wind was on the port side and we were getting the "slappers". Kim rigged his patent cheapo anti-slapper device, which was completely useless. At one point Kim had to go and sleep in the saloon, although Wendy was able to sleep through most of it. Later in the early hours the wind came on to the bow and the "slappers" went elsewhere.
When we came to leave in the morning, it was an easy task to spring the bow a few degrees and then let the wind do the rest. We left Bastiaan about 8.30am and with 15 knots plus of wind abaft the beam we scampered back to Delta, under genoa only, in about an hour. Although it was still very windy when we arrived Wendy put us back on our berth without any hiccup.
So, a brilliant weekend, and after Wendy's op it was great for her to finish the weekend on a high.
Wednesday, 9th September 2009 - Planning The Next Trip
Well, the Bank Holiday seems ages ago and Kim's work is pretty grim at the moment, so what better than planning the next trip. We have a week booked in a fortnight's time and we are planning to go up to Willemstad in the Hollands Diep and then head into the Haringvliet and go on to Hellevoetsluis. It will be the furthest we have been on the inland waterways - about 110 miles round trip. Infact other than the delivery trip from Harwich, it will be the longest trip full stop. Of course the only non inland water trip we have done was the recent trip to Oostende in the fog.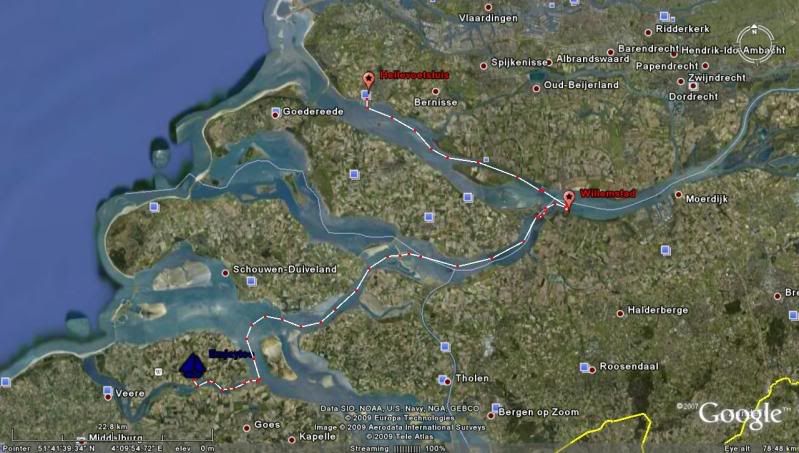 Its a bit soon to start looking at weather forecasts, but next week, definitely.
Saturday, 19th September 2009 - A Different Perspective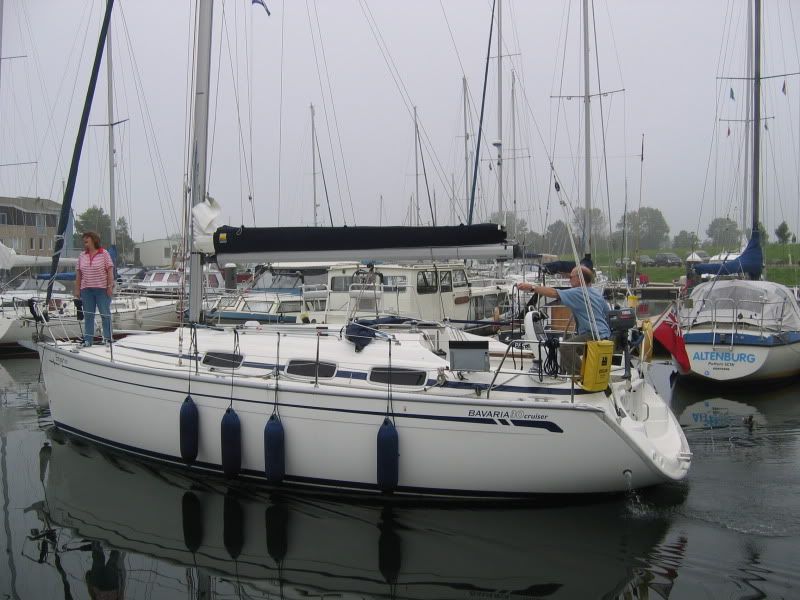 Here's a photo our friends Phil and Denise took just as we were leaving on our trip to Oostende. This is probably the first and only photo showing Kim and Wendy both on the boat whilst it's underway. No, Kim is not shouting instructions at Wendy (for once!) - he appears to be trying to coil a rope up whilst helming the boat.
Sunday, 20th September 2009 - Disaster Strikes!
By rights we should by now have been tied up on the Oosterschelde side of the Zandkreeksluis, ready for an early departure in the morning for Willemstad. Unfortunately (slight understatement!) Kim's former employer had other ideas and dispensed with his services last Monday, meaning that such decadence has had to be shelved in favour of Wendy taking on as much work as she can get. We still hope, however, to get away for a few days at the end of the week and may still make it to Willemstad yet.
Thursday, 24th September 2009 - We're Off!
Finally, after Wendy being swamped with work for the last week (which was just as well, since things had been dead for the preceeding 4 or 5 weeks), things have quietened down and we've booked the ferry for tomorrow - 12.00 noon departure from Dover. We won't have long enough to go up to Willemstad, so we are planning a trip down to the Oesterdam end of the Oosterschelde. Last year we went down there with the aim of staying on a mooring buoy. It is one of the rare places where you get mooring buoys in the Delta region, but it was horribly murky and so we ended up in Yerseke. (See the Blog entry for the 28th May 2008 - An Eventful Weekend!)
Anyway the weather is a lot better this time around, so we are going to have another go. If we opt out, then we will go into Wemeldinge which we have not been to before. For different reasons, both of us are in need of a break and so we are really looking forward to the weekend.
Sunday, 27th September 2009 - Change Of Plan
Having caught the 12.00 noon ferry, we arrived at the marina at about 5pm and set about unpacking and getting ready for a relaxed evening. It was a very still evening with little cloud and the promise of a superb sunset. Kim was just settling down in the cockpit with a beer at about 6pm when he said to Wendy "how about heading off down to the Zandkreeksluis now?" Wendy agreed, so the beer got put to one side and we slipped our moorings and headed off into the Veerse Meer at about quarter past six. The water was like the proverbial mill pond and we motored down to the lock in the slowly encroaching dusk. We even put the nav lights on and logged "half an hour's night sailing".
Three quarters of an hour later we were tied up on a floating pontoon just to the side of the lock by the sluice with nothing but the seagulls for company. Dinner was mussels in white wine sauce for starters, steak and salad, followed by cheese & biscuits. The sunset was gorgeous.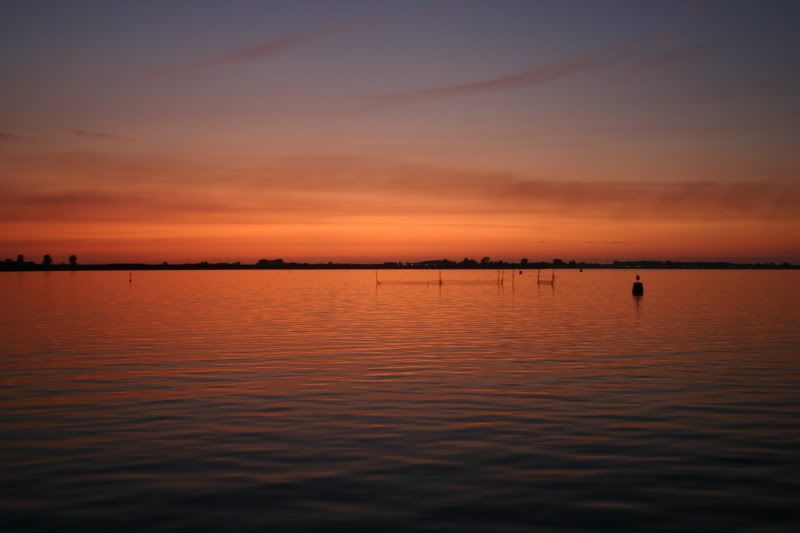 The next morning we awoke to fairly thick mist which soon burnt off to give a brilliant morning albeit quite hazy. After locking through in to the Oosterschelde we hoisted the sails and set off in the direction of Wemeldinge and the Oesterdam. There was very little wind and the tide was against us. A couple of transits were observed and the suspicion that we were actually moving backwards was confirmed by the chart plotter. 1½ knots of speed against 2 knots of tide doesn't work!
Having put the engine on and the sails away, we started to rethink the whole idea of going to find a mooring buoy for the night. We were going to have limited time on Sunday morning to get back to the marina and if we woke up with mist again that could really throw a spanner in the works. We thought about just going to Wemeldinge, but decided that even that was too risky, so turned round, put the sails back up – we now had the tide with us, and had a leisurely sail back up to Zandkreek. En route we encountered several boats ghosting along just like us.
We finally ended up on Zandkreekplaat. Our arrival, with little or no wind to contend with, should have been a simple affair, but what with some rather inept assistance from a Belgian chap (those Belgians again!) with his wrist strapped up who declared half way through that it was actually his friend who was the sailor, and Kim's general cack handedness with the mooring lines, the whole thing turned in to a farce with mooring lines coming unattached and ending up in the water. Anyway, all was salvaged and we were treated to an even more spectacular sunset.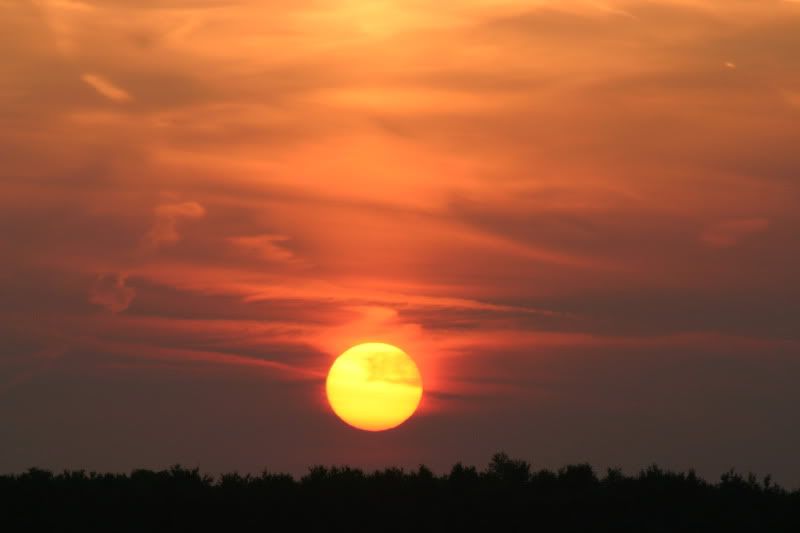 Dinner was an "eat in for a tenner" deal courtesy of Sainsbury.
Sunday morning, our decision to return to the Veerse Meer, was vindicated when we awoke to thick mist again. It soon burnt off, but with the, again, lack of wind we scampered back to the marina under power. Kim did some cleaning and sorting out down below on the way (Wendy could smell the polish from her position on the helm!) so that when we got back to our berth there was little to do prior to departing. As an example of how you can still learn things after years of practise, Kim suggested passing the bags etc up through the forward hatch on to the foredeck so as to then pass them over the bow on to the pontoon. This proved to be so much easier than struggling through the saloon, up the companion way and round the spray hood, that we wondered why we had never thought of it before, especially since most of the gear to go ashore was in the fore cabin to start with.
All in all, even though we didn't do what we had planned to do, we had an excellent, relaxing, stress free weekend. The decision to head off on Friday evening was inspired. It seemed to make the Saturday into a longer day and the whole weekend like a mini holiday! We will definitely do it again.
The next scheduled trip is at the end of October to clear the boat for the winter and supervise Emjaytoo's lift out. We are going to have her wintered on the hard this year. We still have four pre-paid ferry crossings which have to be used before mid-December, so we might try and fit a trip in mid-October. We will have to see how things work out as Kim's work situation is not encouraging at the moment. However, with the ferry already paid for and taking all our food and drink with us, the whole weekend only cost us the fuel in the car to get there and a few litres of diesel in the boat, so it would be a shame not to use the tickets up.
Back to the Top
Back to Archive