Back to Archive
Monday, 13th September 2010 – Spontaneity!
Sometimes the best weekends are those which happen spontaneously and that is exactly what happened to us this weekend. The original plan had been to go to Goes but as we exited the "little sea" as Zach called it (otherwise known as the Binnenhaven) and entered the Veerse Meer, it was apparent that the wind was much stronger than had been forecast (what a surprise!). Neither of us fancied the prospect of trying to hold station waiting for the Wilhelminadorp bridge to open (the canal is extremely narrow at this point and exposed to cross-winds) so we had a quick change of plan and headed up to Veere.
This in itself was no mean feat as the annual gig racing event was taking place and there were rowing boats,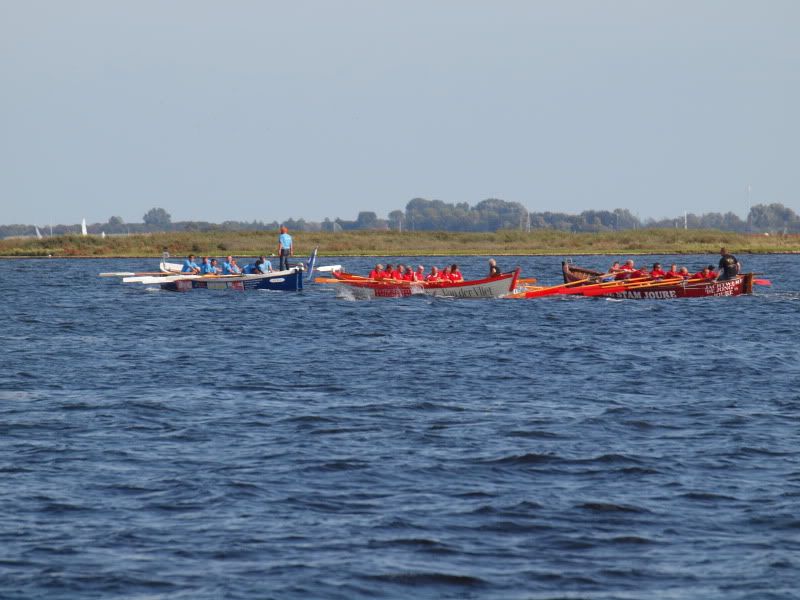 support vessels and onlookers on the water, in addition to the usual traffic.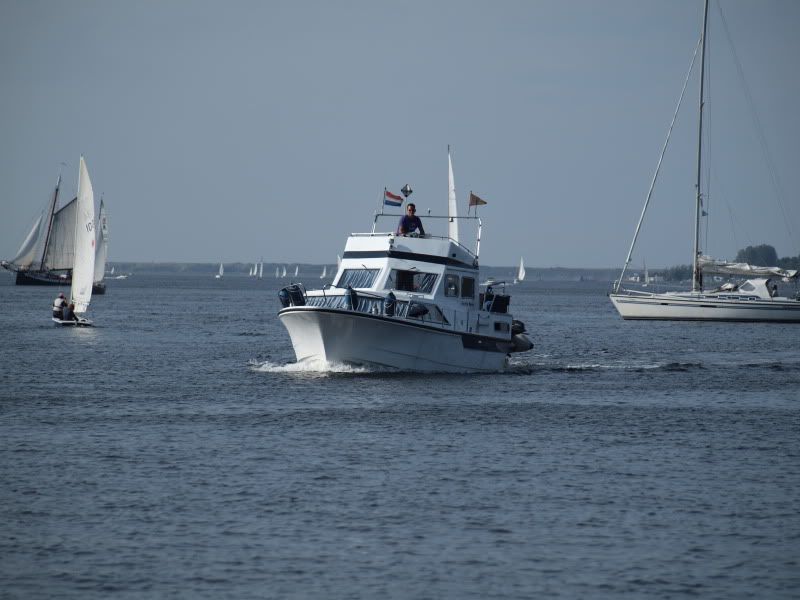 We managed to sail most of the way, though we did put the engine on a few times as the wind was pretty much on the nose. The Veere visitor pontoon was packed out, with boats rafted several deep so Kim decided to go on the Kaai. This initially looked very busy as well, but as we got inside we saw a small gap directly alongside the pontoon between 2 other boats and Kim swung the boat round and reversed it in, to much praise from the skipper of the boat in front whose stern we missed by literally just a few inches!
The usual Veere microclimate meant that we were able to sit up in the cockpit in the sunshine, initially for a cup of tea and then for the obligatory beer and pistachios! The Yacht Club in Veere is one of our absolute favourites and they certainly didn't let us down. Wendy started with goat's cheese and ham salad, whilst Kim had his usual fish soup, all served with lovely warm bread. For main course we both had the spare ribs, which came with chips (well, it is Holland!) and the Yacht Club's signature side dishes of salad, chicory with ham and cheese and little cubes of roast potatoes and onions. Neither of us could finish it all, but we did our best! As the ribs had been quite spicy, we just had to have something cold to cool our mouths down, so we chose apple cake with cinnamon ice cream and cream. All absolutely gorgeous. We then retired to the boat for coffee and went to bed, in readiness for the inevitable poor night's sleep with the bells. As Kim later pointed out, we couldn't have parked any closer to the town hall and its bells if we'd tried!
As we had gone over on the shuttle and had more time than usual, on Sunday morning we were able to take up Tineke's invitation to coffee at their house, which was most enjoyable, especially as Wendy was able to have some proper conversations in Dutch! The sail back to Kortgene was one of the best for a long time, with winds from every conceivable direction at one time or another, made all the more exciting by being on port tack all the way so having to be ready to give way to all the boats coming up whilst staying as close as possible to the windward side. Our speed was mostly well in excess of 5 knots and several times over 6 knots. Great stuff! Even though we hadn't left Hans and Tineke's house until 12.30, we still made it to Calais in plenty of time and were home indoors shortly after 7.30 in the evening. Ok, we didn't make it to Goes but we couldn't have had a better weekend and there's always next time.
Back to the Top
Back to Archive