Back to Archive
Monday, 3rd September 2012 - Our September Cruise - Out Into The Oosterschelde
Day 1 - Caught the 07.20 shuttle Saturday morning feeling optimistic as the weather forecast was still looking good. Could we really be about to have a week on the boat with good weather? It wasn't glorious sunshine on the drive up, but it was dry, it was warm and the wind wasn't howling so we weren't complaining.
After stowing everything on board we slipped our moorings at 13.00 and set sail for Goes under genoa only. The wind was light and there were sunny spells, so the trip out into the Oosterschelde and back up the Goes canal was very pleasant. We had to resort to fleeces occasionally, but otherwise it was sunny and warm.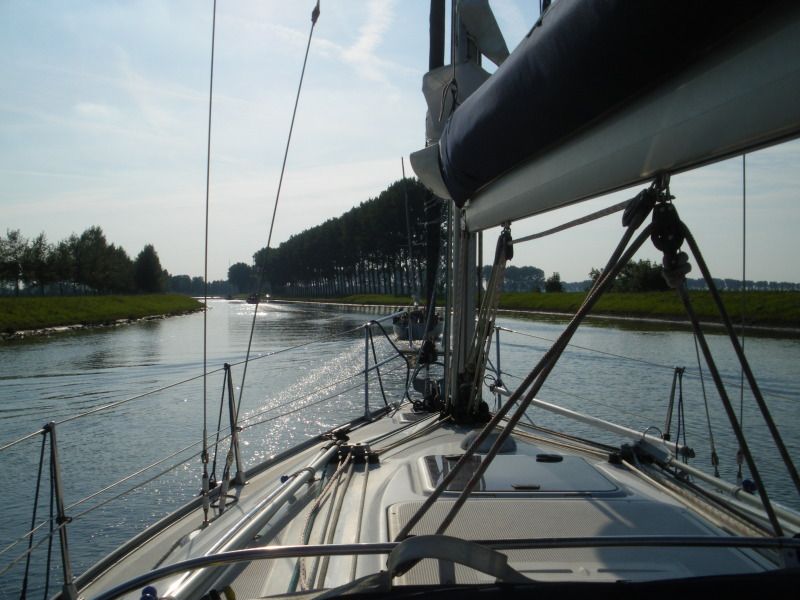 With light winds, the Wilhelminabrug was easy to hold station at and then it was up to the Ringbrug at Goes. Here we had a bit of a shock! We'd come up the canal with about half a dozen other boats, but when we got to the quayside by the Ringbrug there must have been another 25 boats all waiting for the bridge to open. Our immediate reaction was that it would be packed out in Goes and that we'd be rafted up. However as we went through the bridge (at the back of the procession) a number of the boats peeled off to the left and went into the little WV De Werf marina and the rest queued up to wait for the harbour master to pedal his way back and open the St Maartensbrug into the inner harbour. Our last visit to the inner harbour, a couple of years ago on a Saturday night, was noisy and not very pleasant due to the proximity of a night club, so ideally we wanted to be on the jetty outside. As we were following at the back of the fleet, we couldn't believe our luck when there to the left of us was a vacant slot on the jetty - just perfect!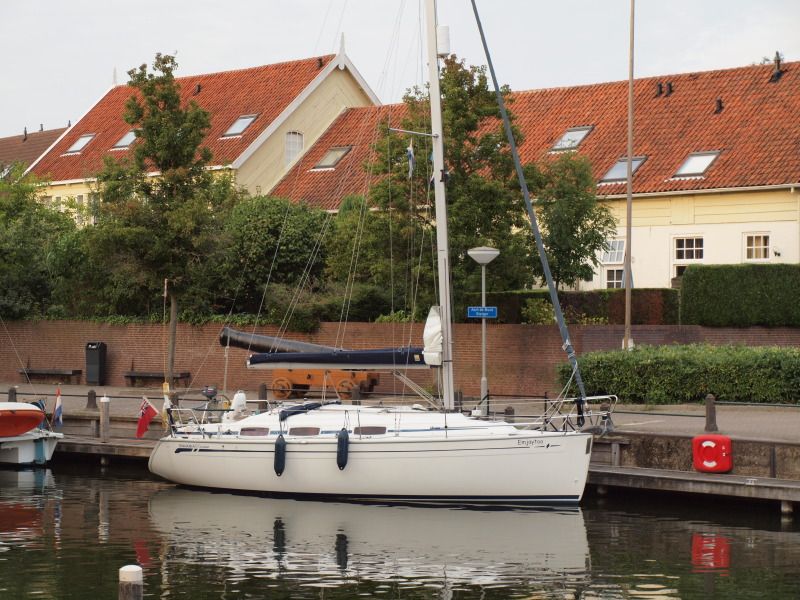 Dinner on board was stir fry pork washed down with a glass or two of white wine. We then had a very peaceful night.
Day 2 - The bridge to get out of Goes opens on the hour, but with a gap of a couple of hours from 10.00, so there is always a bit of pressure to get off sharply. We made it through the 09.00 opening which gave us a good early start for the trip to Tholen. Tholen is a place we've "nearly been to" a couple of times, but for whatever reason, have never quite made it. The weather was fairly dull but warm. The wind was only slight but with the flood tide running, we were able to make reasonable progress under genoa only, putting the engine on briefly to get across the very busy barge route into/out of the Wemeldinge canal. Tholen is a few miles beyond the lock right at the bottom end of the Oosterschelde and this area certainly has a very desolate feel to it. We thought initially that we were in the company of a dolphin, but further investigation suggested that it was more likely to be a harbour porpoise. Still exciting, though.
The Bergse Sluis lock is only tiny and we just managed to fit 4 boats in. It's one of those locks which replaces the salt water with fresh before letting you out. As we exited the lock there was a very different "feel" to the other side - much greener and more enclosed, with lots of birds. The copious commercial traffic sticks to its own channel and we continued to drift along still under genoa only virtually all the way around the circuitous channel into Tholen. We chose the town quay rather than either of the marinas, which always seems to suit us better.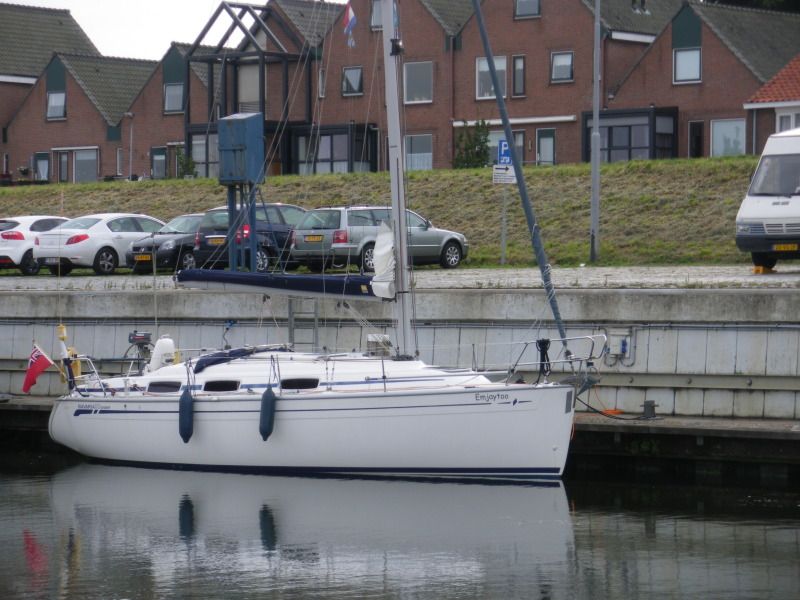 Tholen turned out to be a charming place, with lots of very old buildings and even a street on a hill - quite a find in the Netherlands! The church was cathedral-like in its proportions, suggesting an interesting history which we must look up at a later date.
Tholen appeared to have a number of nice restaurants adjacent to the harbour, but having come with a fridge full of food, we ate on board again. The restaurants could well tempt us back to Tholen again.
Day 3 - Everything was like a millpond this morning so no chance of sailing, but that wasn't a problem. We motored to the lock through a thick green soup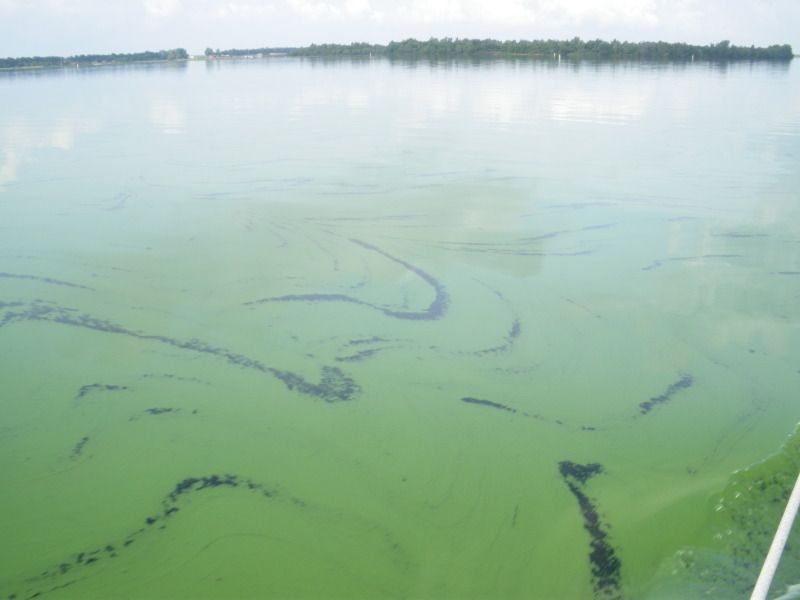 Algal bloom is certainly a reality here!
The chug to Zierikzee was sedate, main up, motor sailing, which enables you to get a little extra propulsion from the apparent wind created by motoring. Sounds a bit technical, but in practical terms it means you use less fuel than just motoring and the boat is more settled in the water - less pitching and yawing. We did get to see a load of seals sunning themselves on the sand banks as we went by. We timed it just right for the opening of the Zeelandbrug and then continued on up the canal. A different harbour master to usual initially gave us the impression that he wanted us somewhere else, so Wendy quickly swang the boat round ready to go alongside, only to find that he wanted to talk to us and tell us where to go! Eventually, two 180 degree turns later, we were moored up directly against the pontoon. By now the sun was scorching and we enjoyed a real holiday atmosphere in the cockpit.
One of the highlights of Zierikzee is the Eetcafe Markzicht, so our food provisioning for the week had been geared around a meal out and an excellent meal it was too.!
Thursday, 6th September 2012 - Our September Cruise - Back Into The Veerse Meer
Day 4 - Woke up this morning in Zierikzee to a real "pea-souper"!
However, it soon burnt off and and we were away by about 11.00, stopping at the fuelling pontoon on the way. We have decided that it is worth a special trip to Zierikzee once a year just to fuel up - the pontoon is a dream to go alongside and the fuel delivery pump manages to cut out before spewing diesel everywhere, which is more than can be said for Delta Marina's! Our trip back across the Oosterschelde was under cloudless skies, showing the Zeelandbrug at its elegant best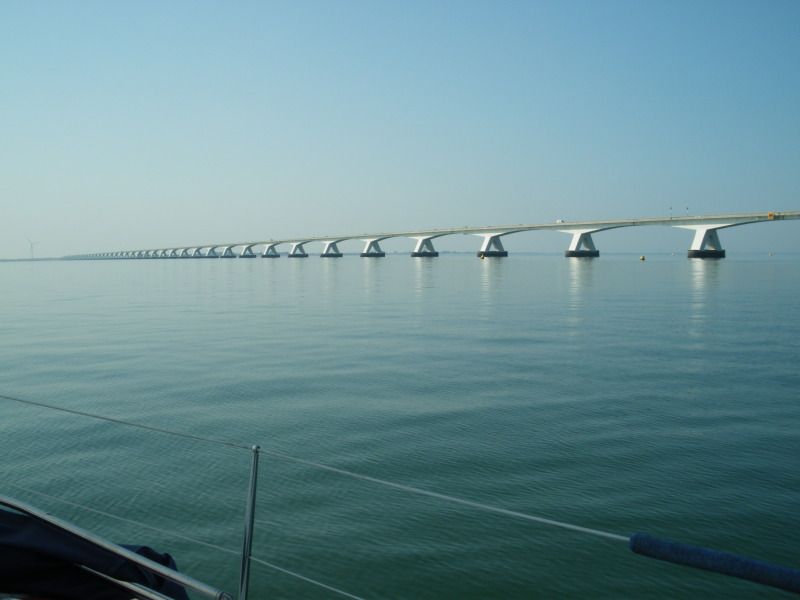 Later we were treated to the somewhat unexpected sight of a Russian galleon!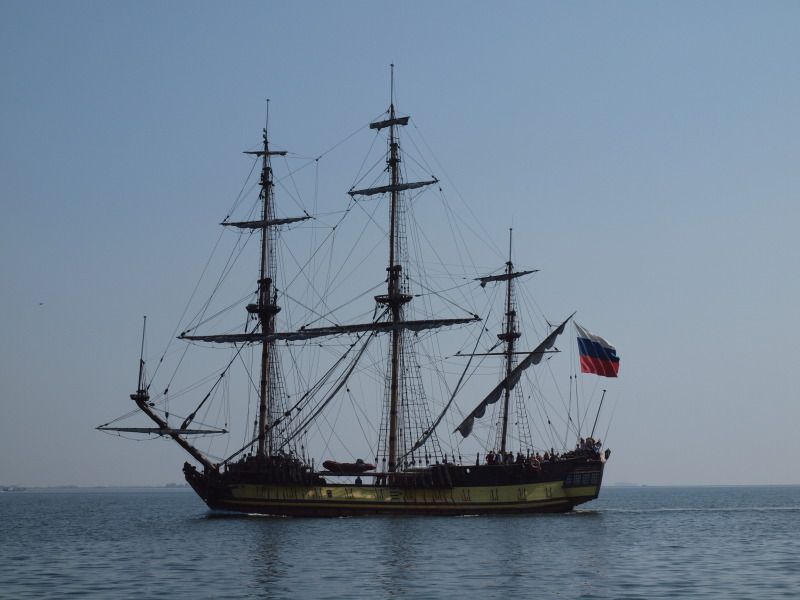 Unfortunately there was little or no wind and we ghosted along, but as we weren't in any hurry, it didn't matter. Off Kats we got a little wind and had the flood tide with us, so progress wasn't too bad. We cleared the lock at Zandkreek and tied up on the pontoon just inside the Veerse Meer for lunch.
After lunch we part sailed and part motored up to Bastiaan De Langeplaat where we got on the main "picnic" jetty. There were only one or two other boats.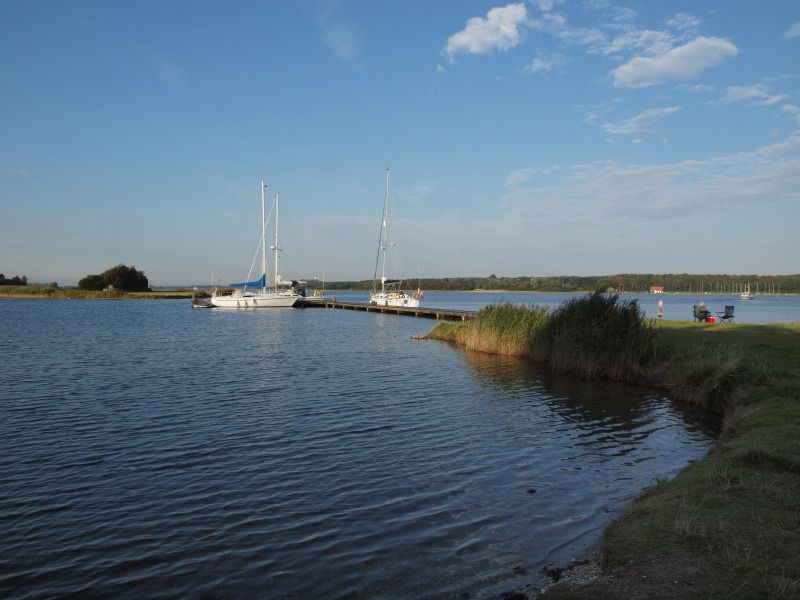 It is definitely back end of the season and being mid-week very quiet.
Kim had a swim and in the evening we took some chairs and the barbecue ashore, but the barbecue was a failure and we moved everything back to the boat.
Day 5 - A very leisurely day, Kim got the inflatable dinghy out and had a play around with that, then Wendy had a row around too.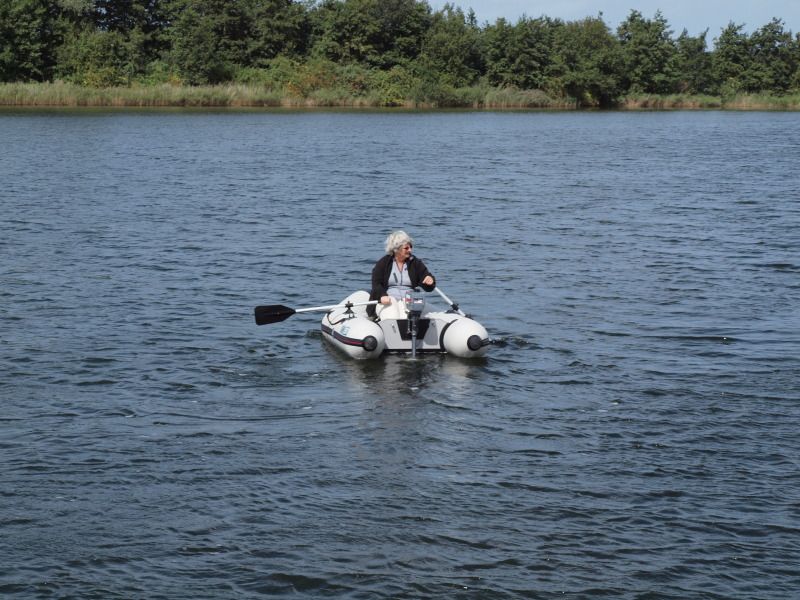 Then we went for a walk around the island. We reckon it's quite a few years since we were last here, probably with Julie & Trev in 2008. The meadow grass was full of flowers and it looked very pretty.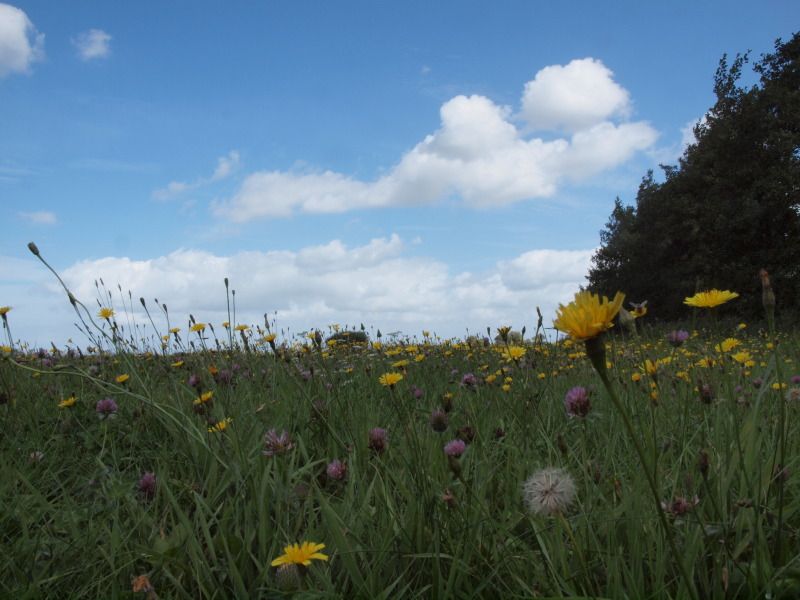 After lunch we slipped our moorings and headed towards the Haringvreter. It was quite windy, 12 - 15 knots and we had a good sail under genoa only, albeit a brief one as it was only 3 miles! When we got to the Haringvreter, the unattached jetty was completely empty, so we tied up. Later another boat came to join us. In the afternoon we were entertained by watching the Veere trip boat try to come alongside the little passenger jetty to pick up a dozen or so walkers (who'd obviously been dropped off earlier). It was still quite windy and for whatever reason the trip boat had a lot of difficulty getting alongside the rather flimsy jetty. In fact it had several goes at trying to demolish it - leaving us amazed at just how far a wooden pile can bend without breaking! It was interesting that the people were told to wait back near the land, not at the head of the jetty. Presumably the captain was concerned that if he did demolish the jetty all the people would end up in the water! Finally they were all able to board safley.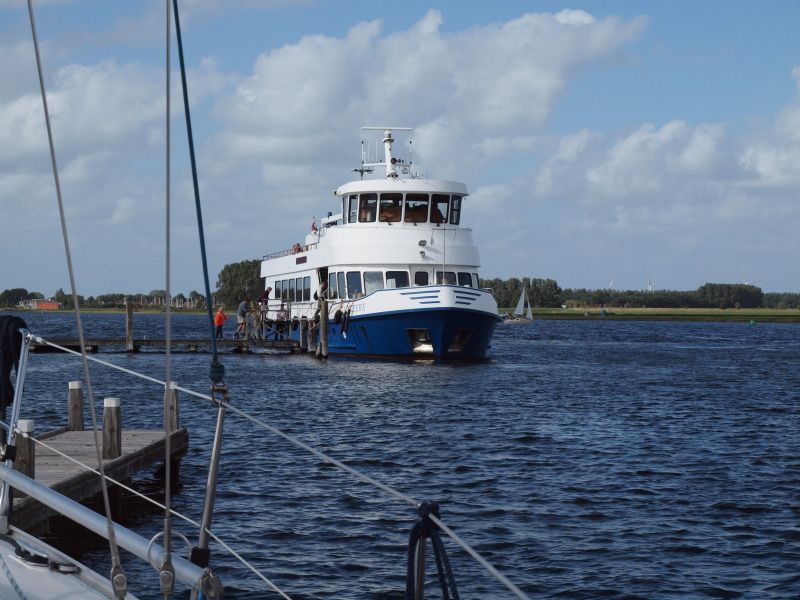 We then spent the rest of the afternoon in the cockpit reading and dozing in the sun, but tucked up under the spray hood out of the wind. At one point a family of black swans came to visit, after Wendy had enticed them with some bread!).
After dinner we sat down to watch a film on the TV, but had to abort half way through when the house battery started to object to the load. It was by now 21.30, so the best thing was to go to bed. Perversely, we have found on this holiday that whilst we have nominally worked on UK time, our bodies have in fact automatically switched to Dutch time, resulting in us being up most mornings by 06.00! Kim says this is symptomatic of us getting old!
Day 6 - After breakfast we took a trip in the dinghy over to the island to get rid of our rubbish and have a short walk. Then we returned to the boat and motored up to Kamperland (about a mile away!). We stopped in Kamperland to go and do a bit of shopping. We had left the thermometer in the direct sun and it was reading an unbelievable 50 degrees when we got back! It certainly did feel very hot when we were having our lunch in the cockpit, but possibly not quite that hot! On our way back into the Veerse Meer we pumped out the holding tank at the Kamperland jetty, though it must be said that the Kamperland jetty is never an easy one, whatever the weather, thanks to the funny angle, the large fenders and the cleats being filled with ropes before you event try to get a line round them.
Thereafter, we sailied up towards the dam at the top end, then turned round and sailed back down towards the Bad Hotel. Our destination was Arneplaat and to that end we succeeded in securing a berth on the main jetty. It was amazing how much seagull poo there was all over the jetty!
We had a quick walk around the island (all of 10 mins) which was a bit of a novelty, since it is a couple of years ago since we were last on Arneplaat. We then retired to the cockpit with a beer and soaked up the evening sun.
Saturday, 8th September 2012 - Our September Cruise - Back Home
Day 7- This morning the wind was moving around in a very strange manner, in the early hours we had a short visit from the "slappers", which suggested the wind was coming from the south east, but by the time we got up it was westerly and blowing quite strongly.
We headed down towards Bastiaan as Kim had set a (rather short) triangular course for Wendy to sail round. It has long been one of Wendy's ambitions to sail a triangular course in a dinghy on her own, but in the absence of a dinghy, a yacht would have to do. All started well with Wendy tacking upwind to the windward mark, but the wind was building up, we had full main and genoa out and Kim decided that bearing away around the windward mark then running down to the leeward mark and gybeing was not such a clever idea in the conditions (once a dinghy sailor, always a dinghy sailor!). Wendy, on the other hand, was thoroughly enjoying herself and was more than a bit miffed, especially as Kim pulled the plug just as she had set the boat up beautifully to get round the windward mark on the next tack. Oh well, maybe another time!
Thereafter, we put a reef in the main, furled away some genoa and turned up towards Veere and had a cracking reach all the way there. After some discussion, it was agreed that Kim would take the boat into the Kaai. Wendy really wants to do this, but is put off by the fact that a) you can't see how busy the Kaai is inside until you have committed to the narrow entrance and b) that it is Veere. Well, once we had entered, Wendy was kicking herself as the Kaai was almost deserted and Kim's approach to the jetty was a piece of cake! Again, maybe another time!
We were all tied up by about 12 noon, which gave us plenty of time for a leisurely lunch in the sun before walking down the Kaai to see Hans and Tineke and their beautiful little 8 week old Beagle puppy. As always, we spent a very pleasant afternoon with them and returned to the boat for supper, complete with live music from a band on the quayside, rudely interrupted at regular intervals by the infamous Veere bells. By this time the Kaai was a bit busier.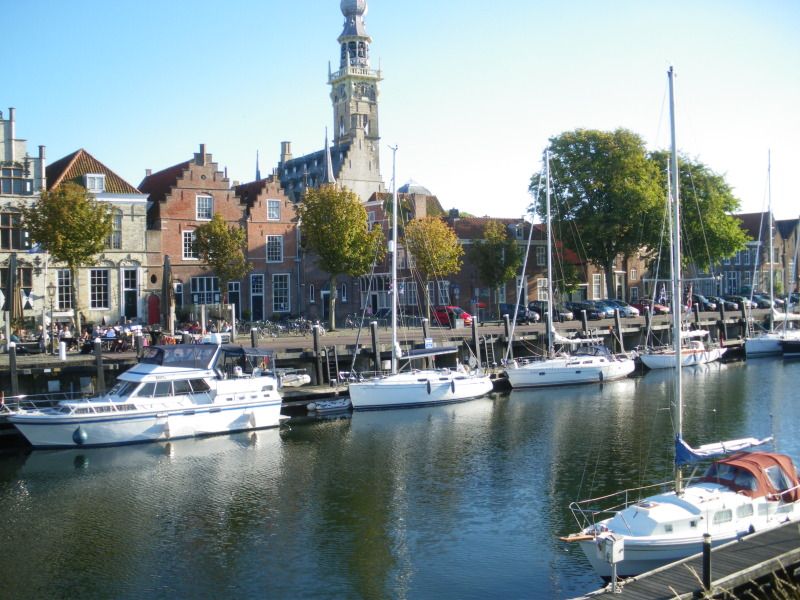 Day 8 – Although a bit cool and hazy very early on, it soon became clear that our last day was going to be a scorcher with very little wind. Kim sprang the stern out very competently to extricate us from our position alongside the pontoon with two large yachts close behind and a very large motor boat in front and after a brief stop at the pump out point, we motored out of the narrow entrance into the Veerse Meer. There was barely a knot of wind so we decided that rather than waste time ghosting along getting nowhere fast, we would motor back and enjoy lunch at Iets Anders, especially as we were booked on a latter shuttle crossing than usual and therefore had the time to be decadent!
En route, however, Kim couldn't resist having a go at motoring through the lagoon in the middle of Bastiaan de Langeplaat, something we have avoided up until now because of a question mark over the depth. As it happened, there was plenty of water and, in uncharacteristically gung-ho fashion, Kim then decided to go round the Omloop, the place we visited last time by car. The entrance involves some careful pilotage between the 1.7 m buoys and once inside it feels like going up the Zambezi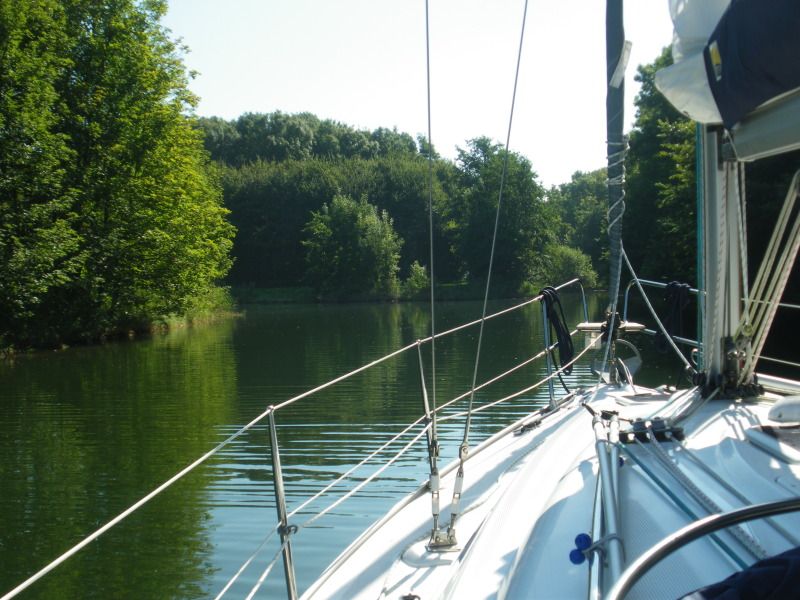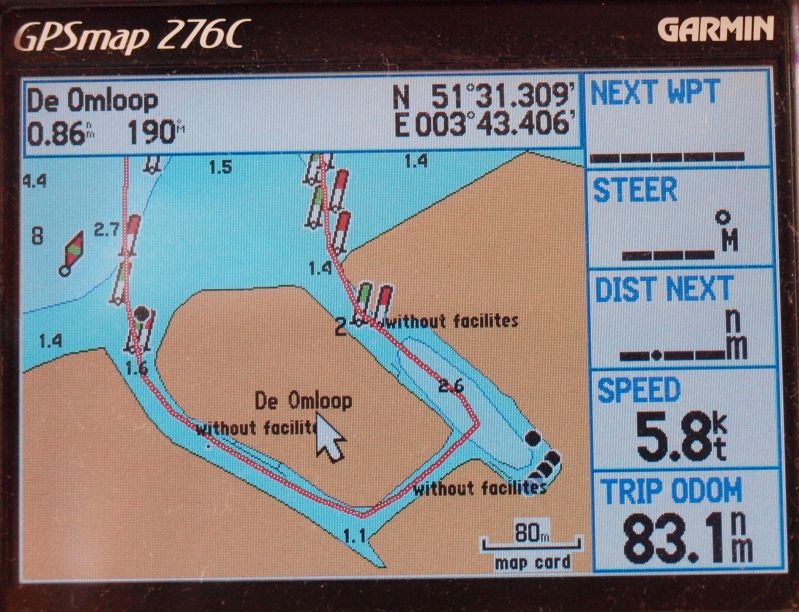 but once again there was plenty of water and we will definitely be back when it's a bit quieter. To say Kim was chuffed with himself was a bit of an understatement!
The only fly in the ointment was Wendy's complete c*** up when bringing the boat in! As there was so little wind, she decided to try a different approach and come up level with our berth, stop, then turn 90 degrees into our berth. Best way to describe it is that hindsight is a wonderful thing! Whilst towing a large rubber dinghy behind you, you cannot expect the boat to react normally in a tight turn – and it didn't! But it was all very calm and no damage was done and on the next attempt, Kim put it in fine.
After a quick tidy up we went off to Iets Anders and both had really excellent mussels and chips, grateful for the shade afforded by the giant umbrellas over the patio area.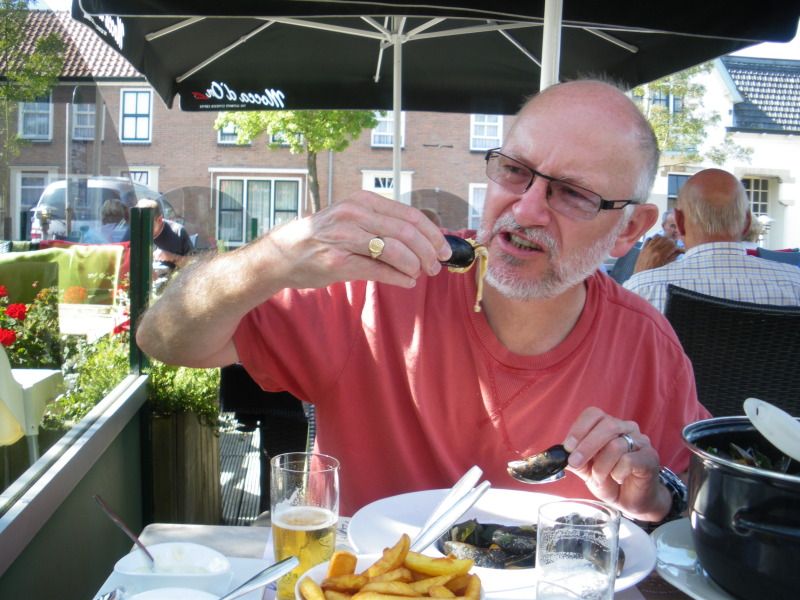 We then reluctantly returned to the boat to finish packing the car, eventually leaving Kortgene at around 3.45 with the thermometer showing 27 degrees! Being a Saturday, the shuttle was quieter than it has been of late and we even managed to get onto an earlier crossing, eventually walking indoors at around 8.
It really has been a most successful and relaxing week, with any thoughts of getting rid of the boat well and truly banished. The boat and Holland are so much parts of our lives now and it would be hard to imagine life without either – let alone both!
Monday, 17th September 2012 – A Makeover For The Website
Following a few days of enforced sick leave Kim has managed to stem the boredom by giving the website a makeover, as you can no doubt see. It has been kept to simply changing the colour, and font. Anything else would have required a complete rebuild, which would have been more than a few days work. The contents buttons on the home page took nearly a day to do!
Kim had been told to take some time off work and stay at home. This initially put a question mark over next weekend's trip to the boat. Maggie is coming down on Friday night with Elijah and we are all booked on the Shuttle first thing Saturday morning. As of today, Kim intends going back to work tomorrow and the weekend should be okay – always subject to the weather!
Clearly we were very lucky with our week's cruise as the weather has started to turn decidedly autumnal. The latest forecast for the weekend is a bit of sunshine, mostly cloudy, maybe some rain, 17/18 degrees C and variable wind Force 3 to 5. A bit of a cover all forecast!
Monday, 24th September 2012 – Elijah's First Trip To The Boat
On Friday evening Maggie & Elijah came down ready for an early start – 07.20 Shuttle Saturday. This was Elijah's first trip to the boat.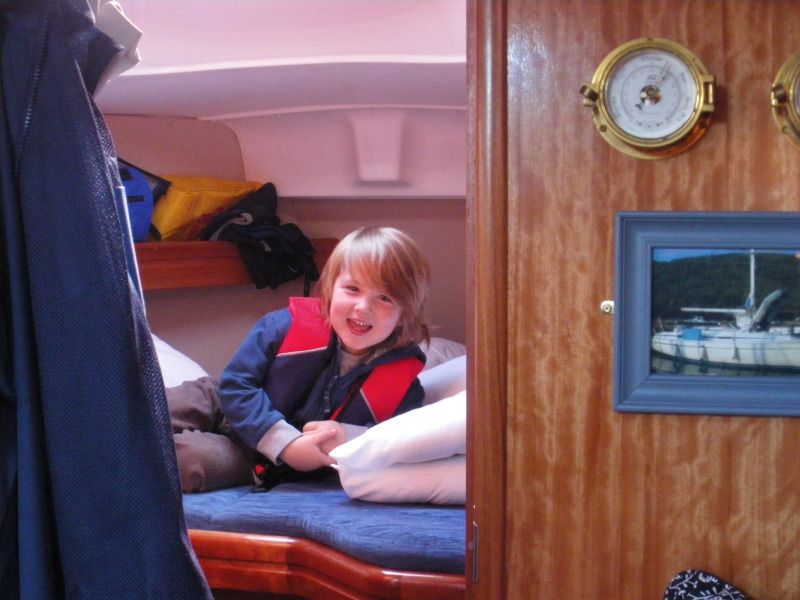 Unfortunately Kim was not feeling very good, a throwback to the earlier time he had off work, so we did not go out. We would only have had the opportunity to go for a Saturday afternoon sail as the forecast for Sunday was grim. Nevertheless it was a bit of a shame, as the weather Saturday afternoon was really good, bright, sunny and a good breeze. But never mind!
We took Elijah up to the beach at Vrouwenpolder and had a good walk; he certainly seemed to enjoy it.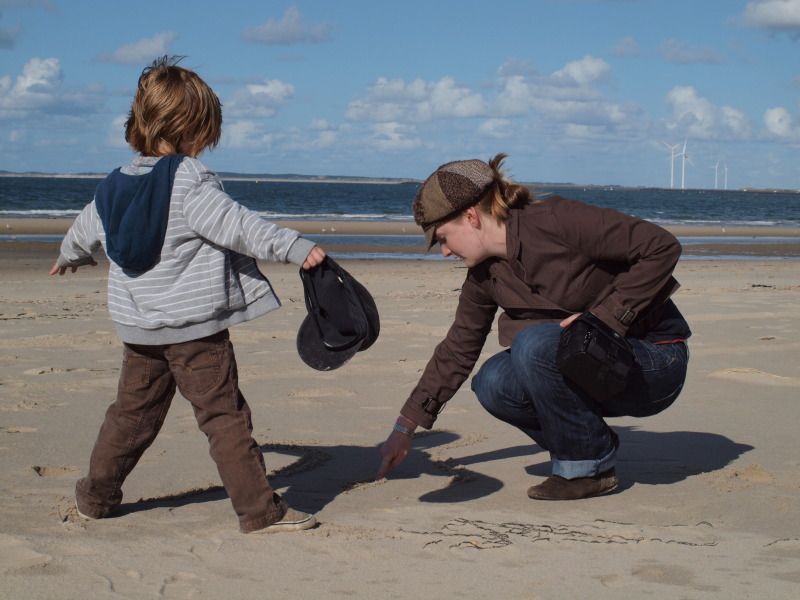 Saturday evening was spent on the boat in the marina and a pleasant evening it was. Sunday morning, the weather was as forecast, grey, windy and cold. Certainly not the sort of day we would want to be taking guests out. Maggie & Kim took Elijah over to the playground in the main marina. Elijah seemed to enjoy it, but Maggie & Kim complained that it was pretty cold.
At lunchtime we packed up and headed back to Calais. Maggie & Elijah were going back home by train so we needed to drop them at Ashford Station at a reasonable time. We finally ended up back indoors at about 19.00.
Not sure when the next trip will be. Time is running out, so there are not likely to be many.
Back to the Top
Back to Archive