Back to Archive
Sunday, 7th September 2014 – Kate's Shake Down
We finally did it!
On Saturday we went over to Margate to pick up the outboard, but by the time we got to Conyer the tide was out. This was no bad thing as it was a lot easier fitting the outboard with Kate solidly planted in the mud rather than bobbing about. The outboard is quite heavy to manhandle onto the boat and then get it fixed down in its well. It was frustrating not to be able to go out there and then but being dictated to by the tides is something we are just going to have to get used to.
On Sunday morning, high water was at 11.36 am. Neither of us was overly enthusiastic about being up and out of the house by 8.30, especially as it was not the most pleasant of mornings, but we made it and arrived just after 9.30. Kate was still mud bound at this point and it was quite foggy.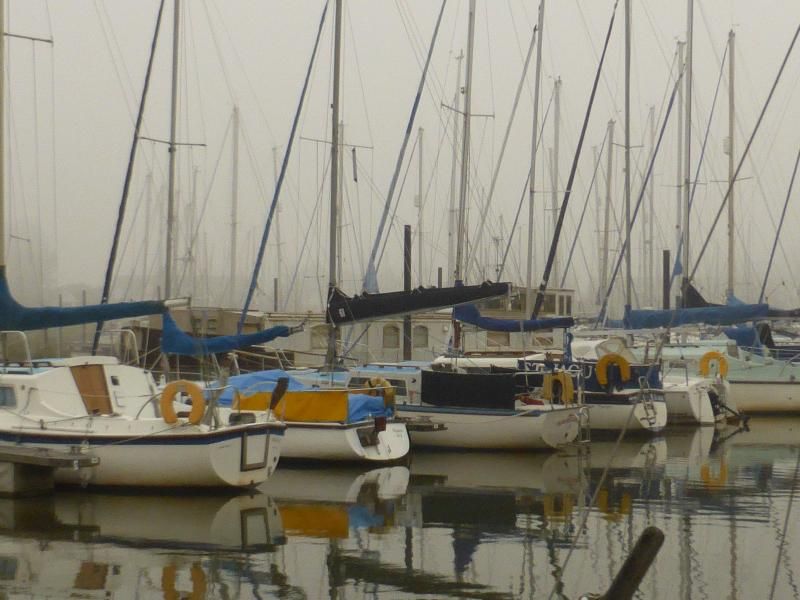 There had been heavy dew overnight and there were some pretty spiders' webs to be seen.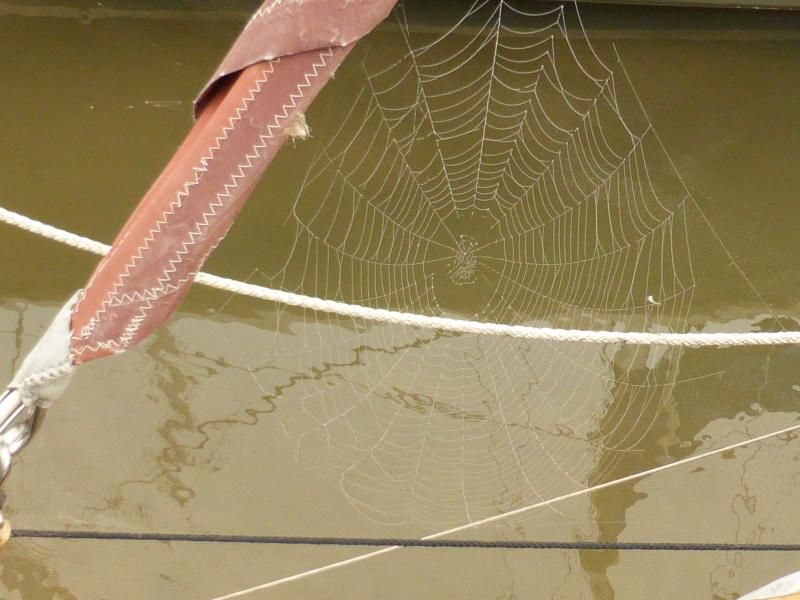 After a bit of faffing about with the engine (the cooling water discharge did not appear to be working properly) we finally got going about 10.30am. Our departure from the berth was a bit scrappy, as Kate didn't seem overly responsive going backwards and the bowsprit is lethal but hey it was our first go! We followed a mobo out down the creek and into the Swale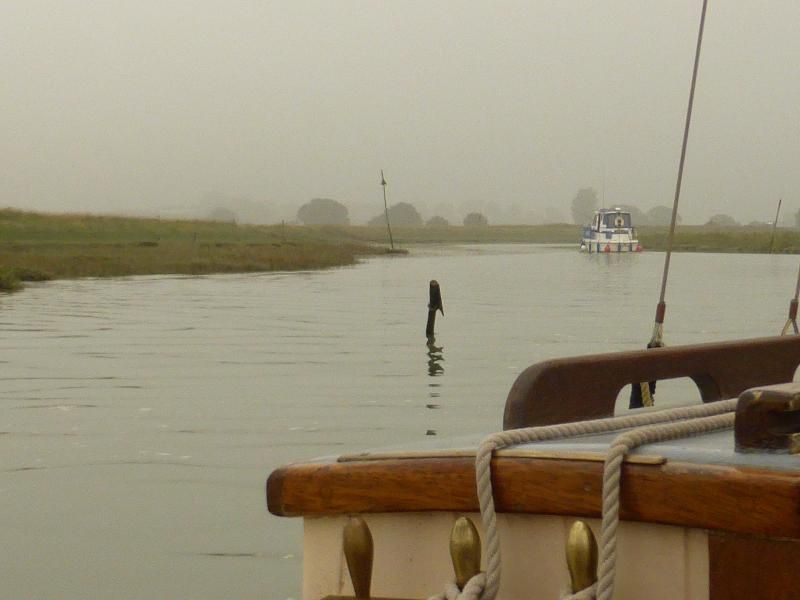 and then motored up to the east end of Fowley Island before turning back. We saw loads of egrets, cormorants and other beautiful seabirds and can easily see how people fall under the area's spell – it must be even more beautiful when the sun's shining!
At least our arrival back went very well with Kim just nudging the finger as we came alongside. Wendy was able to step off without any difficulty at all. Kate's side deck is at the same level as the finger so no step up or down but a very big wobble when you step onto it!
In short a brief but excellent first trip which has left us both hungry for more, albeit next time with a chartplotter, depth gauge and horseshoe life buoy!
Sunday, 14th September '14 – Is It Really 10 Weeks?
Yes, it is ten weeks since we were last on Emjaytoo – the end of June! The forecast for the weekend was pretty good, moderate winds, reasonable temperatures, no rain and even a bit of sun. This seemed somewhat improbable as we drove up through the misty gloom of France and Belgium but as we emerged from the Westerschelde tunnel, there was a marked improvement with the temperature up to 20 degrees and large areas of blue sky.
After we had stowed our gear and topped up the water tank, we headed off to the Zandkreeksluis – destination Zierikzee. The wind was moderate and easterly, our departure from the berth went very smoothly. We motored all the way to the lock as the wind was all forward of the beam. The journey was marred solely by some arrogant Belgian mobo owner who took it upon himself to appraise us of the Dutch sailing regulations by coming up very close and telling us over his megaphone to keep to the starboard side of the channel! We had in fact just exited the marina and were making our way across at a leisurely pace as there were no other boats around. What a ….....!
Our passage through the lock went particularly well (Kim thinks it was good karma following his £5 donation to charity yesterday!) and once clear of the Zandkreek we got the sails up. By now we were getting 17 knots plus of wind so put two reefs in. Two reefs was perhaps a bit over the top but we did get gusts over 20 knots, so perhaps not such a bad decision. Tacking up towards the Zeelandbrug was hard work as the tide was against us and it was a slow process. We seemed to be slipping sideways at the same rate as we were moving forwards at times! After a couple of hours we started motor-sailing, then we dropped the sails and did the last bit under engine.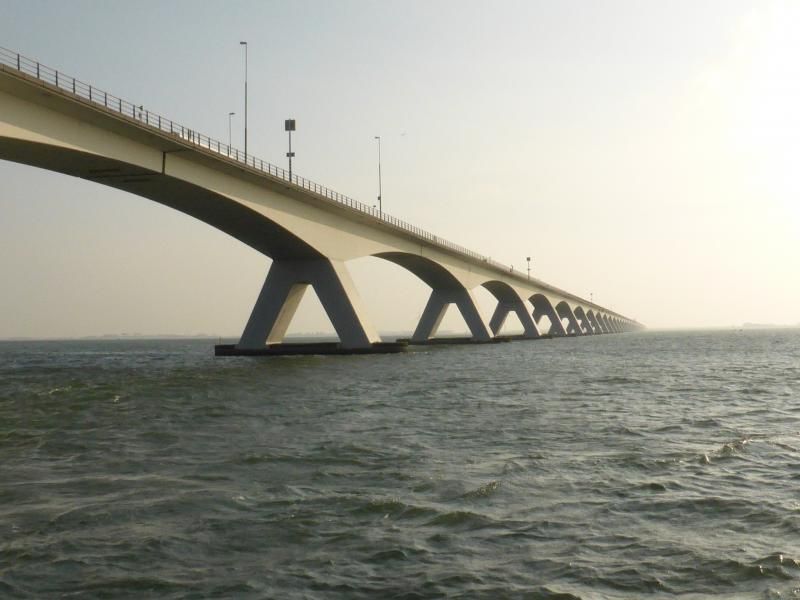 We got into Zierikzee about 5.30pm to find it absolutely heaving! We ended up on the outside of a seven boat raft,
with an outdoor jazz concert taking place on the quayside. As we were planning to eat on board, we decided it was far too much effort clambering across six other boats to go ashore when we didn't need to, so we stayed put. Whilst we were having a beer in the cockpit the guy three boats in from us announced he wanted to leave at 8.00am – Dutch time, that's 7.00am for us! So, no Sunday lie-in in bed with a cup of tea.
After a false start at 5.00am (Kim cocked up setting the alarm), we were dressed and ready to leave bang on 7.00am. Everybody else was ready except the people on the boat immediately next to us – there was no sign of life, even with us climbing over their boat to retrieve our mooring lines! There then followed some banging on the coach roof, but we departed before seeing the outcome.
Wendy was particularly grumpy at that time of the morning, having been deprived of sleep, tea in bed, a shower and breakfast, so on the way down the canal stopped at some redundant piles to have breakfast and generally restart the day! The sail back to the Zandkreek was excellent – one long beam reach with full sails up. Prior to entering the creek, we dropped the main and continued on a run under genoa only.
We arrived at the lock just as they were about to shut the gates. We could have slipped in, but decided to tie up and have a coffee whilst we waited for the next locking through. When we got to go in there seemed to be loads of boats, but as always, the Zandkreeksluis is a lot bigger than one thinks and there was loads of room. We were also provided with some unexpected entertainment whilst in the lock. At the front of the lock there was a raft of three boats which suddenly started swaying quite violently from side to side in perfect harmony. The swaying was caused by the boat against the lock wall losing its stern mooring, thus allowing all the boats to swing round freely. Fortunately they were able to re-establish the mooring quite quickly but I think someone had a very red face!
Our arrival back in our berth was pleasingly successful, too, so all in all it has been a great weekend. The only downside is that the season will soon be over. We will just have to make the best of the remaining weekends before it's time to put everything away again for the winter.
Sunday, 21st September 2014 – Just Enjoying The Boat.
The forecast for the weekend wasn't very good, not enough wind on Saturday and too much on Sunday, plus a good chance of thunderstorms and rain. So we decided to stay put and treat the boat as a holiday home.
Saturday afternoon we went for a walk and even looked at some potential berths for Kate! Sitting in the cockpit with a beer later on, we were treated to several displays of how not to park your boat. It is always comforting to watch other people make the same mistakes and have the same problems as we sometimes have.
Dinner was a pre-prepared homemade goulash and we watched TV in the evening. Taking something that Wendy has cooked at home on Friday definitely makes life easier on the Saturday evening.
Overnight the wind got up and we had some heavy rain. Wendy was sleeping under the open cabin window and got soaked in her efforts to shut it!
Sunday was very leisurely and later in the morning we drove over to Wissenkerke and had a walk along the Oosterschelde sea wall. The morning had started out really grey and miserable, but by the time we got out of the car it was quite warm and sunny, but a strong Northerly wind necessitated a decent jacket. You can always rely on Zeeland for some wonderful skies and we certainly weren't disappointed today.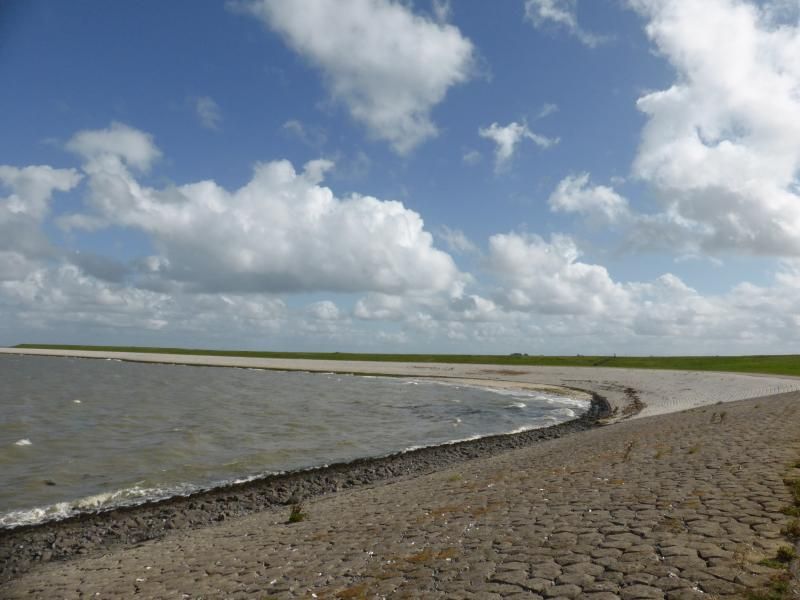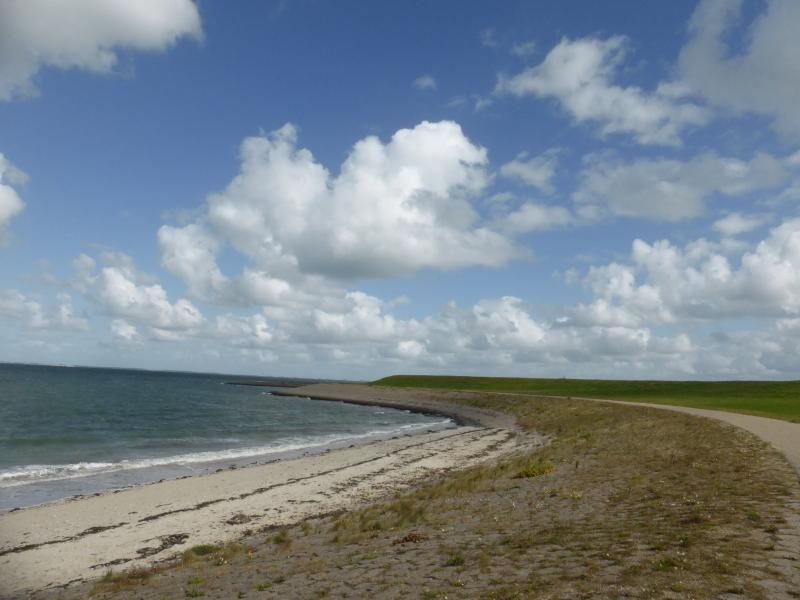 We returned to the marina and had lunch in the cockpit before leaving at 3.00pm. There were a few delays at the shuttle terminal but we were still indoors by 7.30pm.
Two comments above require some explanation. Firstly, some of you may have picked up on the reference to Kate and Delta Marina. Yes, we are considering the possibility of moving Kate to Delta! As you will be aware from this blog, we have only been out on Kate once and whilst that is due to her going in the water quite late in to the season, we have become aware of how restrictive the tide will be at Conyer. Kate will be difficult to spend a night on without any facilities and day sailing will be highly dependent on high water being in the middle of the day to maximise the 3 to 4 hour available window at Conyer. Overnight cruises to marinas from Conyer will be limited – Queenborough and Gillingham hold little appeal! All in all we can see Kate getting very little use. If, on the other hand, she was berthed at Delta, we would have no tidal restrictions and could day sail as and when we liked, using Emjaytoo as our overnight accommodation. Also, overnight cruises become way more attractive as all the islands have toilet facilities, so given a nice warm and sunny weekend in July or August, an overnight stay on Bastiaan could be positively idyllic. Certainly something to give some serious thought to, over the winter months.
The other comment to pick up on is the television. Again, from earlier blog entries, you will have picked up on the fact that we discovered that our Dutch bank account was being debited with multiple amounts of money by KPN the Dutch TV provider. It was clear to us that we were paying for loads of other Delta Marina berth holder's TV. What we had found, was that the Dutch online banking system allowed us to reverse out the debits. After Wendy sent several e-mails without any reply (we had tried 'phone calls, but there was only a Dutch 0800 number that you can't dial from a UK 'phone) and us reversing out the debits, KPN have now started crediting money back into our account each month. But the amounts credited back don't tie up with the debits and there are now well over a dozen transactions every month and the whole thing is a mess. To top it all our subscription seems to have been cancelled without any explanation. Presumably other berth holders are having the same problem. We had contacted Eric, the Administration Manager at Delta Marina, who was aware of the problem, because, whilst we got e-mails when there were insufficient funds in the bank account to cover all the multiple debits, Delta were getting the snotty letters! Eric had said he would try to sort it out, but seemingly hasn't. So it seems to us that the only option is to write to KPN and formally cancel all the accounts associated with our bank account, write to our bank and tell them to put a stop on all payments to KPN and hope that next year we can take out a new subscription.
Sunday, 28th September 2014 – The Goudplaat.
This is our third trip on the trot and quite a few more are booked between now and the end of October. Kim was not very enthusiastic at 5 o'clock Saturday morning when the alarm went off, muttering something about cutting grass! His enthusiasm didn't really improve driving up through Belgium – no doubt due to the sometimes thick fog. By the time we arrived at Delta it was still pretty murky and not very enticing, especially as there wasn't any wind.
Nevertheless, we took the plunge and off we went, heading for the newly rebuilt jetty at the Goudplaat. When we arrived there was one other boat – a large Grand Banks motor cruiser. Wendy thinks they are ugly, the sort of thing you would see some fat American with a baseball cap fishing for marlin off the Florida Keys. Needless to say Kim would like one!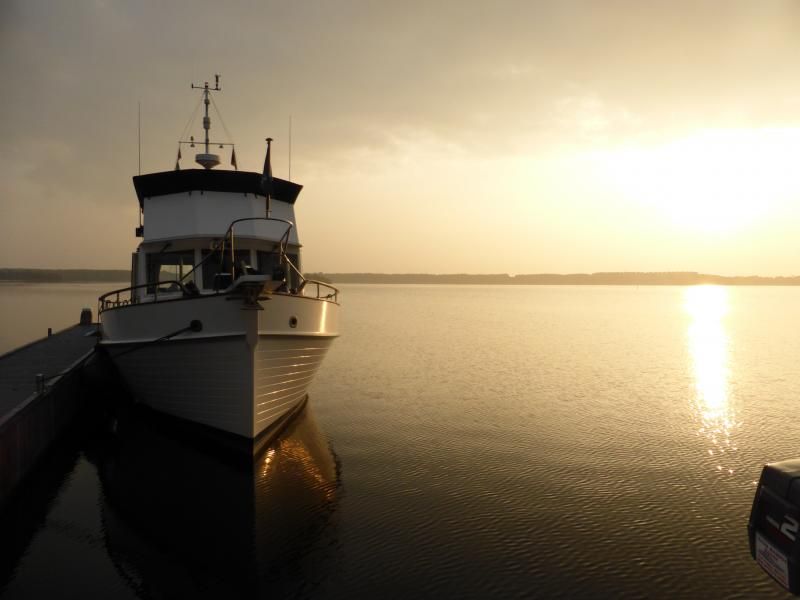 We went for a short walk and slowly the sky cleared and the sun started trying to break through. By early evening we were able to sit in the cockpit to eat our dinner. As is often the case, the Veerse Meer then treated us to a gorgeous sun set.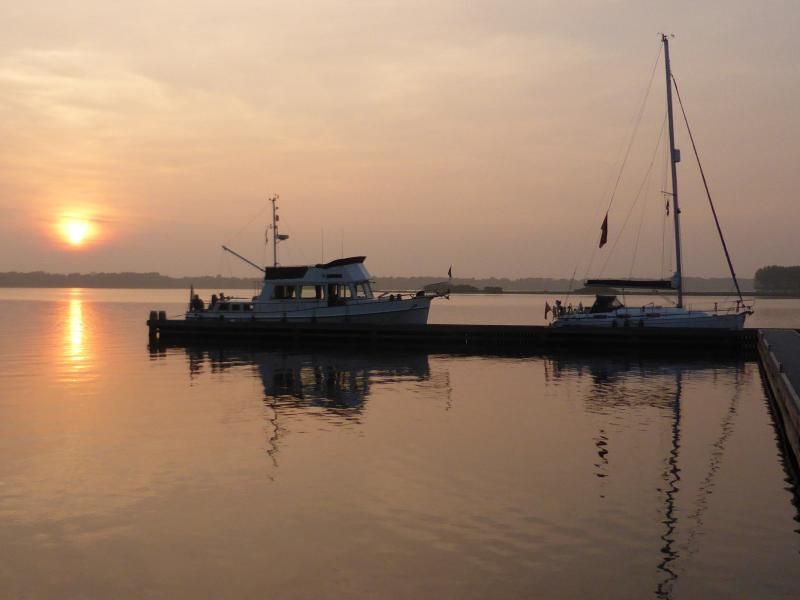 We then spent the rest of the evening watching a film.
Sunday morning was a lot brighter than the day before and the sun quickly broke through.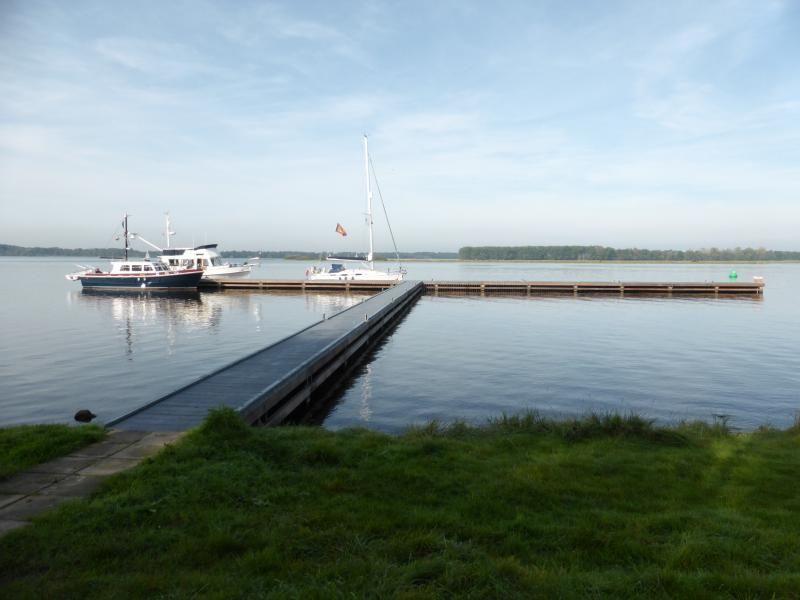 We decided not to worry too much about what time shuttle we got, so as to enjoy what was quickly turning in to a very warm day. After a leisurely breakfast we went off for a long walk around the Goudplaat peninsular. The shape of the Veerse Meer and the way it doubles back on itself around the Goudplaat had us totally confused, when we stood looking to the left and could see boats beyond the fields and trees, then turning 180 degrees to our right we could see more boats. All this whilst stood with our backs to the water! We realised that from the water, we had never really appreciated how much the Veerse Meer doubled back on itself.
We got back to the boat at 12.30 and slipped our moorings straight away. To start with there wasn't very much wind and most boats were just ghosting along. Once we got down to the Bad Hotel and turned east towards Kortgene the wind picked up, but was now very much on the nose so we stuck with the engine.
We were back in Delta by 2.00pm, not that much later than usual. As Kim made the final approach to our berth the wind was only blowing about 3 or knots from the east and we made a perfect job of parking the boat, our neighbours turning up just as Kim was stepping off the back with the mooring lines.
Despite our rather lackadaisical attitude toward the time, we still managed to get away from Delta bang on 3.00pm, arriving at the Shuttle terminal in time for our booked crossing at 6.20pm. Unfortunately, there was a slight delay in the shuttle, but we were still indoors by 7.25pm.
Back to the Top
Back to Archive