Back to Archive
Sunday, 27th September 2015 – Back On Board!
It had been so long since we were last on the boat that we were almost frightened of going over!
The forecast for the weekend was for a moderate north-easterly and no rain. After a quick stop in the village for some basics, we got the boat sorted and headed off – destination Veere! We had Lucy with us, as our guest for the weekend.
Our departure from the berth was successful by virtue of being uneventful and the passage up to Veere was slow, but very pleasant. It was a bit cool on the water and the wind did get up a bit by the time we reached Veere. As always, Kim was "gung-ho" about Veere, so we entered the Kaai which was pretty full. We later found out that a party of yachts from another yacht club were there on a club outing.
Having rigged everything ready to turn round and either go alongside or raft starboard side to, we were somewhat thrown when the harbour master directed us to a "box" on the opposite side from the main visitor berths. Kim motored past the box, stopped and reversed the boat in perfectly (the €150 spent on our berthing techniques course was worth every penny!). It took us quite a while to sort the lines out as the box was way too big for our boat - our neighbours were forty-footers – but none of that mattered as we were securely in our box. Wendy said that the boat looked like a child in clothes which it would hopefully grow into!
As it turned out, the box berth was absolutely perfect. It was quiet and we had walk-ashore access.
We wandered up to the club house, paid our dues and had a beer on the terrace. By this stage the main jetty was getting really packed out!
Dinner was supposed to be a "spag-bol", but we discovered that we had left the jar of sauce at home. Wendy then started to think how to improvise. What did we have stashed away on board? Well, we had a can of Heinz Tomato Soup and the day was saved. It wasn't a "spag-bol", but it was pretty good.
Sunday morning was clear blue sky and quite breezy. The wind being north-easterly meant it was quite cool. After breakfast we walked across into the town to meet our friends Hans and Tineke for coffee (unfortunately, Tineke is taking the photo, so not in it!)
We returned to the boat and set off back to Delta at about 11:30. The exit from the box was difficult due to the wind but went well. It was a glorious sail down to the Bad Hotel, but after that we put the engine on as we were then heading straight into the wind.
There were quite a few boats out on the water.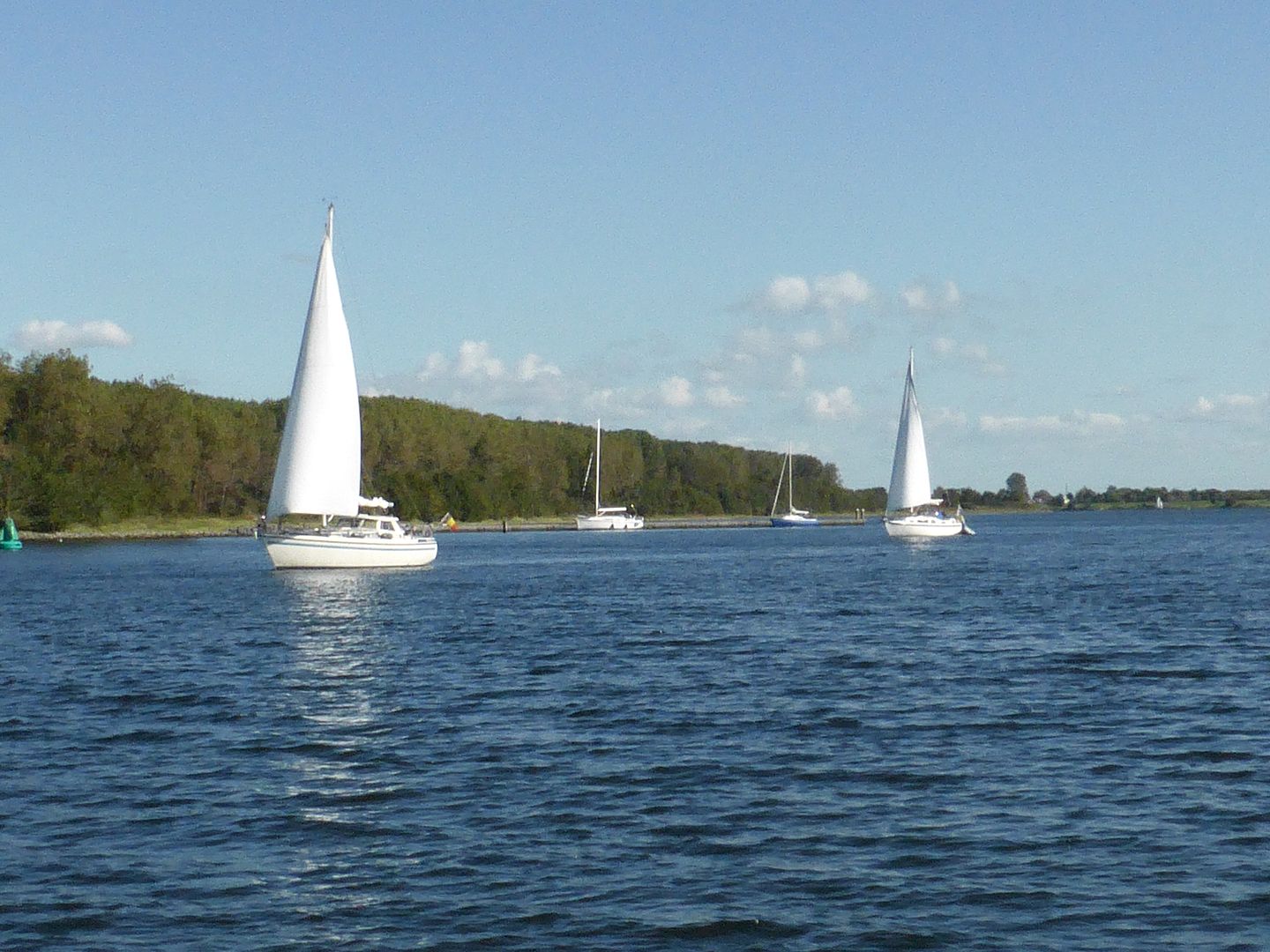 By the time we got to the Pardekreek the wind was blowing 15 knots from the north east and Wendy could tell Kim was getting a bit apprehensive about getting us back in our box (the boot is on the other foot these days, as Kim always helms us into our new berth). As always, once we got into the marina the wind didn't seem so strong and whilst the boat didn't swing straight into the box, Kim had to shuffle back and realign, it still went very well! Sadly neither of our neighbours was around to see Kim's deft boat handling skills, but then had they been around, it would probably have gone wrong! It was also reassuring to have an additional crew member as a roving fender, just in case.
By the time we sat down in the cockpit for lunch it was really warm – although still rather breezy. For the first time in ages, we didn't have a very good run back to Calais. There were road works on the A16/E40 and an accident in them, all resulting in a reported delay of an hour or so. We managed to avoid it by skirting round on alternate roads but still lost half an hour, thus missing our booked Shuttle. However, we were still in doors by half eight, so not too bad.
Given that it had been over three months since our last trip, it was a great relief to have such a successful weekend. As Wendy said, no-one fell overboard, we didn't hit anything and no-one hit us! We only have a few more crossings then the season will be over, but we will try to make the most of what is left.
Back to the Top
Back to Archive